Propspeed Foulfree transducer protection, first impressions
When Ben Stein wrote about the new Foulfree transducer "paint" last November, I wondered how much coverage came out of that little $35 tube. I can answer that question now. In the scene above, I'm about to apply Foulfree to six transducers — the two loose and four already fixed to Gizmo's bottom — and to my amazement, I only used about a third of the tube. So if the stuff really works, the one kit will protect a ducer-intensive boat for three seasons (though I'll have to supply my own brush and surface prep tools next time).
I also found the process easy, as the silicone polymer seems enthusiastic about flowing into the recommended thin coat and I wasn't worried about toxic substances. Of course, I won't know how well it works for at least several months (and maybe a DIY hookah dive), but I'm sure hoping for better performance than what I've experienced from that old bottle of MDR transducer paint (that's still kicking around my bottom maintenance locker).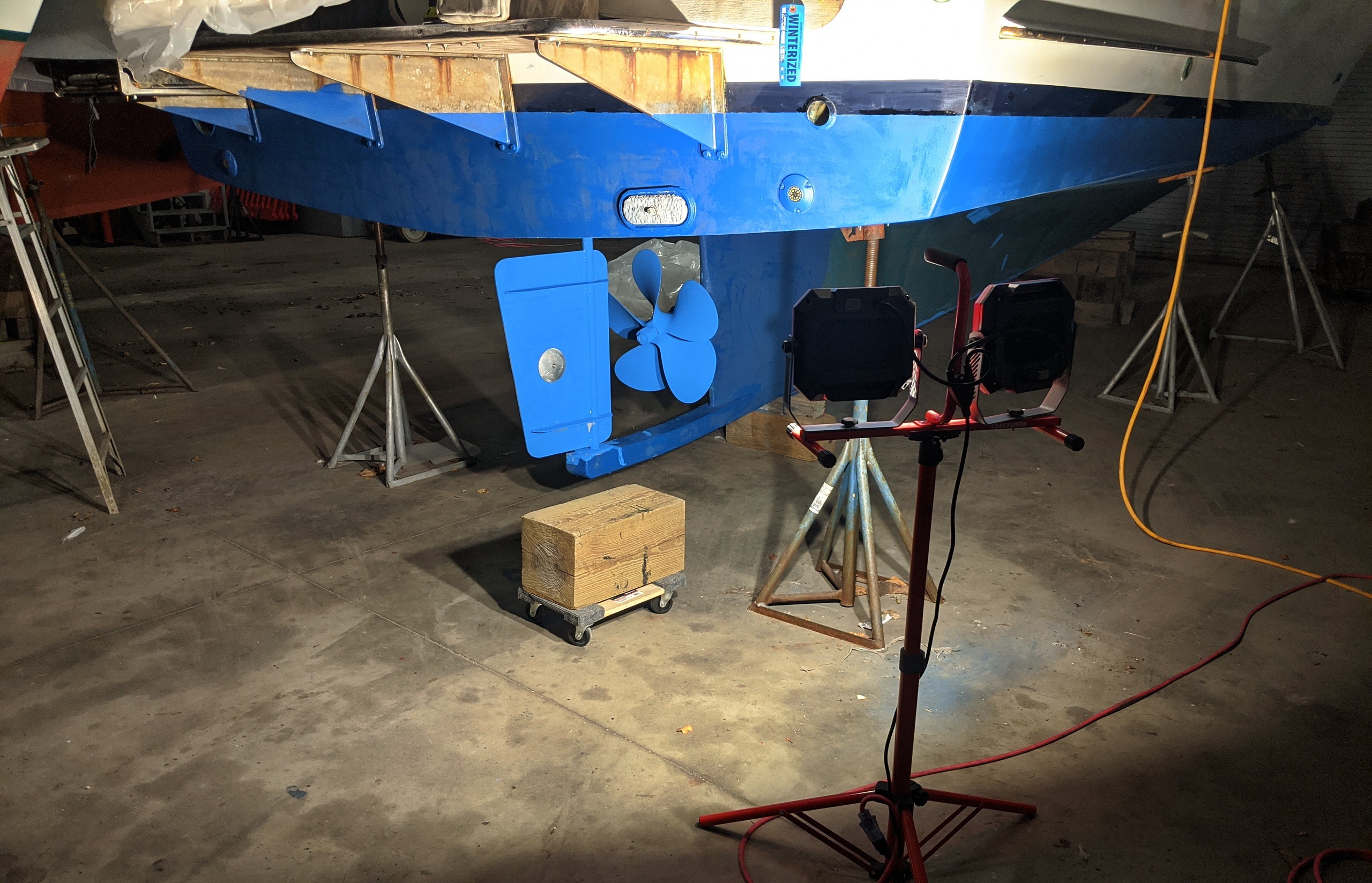 I'm also hoping that the Foulfree will do better than the water-based and copper-free Pettit Hydrocoat Eco I've often used, and I'm already comforted by Airmar's endorsement that Foulfree won't negatively affect sonar performance. But I was happy to again apply some remaining Hydrocoat Eco over the inexpensive and easy-to-apply Pettit Prop Coat Barnacle Barrier I've long used to protect Gizmo's bronze prop and stainless rudder. (I've learned over the years, though, that anti-fouling effectiveness has to do with a boat's shape, how it's used, and the microclimate of its home harbor as well as the coatings used; so results may differ.)
Finally, this was the first time I worked on Gizmo's bottom in a windowless shed with a concrete floor, and I came to deeply appreciate the two accessories shown above. That Craftsman 9000-Lumen LED Work Light had already brightly lit the boat's interior for many project sessions before illuminating bottom and topside details to a degree I hope few will notice now that Gizmo is at her mooring (my work is not up to what Wayfarer Cove did in 2018).
Then there's that $11 Harbor Freight dolly with a large chunk of borrowed boat blocking on top. It was perfect for scuttling around the boat's less accessible bottom areas, and your knees, back and shoulders may be equally grateful.