Gizmo 2016, Pettit Hydrocoat Eco round 2 and Gadget redo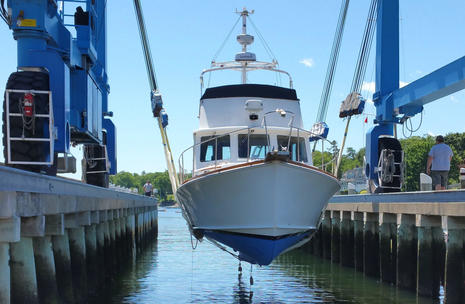 "You're pretty late, aren't you?" I heard that a lot recently! There are many reasons for Gizmo's late launch last week — travel, getting old, boatyard miscommunications, etc. — but perhaps the most interesting one is what it took to properly retest Pettit Hydrocoat Eco bottom paint. Modern anti-fouling paint can be more of a technology than I realized and I'll also have to admit to some classic boat owner denial. Plus, I'd like to show off some improvements to the good tender Gadget…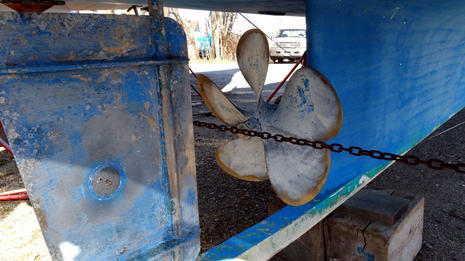 You may recall that I began the first Hydrocoat Eco test in May 2014 and I should have reported on the results when Gizmo was finally hauled again in November 2015. In retrospect, however, it was lucky that I was away during that haul and no one took pictures before the pressure wash. This post-pressure-wash photo does suggest how well the paint prevented hard fouling — except for a few barnacles on the stainless rudder, whose Prop Coat Barnacle Barrier undercoat and Hydrocoat Eco also endured thousands of miles of prop wash and more than a few soft groundings (mainly in the New Jersey ICW 😉 — but I would have complained about the soft brown slime that soon uglified Gizmo's waterline. And then I would have had to eat those words when I learned that we had not applied the Hydrocoat Eco correctly.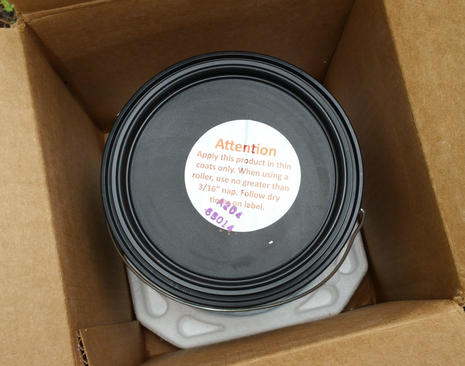 While the Hydrocoat Eco data sheet (PDF here) has always been clear about how thin the coats should be — 1.4 mils dry, 4.0 wet — it's good that Pettit has now added an attention-grabbing label to the can. Applying bottom paint this thinly is not the norm and apparently Hydrocoat Eco's dual active biocides can get locked away if the paint cures too much from the outside in. My yard almost undoubtedly used 3/8-inch rollers to apply the paint in 2014 — heck, they had to get the suggested 3/16-inch nap rollers special this year — plus, yours truly had generously rolled extra paint onto the belly band for that first test. Thicker is better when it comes to ablative bottom paint, right? Wrong for Hydrocoat Eco!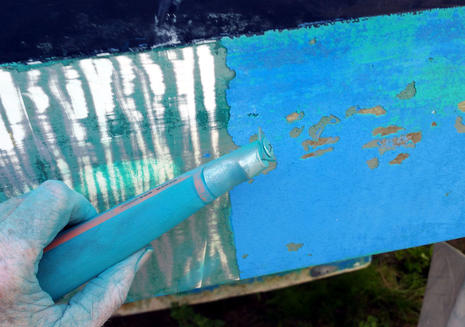 It's almost funny how much I came to regret my old school "more is better" ways. After the Pettit home office agreed to let me try Hydrocoat Eco again — plus a further experiment described below — their New England Field Tech inspected Gizmo and pronounced her unfit for testing unless much of the old paint was removed. I was a bit chagrined until I looked again myself and realized how totally oblivious I'd been to the effect of multiple layers and a long drying period. Water-based Hydrocoat is particularly good at going over old paint because it doesn't contain traditional solvents, but sticking to paint that's falling off does not make for a fair test. (Incidentally, the lack of solvents can help boatyards stay under the maximum total VOC emissions being imposed in some locals.)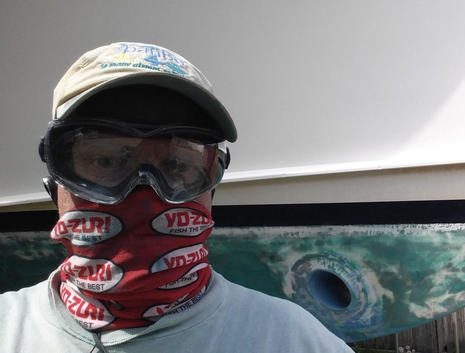 There's no doubt that Lyman Morse Wayfarer could have done a better job of paint removal, but they do nicely tolerate local DIY types nowadays, and it was a good excuse to equip myself with a mighty Bosch 6-inch orbital sander and a Fein auto start vac. I also chose to focus on the waterline area and thus I'm responsible if the new Hydrocoat Eco fails further down the hull because the old underlying paint lets go.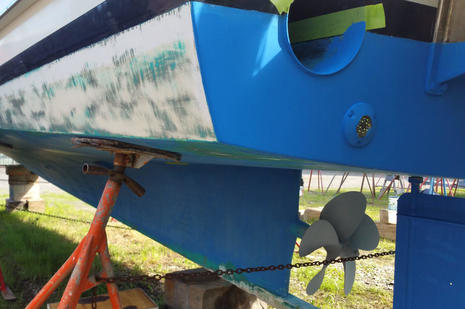 But Pettit's Steve Miller was fairly pleased with the project at this point in the proceedings — I'd rolled the transom myself so I could finish installing those Lumishore SMX92 full spectrum color change LED underwater lights (with WiFi control, yeeha!) — and he also approved the thin full coat (with a second coat around the waterline after proper drying period) that the LM Wayfarer crew applied. I think it's great that Pettit has well informed field reps like Steve who help boatyards better understand their products and deal with issues — Interlux does, too — and I was pleased to hear that copper-free paint is really catching on. The anti-hard-fouling Econea and slime-inhibiting Zinc Omadine in Hydrocoat Eco should still be handled carefully by the applicators, but they purportedly break down into biodegradable components once they've done their work (Pettit explanatory PDF here).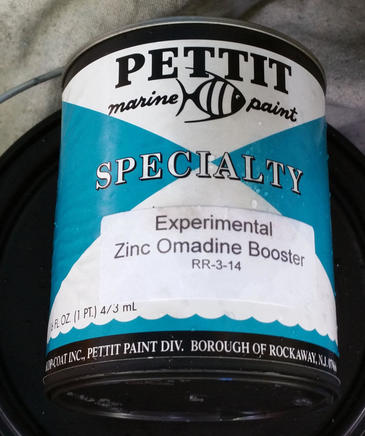 But is the 4.8% Zinc Omadine in Hydrocoat Eco (and several other Pettit formulations) good enough for surprisingly slimy Camden Harbor? I'm confident that the paint is applied properly this time, but half of it also contains a booster that Pettit is experimenting with for extra difficult locales.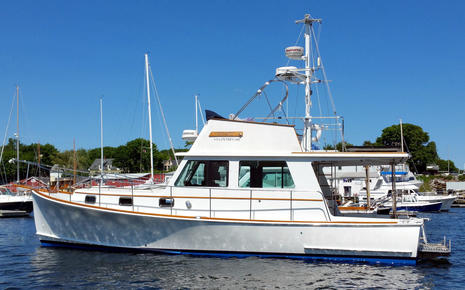 So Gizmo's port forward and starboard aft bottom quarters are painted with boosted Hydrocoat Eco and the other two quarters with regular formulation. That way the two types will get equal exposure to sun and the fresh water runoff that may be part of this harbor's issue. Plus, any difference between the boosted and regular paint performance during the (possibly very long) season ahead should be visible on either side of the boat.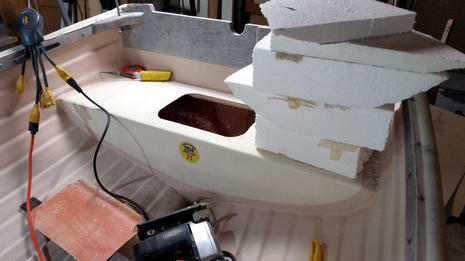 Yes, I cut large holes into the beautifully-built Fatty Knees 9 tender dubbed Gadget and permanently removed perfectly dry flotation, but please don't call me nuts until you understand the whole scheme. The formerly waterproof aft and forward seats now contain a total of five PFDs with room for small gear plus an almost completely invisible but powerful bilge pump system.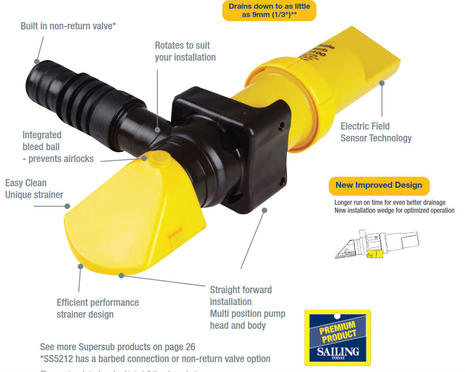 Whereas the Fatty Knees has an unusually full and deep keel, I was able to cut another hole low in the aft seat face such that the svelte Whale Supersub 1100 pump illustrated above fits inside the seat with its 2.4-inch wide strainer facing forward at nearly the lowest possible point. In hose testing the pump with its solid-state high bilge sensor drains the boat quickly and nearly completely, and I know that I'll be able to get even closer to dry perfection by lifting the tender's bow either from the dock or Gizmo's swim platform.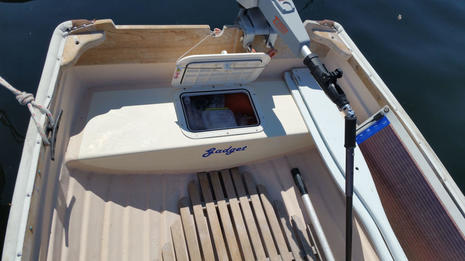 You can't even see the pump strainer under the tender's floor boards but the oars are hiding another hole where the solar panel output wire leads into the seat and then to the small battery box. I did refrain from permanently mounting the Vexilar T-Box WiFi fishfinder transducer that I've already used in Gadget to collect Navionics SonarChart data, because another hole in the transom seemed like one too many, but the Vexilar power cable is already wired to the battery and a temporary T-Box install will be easy.
The similarly solar-powered EasyBailer I've used in several tenders is still alive but it's really nice not to have it cluttering Gadget along with the PFDs and other gear I can now stow under the Bomar hatches. This tender doesn't have quite the flotation it was built with, but I'm pretty sure the 750 gph Supersub will take care of at least a partial swamping pretty well, though I'm not sure how far I'll go to test the theory.