Land Rover BAR, can this AC35 tech partnership "bring the Cup home"?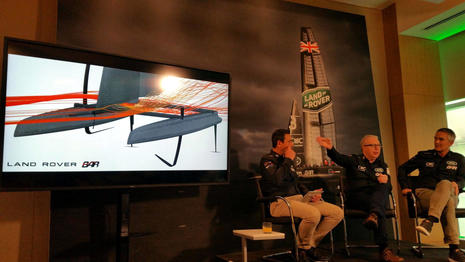 At this press conference in New York City on Saturday, May 7th, the UK's largest automobile manufacturer, Jaguar Land Rover, made the case that their support of Ben Ainslie Racing (BAR) in America's Cup 35 is not just about marketing. It's also a technology partnership that may be critical to finally bringing the Cup back to England, which both parties would really, really like to do. I completely bought the story and I was especially feeling my inner Brit after taking in the rest of the weekend's AC World Series pageantry off lower Manhattan…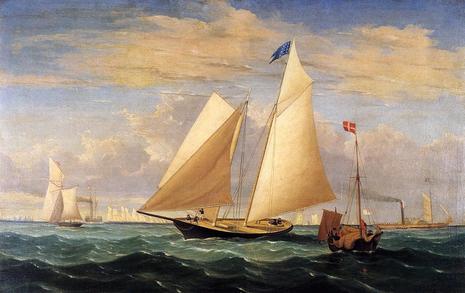 I vaguely knew the story of the "Auld Mug" that is now the oldest international sporting trophy, but the Land Rover BAR managers were willing to go into embarrassing detail. Simply stated, in August 1851, the Royal Yacht Squadron purchased the £100 trophy for the first annual race around the Isle of Wight that allowed foreign challengers, the American schooner America soundly beat 14 British yachts to the finish line, and the Mug — which was soon renamed the America's Cup — has yet to be won back!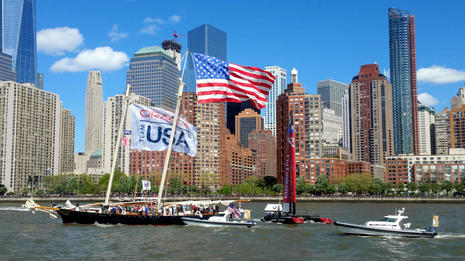 In 2016, this replica Yacht America is a classic design to all eyes, but in 1851 she was a radical vessel with deep roots in New York City. The syndicate that had her built to show the "old world" a thing or two about American sailing — and hopefully to win some serious prize money in the process — was headed by John Cox Stevens, the founding commodore of the New York Yacht Club (detail here, much more NYYC history here).
It is rumored that Larry Ellison (not my relative) largely bankrolled the New York City edition of the America's Cup 35 World Series and I imagine him relishing the ironies of using this replica America to host Oracle Team USA's guests (who are getting a post race visit from the Oracle AC45 and her snappy support RIBS in this photo). The NYYC may have held onto the Cup for 132 years, but Ellison famously resuscitated the blue collar Golden Gate Yacht Club to bring the trophy to the new world of San Francisco and Silicon Valley. (The Billionaire and the Mechanic is the must-read account of that friendship and AC competitions 33 and 34.)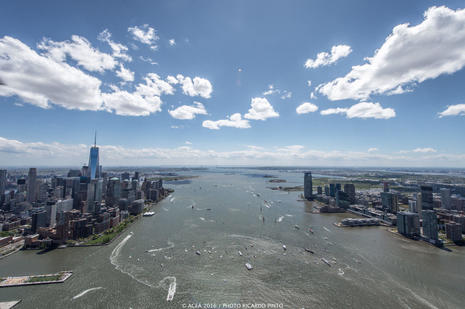 New York City is also a reminder of yacht America's blue collar roots. In 1851 competing pilot organizations raced out there beyond Staten Island and Sandy Hook to be the first to meet an incoming ship, and America was very much a modern pilot schooner built in lower Manhattan by George Steers and professionally sailed by NY pilot Dick Brown and his mates. Some 21st century sailors may look down their noses at the highly professional and sponsored style that Team Oracle has brought to Cup racing, but the excellent Cup Experience chronicler Jack Griffen points out that it's really always been about money, pros and tycoons in his fine Cup History video.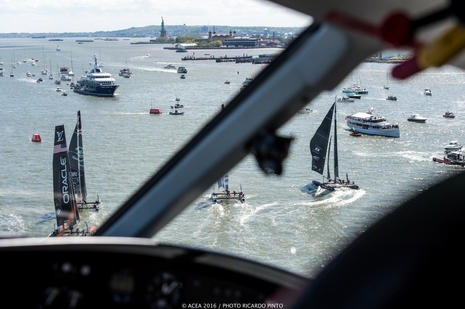 I particularly like this America's Cup Event Authority (ACEA) helicopter shot because — thank you, Land Rover BAR! — I got to watch the NYC event from that 122-foot classic motor yacht seen just to the right of the racing catamarans. (The big blue superyacht is the impressive Northern Star, and she could be yours for just £99,959,000.)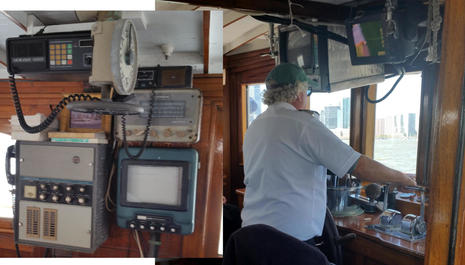 The charter yacht Mariner III turned out to be much more than a handsome and well kept example of 1920's luxury boatbuilding. Captain Sean Kennedy has been the vessel's owner/operator for nearly 30 years and apparently he was already a fan of early marine electronics technology. His son, now a mate, told me how excited his dad was to recently acquire that huge old Furuno radar, and I also learned that the historical devices mounted behind the helm can still be powered up.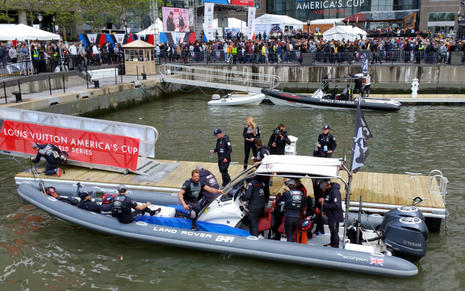 The starboard deck outside Mariner III's pilot house was a great observation post even when docked in the tight North Cove Marina where the AC Village had set up. The AC45 cats themselves were based in New Jersey, but before and after each day's racing the crews ferried in to meet the crowds. If you click this photo larger, you'll see Oracle's Jimmy Spithill on stage and on screen, while team Ben Ainsle Racing (BAR) regathers on their sharp UK-built Scorpion RIB.
AC racing may never reach the popularity level hoped for in this country, but it does have celebrities. In fact, the long-haired gentleman chatting with Sir Ben is Sir Richard Branson, who is about to assume the Guest Racer position. It's not clear if Virgin Group tycoon Branson is a BAR sponsor yet, but Ainsle certainly lucked into a pitching opportunity on his honeymoon.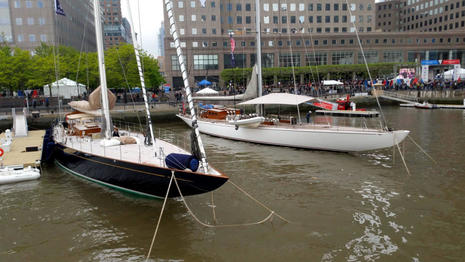 As Capt Kennedy backed Mariner III out through North Cove's skinny entrance — using well trained spotters, not cameras — we got this view of two J-class racing yachts like the ones that fought over the America's Cup in the 30's. The white J5 Ranger is a replica of the Ranger on which Harold Vanderbilt successfully defended the cup in 1937 (great Maine launch video here), and while the blue J boat was designed in 1935, J8 Topaz just launched last June.
The pair looked sensational sailing off Manhattan even given Saturday's gray and nearly windless weather, but when they stayed tied up during Sunday's brisker and sunnier conditions, I wondered if it didn't symbolize the apparent current diffidence to the Cup by the NYYC, to which both boats may be associated. On the other hand, AC35 will host a J Class regatta just before the final Cup racing in Bermuda scheduled for June 2017, and that should be quite a sight.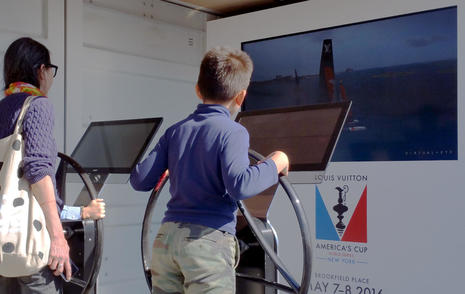 The efforts of Larry Ellison and his ACEA crew to make the AC more accessible to regular folks was quite evident ashore. It appeared, for instance, that these youngsters (and their mom) helped themselves to the Virtual Eye racing simulation stations, and they seemed deeply involved.
The NYC Event Village also hosted a line of booths for local boating organizations as part of the AC Endeavour Program to promote community sailing. Rocking the Boat looked like a particularly terrific program to me. I remember motoring by Hunt's Point about this time last year, and I was thrilled to learn that kids are building boats there and learning to use them on their East River backyard.
When possible, the ACWS race course ran right along the Battery Park City Esplanade, and so the general public often had a better view than those of us floating on the other side of the course boundary. In fact, Adam Hyde took this photograph while on a getaway trip to NYC from Vancouver, BC.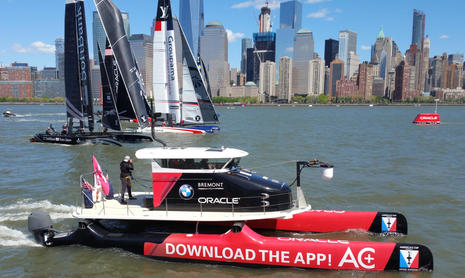 With Sunday's northerly winds coming down the Hudson, the race course did extend well out into the River and we got some good views from Mariner III. But as always since Panbo lauded Stan Honey and his tech team for the vastly improved AC broadcasting very well explained by Wired (plus the race management and umpiring I saw in San Diego), perhaps the best view of the racing is on TV or maybe on the AC+ app. (I say "maybe" because the app seemed like a waste of money when I tried it during the first AC35 World Series events in England and Sweden last summer, but hopefully it works better now.)

Much of the work that Honey and team members like Eric Steinberg did for AC34 is definitely helping with the 35th edition. Actually, I first admired the clever video boat above in 2011 and once again it was zipping all over the course wirelessly delivering the output of that FLIR UltraMedia HD cam without leaving a wake. (I've heard that this boat was built in about six weeks using stock sailing cat hulls, but have never been able to verify the story.)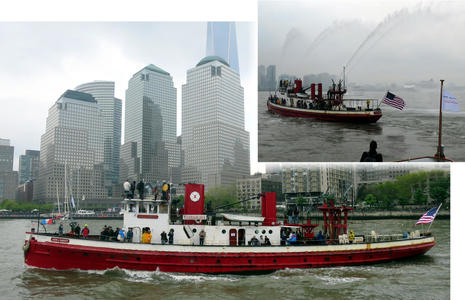 You may be gathering by now that the actual ACWS racing in NYC was troubled and that's even more true than the images indicate. Fluky winds combined with lots of current and boat wash meant that the AC45s almost never got up on their foils and there was a lot more luck than skill to winning the few races that did finish. But hopefully the over 100,000 spectators who took in the last crazy race got a taste of AC excitement, and I'm not sure I could ever tire of New York Harbor boats and skyline.
Did you know of the 1931 fireboat John J. Harvey, now apparently maintained and sailed by volunteers? And wasn't it nice of them to hold off with the 18,000 gallons-per-minute water pumps when we were to leeward?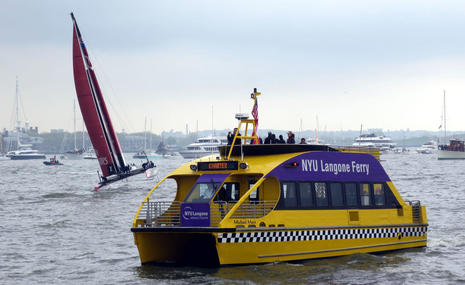 New York Harbor seems always alive with contrasts and commerce even when wing-sailed catamarans aren't slicing by, and I've long had a personal interest in its history. In a 2005 entry about finding antique maps I mentioned the 18th century Ellison dock that was purportedly one of the first on the Hudson but would now be several long blocks behind the amazing array of buildings that dominated the race scene.
Soon after that map research, my daughter and I explored our family history by boat, starting at North Cove, for a magazine article called Hudson River Melting Pot (PDF) that I still relish. What I was particularly remembering as a guest of Land Rover BAR is that the first New York John Ellison suppossedly arrived from England as a ship's carpenter in about 1688. I figure it's not too late to wave the Union Jack.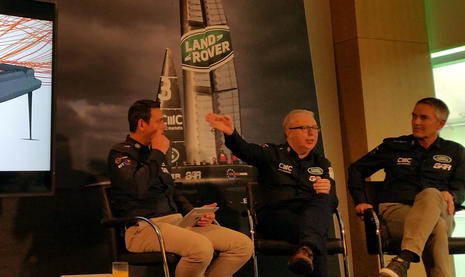 So let's go back to the very British Land Rover BAR tech press conference that began my AC in NYC weekend. On the left is Jaguar Land Rover's "Director of Experiential Marketing" Mark Cameron (whose video nicely explains experience marketing) and to the right is BAR CEO Martin Whitmarsh (most of whose work life involved Team McLaren F1 auto racing). In the middle and gesticulating toward his slide is Head of Research Tony Harper, who leads a team of about 6,000 Jaguar Land Rover engineers.
When Harper said that he and his mates "live in 2019" he meant the automobile technology they are trying to anticipate and create. And that led to how enthusiastically his team has taken to helping design the powerful BAR America's Cup Class (ACC) catamaran that will challenge Emirates New Zealand, Softbank Team Japan, Groupama Team France, and Artemis Racing (Sweden)…and only then possibly Oracle Team USA in Bermuda next year (CupExperience guide here). Harper shared some details but first let's remind ourselves about how different the ACC boats will be from the AC45s.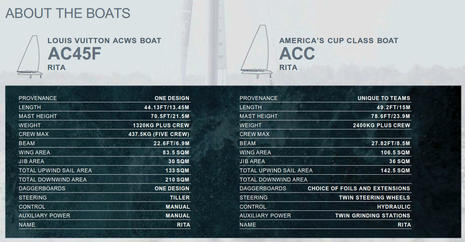 The AC45F used by all the teams in the World Series events is a pure one design and so the competition is purely about human skills (and mother luck), not technology. But while the ACC is just a few feet longer, the design rules apparently permit about twice the power — "Think 46 knots in 16 knots of wind…" — and they also permit lots of technical innovation. Tony Harper says they're focusing on three areas: aerodynamics, data acquistion, and human machine interface (HMI).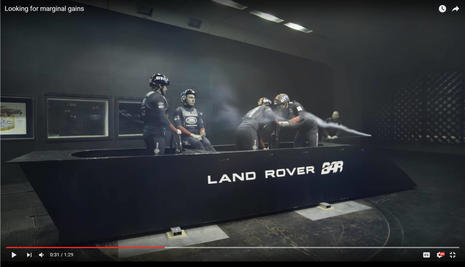 Given the racing speeds of the ACCs, aerodynamics is obviously important — Land Rover BAR wind tunnel testing video here — though I was sad to learn that the poor grinders will probably be on their knees, heads down (and they won't even be grinding sheets, just hydraulic pumps). On the other hand, the helmsman, tactician, and trimmer may all need extra eyes and hands as they both sail and fly relatively short legs around Bermuda's Great Sound — not so great at 40 knots — with possibly game ending manuevers in between.
That's of course where the sailors will appreciate truly effective controls and data displays, a challenge whose solution may even trickle down to regular boaters. I doubt, however, that we'll get to see what Land Rover BAR and the other teams come up with until all the racing is done, if at all. While I really enjoyed covering the last Cup's game changing non-competitive tech — summed up in this Geeks win America's Cup 34 entry — it's still somewhat mysterious how Oracle USA made such an amazing comeback (as deeply reported by the WSJ here).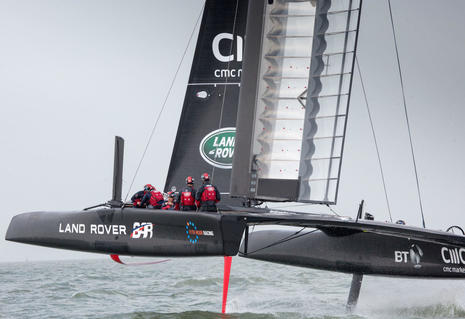 "Real" sailors may wince, but in 2013 Team Oracle seems to have benefited from deep data acquisition and analysis (as well documented here and in Forbes), and no doubt data was getting acquired as team Land Rover BAR blasted around Portsmouth UK earlier this year on their AC45X test boat T2 (above). AC45X? Right, so the AC35 teams are only allowed to build one real ACC racer and it can't be launched until December, but they can build as many slightly smaller test boats as they want. Land Rover BAR T3 is already flying and T2 is already "a Museum Piece."
So there are two AC35 competitions going on right now. The World Series — next raced along the Chicago waterfront starting June 10, followed by Portsmouth in late July and then Toulan, France — earns points toward the final challenger series. But the technology battle is taking place on test boats, in build shops, and at engineering work stations around the world. If you have some insight about those goings on, please share, and, Mr. Harper, I'm keen to listen when you're ready to talk deeper about what will make Land Rover BAR a winner 😉
Sure, I've picked my team for AC35, and why not the British? The team looks strong in many dimensions, and, oh, what motivation they have. The story goes that when Queen Victoria asked which yacht was second in that famous 1851 race, the answer was, "Ah, Your Majesty, there is no second."
The New York City event was certainly a reminder of the Cup's long and fascinating history whichever team you favor. But just beyond North Cove Marina was a potent reminder of bigger things. If, like me, you have not seen the new 9/11 Memorial pools, prepare to reflect on the fathomless darkness captured by those square drains. I thought of the sight again yesterday when Memorial day taps sounded in my neighborhood.