Gizmo south photo album #1; self-involved!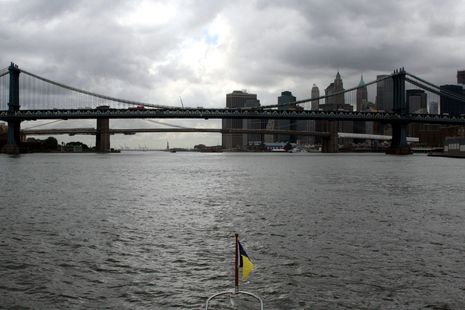 I think we've had some great product coverage recently, thanks largely to Kees Verruijt's excellent METS coverage, and I'm glad to report that Kees, Dan Corcoran, and others have more entries in the works. I know I've said it before but this winter Panbo truly will get more voices, and more frequent entries. Which makes me feel indulgent about posting non-electronics photos of my beloved boat! I spent some of the Thanksgiving holiday going through the images I collected during the trip south, and I couldn't help but feel very thankful for the vessel I lucked into and the coast I live along…
Regarding the opening photo, I suspect that every cruiser gets a kick out of seeing New York City from the water, especially if they're not overly rattled by the tidal currents and commercial traffic. Well, my able mate Leonard Lookner and I had decent weather and ample electronic assistance, and we thoroughly enjoyed our passage down the East River, past La Liberté éclairant le monde, and finally to a berth in Staten Island's seemingly well-protected Great Kills Harbor. I get particularly excited around Manhattan as my ancestors settled there in the late 17th century and I've been a frequent and often wide-eyed visitor to the island(s) all my life. In 2006 I even managed to write a boating magazine feature around that family history, called Hudson River Melting Pot (careful, it's a 1.5 meg PDF), and I read the great The Great Bridge
— just beyond the Manhattan Bridge in the photo above — while staying in Brooklyn Heights.
Sorry to get sentimental but what Hurricane Sandy's surge did to the Great Kills Harbor area — many images here — was especially poignant for Leonard and I because we also deeply enjoyed our brief visit there. We walked back streets along the beach looking for a cottage where a friend of mine (who called the harbor "the outer circle of yachting") built a ferro cement sloop in the 70's, and we found some amazing food in what's now a very Ukrainian neighborhood. So New York! (And the sausage and smoked fish we motored away with was so good!) I'm hoping to find a rebuilt and thriving Great Kills when Gizmo returns next April or May…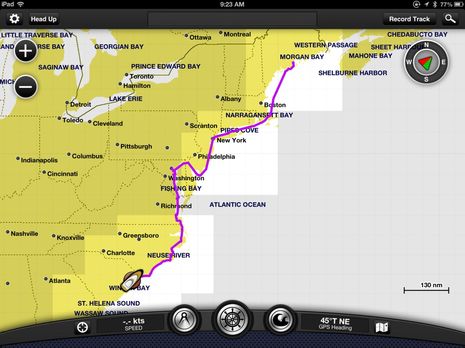 Back in September I detailed the use of Iridium satellites (w/ DeLorme inReach) and Verizon cellular (w/ mAIS or BoatBeacon) to track Gizmo's migration for friends and Panbots, and they both continued to work pretty well the rest of the trip. But I also have numerous logs created by various plotters and charting programs. The screen above is the track collected on the Garmin 7212 (when it was on) and then latter transferred via WiFi to BlueChart Mobile (more on that tomorrow!). I took lots of pictures along that track, particularly of boats, but the rest of this entry will focus on the fine vessel that provided the ride…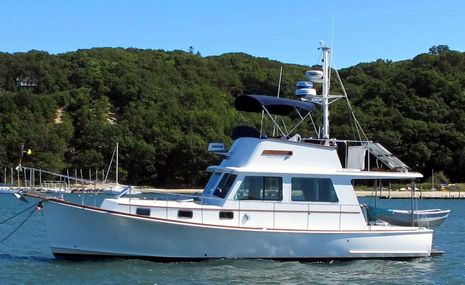 When Gizmo snuggled up to a mooring in Port Jefferson after a forty hour run from Camden, it was the first time I got to see how the new dinghy rig looked. I left the 11-foot tender in Maine because it's fairly heavy and a bit exposed to docks and big seas when clipped and folded onto the swim platform. I didn't know for sure how that old Bolger-designed Nymph would fit in the cockpit but it's worked out pretty slick. It can be launched or retrieved in minutes, even single-handed, and perhaps you'll agree that a stowed tender looks best right-side-up and headed in the same direction as the mother ship? However, I'm still working on the ideal positions for passenger and driver when using the Torqueedo Travel 1003 😉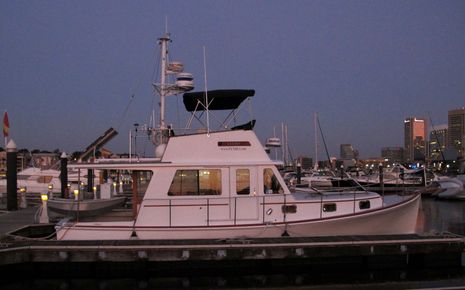 And here she is tied up at Harbor East Marina in Baltimore, an excellent facility I mostly learned about from ActiveCaptain (where I added my two cents too). As in Port Jeff, the boat is laying stern-south so the solar panel rack is hoisted; that system has worked out well so far, and in this case meant I hardly racked up any daily shore power charges. You might also notice Gizmo's rather chaotic antenna situation. I've long meant to study the many possibilities for best performance and tidy installation, but instead have done things piecemeal. For instance, the Shakespeare 8-foot 6db 9202 went onto the port mast spreader last August when I wanted to be sure that my VHF comms were up to working the Penobscot Bay Rendezvous. It improved range and clarity significantly over either of the 3db masthead whips, and also helped with AIS tx/rx (and FM rx) thanks to a Vesper Marine splitter.
Then the Digital Antenna 9dB cell stick went on the starboard fly bridge rail just before we left Maine and along with a Wilson amp and booster cradle has often added two bars to my Nexus Galaxy communications. (Incidentally, I recently learned that Wilson intends to pay more attention to the marine market and I will likely be testing other gear on the trip north.) At any rate, Gizmo's antennas are still not all they could be (like wired with low loss cable), but I am more and more convinced of what every pro seems to already know: powerful antennas well installed make a difference!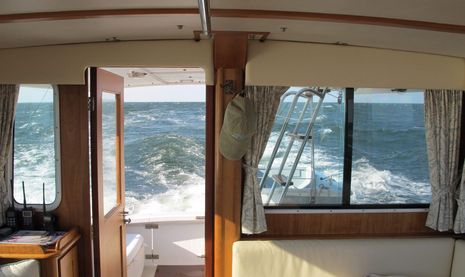 I also learned a lot about how Gizmo handles in fairly rough conditions. I'd done most sections of this trip multiple times, including maybe 50 crossings of the Gulf of Maine, but mostly in sailboats and mostly during the previous century. And, yes, there were times this fall when I recalled how nicely a sailboat can handle wind and waves. However, it seems that Spencer Lincoln did some great work with the Duffy 37 design even when used mostly in trawler mode like I do. I just add power and speed to shoulder through jumbled seas and I've come to appreciate the lower helm as much as the upper one. I also got a kick out of all the folks who went out their way to tell me what a looker Gizmo is 😉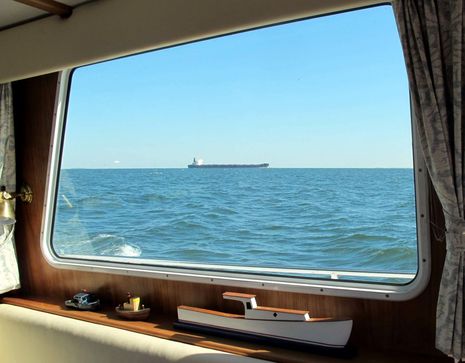 I still prefer the flying bridge for maximum situational awareness but all the glass around the pilot house/salon is a very good thing. (And the helm side door made single-handing from Baltimore to Myrtle Beach much easier, even if that wasn't a great idea given how the schedule worked out.) There's a lot to be aware of chugging down this coast and AIS was both useful and fun; eventually I'll write about how well Vesper's still unduplicated decluttering and alarming worked in situations like the 146 simultaneous targets we encountered in New York Harbor…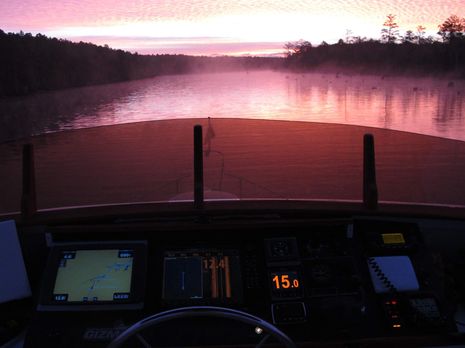 There were serene moments too, like the dawn scene above in the Abelmare and Chesapeake Canal, which was particularly sweet as I'd just pulled off a major engine repair in two days (largely thanks to the skills and flexibility of Atlantic Yacht Basin, who also charged very fairly). Note the stumps and the Simrad StructureScan at work. It's a great tool for ICW awareness too; I would later learn with pleasure that the bottom of the infamous Rock Pile section is not nearly as rocky as the shores suggest. And how about the scene below at about mile mark 372 just south of Myrtle Beach? Just ahead is the skinny left-hand cut that leads into Osprey Marina where Gizmo is happily ensconced. Thanks to a Siren Marine Pixie I know she's exactly where I docked her, the main battery bank is floating at 12.7v, and the temperature in the engine room is 50°F. I hope to add more sensors when I go down for a work session in a couple of weeks…but less self-involved entries will return tomorrow!