AC34, on board the committee boat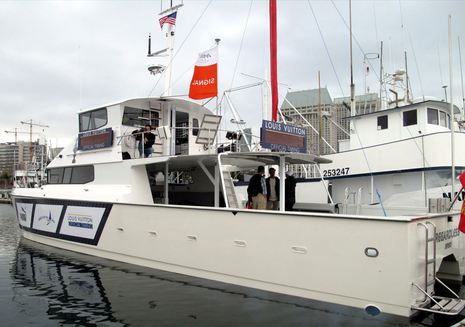 Almost two months later and I'm still excited about what I saw of America's Cup 34 in San Diego. If I had a megayacht I might well dispatch it to Naples or Venice for the spring World Series events, and I'll certainly be tuning in to AC's YouTube channel. But I'm convinced that understanding the incredible technology behind the scenes helps you appreciate how pure the racing is, and I've got several more entries to write on the subject, as well as an April Yachting feature in the works. Today we're going to peek at what goes on aboard the AC 34 committee boat, a sturdy power cat named Regardless…
AC Race Management (ACRM) named most of their support vessels (which I started covering in November) after past Cup winners, but I don't think that applies to Regardless. However the name might be a reference to how determined the umpires and race officers — along with the tech heads behind them — are about running fair and exciting races.
At any rate, and as glimpsed on her mast above, Regardless is equipped with the same precision telemetry and multiple broadband communications systems that I wrote about in San Diego. And thus the multiple computer stations and customized Garmin 7012 on her bridge are highly connected…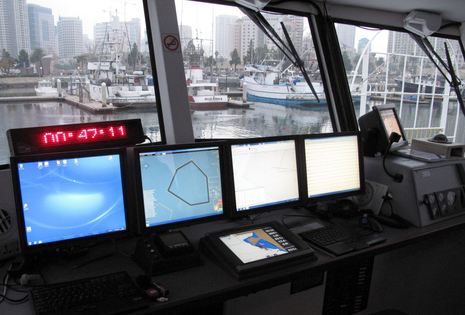 Starting at left is a backup PC that's also used to watch the AC live video, then there's a repeat screen of the umpire program that's run primarily from a container ashore (and shown better in this image), and the last two screens are the special version of Expedition tactical racing software used to set up and manage the courses…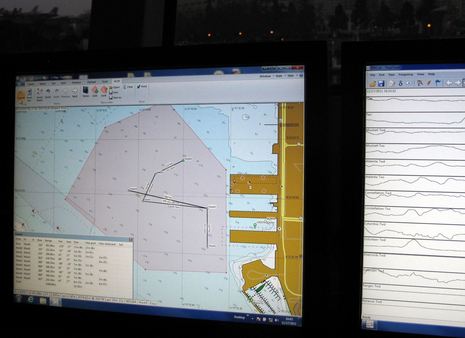 Principal Race Officer John Craig uses the right screen above to see true wind conditions all over the course and the left screen to lay out the course and even change marks during the race. Yes, he can do that! In fact, if you click above for the full image you'll see that he's also laid out a race route so that Expedition can use polars for the AC45 catamaran one design to calculate a total time for the course. Thus Craig can attempt to hit the goals of 18 minutes and 40 minutes for match races and fleet races respectively (and he told me he's gotten within a minute sometimes). Keeping a day's racing on schedule is one way AC34 hopes to attract a wider audience, not to mention interest from broadcast TV. And the same is true for the unique boundary rules (explained here), which help keep the racing exciting and the audience close…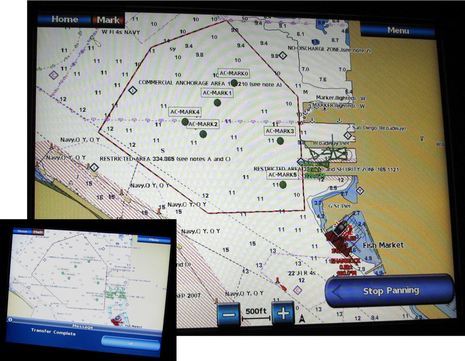 When Craig is ready to set or change a course, he submits it to the network and it instantly shows up on the ACRM Garmins aboard all the mark boats and the rest of the support fleet. Meanwhile the racers get text messages about course changes via the little grayscale screen that is their only onboard display (I think). Another interesting thing about the screen above is that all those (post race) AIS marks for the cats and support boats actually having nothing to do with AIS transponders. They're plotting data within the ACRM wireless network — so they're accurate to fractions of inches, degrees, and refresh seconds! — but the programmers saved themselves some unneeded code by using AIS messages for presentation.
In fact, Garmin gave ACRM Ethernet access to their systems to more easily accomplish the integration seen above, but the people involved seemed to agree that at least the course management aspects of this system could be done at a scale that might work for much lower budget race committees. Maybe that's one use for the Garmin GDL 40 N2K cellular modem we hadn't imagined yet?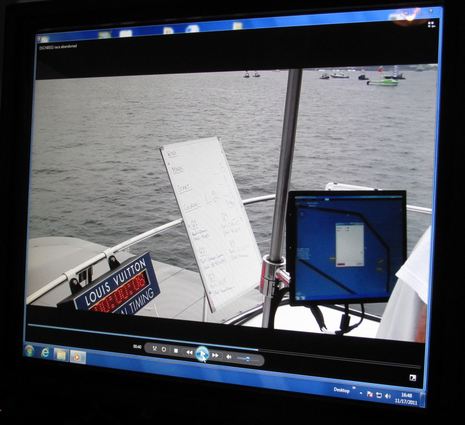 On one of my visits to Regardless I shot the #1 pilothouse screen above while it showed some earlier video of the bridge deck where the venerable Harold Bennett presides over the racing. He does indeed have an old school whiteboard for keeping track of things, but he also has his own monitor out there. Bennett has been involved in many America's Cup races, but maybe not as many as the two principal developers behind the software discussed above.
Apparently the umpiring program was written by Graeme Winn, the creator of Deckman and the WTP processor, and of course the special ACRM edition of Expedition was brewed up by Nick White. According to White's wonderful "Brief history of sailing instruments and software over the decades" both he and Winn, and ACRM Director of Technology Stan Honey, have been working in this realm for a very long time. What seems remarkable about AC34 is that instead of toiling to give particular Cup competitors a technology edge this brain trust is now working to create an even playing field.
Another task of the Regardless team is to carefully film the start and finish lines to back check the telemetry gear. Apparently they've proven that the umpiring system is able to catch a boat a mere four inches over the line but not penalize one four inches behind the line. And mind you that the nine race boats each have two bows and prod and often arrive at the start line en mass at double digit speeds, an umpire's nightmare!
Honey says that one gratifying result of the technology is that the skippers have learned to trust the penalty process, and whereas AC34 only permits protests during a race anyway, the post-race skipper meetings have become almost collegial. As exciting as this racing is to watch, it's even more so knowing that it's all about tactics and seamanship. I wish I had a sharper closing image of Regardless in action at a mark, but Lord knows you can find plenty of those in videos like the San Diego fleet championship (if you want to skip the drag racing, start 60 minutes in).