Underwater lights, Lumishore EOS blazes trail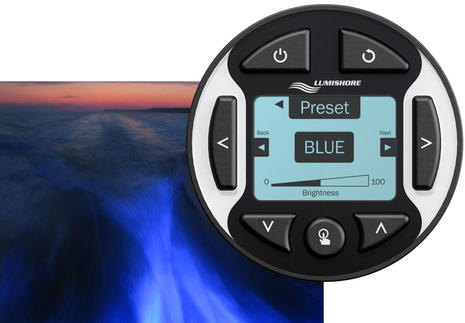 Let's talk about the pleasures of lighting on this shortest day of the year (at least on this side of the equator). Not that many boats have underwater lights (yet), but it is a highly dynamic and competitive sector nonetheless. Every year it seems like multiple manufacturers are offering greater LED brightness in more rugged fixtures with yet further advanced features and nicer controls at less cost in money, electricity, and install hassle. One product family that shows many such areas of improvement is the new EOS Surface Mount system from Lumishore, a company which seems to be leading the pack, at least currently…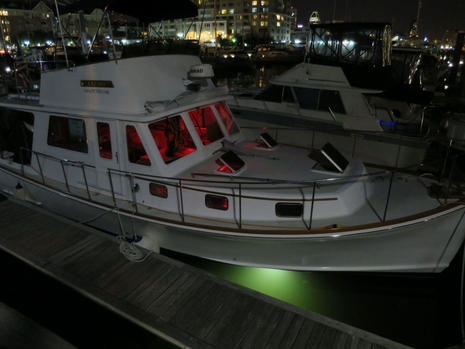 First, let me acknowledge that some boaters don't like underwater lights – a few even despise them. We had a lively Panbo discussion about this back in 2009 and I stand by my personal feeling on the subject, which might paraphrase as "light 'em if you like 'em." And I've pretty much enjoyed the underwater light testing I've done since. The photo above, for instance, illustrates how Gizmo once showed off some subtle luminosity on a balmly TrawlerFest evening in Maryland, the underwater glow emanating from a Macris MIU15 flat LED panel which is installed down near the forward transducers. (The dimmed-down red interior glow is thanks to several Lumitec TouchDomes.)
Unfortunately, the New England style warm white OceanLED Amphibian A6 transom lights I showed off in 2010 cracked and died after about four long seasons in the water (plus exposure to some harsh Maine winters). That was disappointing, but they never leaked a drop, and I'm confident that OceanLED's newer Xtreme designs with stainless bezels are longer lasting. Besides, since then highly controllable, full color spectrum LED underwater lights came along.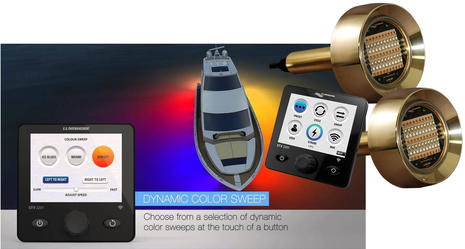 Lumishore kicked off the EOS line a couple of years ago with the Color Controller seen above along with a couple of the 10,000 fixture lumen (and 7.5 amp) through-hull fixtures it's typically used with. I was impressed, not just by the elegant controller and all the neat things it could do with color change lights, but also because Lumishore designed EOS using the bi-directional and open DMX512 RDM lighting standard. Thus, the lights can easily integrate with music sources and can even be run by third party controllers like Crestron, plus the fixtures can report all sorts of diagnostics (as I illustrated after NMEA 2015). However, the kit above with 1 Color Controller and 2 THX801 lights retails for $6,799, and Dynamic Color Sweep isn't going to be very spectacular with just two lights.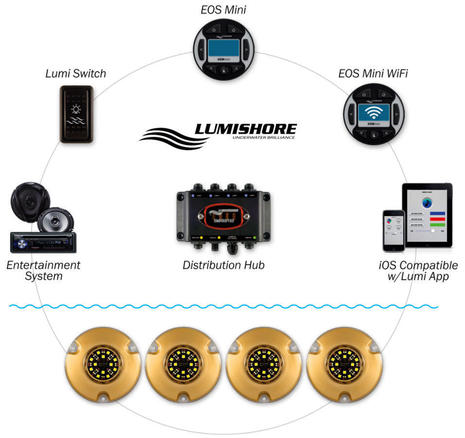 But then Lumishore introduced the EOS Surface Mount color change system with nearly all the big yacht features — depending on which of three controller models you're using — at a substantially less painful cost. A complete starter kit with the one Mini Controller and two 4,000 lumen SMX92 fixtures retails for $2,869, and even the $1,119 single SMX92 with just a Lumi-Switch control can grow into an eight light system mainly with some more fixtures and 1/2 inch holes through your hull.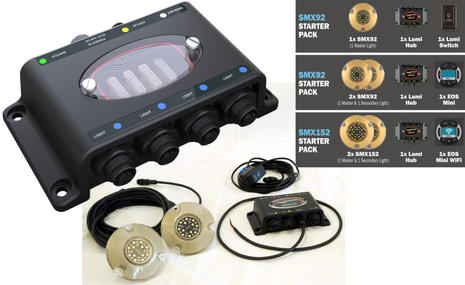 That's because each kit comes with a Lumi-Hub distribution box that uses CANbus-like power and data DMX cables to "Plug'N'Play" up to four lights, and a second Lumi-Hub can be added to the control system with just another cable and a power feed.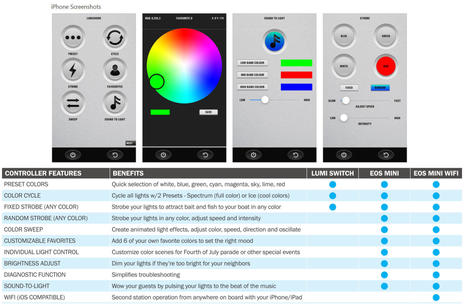 The table above shows what each controller can do, and you'll also see that the WiFi version of the Mini can enable the EOS app that was developed to go with the Color Controller. And when I asked if it was possible for EOS to someday integrate into multifunction displays with digital switching capabilities — like what I saw at FLIBS and METS — it was all smiles in the Lumishore booth. In fact, this company has already had a good year, including winning several awards like NMEA's first ever underwater lighting category and inking a master distributorship with Imtra. But I'm sure they're aware as I am that OceanLED is working on its own DMX512 RDM control system, and they have several other worthy competitors as well.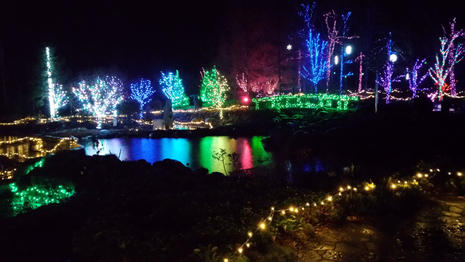 Now let's close with some joyful lighting. Above is the wonderful Maine Coast Botanical Gardens AGLOW — almost 200,000 LED fixtures strong — and if you click it larger you'll see that umbrellas were needed that recent night (and many recent nights). A chilly drizzle didn't stop a lot of visitors; maybe such weird winter weather, and the possibility of a sick climate, increases the need for such luminous color? And below is a summer evening scene at the Camden Public Landing. It's hard to photograph lighting well, but hopefully this suggests how beautifully symmetrical and balanced these lights looked. I had to grin because it wasn't that long ago that a fellow member of the Harbor Committee suggested that we ban underwater lighting at the Landing. He got no support whatsoever. Wishing you all a light-filled winter solstice 2015, natural and otherwise.