Lumitec & AlpenGlow, LED overhead fixtures perfected?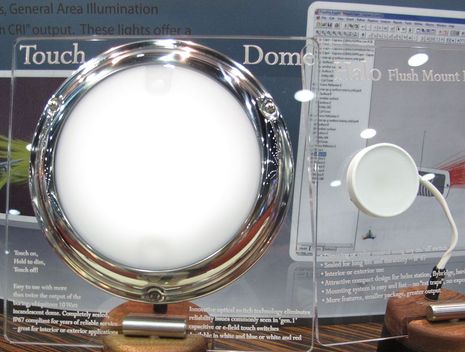 While I once again found IBEX rich with interesting people and products, it was a mere light fixture that may have sparked the moment of maximum excitement! Please check out my April entry about perfect LED interior lighting before we take a gander at the new Lumitec Touch Dome seen above, plus a report on the LED's already in use on Gizmo…
So my contention is that LED technology offers much more than low-power replacement bulbs for existing interior lighting. What's possible is much brighter and better quality light from LED fixtures with better controls, and they don't have to cost a fortune. In fact — except for the cost — this postulate is quite evident on new high-end yachts with gangs of smooth dimming overhead and task lighting (like the wonderful Imtra collections). Smart builders and consumers are learning about subtleties like Correlated Color Temperature (CCT) and the Color Rendering Index (CRI), and the boats are a lot nicer to be aboard as a result.
But finding affordable LED fixtures that really maximize the technology and easily replace the two-wire switched fixtures many of us already have is not easy. Which is why I was delighted when Panbo readers pointed me to the AlpenGlow LED 9-Watt Dual Power with Night Vision seen installed in Gizmo's galley below. I tested it; I bought it; I use it all night every night I'm aboard; and I love it. The high power white — which tested to the claimed 0.7 amp draw — is definitely brighter than the incandescent bulb and fixture replaced, and that curved lens spreads the light beautifully. It's great for serious cooking or cleaning, though the 0.4 amp low white will usually do. Meanwhile, the low red makes a fine night light and the high red is good enough for making a snack without ruining your night vision…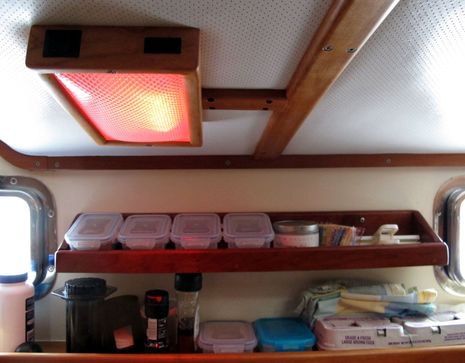 I like the galley light so much that I also bought AlpenGlow's dimmable LED reading light. Concept proved again! It's not only brighter than the filament bulb that was once there but also every LED replacement bulb I tried in the old fixture, and it dims to any lower setting. It makes my old eyes happy! And I tilted it up for the picture to show that you don't see any odd and/or vulnerable circuitry as with some replacements. AlpenGlow builds a quality product. Still though, the "corrosion proof" titanium nitrite plated brass finish is already tarnishing — that's a tough spot, abaft an opening side window — and I fear that the mechanical toggle and dimmer switches may fail well before the LED's themselves do. There is a tremendous amount of engineering to a high performance marine LED fixture, and that's why I'm excited that Lumitec has focused some attention on the retrofit market…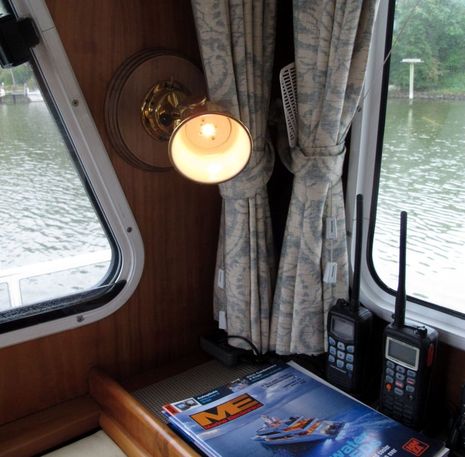 Lumitec is an engineer founded and driven company specialized in marine LED lighting, as proudly explained in the "virtual factory tour video" you'll find on their home page. That's why they show off the tool list below, and no doubt that's also why the glimpse of Lumitec IBEX exhibit seen in the top photo includes a screenshot of optical design software. In fact, it was an engineer who showed me the new products for 2013, and he said he's only one of eleven working for this relatively small (but fast growing) company. I started testing a Lumitec Caprera flood light back in 2009, and I'm still impressed with how well it works today (It's still mounted in the same spot and is great for tying up or tender tending at night, or as a "hey, there's a boat over here" alarm light while underway). But I lost track of what Lumitec was up to…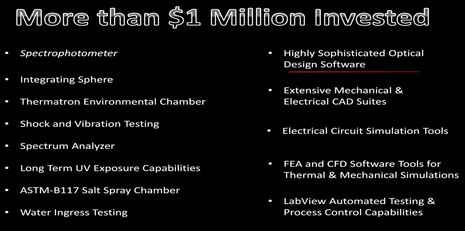 For instance, they've had a nice looking 4-inch replacement dome light out for at least a year. The Aurora gets two color switching and dimming into a two-wire fixture without mechanical contacts by using a magnet in the turnable ring to do the switching. And while I'm not sure just how bright it is, it's quality built and can be had for only $57 on Amazon
. Lumitec doesn't publish "lumen" ratings for its lights — and probably has a good technical argument why not — but note how the TouchDome display pictured at top claims "more than twice the output of the boring, ubiquitous 10 Watt incandescent dome"! Note too that the full on TouchDome draws .41 or .58 amps (depending which spec sheet you read) as opposed to the Aurora's .22, and good engineering just keeps getting more and more effective light from LED amps…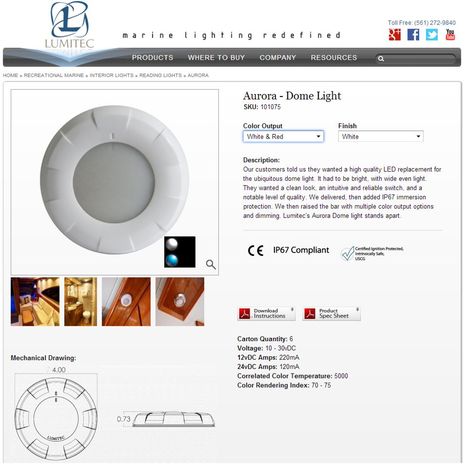 So, yes, Lumitec's online TouchDome specs seem a little confused right now, but I was told at IBEX that it will definitely cover the footprint of traditional 6.75-inch domes like the ones on Gizmo and that it will retail for about $109, which means under $100 on the street. I'm hoping to test one so I can compare the light quantity and quality to my others and also to see if the touch controls really work in wet and underway conditions. My sense, though, is that the Lumitec TouchDome will completely blow away the Dr. LED Mars Chrome (plastic) model installed over my head right now, while being just as easy to buy and install.
I'll close with a shot of my do-it-yourself dimmable OceanLED LIET3 install. LIET has since been spun off with non-marine aims, but this is another light that I use every night, either for fully lighting a nice dinner or table project, or for casting a very soft light around the main cabin. Extra bright LED's with dimmers or multiple power levels are the way to go, I think.