Clarion CMV1, anyone tried one?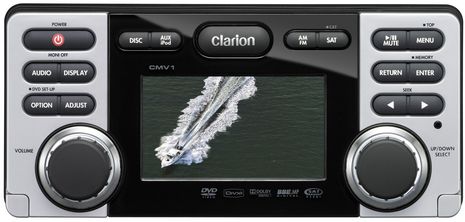 This handsome Clarion CMV1 was announced more than a year ago, but I missed it somehow, even though it does all sorts of things that I think could be great on some boats. It can play DVDs on that 3.5-inch 480×234 pixel screen or output the video via RCA cable to a bigger screen, like an MFD that isn't doing much else when you're parked. And it can do the same thing with iPod/iPhone video, though that feature mysteriously entails a special cable. It even has an RCA input so you could use it to display an onboard video camera. Of course, there's more…

The CMV1 also has an optional Bluetooth interface that will work with a fair number of phones. And, audio wise, it can hook up to a Sirius receiver and tons of Clarion remotes, amps, etc. But what I hope for when I come late to a novel product like this is to find reviews by people, preferably boaters, who've actually used one. No luck. CNET Reviews lists 5 star ratings at Amazon and Crutchfield but there don't seem to be any reviews at either site. Meanwhile, the kids over at The Hull Truth had a great time slagging the CMV1's high price ($800 list) and arguing about marine stereos in general. There's a bit of interest in that thread — like references to Jensen marine DVD players and also a good looking one from MB Quart — but no one posting actually tried the high end Clarion. I'm particularly curious about how well the CMV1's iPod (and iPhone) video feature works, seeing as Fusion — which bet big on iPod/iPhone boat use — is just now introducing video control to its stereos. Has anyone out there tried one?