ClearPoint weather, anybody else tried it?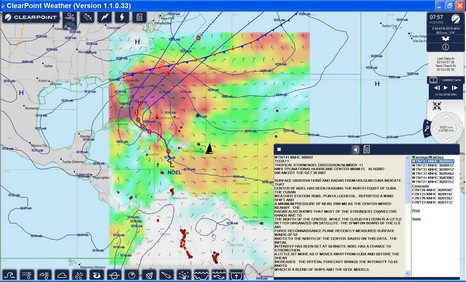 I've been trying ClearPoint High Definition Weather for a couple of weeks now, plus I talked to some of the team at FLIBS. This is a very ambitious operation. The ClearPoint goal is to provide the richness and simplicity of dedicated XM and Sirius satellite weather anywhere on the globe, delivered by Internet. Plus they're aiming to provide more exotic data—like 1 kilometer wind forecasting of certain sail racing hot spots and game fish revealing altimetry/chlorophyll imagery—for certain niche marine markets. And they seem to be working with numerous nav software/hardware developers to provide integrated packages, even automated weather routing.
At any rate, check out the full size screen shot of ClearPoint's PC client software above. The icons at the top—wind, fronts, lightning, hurricanes, and text forecasts—show what I've chosen to display on screen. With the window lower right I can page through those various elements, clicking for specific places on screen. And the icons below show other data types I could add to my mix. I like the interface quite a lot and some of the data, like far offshore lightning, I've never seen in any weather product before. But buying the ClearPoint service is not trivial, and that does not include the cost of offshore downloads, which could be in the .5 meg per hour range (there is a low bandwidth mode, and ClearPoint is working on total download size controls). Interested? There is a free trial; please report back!