Cordless tools make marine electronics installs easier and faster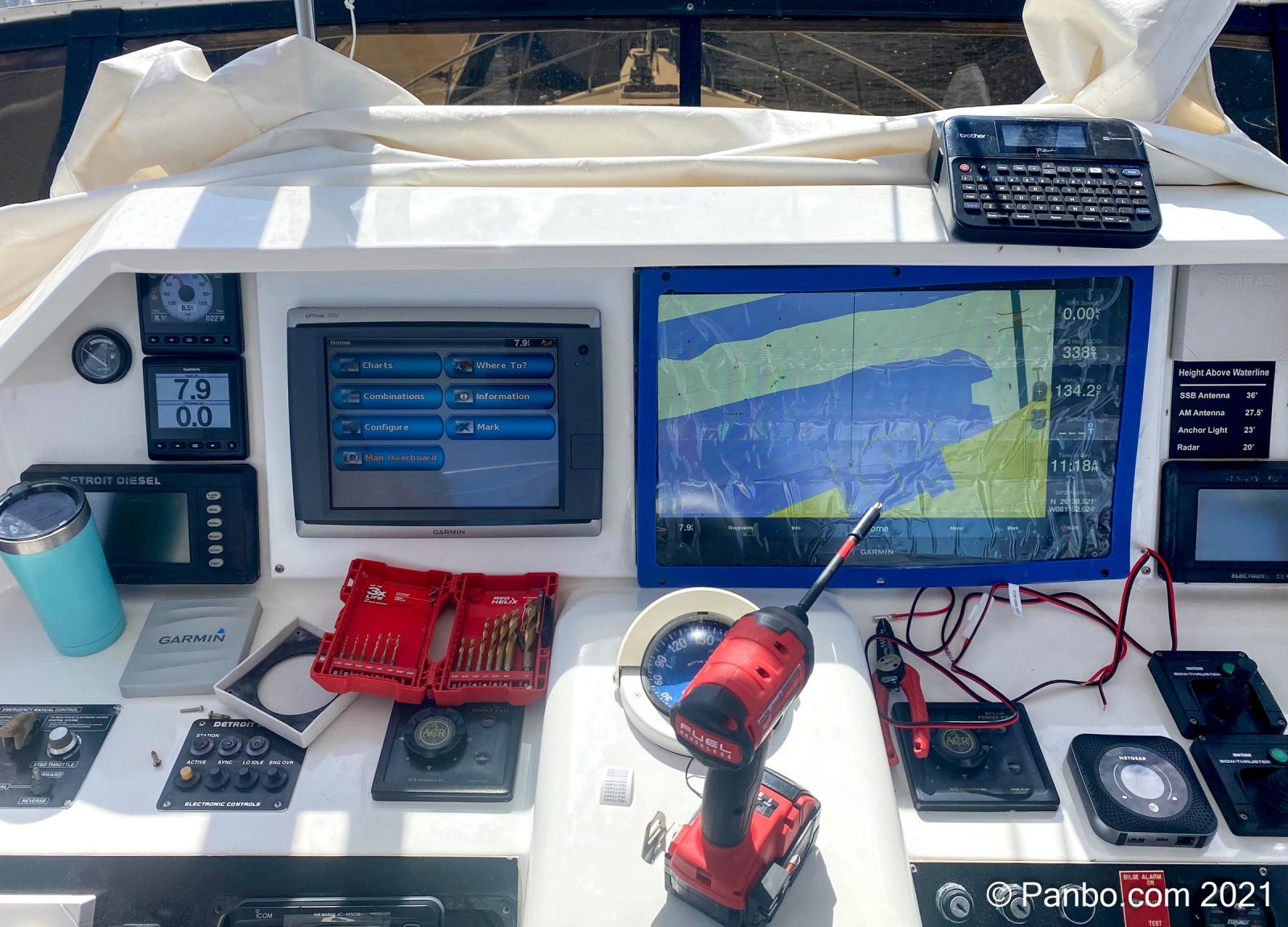 I've just completed an entire electronics refit on a 60-foot boat without ever plugging in a power tool. Besides never having to find a working AC outlet, and never tripping over a power cord, I think that my families of drills, drivers, saws, grinders, vacuums, and heat gun with interchangeable lithium batteries made the job faster and neater. There are many decent cordless tool families to choose from these days, but some detail on my experience may help you make the right choice.
I've been consulting on electronics install and retrofit designs for a couple of years now, and a few projects recently expanded to the actual installation of the system. Refitting the 60-foot Neptunus motor yacht with a Garmin GPSMap 8622, Garmin GMI 20s, Garmin GMR Fantom 124, new Icom M506 VHF radio, and more is my biggest design and installation to date.
Eventually, I'll write more about the system design, but here's an important factor for now: the experienced owner was clear that he wanted Garmin electronics and equally clear that he wanted the largest display we could stuff into the dash. Thus, I knew I'd have some reconfiguration of the helm in order to make room for the big MFD. The 7212 pictured on the left was already there but had to be moved to make room.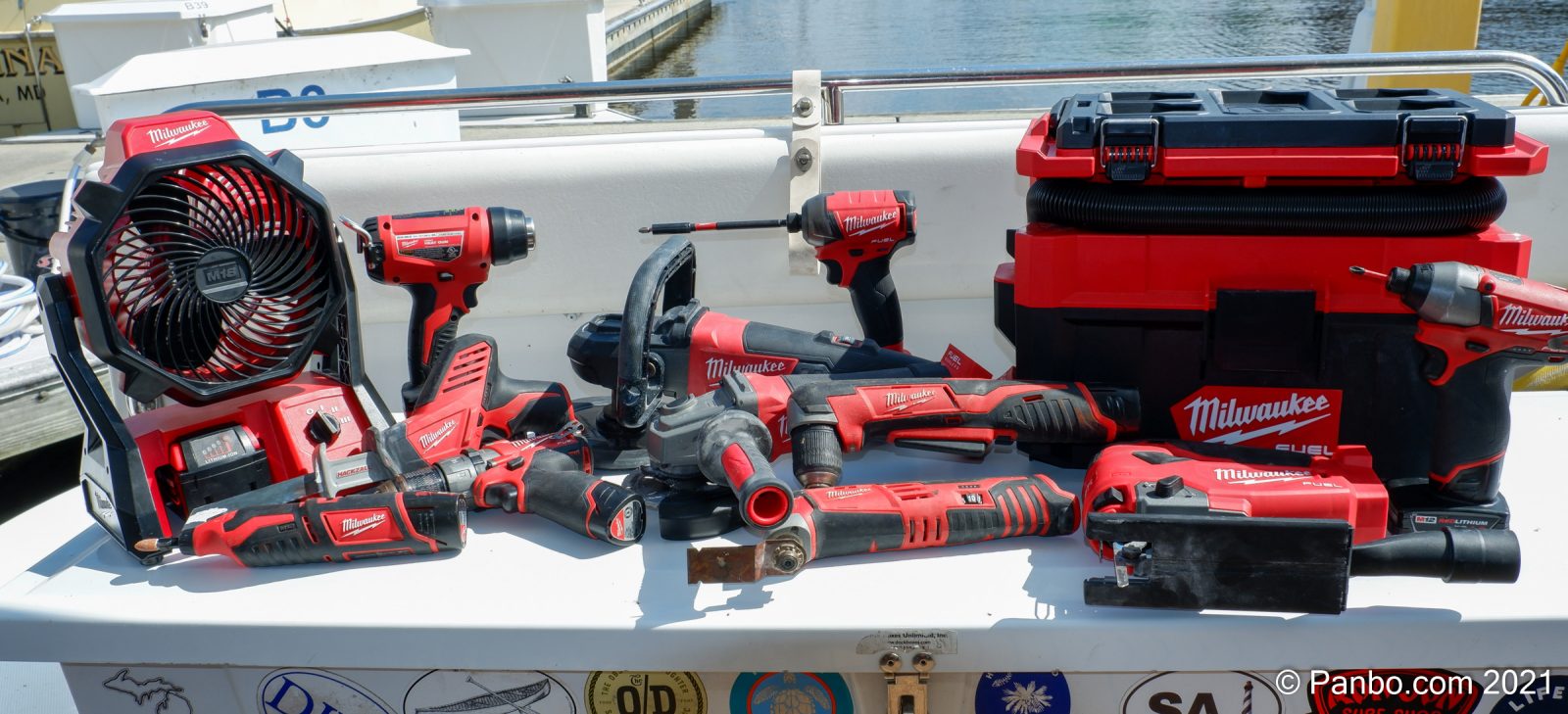 As, perhaps, you can tell from the photograph above, I've settled on Milwaukee's tools. I initially used their M12, 12-volt lithium-ion powered tools but have recently expanded to their 18-volt M18 family for the additional tool selection and the power of larger batteries. I think that both tool families strike a good balance of affordability, quality, and performance. I've already professed my love for a cordless vacuum — and must confess that I've recently bought the upgraded, brushless model that's part of Milwaukee's Packout tool storage system. But, I also think nearly any of the current crop of lithium-ion-powered tools from brands like DeWalt, Bosch, Makita, and Ryobi work very well. Also, a quick note that Ryobi and Milwaukee share common ownership with Ryobi positioned as a value brand.
I think the biggest improvement in cordless tools compared to 10 years ago is the use of lithium-ion batteries. The energy-dense, relatively light-weight, and quick charging batteries make these tools rival the performance of corded models. Like when I had to open the dash on the Neptunus to accommodate the 22-inch Garmin 8622, which was the first time I used the 18-volt jigsaw instead of a corded one.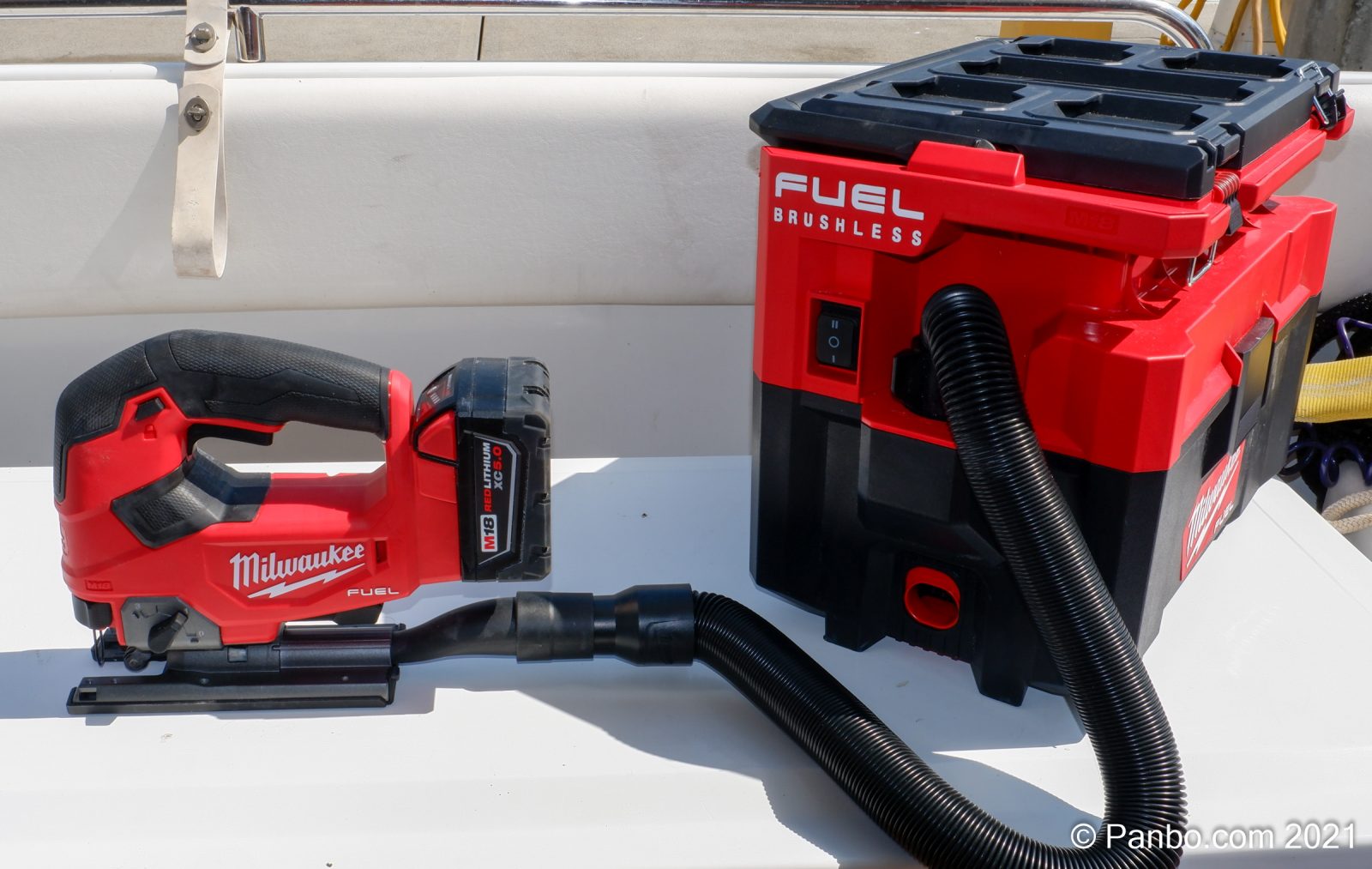 Cutting into fiberglass helms is frequently an exercise in odd angles and difficult access, and the overhang on this helm ensured this was no exception. The limited access requires flipping the saw 180-degrees and other convolutions that invariably tangle the cord of a corded saw. Plus, the combination above would typically require two outlets, two cords, and potentially a tripped circuit breaker.
But with some access even too tight for a jigsaw, I used an angle grinder instead. I also have an M18 grinder and buffer and believe they're significantly safer than their corded siblings. If you've ever wrapped a power cord around the spindle of a grinder or buffer, you know what I'm talking about. If you haven't… you're more coordinated than I am. I wish I captured some photos of these cuts, but the combination of cutting and vacuuming left no hands free for photographic documentation.
Battery life in all of these tools is long enough that I rarely have to change batteries while working, if I remember to charge them after the last job. I'm also very pleased with the deft touch these tools possess while also having all the power I've needed. I can use the honking 18-volt impact driver to drive a small screw without fear of snapping it, but also drive a number 14 sheet metal screw into steel.
Having the right tool close by and ready to go means I'm much less likely to take shortcuts that I'll later regret, and having a vacuum at the ready means I'm more diligent about cleaning as I go. If you've climbed inside a helm to complete an install, you probably know the frustration of realizing you don't have the right tool plugged in or that you've blown a breaker. That is usually when I make stupid decisions.
The last, and not insignificant, benefit of cordless tool families is time efficiency. Hourly rates for installations in my area are well over $100 per hour, and that obliges me to be as efficient as I can. I also hate wasting the money of fellow boaters, and having the right tools for the job helps me do just that.