My love letter to a Milwaukee M18 Wet/Dry vacuum cleaner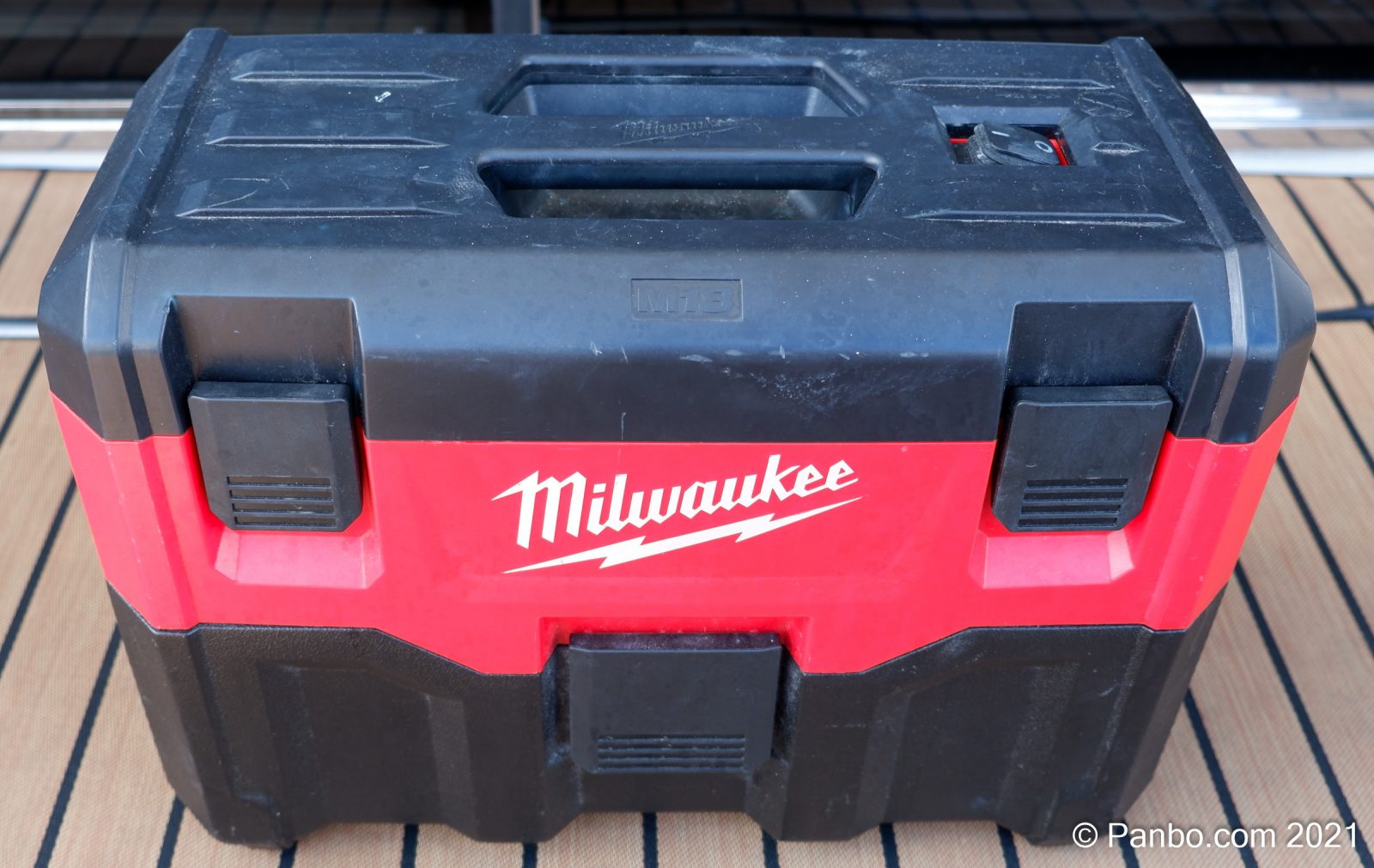 I'm a tool guy; little gives me more satisfaction than finding one that makes my work easier. You may have noticed a red, toolbox-like thing with a hose sticking out of it in several of my recent project photos. It's a Milwaukee M18 cordless wet/dry vacuum that has become an integral part of nearly all my projects, making them easier and tidier.
I'm prone to rushing through an install so I can get to the end and see if my newly installed doo-dad works. So, the effort of pulling out a large vacuum and finding a place to plug it in meant that I too often skipped the step and instead swept up (or aside) what I could. The more installs I do, the more I've refined my selection of go-to tools. The M18 vacuum has earned a permanent spot.
You might be skeptical that a cordless vacuum could possibly have enough suction and last long enough to be useful. I was too, but that was quickly replaced with an appreciation for the convenience, suction, and utility of this little vacuum.
I've had a Rigid 4.5-gallon wet/dry on Have Another Day for many years. It's a great vacuum with plenty of power. But, it's also a 110-volt appliance and hence requires an outlet nearby. Plus, it's pretty big and can be ungainly maneuvering through the boat and in some tight spots. In fact, the Milwaukee vacuum has relegated the Rigid to a spot in storage only to make appearances for really big (and messy) projects.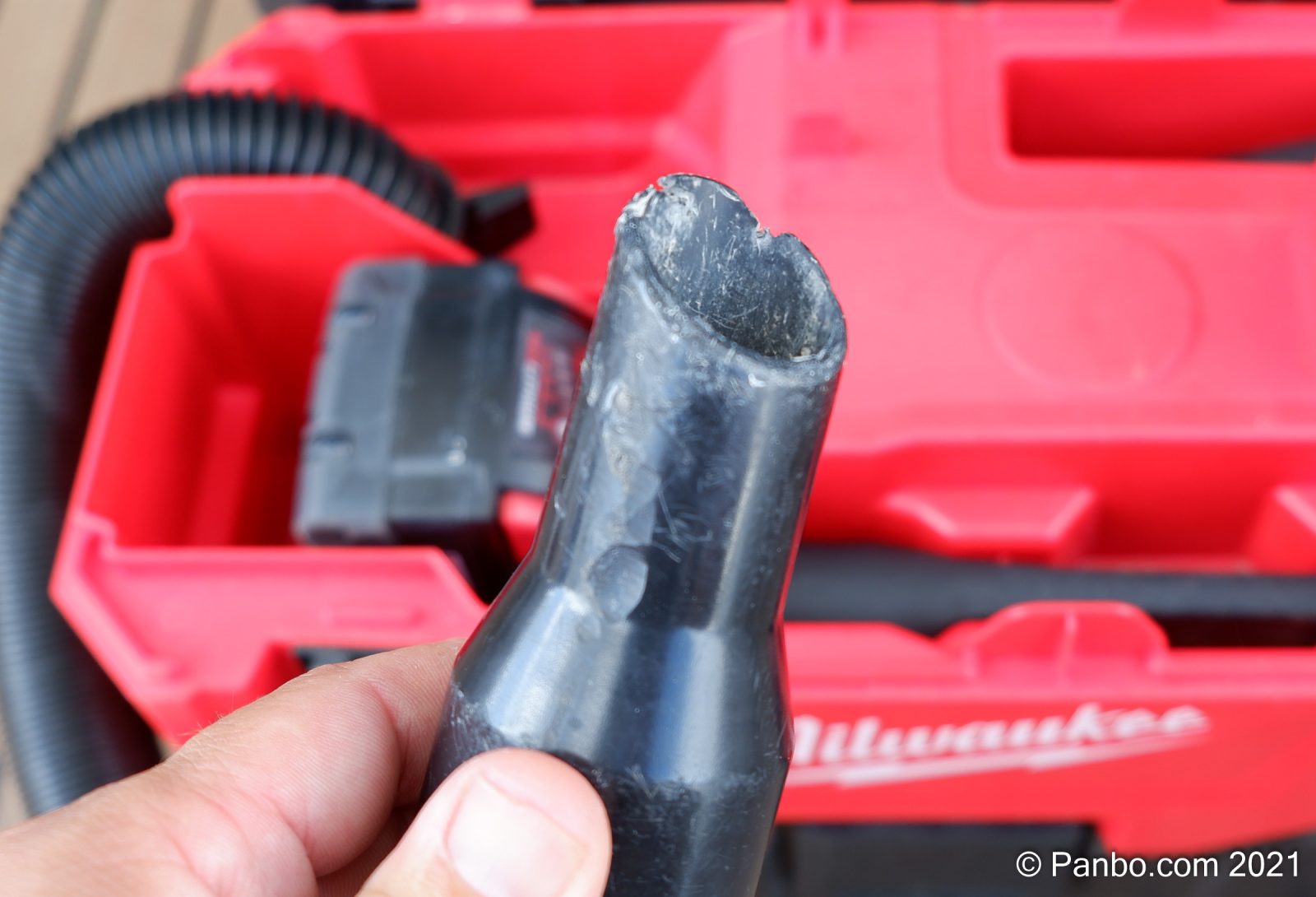 The Milwaukee M18 2-gallon wet/dry vac is cordless, smaller, and, for my needs, has plenty of power. At roughly 17 x 12 x 8.5-inches, it's a good bit smaller than the corded-Rigid's 21 x 13 x 13-inch dimensions. The Rigid is more powerful and uses a larger diameter hose, but I find the cordless unit has plenty of power for the messes I make on the boat. Plus, the smaller diameter hose is often easier to get into tight spots and focuses the suction right where I'm working. In fact, the end of my vacuum's hose shows the scars of it getting too close a few times.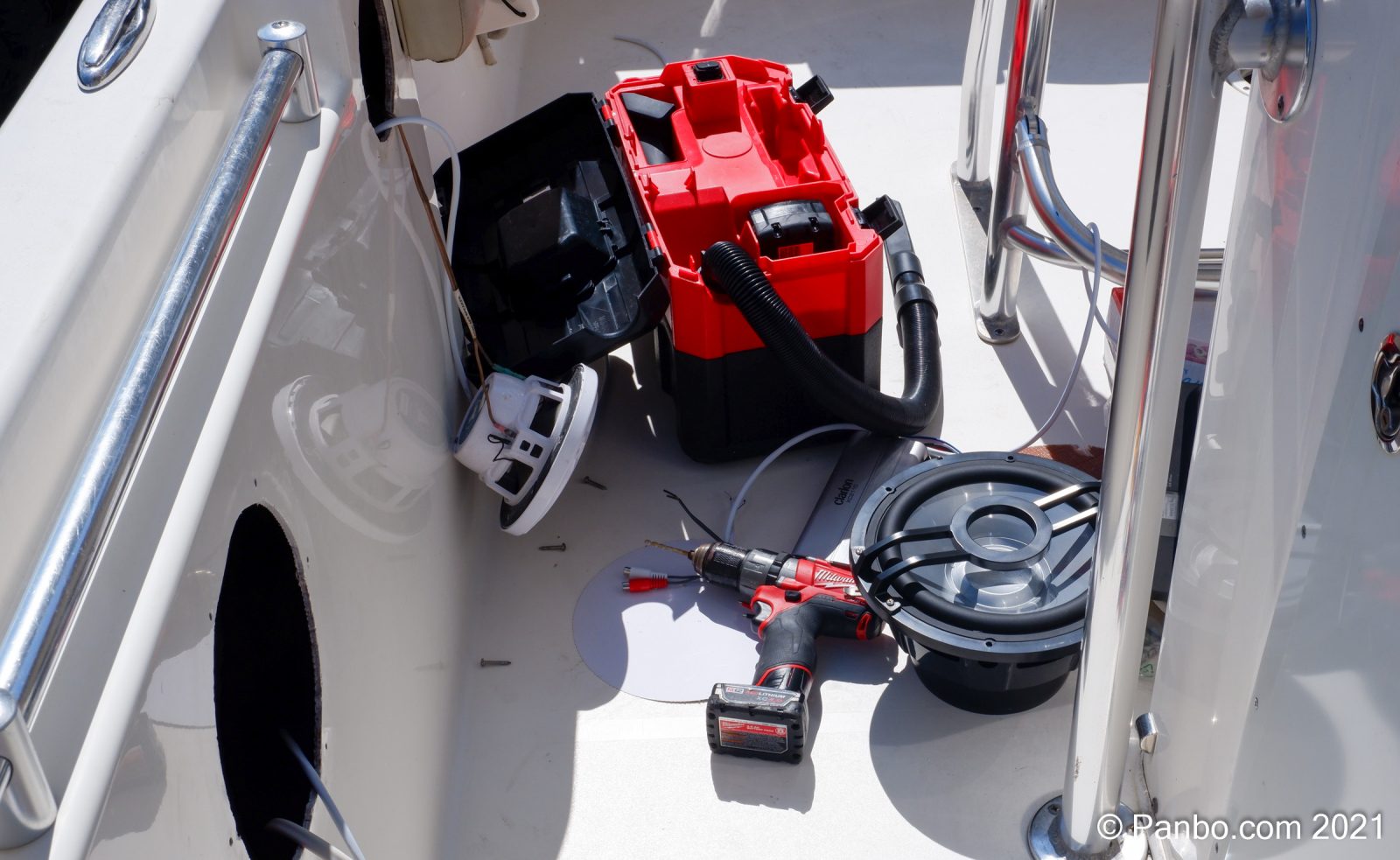 Many of my installs require drilling into fiberglass which means a dusty mess. The ease of grabbing the Milwaukee, with a battery inside and ready to go, means that I'm more likely to bring it along — and hence less likely to make a mess. I've come to recognize that I do better work, make fewer mistakes, and less of an overall mess when I clean as I go.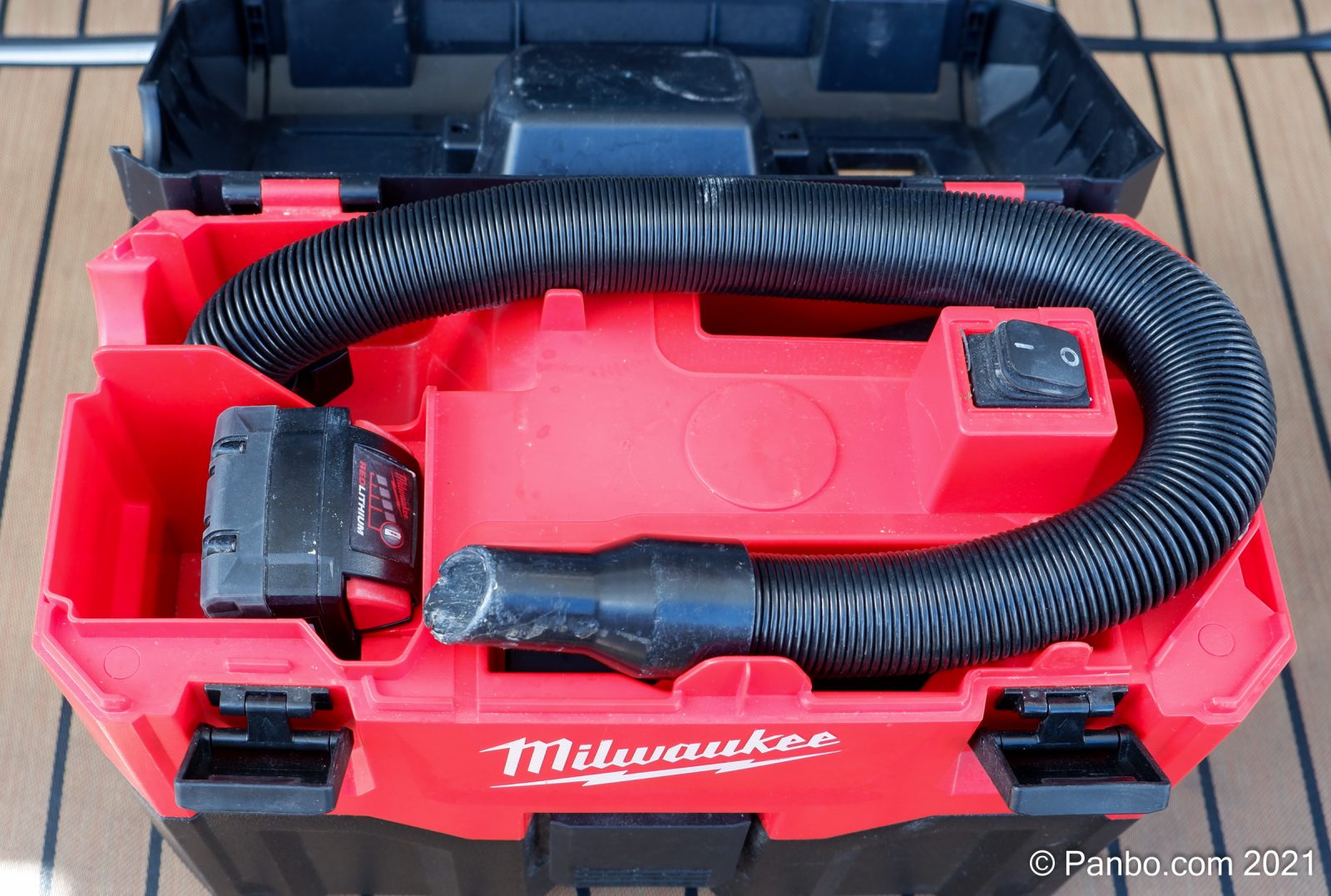 I've read a number of reviews online and some complain about noise and short battery life. Make no mistake, this is not a quiet machine, but I don't find the noise objectionable or any louder than I'd expect. I have 4.0, 5.0, and 6.0 amp-hour batteries, and runtime obviously varies with the size of the battery but I rarely find the need to change batteries in the middle of a project, no matter how involved. I would estimate a 4.0 amp-hour battery lasts for at least 20 minutes of run-time. I've also noticed that when I do swap batteries there's a noticeable increase in suction with a fully charged battery.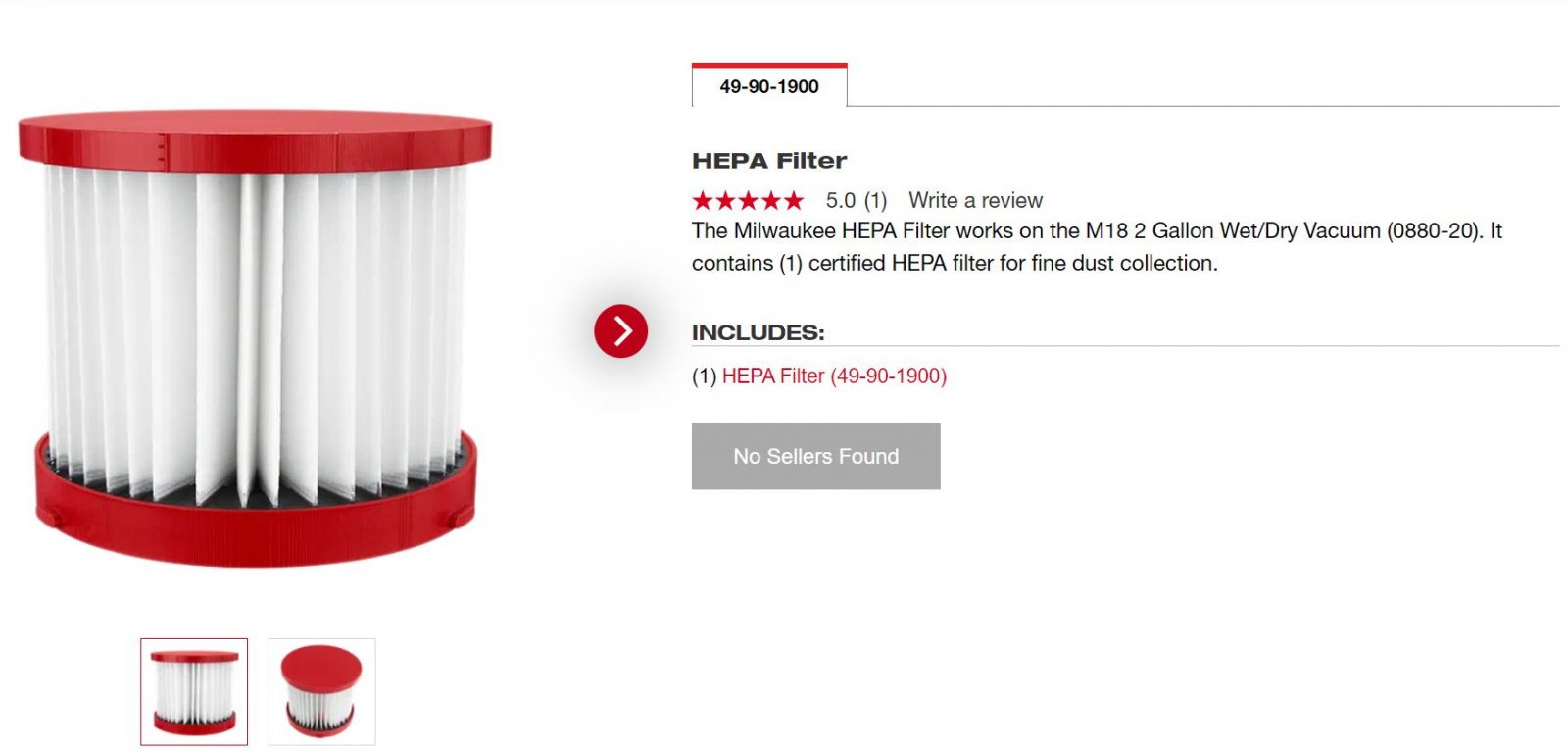 The M18 vacuum uses an easily replaceable HEPA filter. Milwaukee claims the filter captures 99.97% of all particles 0.3 microns and larger. The filters are about $10 each and readily available from Home Depot.
At this point, I think all the major cordless systems make cordless vacuums and I suspect they are all pretty effective. Since I bought mine, Milwaukee has added a 2.5-gallon brushless model that is compatible with their PACKOUT stacking system. The choice of brand was easy for me because I already own a bunch of Milwaukee tools and batteries (one of my other favorites being the M18 cordless heat-gun I use frequently).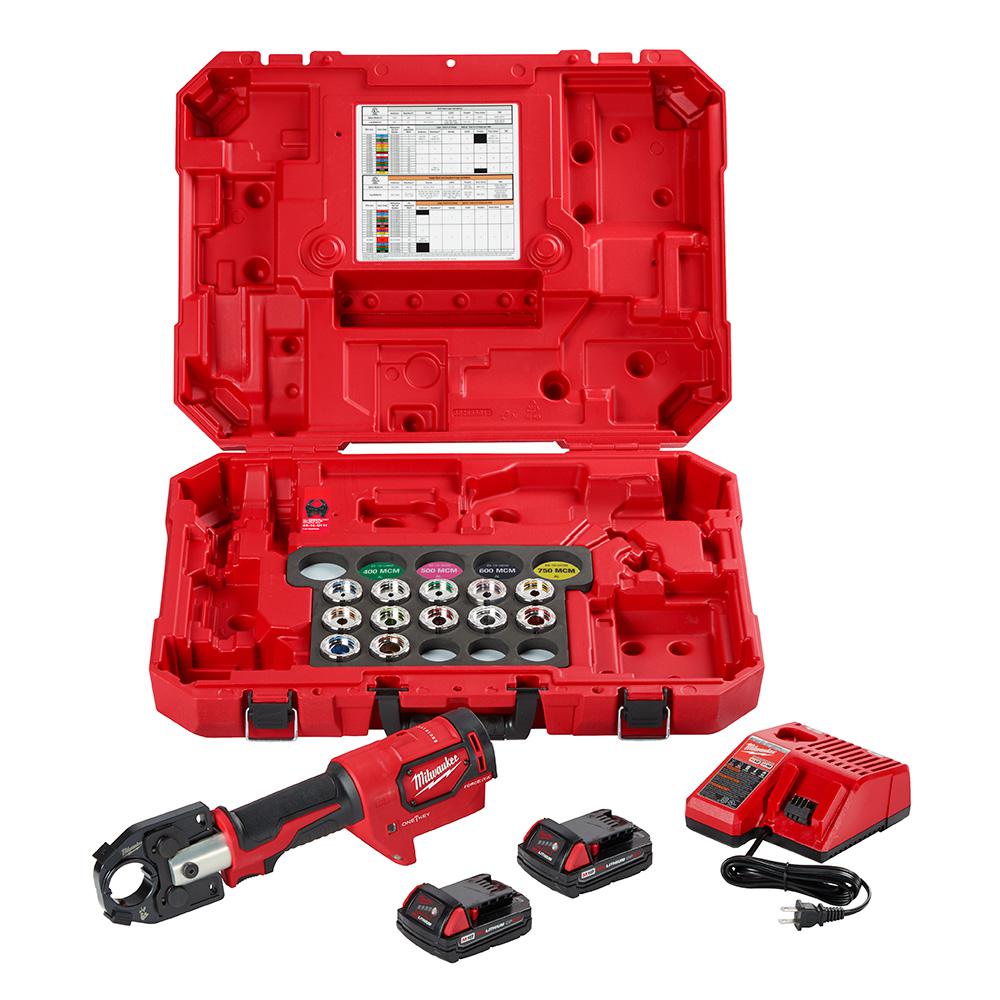 An additional benefit of buying into Milwaukee's line of cordless tools is that they offer some really cool — although they also mind-blowingly expensive — specialty tools. I'd love to spend someone else's money to get my hands on their hydraulic crimper with precision dies, but at $3,200 I think I'll stick with my perfectly good manual crimper.