Digital Yacht BOATraNET, something truly different?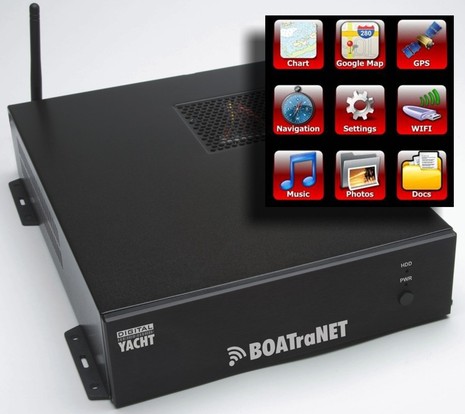 Interesting! Digital Yacht's BOATraNET — just being introduced at the London Boat Show — is a low-amperage 12v Linux server designed expressly to deliver all sorts of NMEA 0183 and/or 2000 boat data, plus centrally stored info and media, via WiFi to whatever assemblage of smart phones, tablets, and PCs are on board your boat. And you won't need a special app but rather just a new generation browser running HTML 5. You can also connect a high power WiFi transceiver to BOATraNET so that all your devices can get online via the boat's own hot spot when you're in port. Can anyone argue with Digital Yacht's characterization of this concept as "revolutionary"?…
But I'm sure that such an unusual product will draw lots of questions, and I already have several myself. For instance, will a boat's data be available to third party charting apps or programs running on devices connected to its BOATraNET? How complete is the built-in "Navionics based chart plotter"? Is it possible to access the server from off the boat using the external WiFi connection (for monitoring and security)? Can that external WiFi device be a third party Ethernet device instead of
the Digital Yacht WL500
? How hard is it to load "photos, documents, music etc." onto the server, and what about video? What are the capabilities of the optional NMEA 2000 gateway? And, by the way, how well can an HTML 5 browser do plotting and instrument displays anyway?
The best information on BOATraNET I've found so far is from the DY 2011 catalog
you can download here
, and excerpted below. But maybe a Panbo reader will have take a closer look at
the London show
, which runs through the weekend, and I'll certainly visit the DY booth at the Miami show coming soon. I have, in fact, already spoken a bit with DY and understand that the base version with two NMEA 0183 ports will ship before April 1 for $849. I also know that they are quite excited about their creation and, while they don't view it as a primary navigation system, they do think it can serve all sorts of onboard purposes in an easy, powerful way. Plus, as the press release notes, "th
e beauty of the platform is that it is very flexible" and DY "promises a host of additional data for 2011 including weather, chart updates and marine news." What do you think?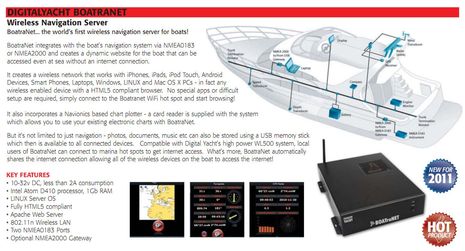 PS Cool! Panbo reader Richard Brain went to the Digital Yacht booth in London, logged on to BOATraNET with Safari on his iPhone, and took the screen shots below. As shown he tried streaming music, as well as the external WiFi, and he comments "Overall I think the charting functionality needs some more work, as it does not seem to automatically pan and the redraw seems to a bit painful (I guess they need to add JSON). Though this product is still in development." Thanks, Richard!