Enough already! Think summer in Maine.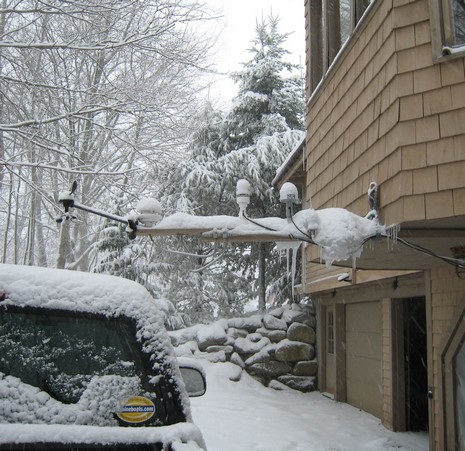 Check out the sensor array outside the lab. That's not today—though it's snowing just north of me now, raining cold and mean here—but it was taken recently, and the gear was similarly abused often during this most memorable Maine winter. Tactick, Maretron, Airmar, and ACR all get credit for standing up to harsh elements, even working OK in conditions like this. And note the exposed NMEA 2000 tees, terminator, and drop cables—they did fine too, and I'll have much more on N2K in the weeks to come. But the real subject today is that MaineBoats.com sticker proudly shown on my truck.

You see, current weather be damned, summer is going to come, and I'm tickled that a bunch of my Gunkholing with Gizmo columns are now online, and thus some of the cruising 'research' I love doing every season is easily accessible to everyone, and free. My friend Jamie Bloomquist is the new media guy at Maine Boats, Homes & Harbors these days, and we've been working together to make the one page column all it can be on the Web. And, by gory, we're getting there! For instance, take a gander at the Port Clyde profile from the latest issue. Lots of photos—Jamie's and mine—and solid info on how to enjoy this neat little port by boat (or automobile), plus a downloadable PDF (mini sample below) for you to print and bring with you. This one happens to use Google Earth for imagery, but I've used all sorts of cartography and software to make these chartlets over the years, and they are most definitely suitable for full page printing (and maybe sticking in whatever cruising guide you use, which I try to supplement, not duplicate). At any rate, we've got seven Gunkholing columns up now, and I'd really like you to browse through them, and tell your friends about this resource. The more hits we get, the more older columns we can put online (and I have lots). Think summer! And if you aren't from here, it's time to figure out how to get your butt and boat to Maine.