Expanded US AIS requirements, good for Class B?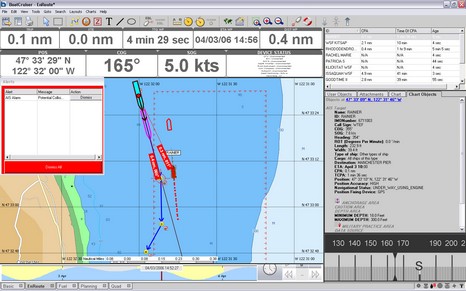 Above, and bigger here, is how NavSim's new NavCruiser Pro indicates dangerous CPA situations. (And, please folks, if you want to show off how well your AIS application presents CPA info, don't hesitate to send me screen shots.) But today my real subject is the Coast Guard's desire to add some 17,000 more vessels to those already required to carry AIS in U.S. waters. Here's some of the language from a notice about the proposed rulemaking, which may take effect in 2007.
The vessel groups affected are all commercial self-propelled vessels 65 feet or greater (including fishing and passenger vessels), towing vessels 26 feet or greater and over 600 horsepower, vessels carrying 50 or more passengers or certain dangerous cargoes; dredges and certain high speed passenger craft; operating on U.S. navigable waters. We estimate that the number of vessels affected by the AIS portion of this rulemaking is approximately 17,400 foreign and domestic vessels
It is my understanding that this new AIS fleet—which includes, yipee, the Maine state ferries that criss cross my Bays in all conditions plus many of the fishing boats that meander around unpredictably on the offshore Banks—will have the choice of Class A or Class B transponders, and the latter will be on the market this fall. So in the next year, seeing AIS targets will become even more valuable, and the ability to transpond yourself much less expensive. But remember that Class B units only broadcast dynamic data once every 30 seconds, at best. Won't that make single channel receivers seem noticeably slow on the update? There are other issues with Class B, but they'll have to wait.