NavSim, new products for sailors and pros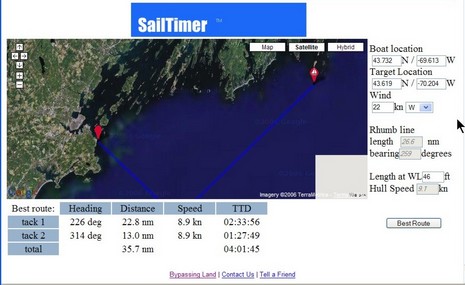 It's hard to make out until you view the bigger image, but this screen is a Google Map demo of an interesting utility that can guesstimate an ETA for a boat that's tacking into the wind. It was originally developed as SailTimer, but is now going to be incorporated into a new SailBoat Edition of NavSim's BoatCruiser. I think that full-on routing modules, like RayTech's and MaxSea's, can provide this same sort of real life ETA, based on weather forecasting and a boat's performance data, but maybe I'm confused?
Starting yesterday at the WorkBoat Show in New Orleans, NavSim is also previewing a new version of NavCruiser Pro that uses C-Map Max Pro charts. Prior to this product, the Pro format—which looked very powerful in a presentation I attended at the NMEA conference—was only available on the Northstar 8000i, a system I gushed about last year, but is only now coming to market (there were some problems). At any rate, I flew down to New Orleans today, mostly for a Charles Industries product introduction, but plan to visit the Show tomorrow (anything particular I should check out?). Which is why there'll likely be no Panbo on Friday, but I may get to see NavSim's latest.