Charting, this 'n' that #2
* Happy to report that FreeNavCharts.com—torn into pretty fiercely here last month—really has cleaned up its act, and is now an informative Web site and a useful service.
* I'm told that Lowrance does acknowledge that certain rocks are missing from NauticPath charts, and says they will reappear in NauticPath version 2, coming out in about 6 months. Also added will be drying heights, seabed composition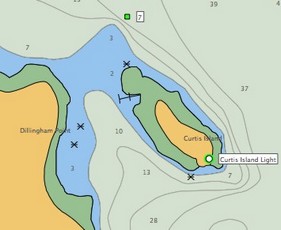 , anchorage areas, obstructions of uncertain depth, and more. Lowrance does not usually offer an upgrade path for cartography (it is very reasonably priced, after all) but is "considering" a special policy regarding NauticPath.
* The new 3.1 version of MacENC will now properly display those same rocks, as shown here. And I've heard from The Capn folks that they've not only solved their ENC rock display issue but have also figured out ways to display certain other valuable ENC chart details that "no one else is showing". Examples are coming. This whole experience has made me a little leery about ENCs, if not all vector charts, but Panbo does indeed rock!
Enroute to Miami today; will report on the Boat Show this week as possible.