Maximizing solar production with Victron GX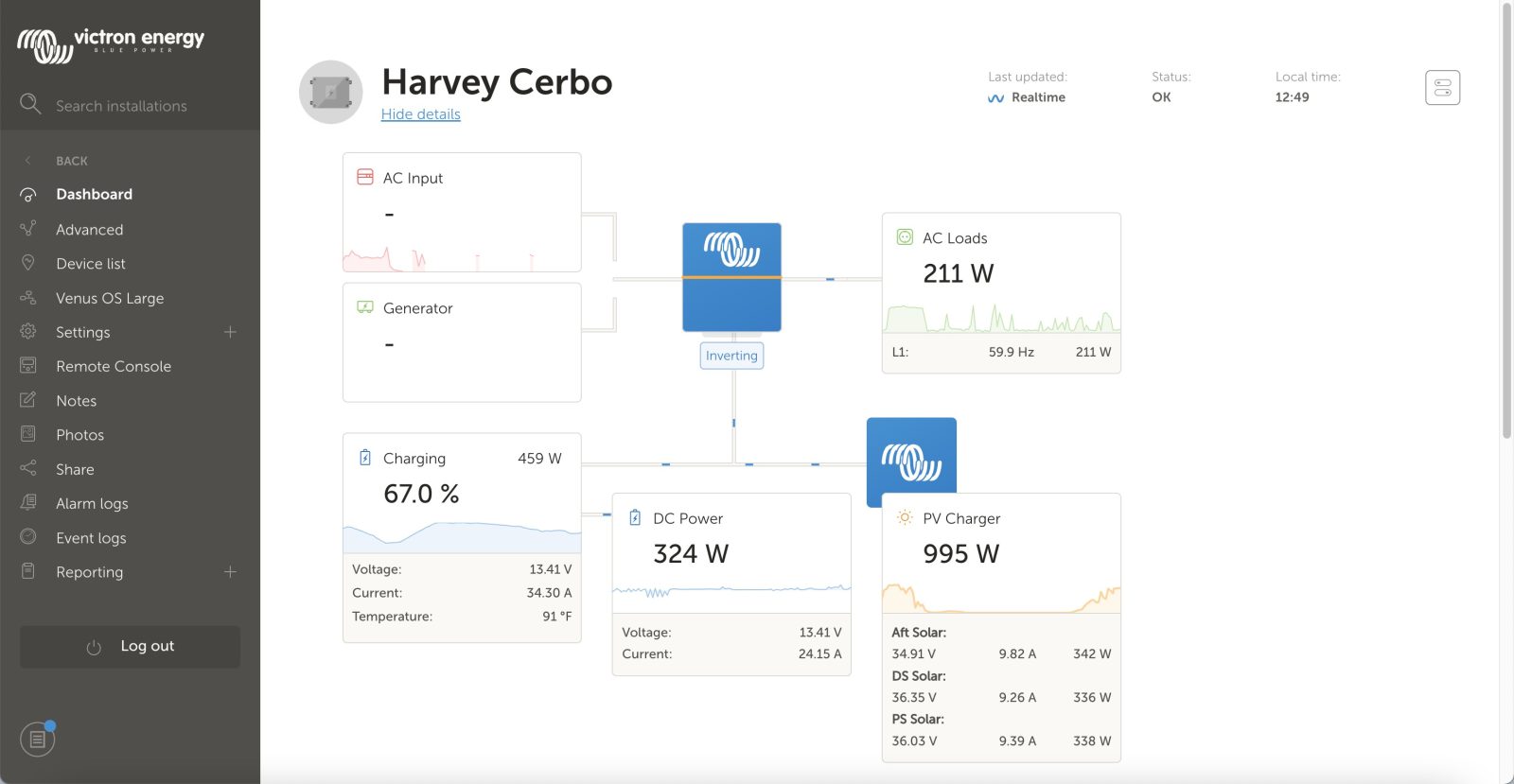 After the loss of Have Another Day, my primary DC test platform is Harvey, my family's RV. Over the winter we upgraded from our previous 35-foot coach to a 43-foot Newmar Dutch Star. With that upgrade, I've added 1,350 watts of solar to the new RV. With all that solar, I wanted to ensure I was taking full advantage of the potential production. That sent me diving through the settings in my Victron system to figure out the best way to manage my system. Currently, I'm using a Virtual Switch in the inverter to manage DC power sources and it's working quite well.
System overview
Harvey's DC system is, thus far, a Victron affair. From the factory, Newmar equipped this coach with a Magnum system that I've removed. As a data junky, I love the information Victron's remote access portal, VRM, gives as well as the detailed control of the system's operations.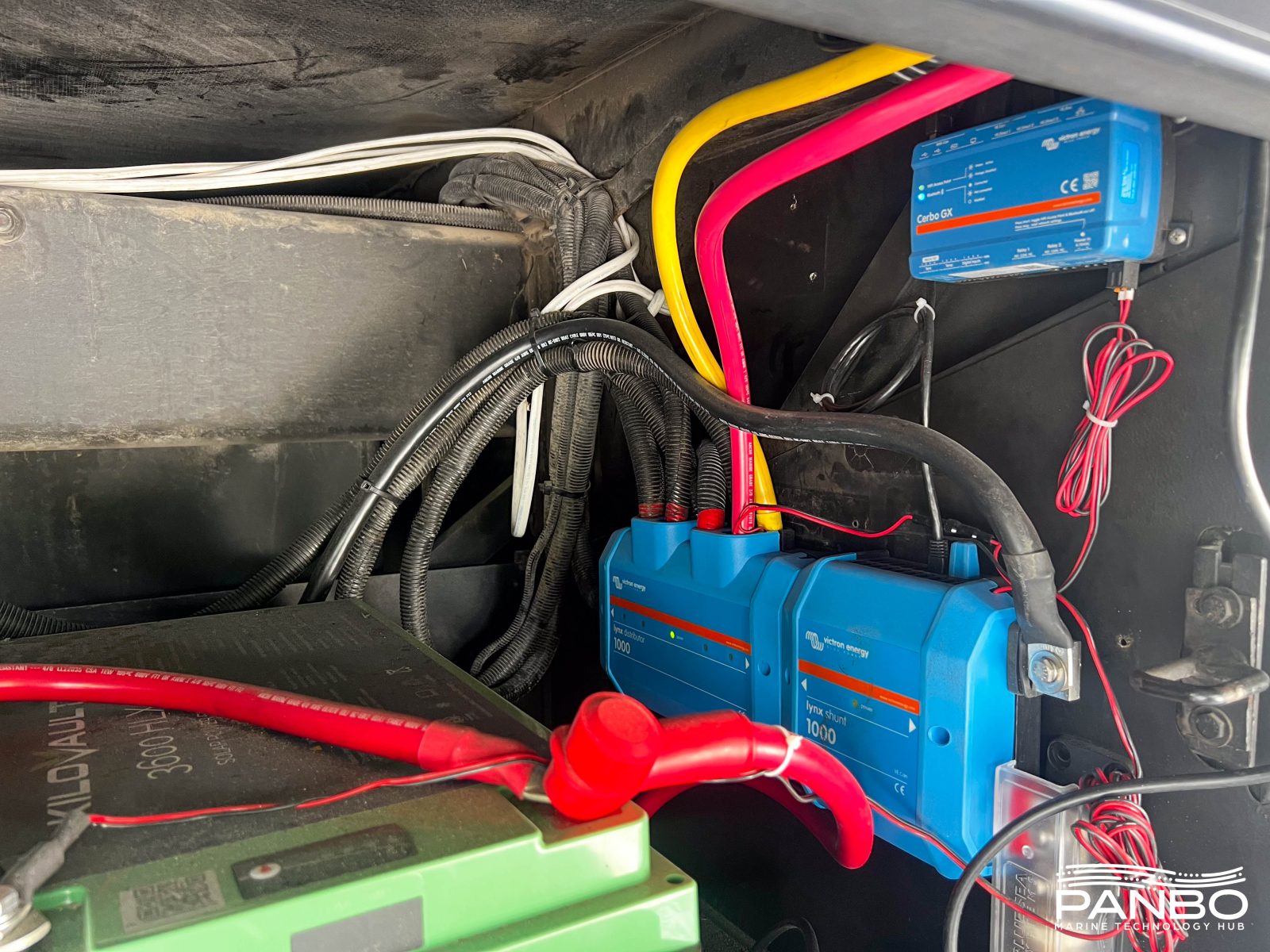 I continue to use two KiloVault HLX+ 3600 batteries giving me a total of 600 amp-hours of 12-volt nominal DC power. These batteries are powering the RV's house DC loads and a Victron MultiPlus II 3000VA inverter. Charge sources to the system include three 450-watt solar panels connected to three Victron SmartSolar Charger MPPT 150/45 solar controllers. I'm also using a Lynx Distributor and Lynx Shunt for power distribution and monitoring. A Cerbo GX monitors the Victron components via Ve.Direct, Ve.CAN, and Ve.Bus.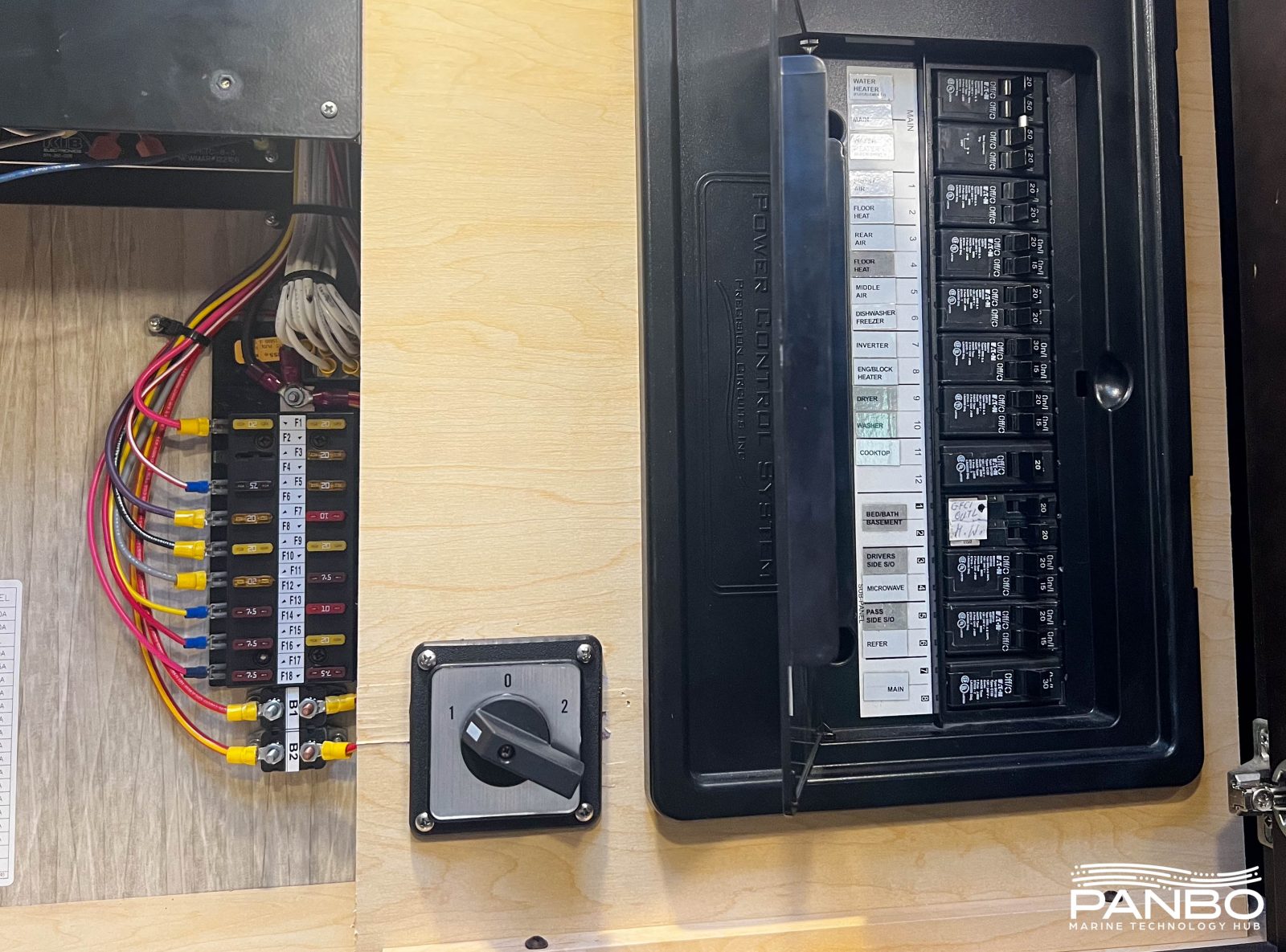 Lastly, I've made one important modification to the AC power system of the RV. My coach is equipped with three, 15,000 BTU 120-volt AC rooftop air conditioners. I've rewired the middle air conditioner to connect a rotary transfer switch that allows me to power that unit either from the non-inverted or the inverted power bus. That allows me to power that air conditioner without the generator running. But, at 15 amps of 120-volt AC, it's a big load so either I have limited runtime or I need lots of sunlight to help offset it.
The "problem"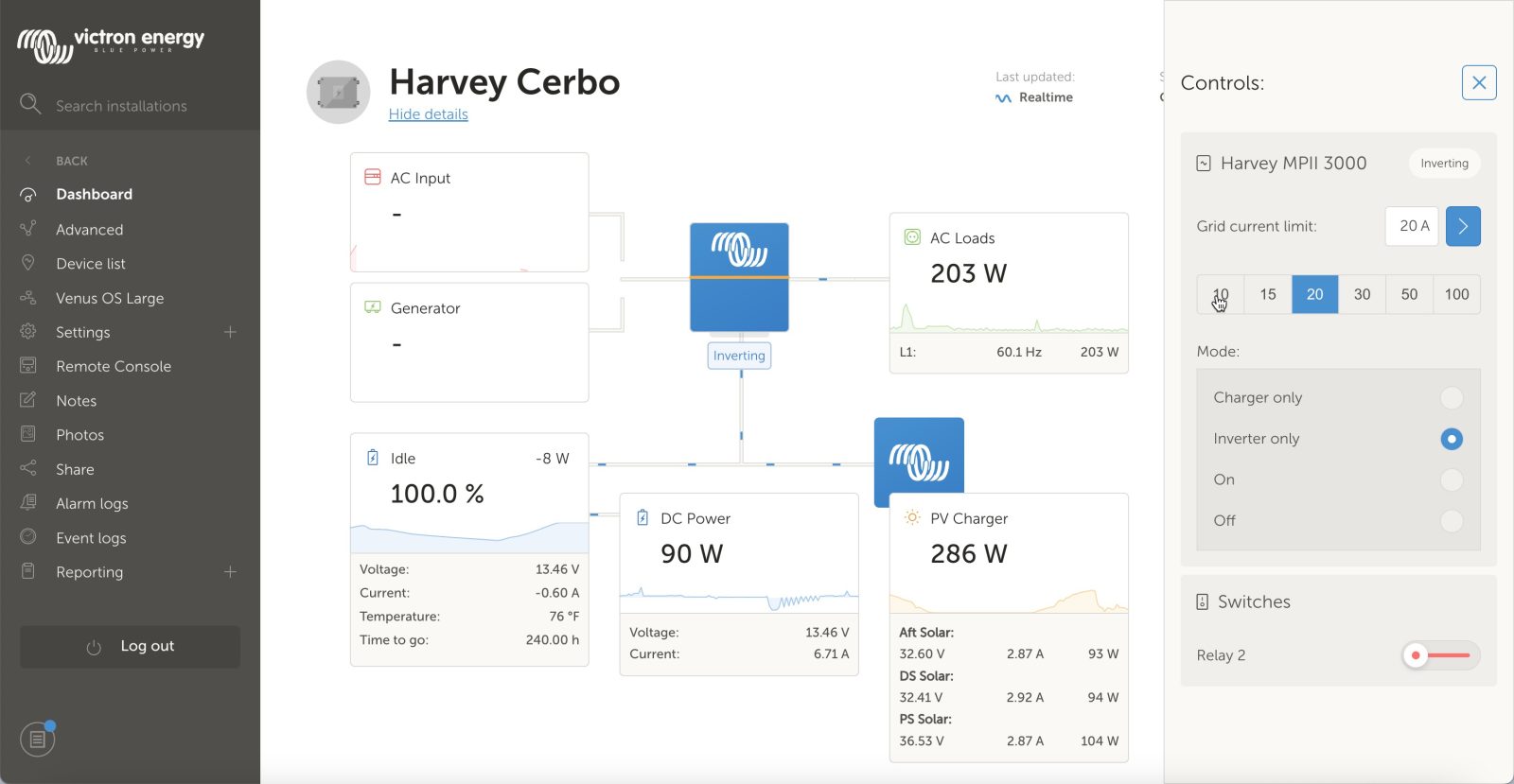 I'm not sure that describing my challenge as a problem is accurate. I guess it's more of a desire to take full advantage of what I have. It doesn't make sense to me to use utility power to charge the batteries and run the RV's loads when I have 1.3 kilowatts of solar on the roof. So, the question is, how do I control shore power-based charging to work for my situation?
For quite some time I've manually done this by using VRM to change the inverter mode between on (inverter and charger enabled) and inverter only. When in inverter only, the MultiPlus won't use mains power to pass through to loads or to charge the batteries. But, wouldn't it be better if I could leverage all the smarts of my system to not use mains power until the batteries get low? Surely I'm not the first person to want this type of functionality, right?
The solution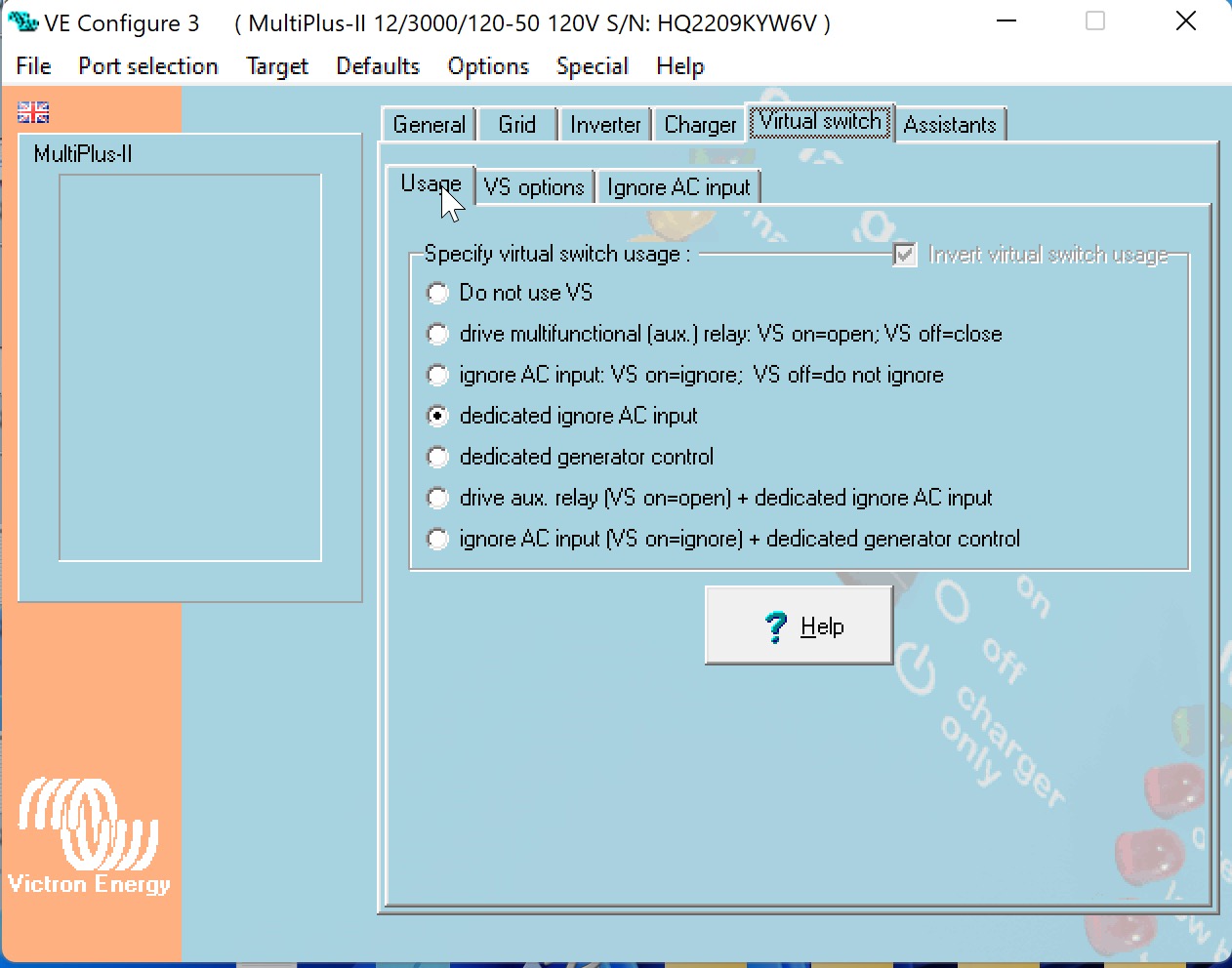 Indeed, I must not be. Victron has implemented a pretty elegant, though I don't think widely known solution. In fact, in my searches, I found mentions of ignoring AC input dating back seven years. But with a name like "dedicated ignore AC input" I'd say the feature might have a marketing challenge. To effect this change, you will either need a GX device (Cerbo, Venus, Color Control, Raspberry Pi, or the new Ekrano) or an MK3 USB adapter.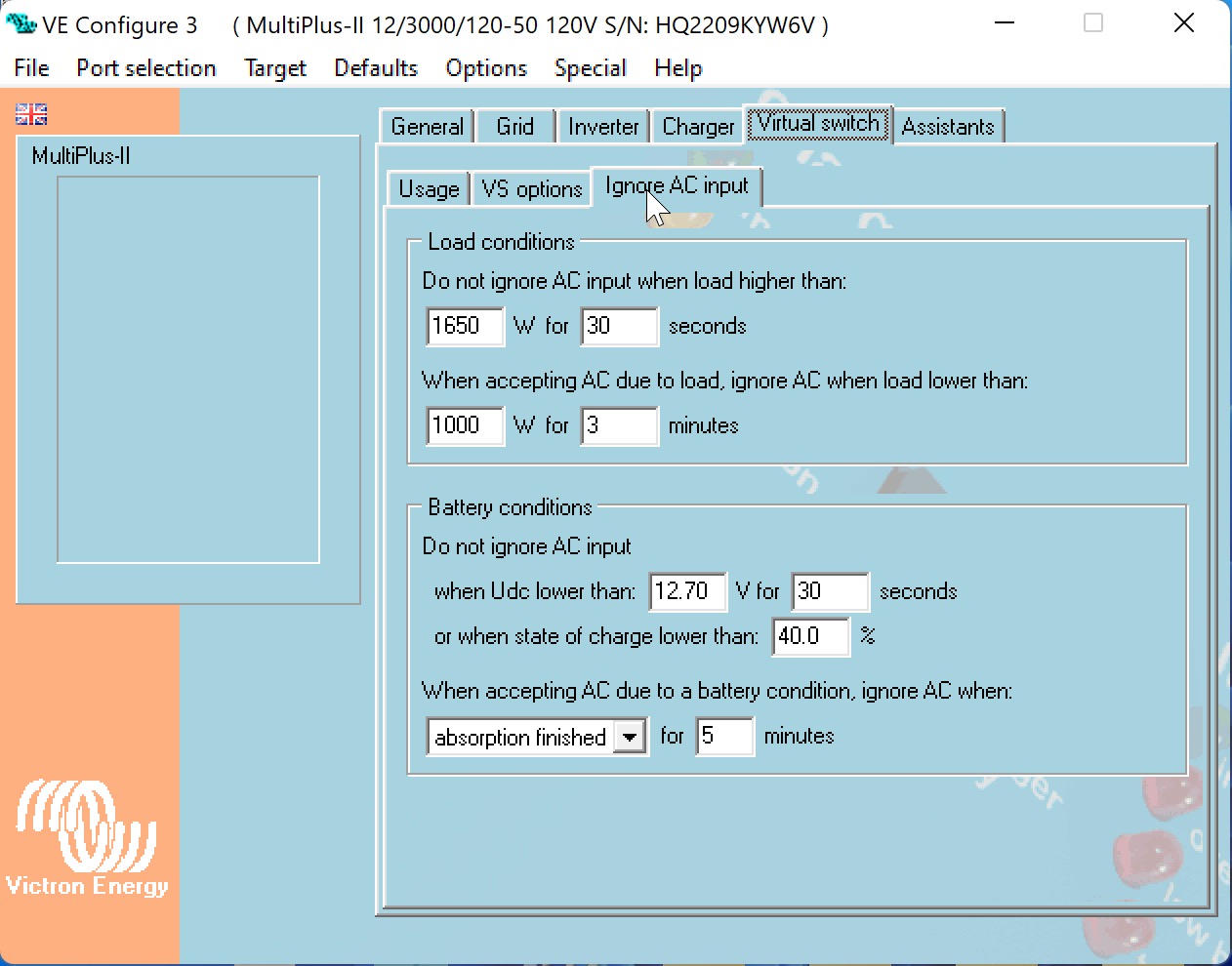 Ignore AC input configures the inverter to ignore its AC input as long as certain conditions are met. These conditions fall into two basic categories, AC load on the inverter and the battery's state of charge and voltage. In the screenshot above, you can see the configuration I've been using. I have configured the MultiPlus II to not use AC power unless there is a load of greater than 1,650 watts for more than 30 seconds. It will continue to use mains power until the load is below 1,000 watts for 3 or more minutes.
Additionally, if the battery voltage drops below 12.7 volts and stays there for 30 seconds or if the state of charge is below 40 percent, the inverter will begin using mains power again. If a battery condition triggers the use of AC power, the inverter will continue to accept power until the specified condition is met. In my case, I've configured it to complete the absorption phase of charging and then wait five minutes. That should represent a full charge cycle.
Even more control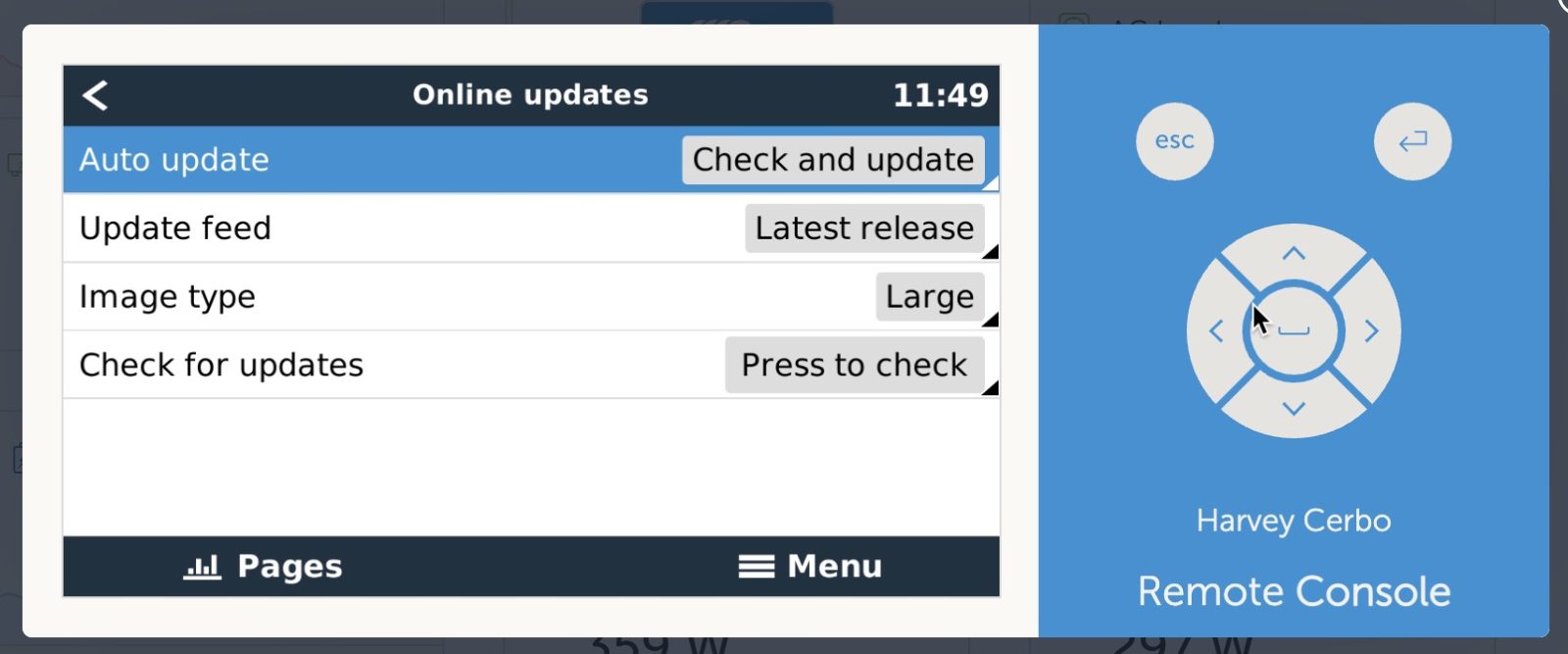 While exploring the best options for controlling the system I was reminded that the large distributions of Venus OS include Node Red and SignalK. I've had great success using Node-Red and SignalK server so I was pleased to get back to Node-Red for fine-grained control of the system's behavior. I've experimented with Node-Red and found it to work well and provide relatively easy control of the system. For now, the automatic control provided by the Virtual Switch I described above is providing most of the control I need.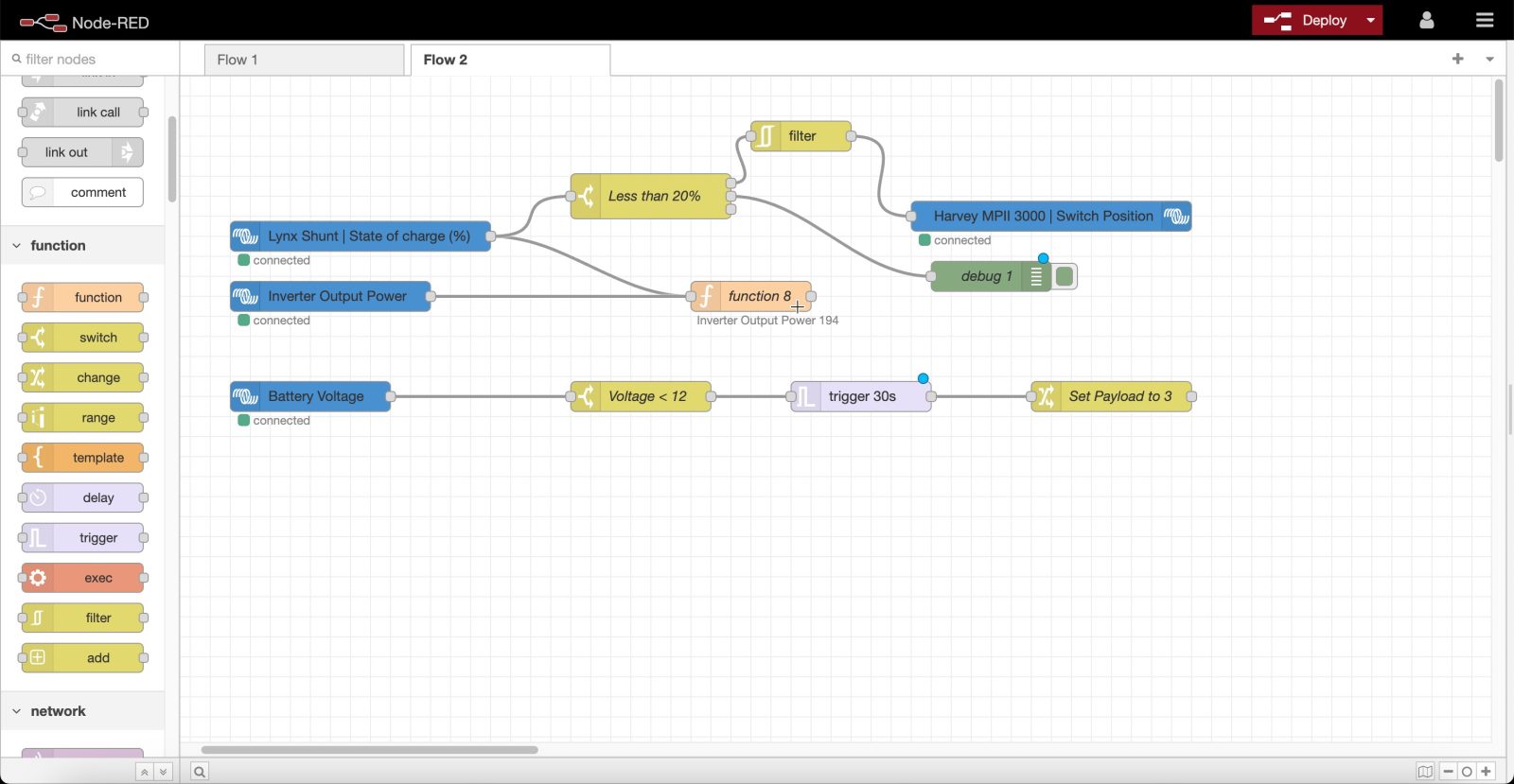 But, during our recent travels, I've found one very useful application for Node-Red flows, even with the Virtual Switch handling most of our automation. While staying at a site with only 30 amp power, I didn't want the inverter to latch onto utility power. Even if they dipped below 40 percent, I didn't want the inverter drawing power. So, I used the inverter control in VRM to change the inverter to invert-only mode. Thus, it won't latch onto utility power, even if it's available and the ignore AC input switch is off.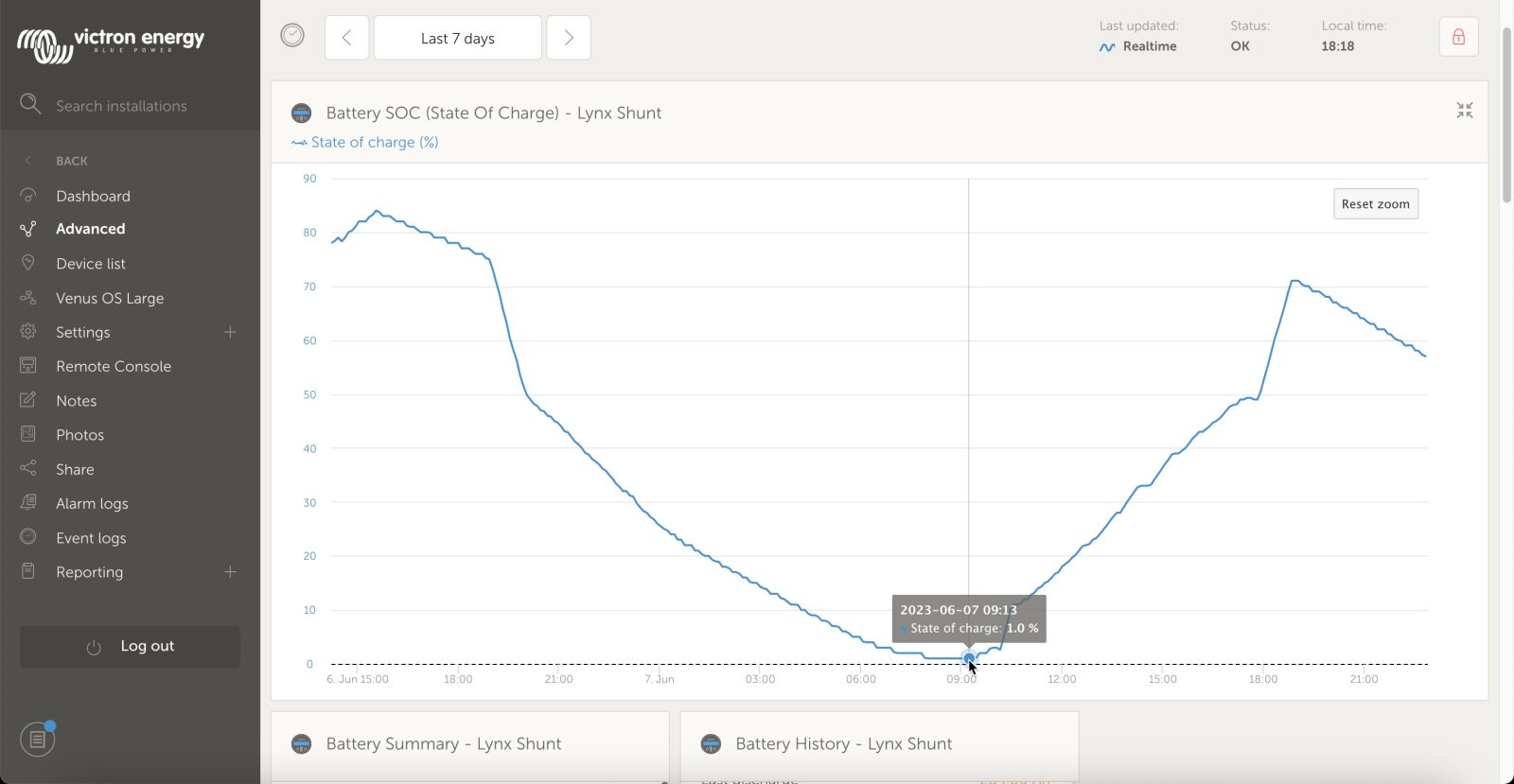 That accomplished what I needed, but I forgot to set the inverter back to on before going to bed. So, I was quite surprised to wake up in the morning and find the batteries at one percent state of charge. Now, I've set a rule in Node-Red that sets the inverter back to on. Currently, that's set to trigger at 20% but I could easily change the percentage or use a voltage reading instead. That change won't help if we don't have shore power available, but it will in many scenarios.
Final thoughts
It's no secret I'm a big fan of Victron's gear and software. I love the GX ecosystem and the way all the Victron equipment ties together. So, this targetted automation does nothing but enhance my appreciation of Victron's offerings. To me, this is another example of Victron doing clever things with the information already available on the network and using to add a valuable feature to the system.