FreeNavCharts.com, hype alert!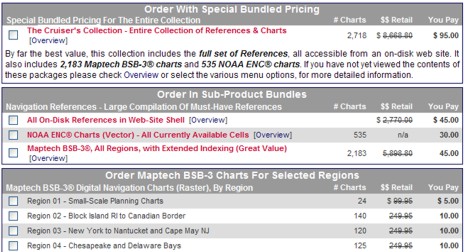 Oy, while I'm sleeping, a comments war breaks out over cheap charts (here and here). The main issue seems to be whether or not Maptech and NOAA's free download sites are offering the same sets of raster charts, and therefore whether or not the various repackaging operations are offering the same chart DVDs. I don't yet know the truth, but I am very dubious that Maptech is serving up a 1,000 more charts than NOAA is. Especially since the main source of this info seems to be a dubious site called FreeNavCharts.com. FreeNavCharts is offering a good service, and has lots of correct info about electronic charts, but, man, is it hyped up! Does a simple region of raster charts really have a retail value of $249.95, as suggested above? Hell no! Even when Maptech did sell $250 Digital ChartKit regions—before NOAA changed its chart policies—the package included much, much more than just the raster charts. And I'm afraid it gets worse at FreeNavCharts:
"It's interesting to note that Maptech still sells the BSB-3 charts in a collection called Chart Navigator Pro for $499.95. The 'Chart Navigator Pro' collection includes 13 DVDs. While this sounds like a lot larger collection, they fail to tell you that all of the BSB charts on the 13 DVDs could easily fit on a single DVD! They are packaged with 13 individual DVDs to liquidate leftover inventory of Regional Collections."
I have one of the very first copies of Chart Navigator Pro (CNP) and can tell you that the charts are updated into November 2005. In other words, the "liquidate leftover inventory" line is pure bullshit. Moreover, I just opened a random CNP DVD—St. Augustine to Crystal River, Florida—and here's what's on it besides for the RNCs and ENCs: 1.2 GB of 3D bathymetric data, 688 MB of topo maps, 1.7 GB of photo maps, 70 MB of panoramic photos, plus tide tables, pilot books, and lots of POI's. Of course CNP also comes with a copy of Coastal Explorer software, which makes accessing all this data very easy (and also makes FreeNavCharts's much hyped index meaningless).
Bottom line: FreeNavCharts—like ChartsDVD.com, and I'm sure there will be lots more—is just packaging and selling stuff that anyone can download. The true retail value of the disks is quite low. Yes, repackaging is a perfectly honorable service because the downloading is a pain, but confusing consumers with hype—and especially with lies about another company's products—is dishonorable. Here's hoping the FreeNavCharts.com cleans up its act.
PS 1/7: As suspected, the 1,016 RNCs listed by NOAA are the same as the 2,077 RNCs listed by Maptech; it's just a matter of whether you list, say, a 4 page small craft chart as 1 or 4 charts. My source here is Jack Webb, proprietor of FreeNavCharts, who plans to change his site to reflect this reality. Thanks, Jack!