Lithium Pros LiFePO4 batteries, small boat battery perfection?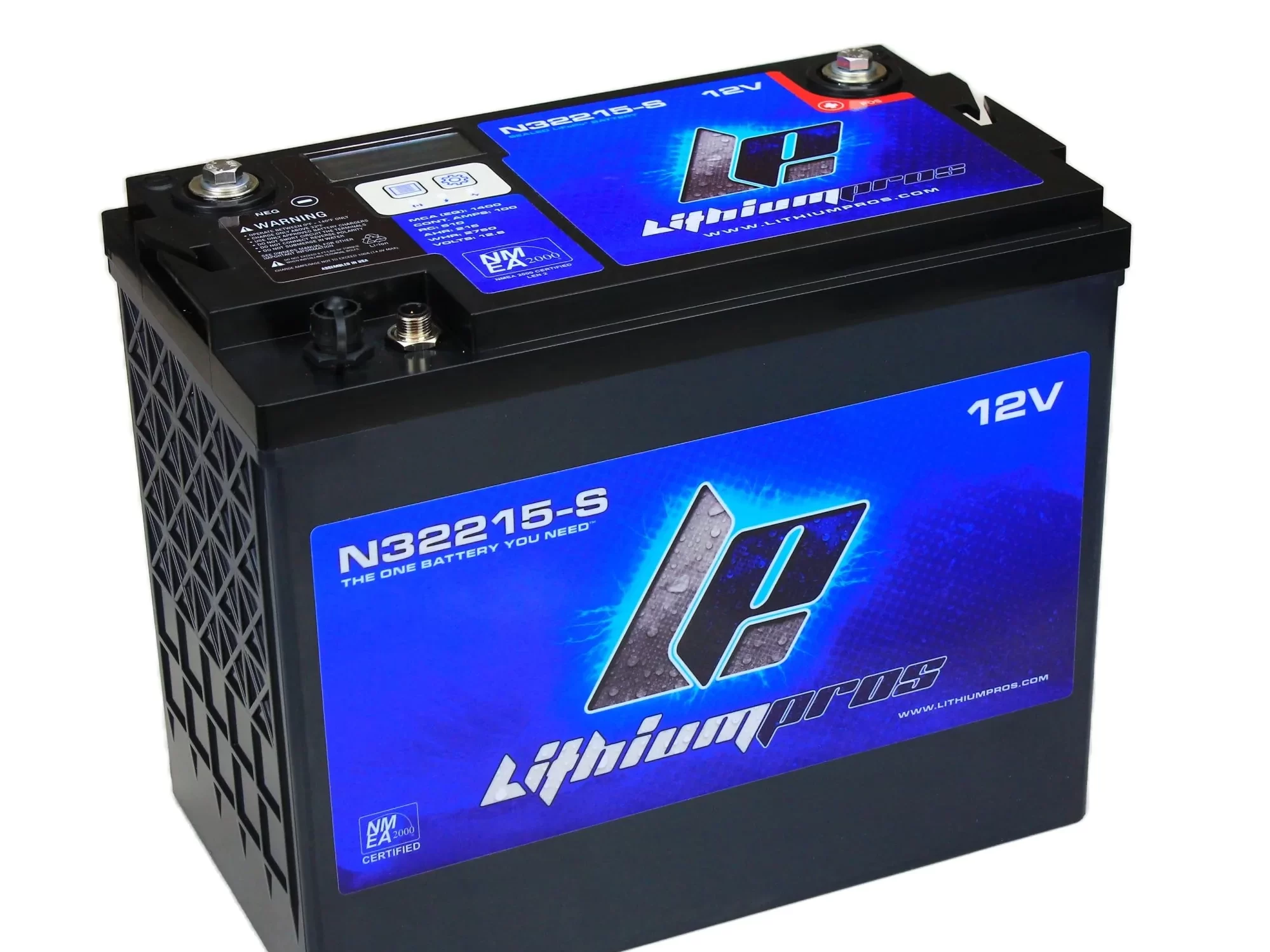 Lithium iron phosphate (LiFePO4 or LFP) batteries are a major upgrade to the lead-acid batteries we've been using as house batteries. But, typically, they're not well suited to starting engines, which has limited their use in smaller boats that use a single battery for starting the engine and running loads onboard. Lithium Pros has a series of batteries suited to both these uses and designed specifically for smaller boats. They've overcome many of the potential pitfalls with LiFePO4 on small boats. How do they do it? Read on and find out.
Most of the electrical systems and LiFePO4 conversions I've covered on Panbo have been on larger boats with multiple battery banks. Typically, we've just converted the house bank to LiFePO4 and let the engine start, generator start, and thruster banks remain a lead-acid chemistry.
But what about smaller boats with a single battery? Without a battery that supports engine starting, small boat owners cannot take advantage of the benefits of an LFP battery. Panbo(at), for example, came with a 1, 2, both, and off rotary switch. This switch controls all power to the boat, including power going to the engine and all house loads.
When I bought the boat, there was only one battery. That left me uncomfortable that imprudent battery management might leave me unable to start the engine after a day on the water. I considered separating house loads from engine loads, but once I dug into the wiring, I realized it was more work than I was interested in.
In retrospect, I'm glad I didn't dramatically change the boat's wiring. Lithium Pros (LP) developed a battery nearly ideally suited to my boat and the hundreds of thousands of other boats like it.
Most LiFePO4 batteries I've reviewed and discussed are designed solely for deep-cycle applications. In fact, it's not uncommon for a battery manufacturer to deny warranty coverage for LFP batteries used to start engines. On larger boats with dedicated house banks, that's usually manageable. The engine start bank remains lead-acid chemistry while the house bank moves to lithium.
Lithium Pros M and N series batteries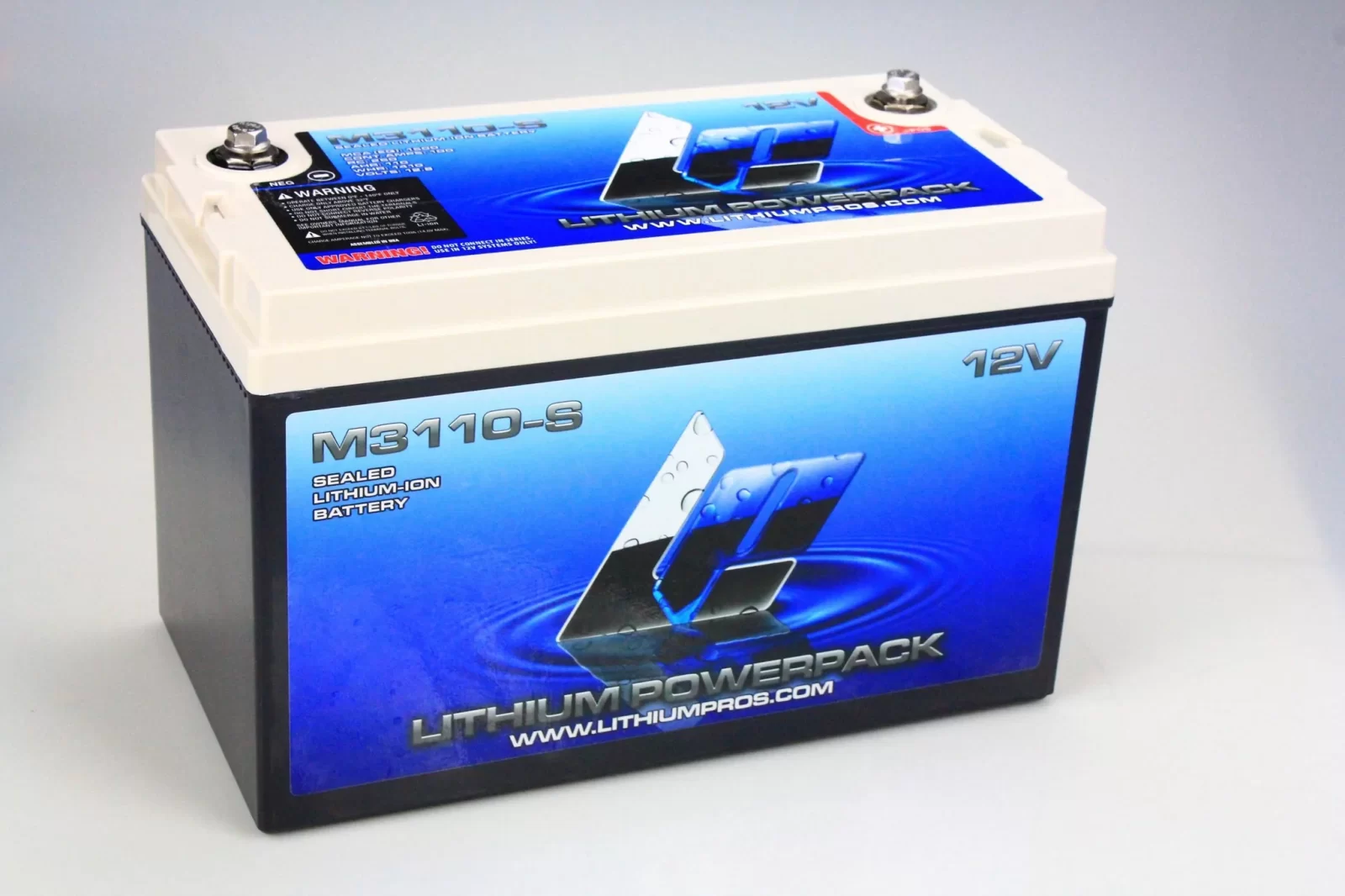 Lithium Pro's M and N series batteries are designed for use on the water. The M series is the start of their marine line. These batteries are available in 12, 24, and 36-volt configurations. These are nominal voltages, with the actual resting voltage being 12.8, 25.6, and 38.4 volts, respectively. The 12-volt M and N series batteries are also available as starting batteries, denoted with a -S at the end of the model number. LP rates the starting batteries as equivalent to 1,500 marine cranking amps (MCA). For reference, that's nearly 250 MCA more than a flooded lead-acid 4D starting battery can supply. Plus, the Lithium Pros batteries weigh between 32 and 46 pounds (depending on capacity), while the 4D weighs 100 pounds.
The 12-volt marine batteries come in 110 and 215-amp-hour configurations. The 110-amp-hour model weighs around 32 pounds, while the 215-amp-hour batteries are just over 46 pounds. The smaller battery's physical dimensions match that of a BCI group 31 battery, and the larger one matches up with a GC12's physical footprint. The M series batteries are $1,800 for the 110-ah, $2,000 for the 132-ah, and $3,000 for the 215-ah model. The N series batteries are $2,000 for the 110-ah and $3200 for the 215-ah model. The display adds $100 to either size.
NMEA 2000 and displays
The N series offers everything the M series does, plus NMEA 2000 connectivity. Making battery information available via NMEA 2000 means that any display compatible with NMEA 2000 battery PGNs can show battery info. Above, you can see a Raymarine Axiom showing information on the LP battery.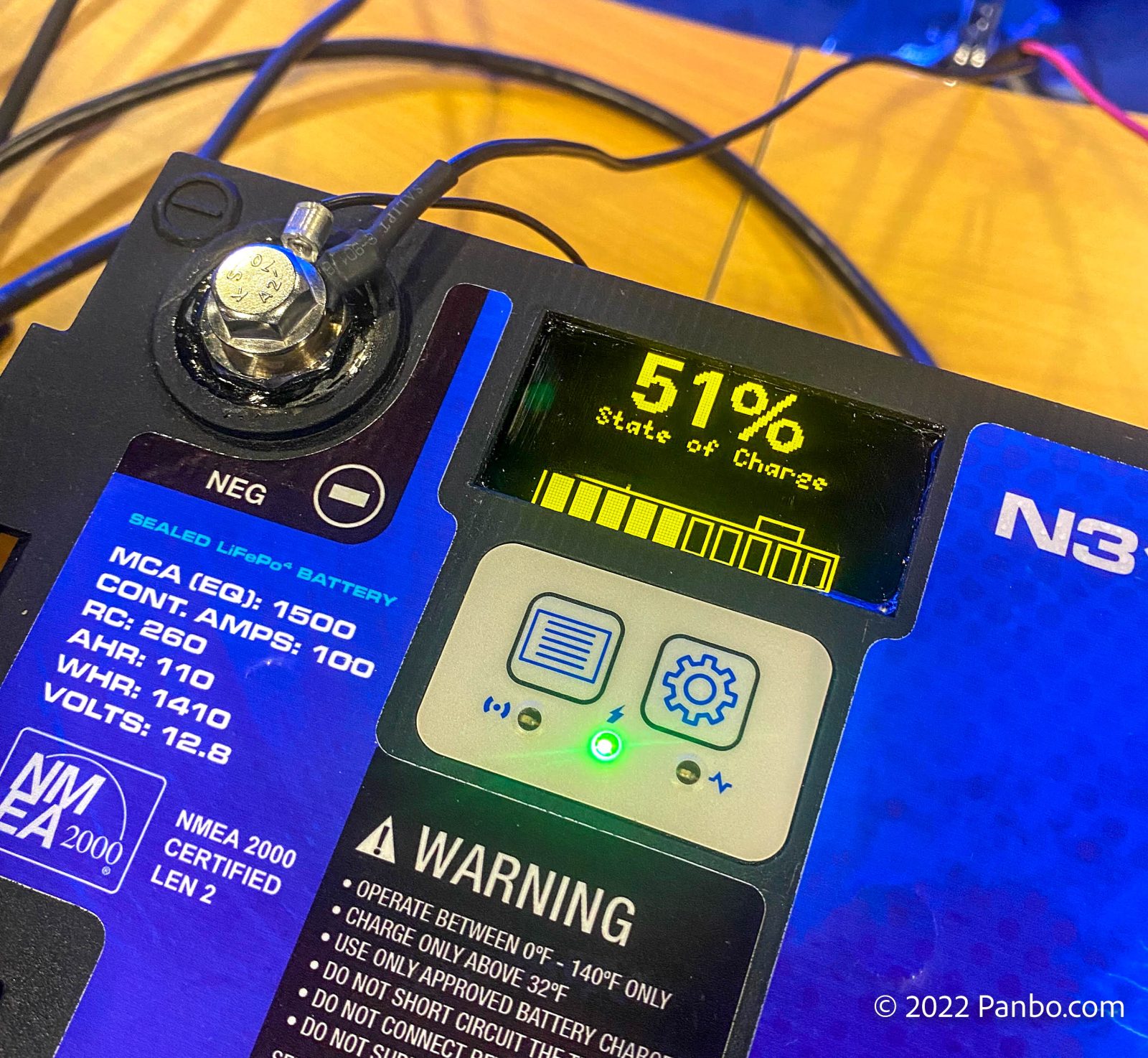 Additionally, the N series is also available with an OLED display on top of the battery. This display allows the boater to glance at the battery's current status and history quickly.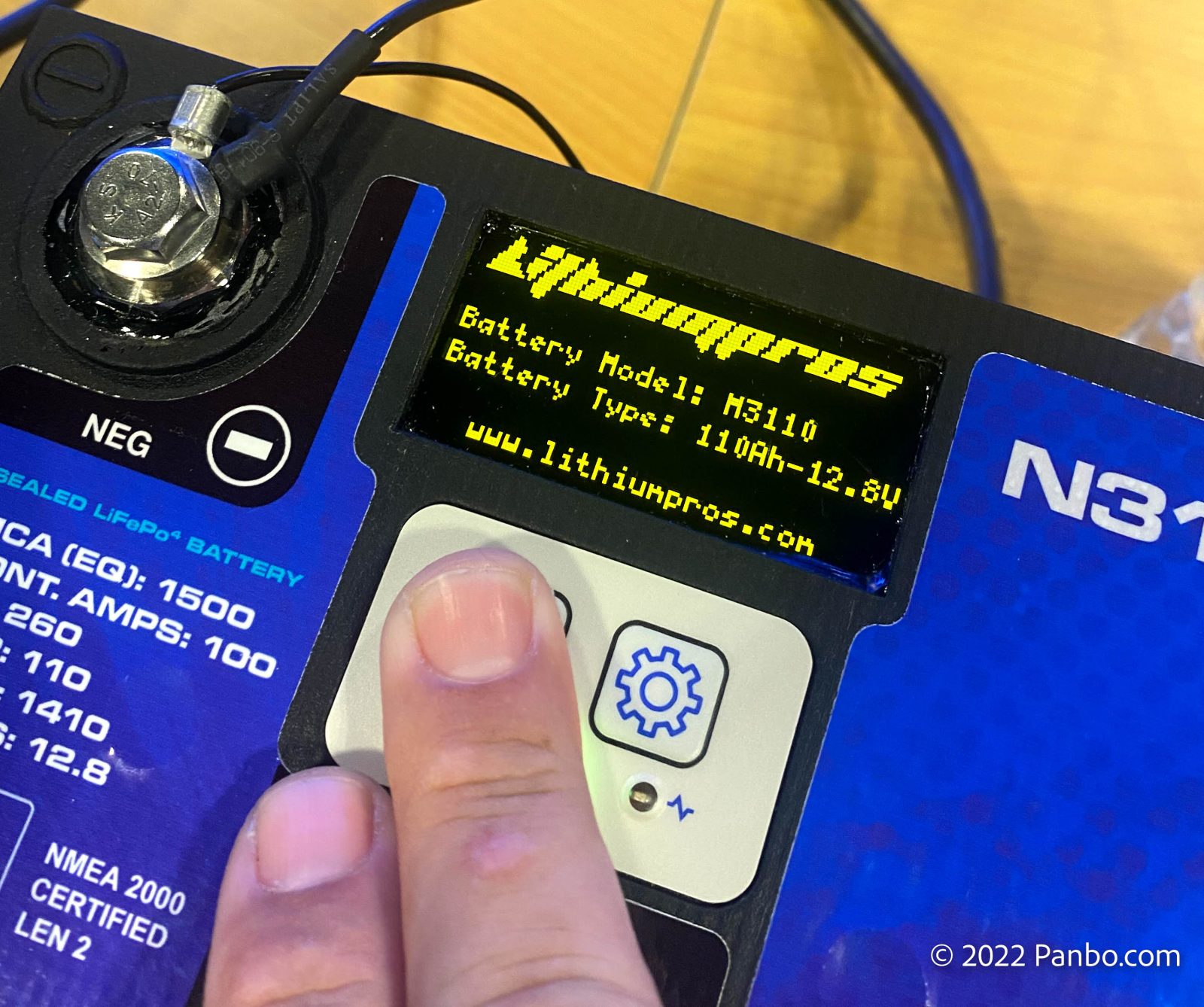 As the gallery above shows, the on-battery display provides in-depth information. I'm a big fan of a total amp-hour counter on any battery. It feels like an odometer for your battery and is an excellent way to keep track of battery usage. Additionally, access to a fault log is particularly helpful and an excellent way to understand a battery's treatment.
Using the battery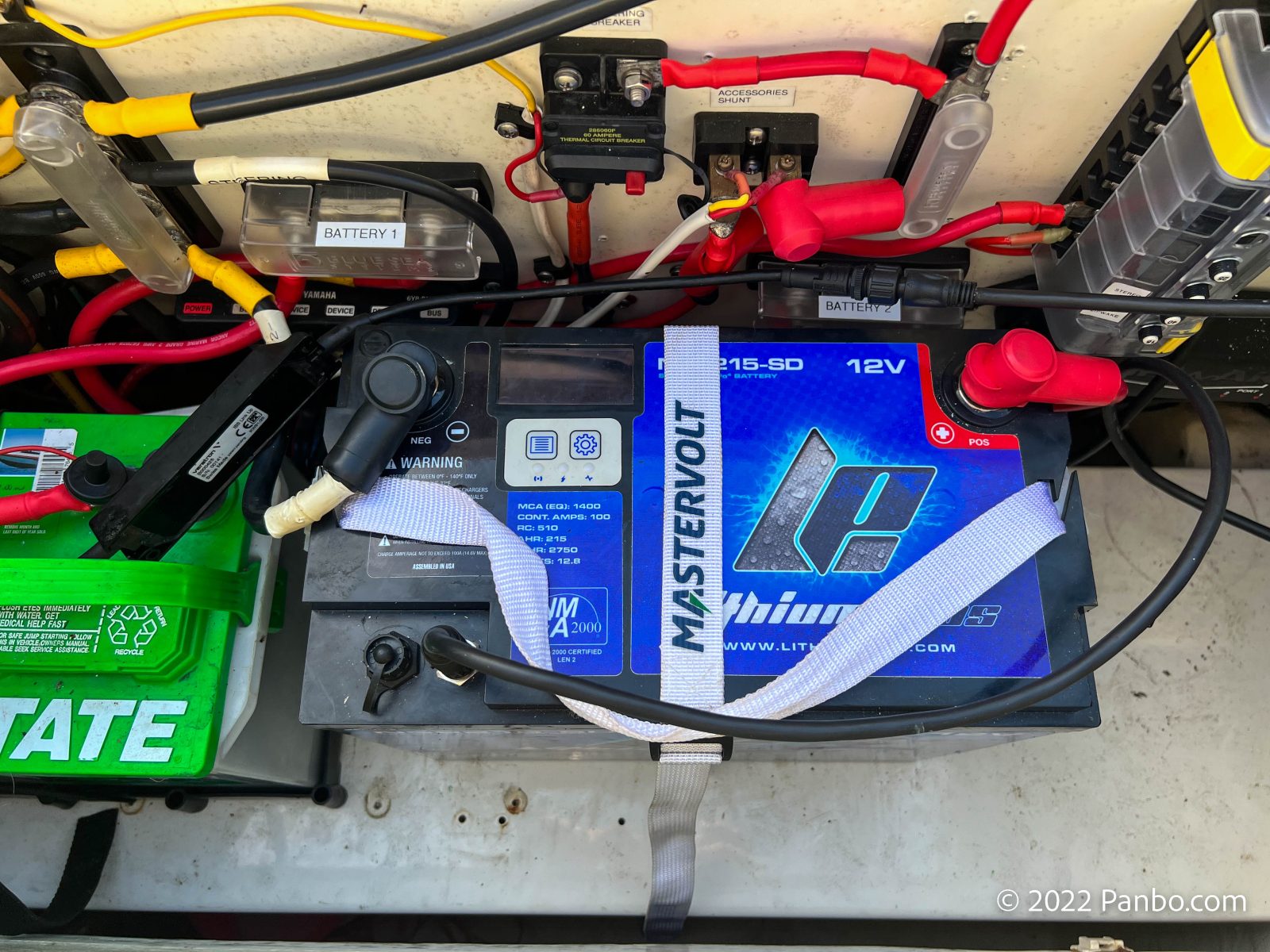 I've had a 215-amp N32215-SD battery on Panbo(at) since January and have been able to put the battery thoroughly through its paces. Batteries on Panbo(at) don't live a particularly easy life. Since I bought the boat almost three years ago, it's rarely been on a charger. Additionally, there are a lot of loads on this little boat, and the Yamaha F150 engine doesn't have a very big alternator. So, I've been through a few lead-acid batteries in the time I've owned the boat and became accustomed to what the engine sounds like when cranking with a dying battery.
With the Lithium Pro in place, the engine has never hesitated while starting. More importantly, all evidence of voltage sag during starting has also disappeared. With lead-acid batteries, it was not uncommon for the MFDs and other electronics to reboot when starting the engine. That was caused by the voltage of the battery sagging due to the large, momentary load of the engine starting. As I've seen in several other LiFePO4 installations, the battery's voltage doesn't dip under heavy load.
The battery sits beside a lead-acid cranking battery. Each battery connects to one of the positions on the 1/2/Both/Off battery switch. I typically don't ever run the batteries in the both position. But there's one scenario where that position comes in very handy. The BMS on the battery disconnects itself if the battery sits unused for longer than 21 days. To wake the battery up, you connect a charge source to the terminals, and the BMS comes back to life. That's well and good, but kind of a pain if you're not close to an outlet and charger. So, instead, I've been able to swing the battery switch to both and use even a weak lead-acid battery to wake up the LP battery.
Capacity test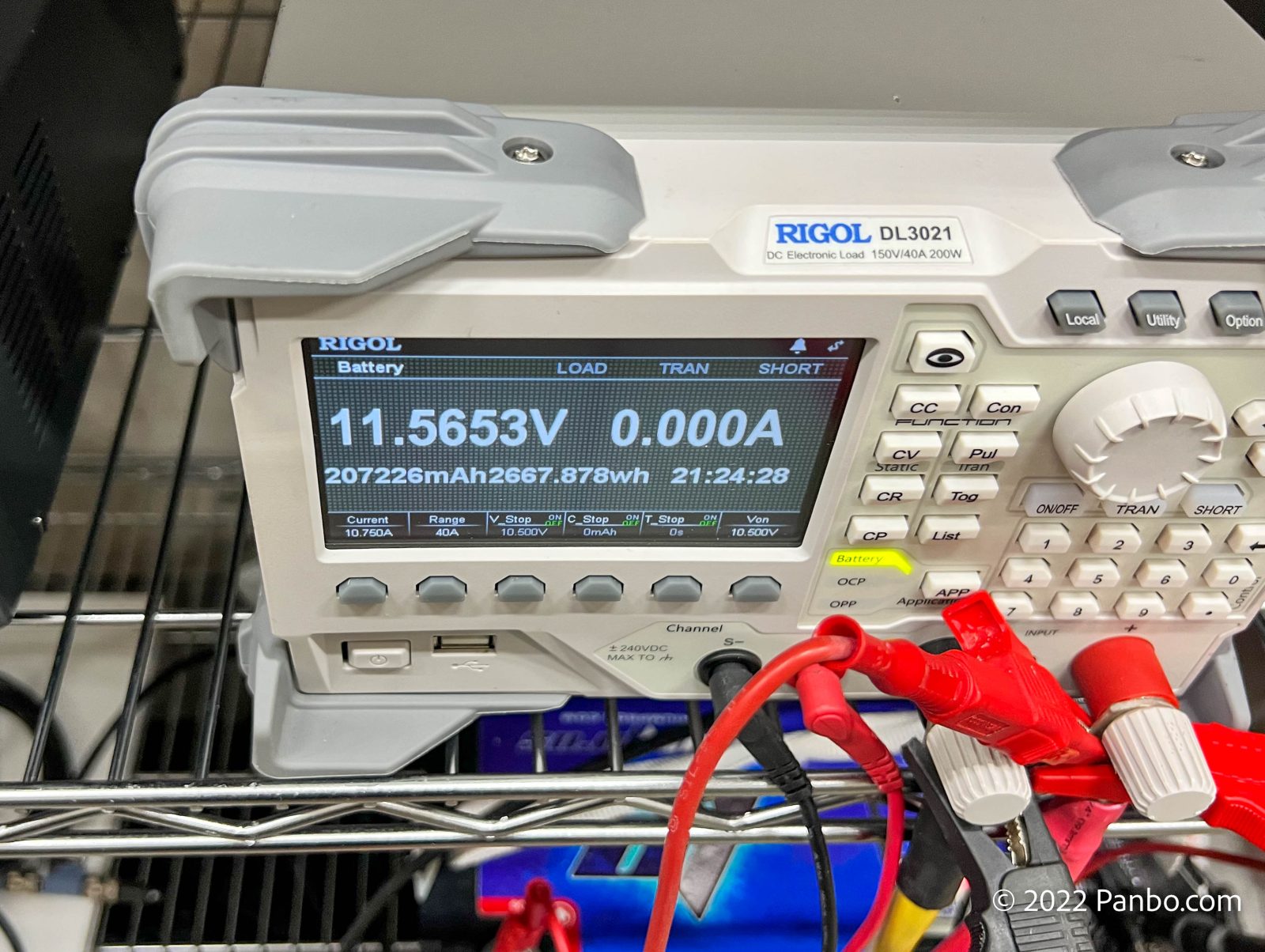 Before installing it and again after using the battery for nearly a year and running more than 17,000 amp hours through the battery, I did a capacity test on it. I did fairly kind tests and stopped them at 10.5 volts rather than letting it get down to the BMS cutoff. Brand new, the test showed a capacity of just under 212 amp hours. After 11 months, the test showed a capacity of just over 207 amp hours. I'm pretty sure that if I'd run the battery to its cutoff, even after a year, it would provide over rated capacity.
Tearing down a battery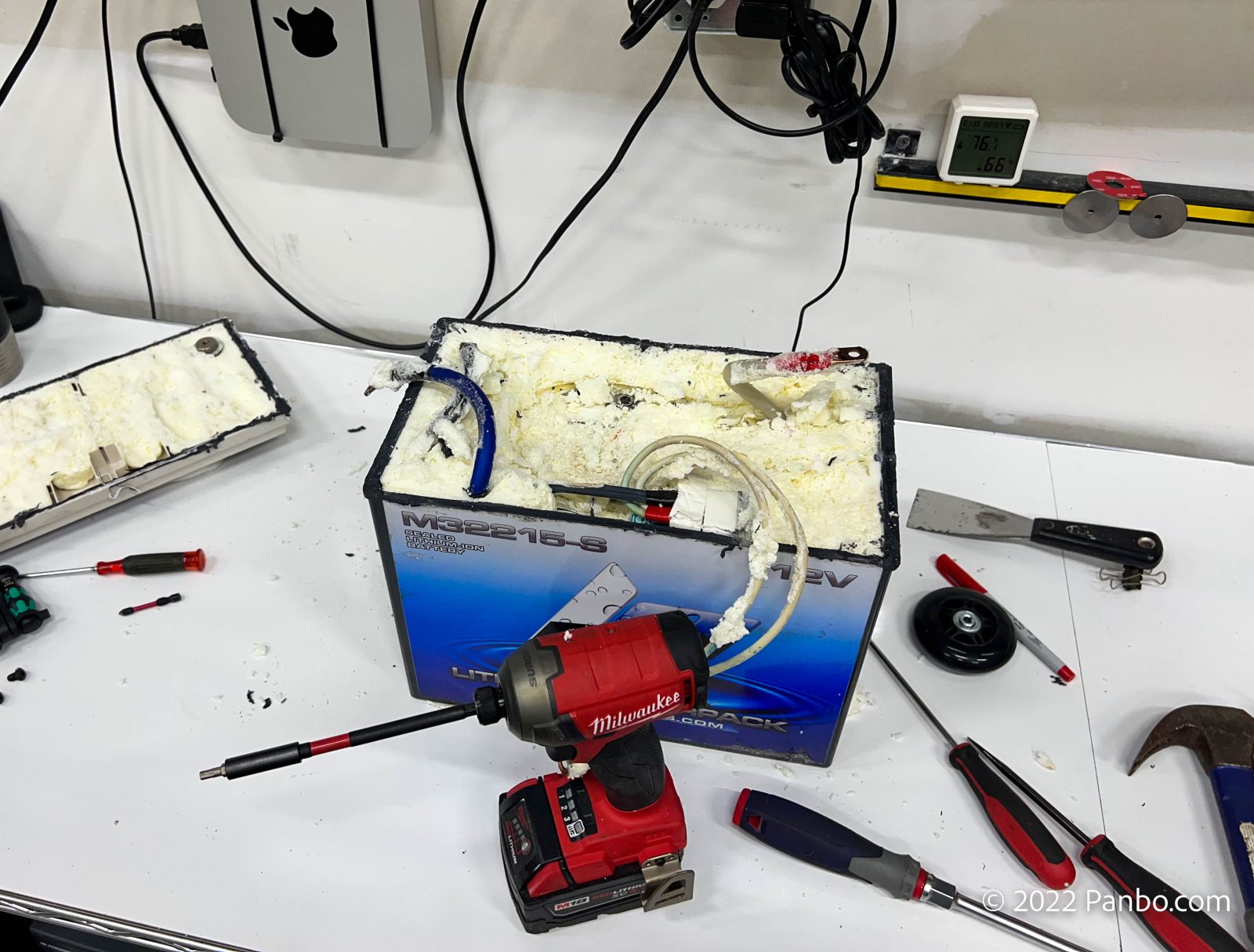 Whenever I test a battery, I also ask the manufacturer for a tear-down unit. A few have declined, and one manufacturer decided they no longer wanted me to test their batteries at all after I asked. Lithium Pros quickly sent me a unit to tear down. When a company provides a battery, I go into the tear-down, assuming I'm going to find a well-built battery. Who would provide a sample to tear down, knowing I'd find shoddy work or low-quality components? LP's battery didn't disappoint.
I was expecting to find high-quality components, and that's just what I found. The battery consists of three major components. Two are quite familiar in looking at any LiFePO4 battery, and one is quite new. The LiFePO4 cells and battery management system (BMS) are found in any decent LFP battery. But, in a first for any lithium battery I've come across, Lithium Pros uses a set of supercapacitors or supercaps in all their starting-rated batteries. We'll talk more about those super caps in just a minute.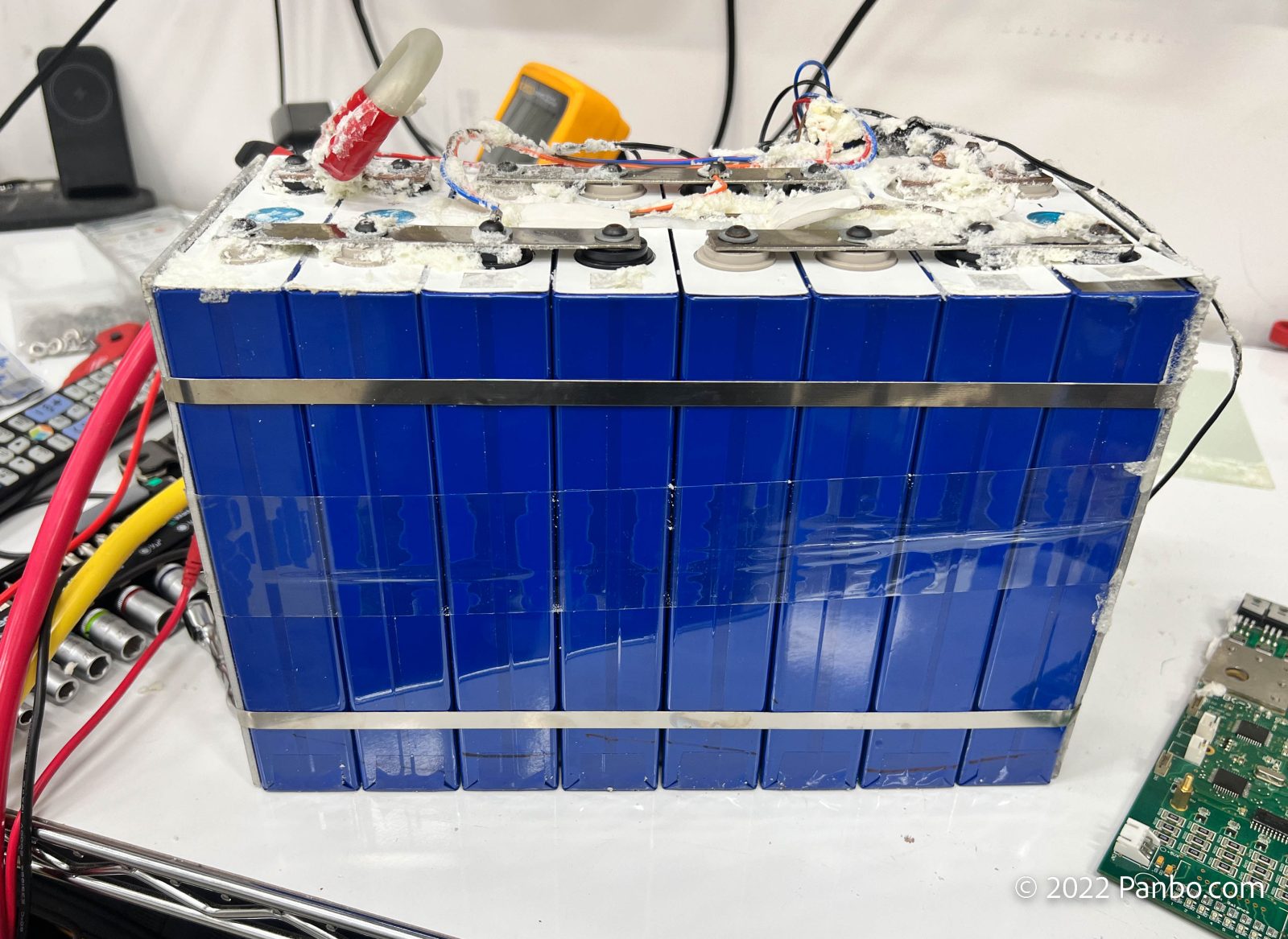 The 215 amp-hour batteries consist of 8 105 amp-hour cells from a reputable cell manufacturer. The cells are arranged in 4 parallel pairs connected in series. The BMS sits inline on the negative leads from the cells.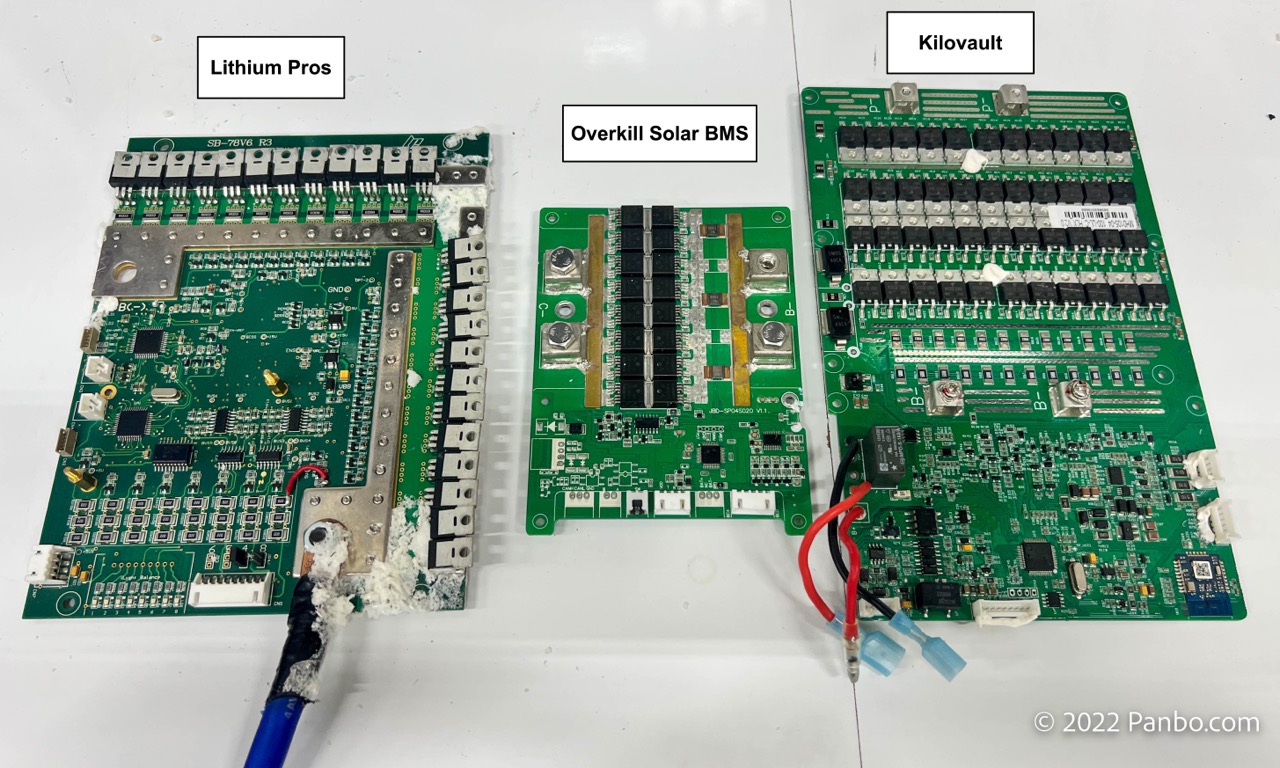 A heat sink covers the entire Lithium Pros BMS. Each FET (current-controlling transistor) on the BMS attaches directly to the heatsink to ensure maximum heat dissipation. As I mentioned in my review of KiloVault's batteries, heat is the enemy of the BMS and particularly FETs. The LP BMS has fewer FETs than KiloVault's, but their heat appears more thoroughly controlled with the direct connection to the heat sink.
Supercapacitors make starting easy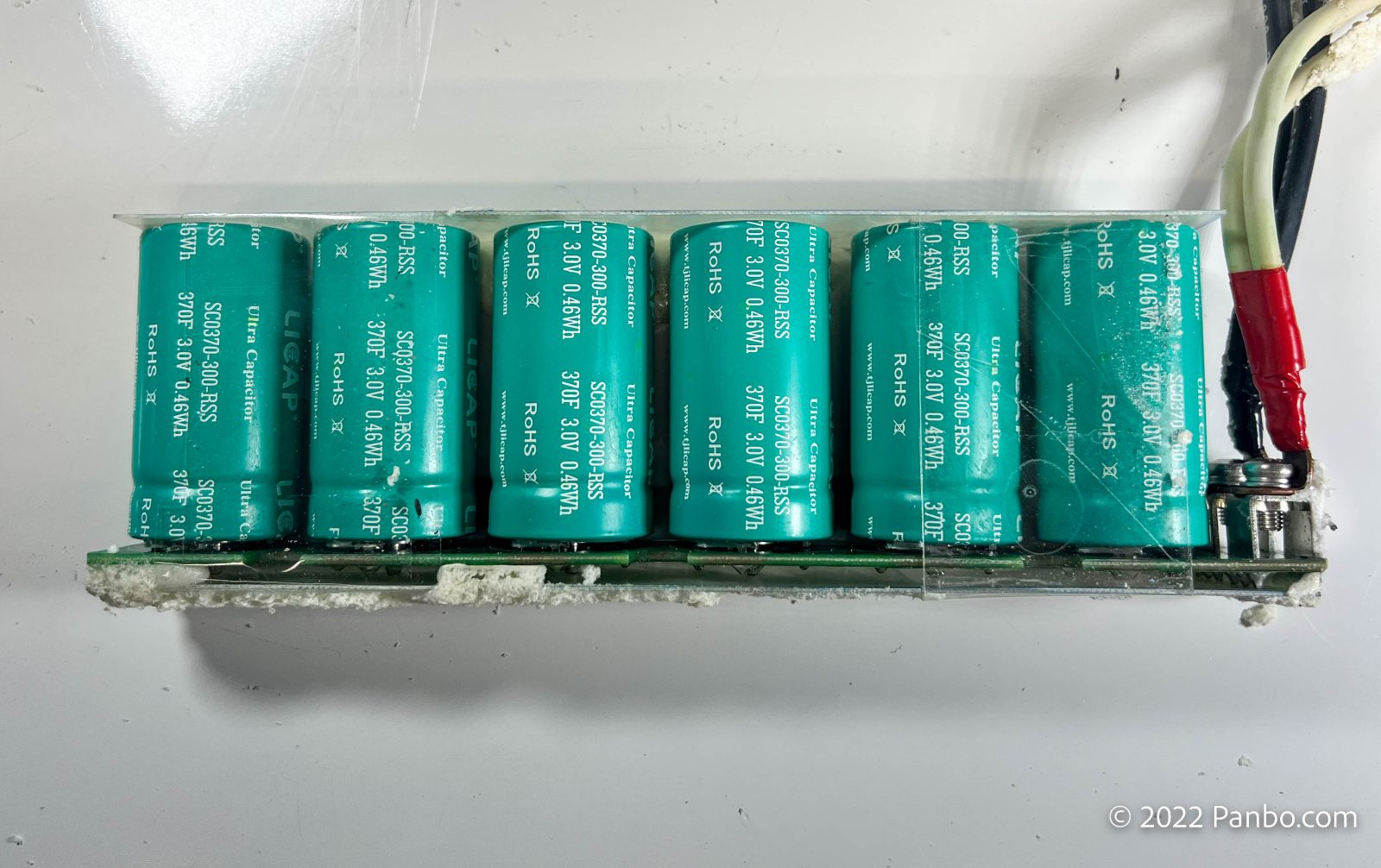 Here's where Lithium Pros is doing something new, at least to me. The challenge of starting an engine for most LiFePO4 batteries is the large inrush associated with getting the motor spinning. The starting load is momentary, but it can be hundreds of amps and exceed both the continuous and momentary load limits of LiFePO4 batteries. Supercapacitors can deliver a burst of lots of energy in a very short time.
Supercapacitors come with quite a few advantages, including their ability to deliver a burst of energy, rapid recharge, and cycle life. Lithium Pros uses supercaps rated for 1,000,000 cycles. That's a lot of engine starting!
In addition to the benefits I've already described, Kevin Bennett, the founder of Lithium Pros, pointed out another important advantage of using supercaps. The supercapacitors connect directly to the posts on the enclosure. So, they connect to the circuit after the BMS. That means that even if the BMS disconnects due to a fault condition, the supercaps stay in the circuit.
Supercaps after the BMS yields two major advantages. First, even if the BMS has disconnected the cells, the supercaps will be able to start the engine. In fact, Kevin Bennet reports that either the cells and BMS or supercaps can start an engine if the other fails. Second, one of the biggest concerns with directly connecting any BMS-controlled battery to an alternator is protecting the alternator in the event of a load dump.
Without supercaps, if the alternator is working hard to charge the battery and the battery disconnects, the energy generated has nowhere to go. The result is potential alternator damage. But, when the supercaps are in the circuit, they will serve as a snubber or protection for the alternator. When the alternator is producing charge current, if the battery is suddenly disconnected, a load dump occurs. With nowhere for the generated energy to go, the alternator's voltage will spike until the regulator can stop sending current to the field windings. That event is likely to damage the alternator's protection diodes. Instead, with the supercaps in the circuit, they will the energy as the voltage rises in a controlled manner. The alternator's regulator will be able to pull back field current before any damage occurs.
Putting it all together
An energy-dense LiFePO4 battery isn't new, and plenty of other manufacturers make them. But a battery with NMEA 2000 connectivity, a built-in, detailed display, and engine starting is, as far as I know not available from anyone else. Comparing batteries on a per watt-hour basis, these are premium batteries. But, they're delivering premium functionality and solving problems no other battery can currently.