KiloVault HLX+ batteries, serious quality and value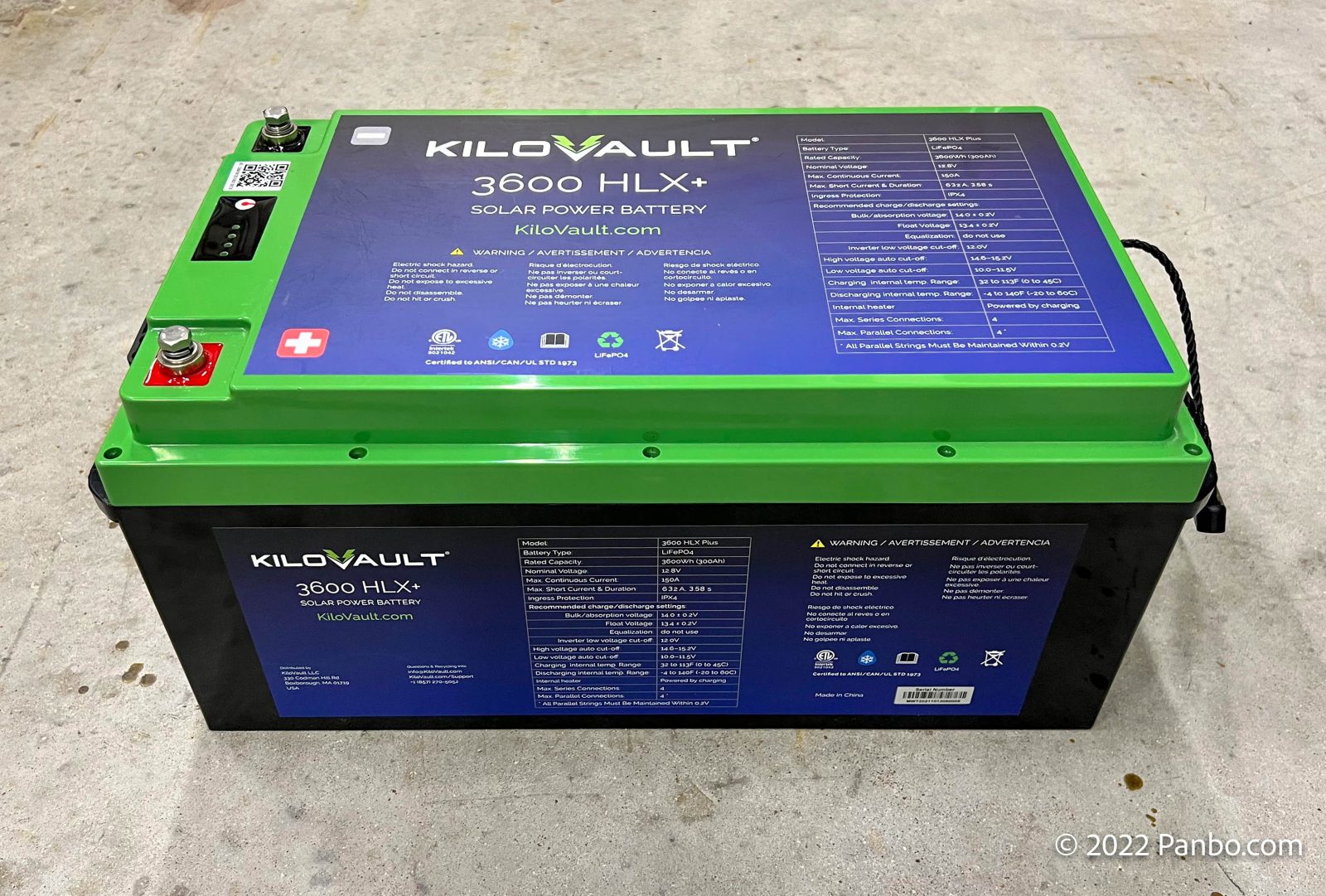 KiloVault might be a relatively new name in lithium iron phosphate (LiFePO4) batteries, but I'd expect to hear a lot more about them based on what I've seen so far. The HLX+ series of batteries are well-made, drop-in-style batteries with lots of capabilities at an affordable price point. I'll be installing a pair of the 300 amp hour batteries in my RV, but first, let's get to know the batteries better.
The KiloVault HLX+ series are drop-in style LiFePO4 batteries. A quick note about the term drop-in: I think whoever coined the term for drop-in is also responsible for redefining the word unlimited with cellular phone rate plans. No LiFePO4 batteries are truly drop-in replacements for lead-acid batteries. When switching to LiFePO4 batteries, the entire DC system needs to be evaluated for compatibility with the batteries. It's critical to confirm that your charge sources are compatible and that your over-current protection is up to snuff. If you're not sure how to accomplish these tasks, please seek the advice of a pro!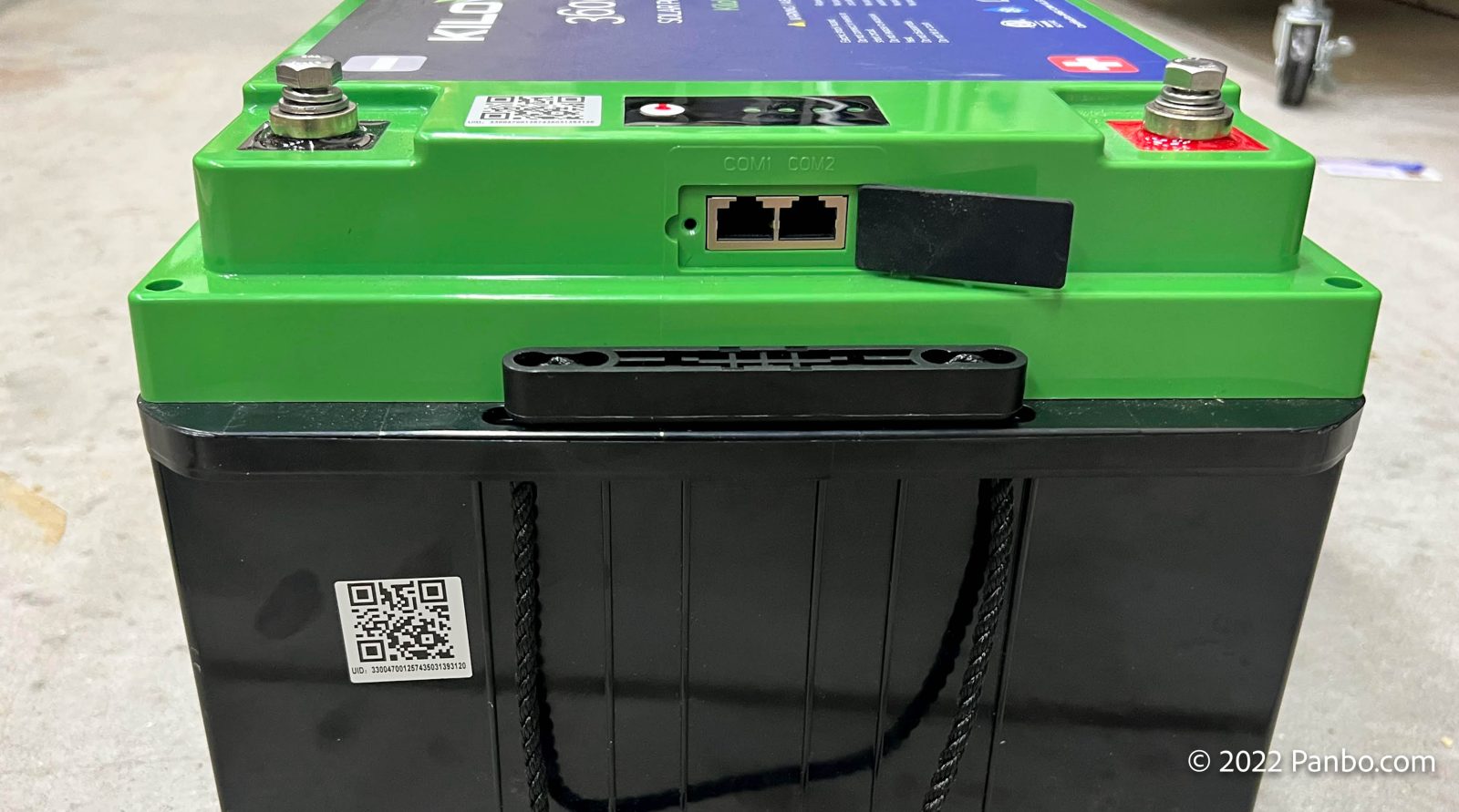 The HLX+ series of batteries have a couple of features rarely found on drop-in batteries. In fact, I'm not entirely sure what category these batteries fit, nor if it really matters. First, there are external communications ports on each battery. KiloVault has developed a communications bridge for communications between multiple batteries in a bank, which they expect to release very soon. Additionally, all of the HLX+ batteries, include heaters to allow low-temperature charging.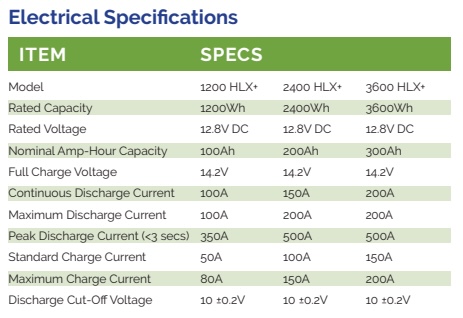 KiloVault HLX+ batteries are available in 100, 200, or 300 amp hour sizes at 12-volts. They don't offer higher voltage batteries, but they support configurations up to four parallel strings of four series batteries. That's a total of 16 batteries providing 1,200 amp hours of 48-volt power or 14.4kwh per string for a total of 57.6kWh with 4 strings.
When compared to other drop-in batteries like BattleBorn and Dakota, the HLX+ batteries are similar, but a little bit cheaper per watt-hour. The differences get stark when compared to system integrated batteries like Lithionics and Mastervolt's MLI series. But, the Lithionics and Mastervolt batteries use contactors instead of FETs to control the flow of current. I'll talk a lot more about FETs below, but the main difference is the current handling abilities of these two approaches.
Tearing down a battery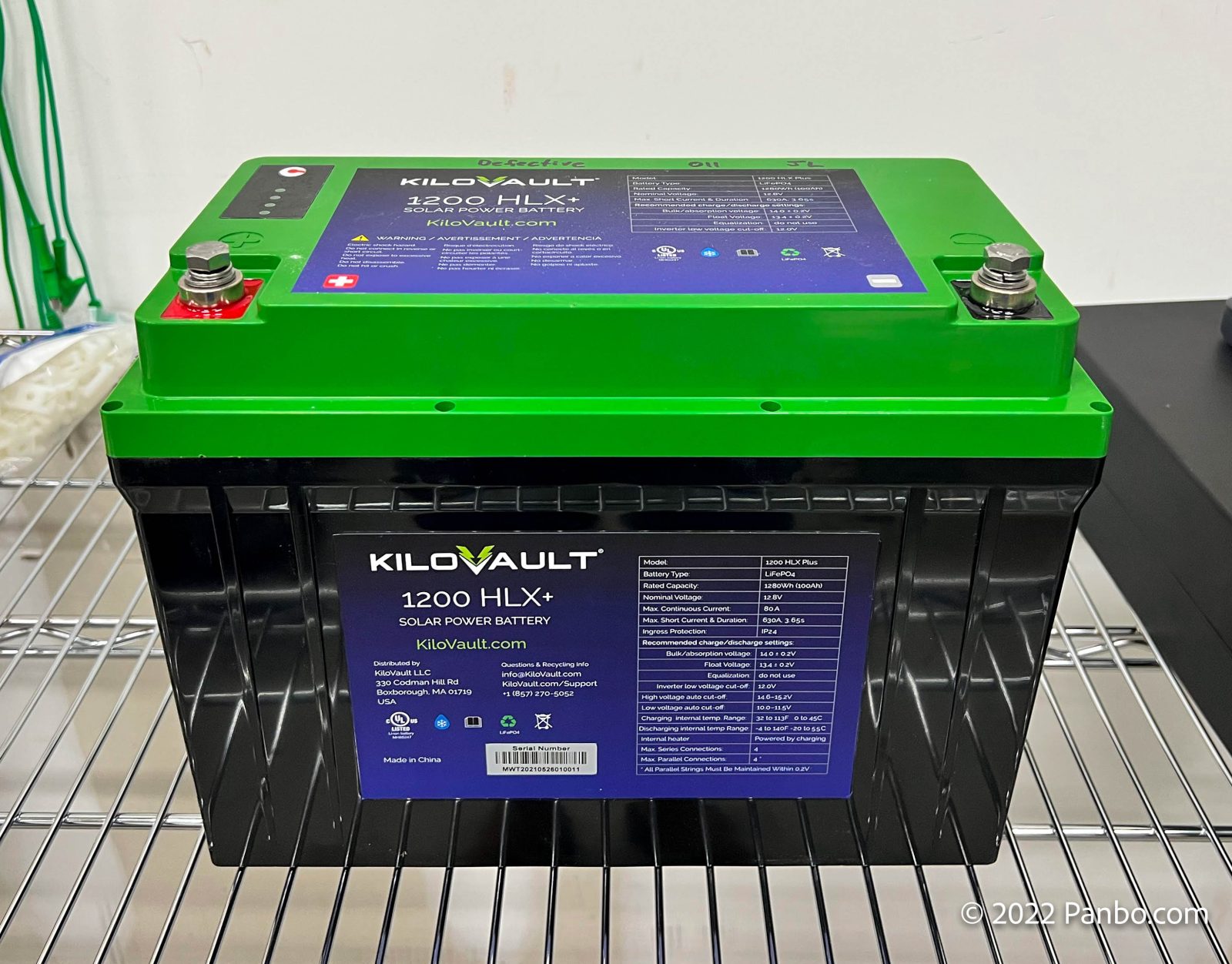 I asked if KiloVault could provide a defective battery to tear down so I could see how it's put together and the quality of the components. They were happy to oblige. I think this may say more about the quality of their battery than anything else I'll say. They're confident enough in how it's built to provide me one to tear apart. I must say, their confidence seems well placed.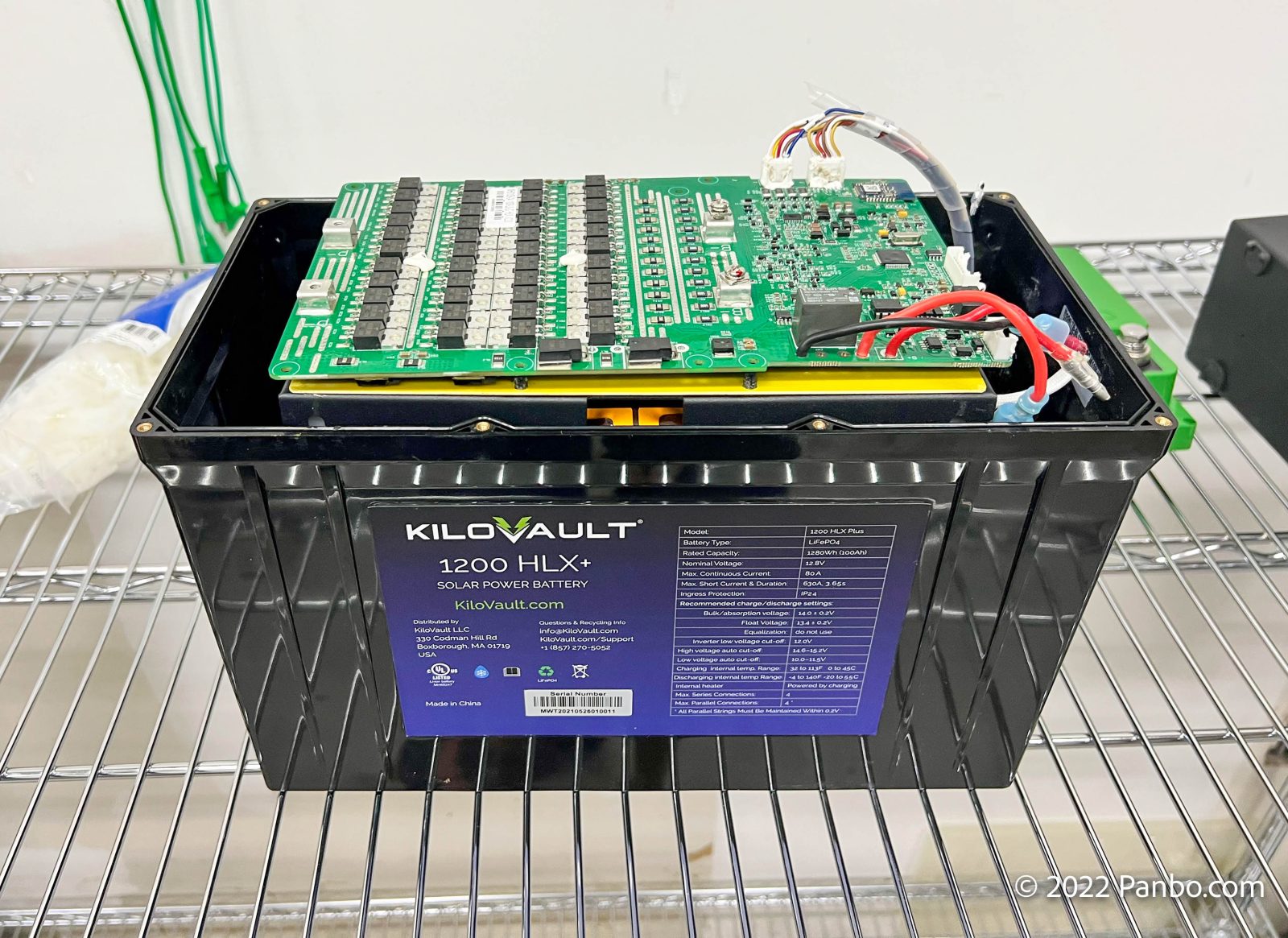 If you're like me, you've probably watched a few of Will Prowse's teardown videos. They usually involve an oscillating tool to get the case opened and frequently, somewhat disappointing components and build practices. Well, tearing down the KiloVault battery was a completely different experience. First, the 100 amp hour battery is secured by eight easily removed Philips head screws. Once opened, I found beefy metal mounts and heat sinks holding everything in place.
The individual cells are nicely secured in a plastic tray top and bottom. Both positive and negative terminals are fed by a pair of 8 AWG wires with 200-degree-celsius insulation. I was also happy to see not one but three temperature sensors on the cell tops. Three temperature sensors spread across the cells helps ensure a thermal anomaly will be quickly detected by the BMS and appropriate action taken.
BMS compared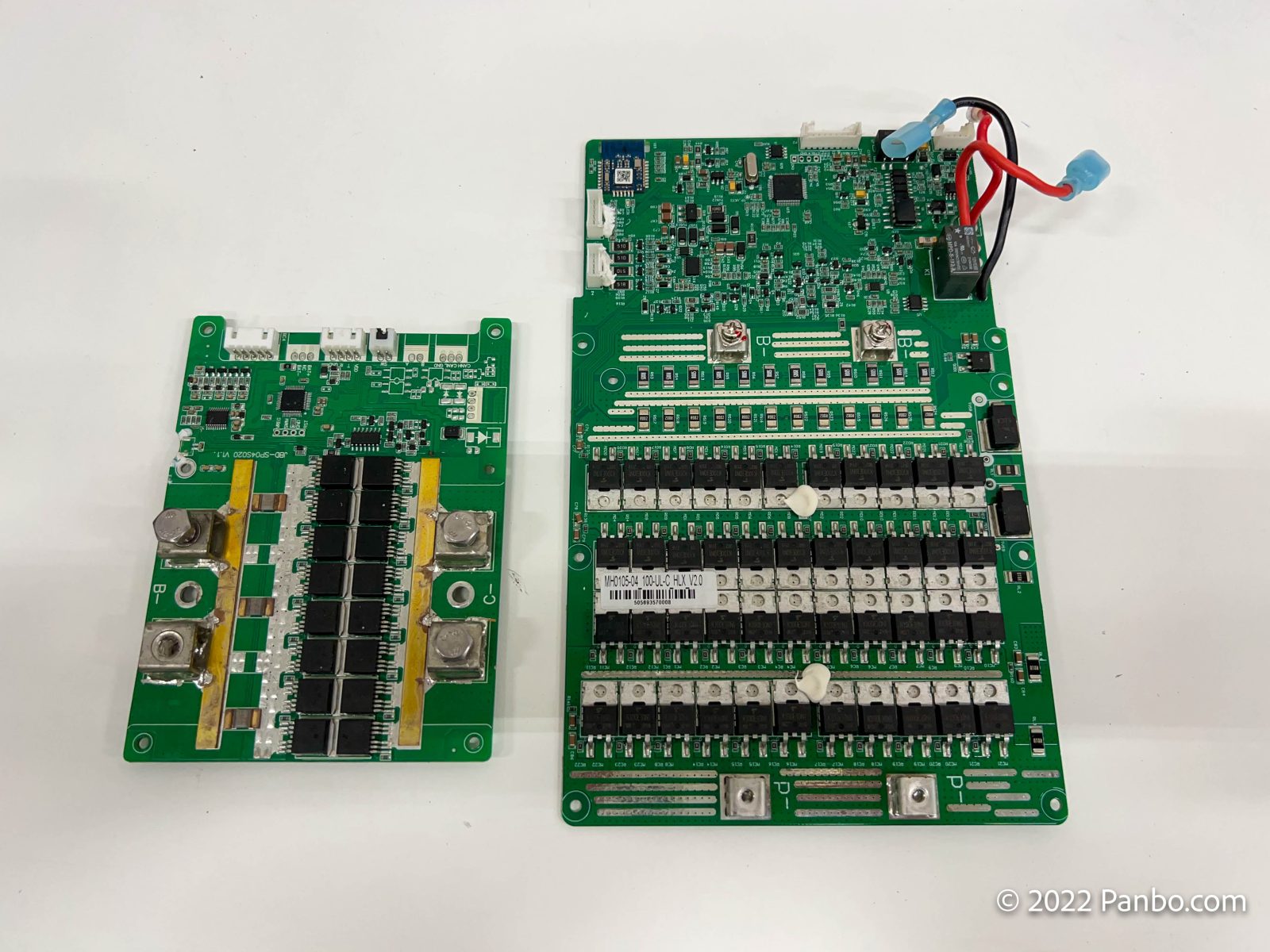 The first thing I noticed when I opened the battery is the size of the BMS. The picture above compares the size of an Overkill Solar 120 amp BMS to the KiloVault's 100 amp BMS. The rows of chips running vertically down the bottom center of the Overkill and horizontally across the bottom of the KiloVault BMS are field-effect transistors or FETs. FETs control the flow of energy through the BMS, but they also generate a great deal of heat.
The picture above is an excerpt from Toshiba's spec sheet for the FETs used on the KV BMS. Take a look at the note about reduced reliability from operating the FETs near their limits. The KV BMS has 44 FETs for a 100 amp rating, the Overkill Solar BMS has 32 FETs and a 120 amp rating. That means each FET on the KV BMS handles up to 2.27 amps, while each FET on the Overkill BMS handles up to 3.75 amps. The more current a FET handles, the more heat it generates and the shorter it will live. The FETs on the KV BMS are handling almost 40-percent less current at peak.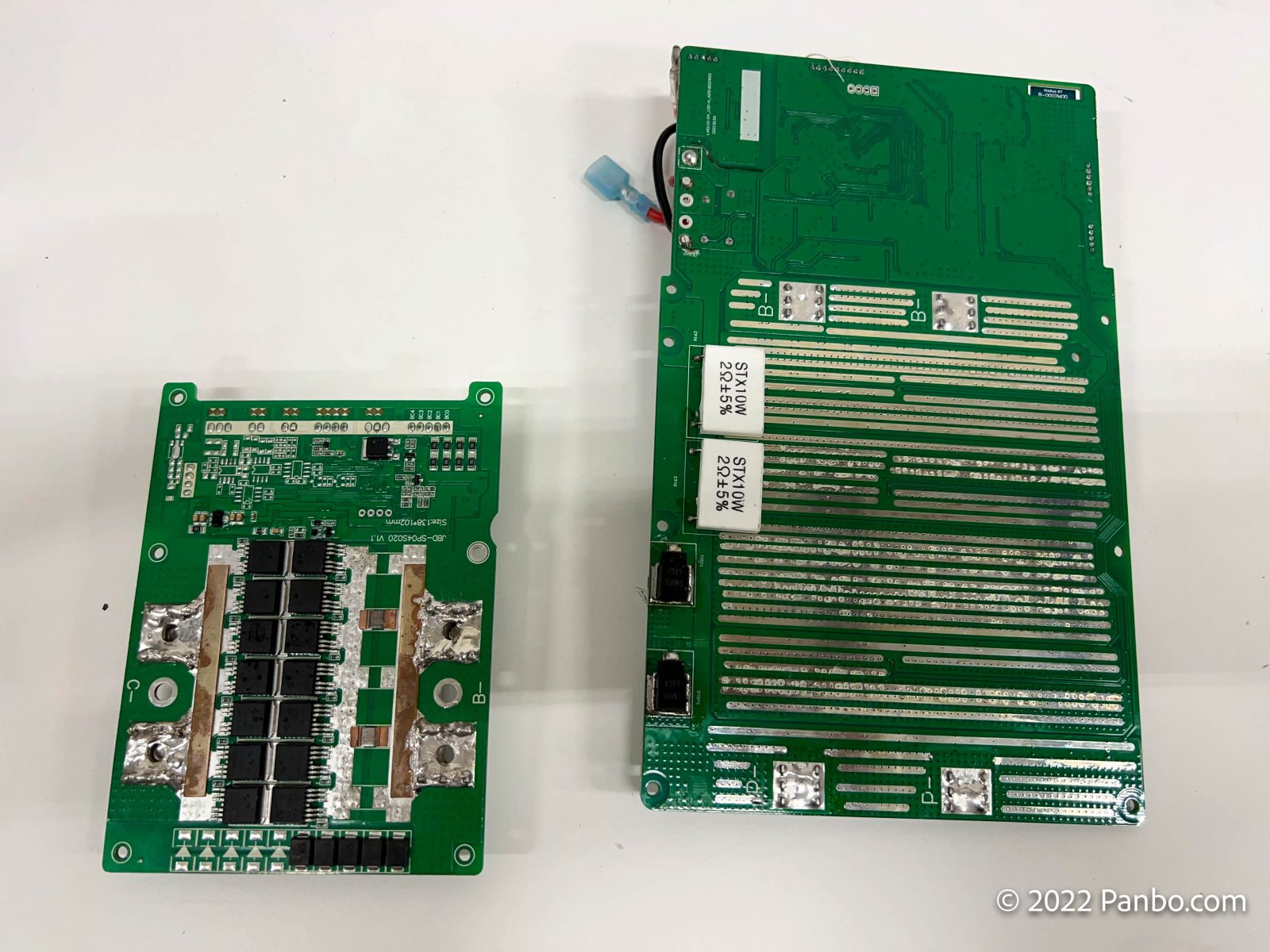 The story doesn't end there. The Overkill BMS has FETs on both sides of the PCB, and they're directly opposite each other. That's not great for heat dissipation since the heat transfers through the board. The KV BMS only has FETs on one side, and they're spaced out further for better cooling.
If it seems like I'm picking on the Overkill Solar BMS, I'm really not. The Overkill BMS is a good unit. I've been using one in my DIY LiFePO4 battery for almost a year with great success. But, I'm also aware that many, if not most, issues with LiFePO4 batteries are in the BMS and many of these come from overworked FETs.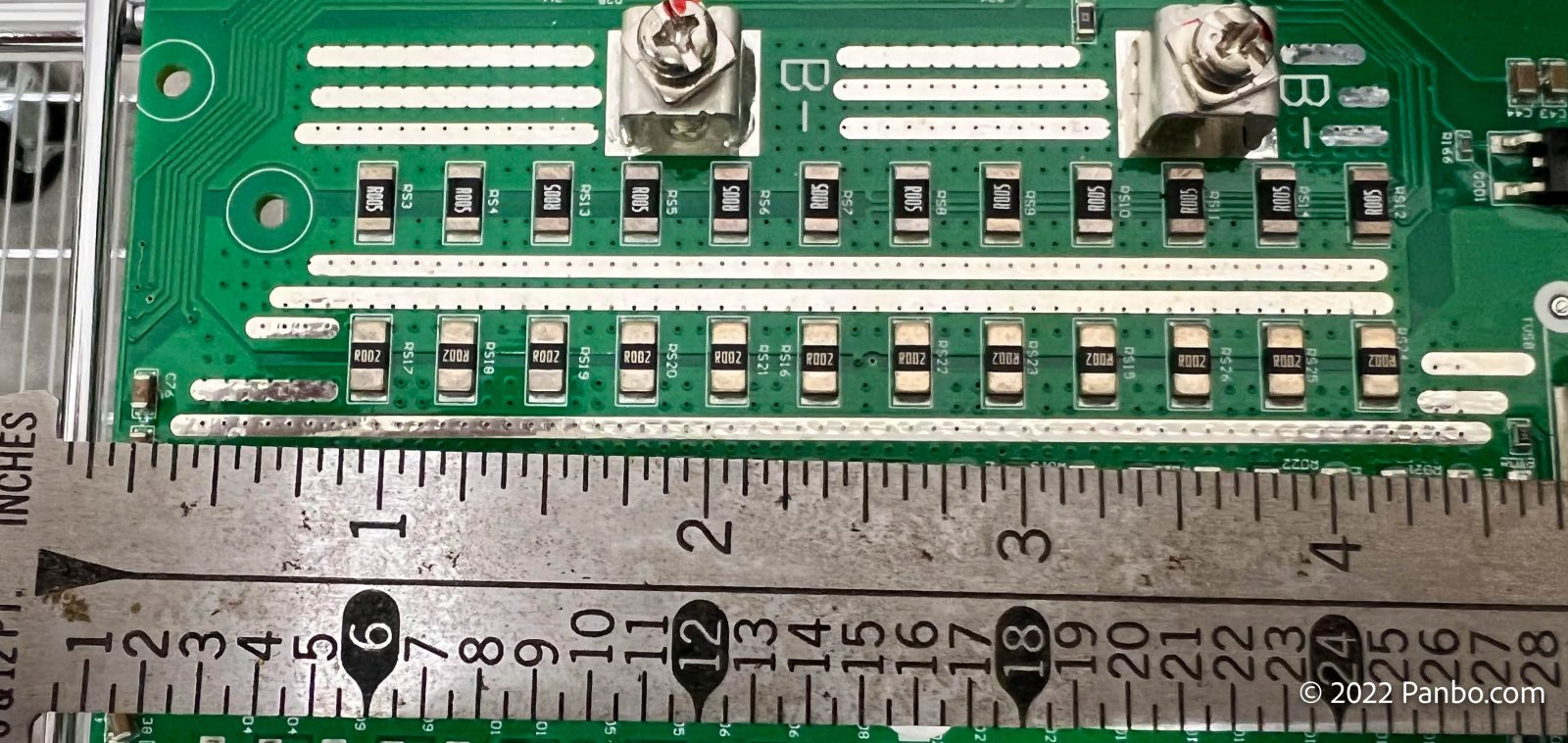 The differences don't end with the FETs. Although some of these differences are subtle, they affect battery performance and longevity. The next significant difference I noticed comparing BMSes is the configuration of resistors. As a battery approaches fully charged, the BMS will use resistors to apply resistance to the charge current going to individual cells in the battery. This resistance is used to work out any imbalance in the level of charge between the individual cells.
As you can see in the photographs above, the KV BMS uses 24 resistors versus the Overkill Solar's 8. When the resistors are creating resistance, they're turning energy into heat. Unfortunately, I haven't been able to determine the actual power rating of these resistors based on what's printed on them. But, the combination of quantity, size, and spacing of the resistors certainly suggests the KV BMS will be able to generate more resistance and hence more closely balance its cells.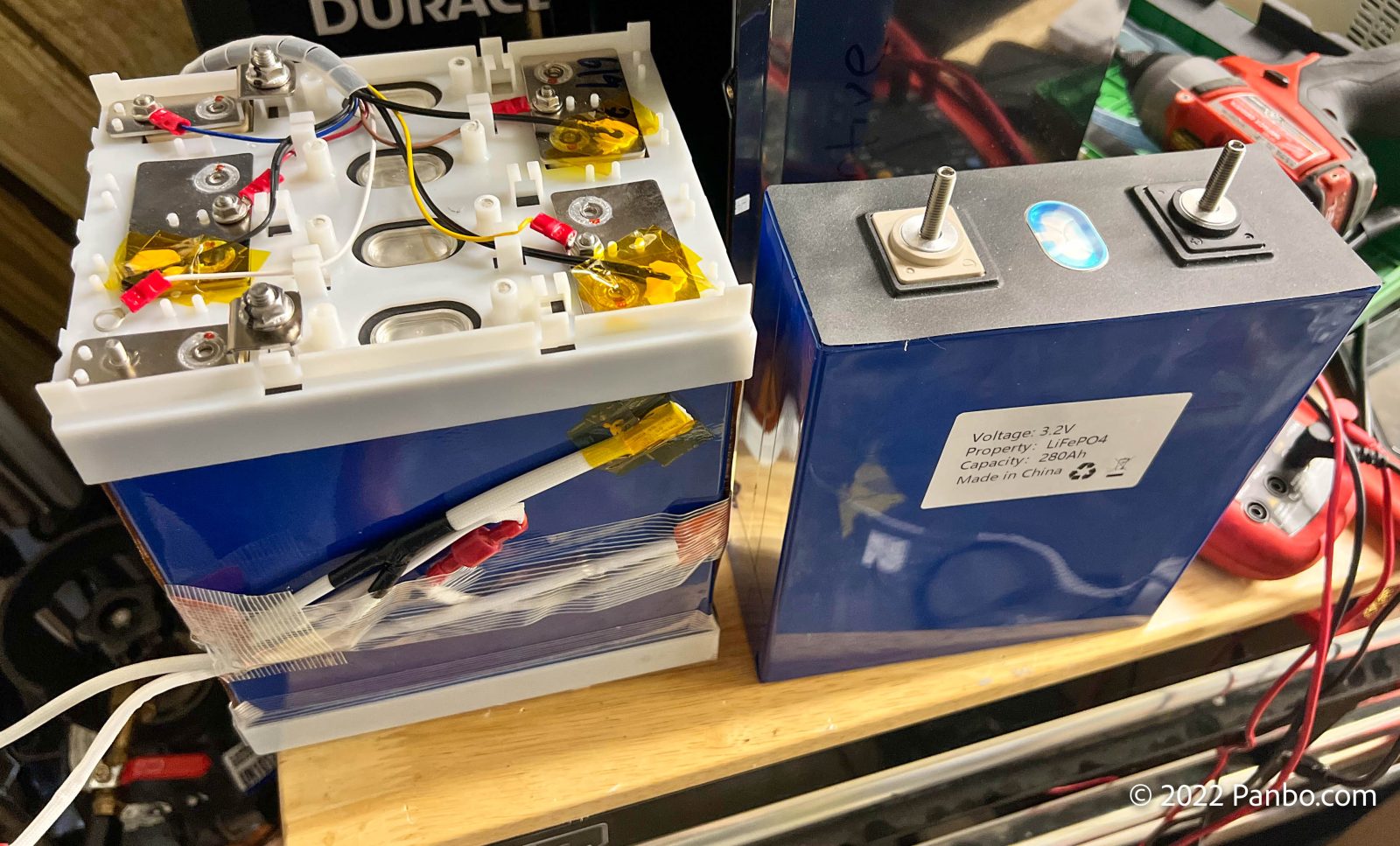 KiloVault uses quality cells from a reputable manufacturer. I often read information that suggests that regardless of what we think we're getting, when buying cells from China you're never getting the best cells they produce. But, that even B-grade or reject cells still provide the performance we need. I should be clear that I don't have the knowledge or skills to determine too much about the actual cells used besides what's contained on the data label and based on the real-world results from rundown tests.
Early testing results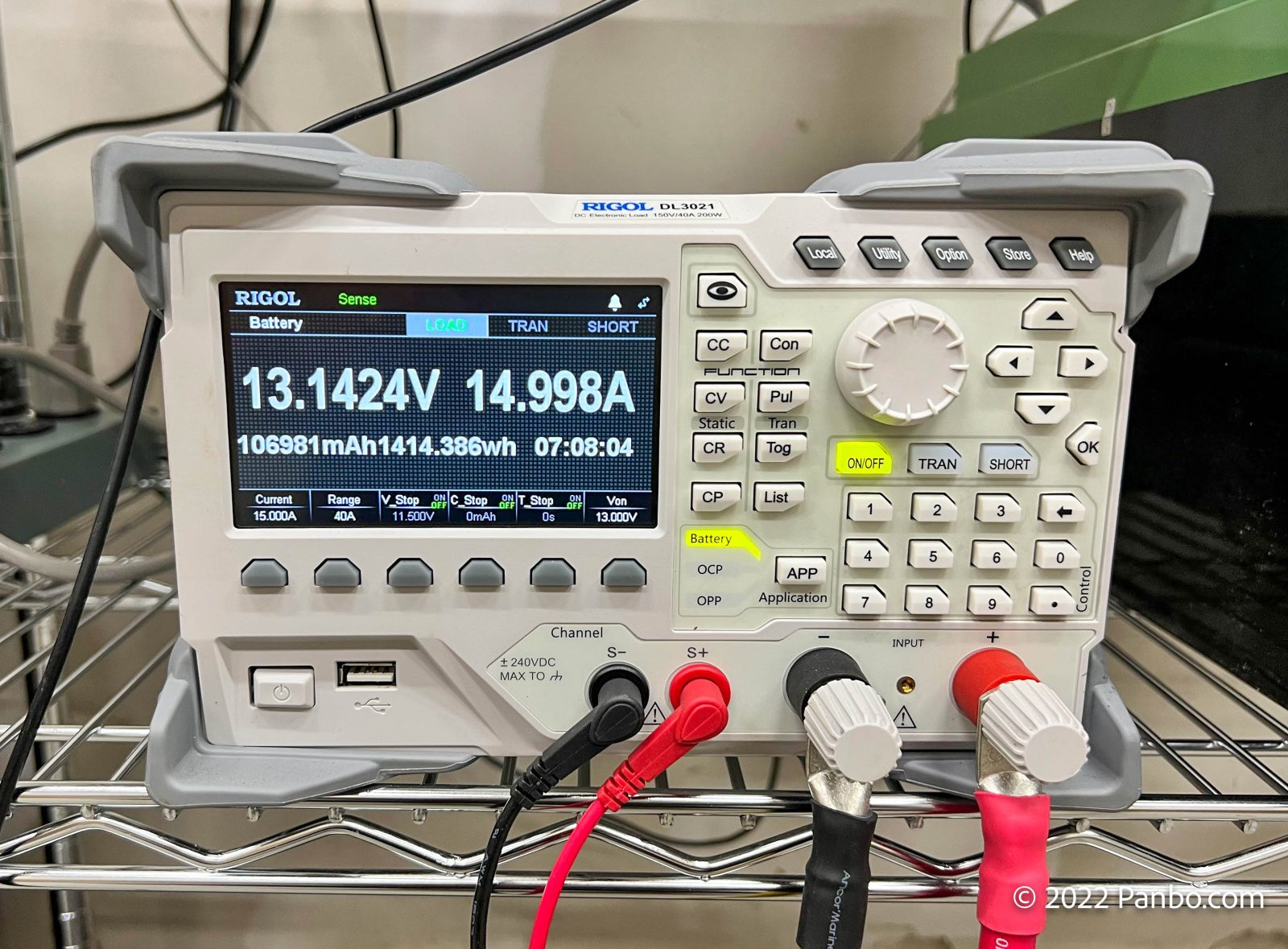 I've conducted multiple rundown tests of KiloVault 3,600 watt-hour batteries. Each of these tests has proved the batteries capable of delivering well in excess of their rated capacity. In fact, each test has produced over 4,000-watt hours. When the capacity is measured in amp-hours, each 300 amp-hour rated battery has delivered more than 310 amp-hours.
One of the things you may notice in the rundown chart above are the knees in the results. As the battery is placed under load there's a step down to its loaded voltage. I'm not actually sure what the small dip is from about an hour into the test until just before 18:00, but I suspect it's from my voltage sense leads being bumped. For the next many hours the battery ranges between 13.2 and 12.6 volts. Then, as it gets to 12.6 volts and is nearing full discharge, it drops precipitously and continues until the test was discontinued around 11.5 volts.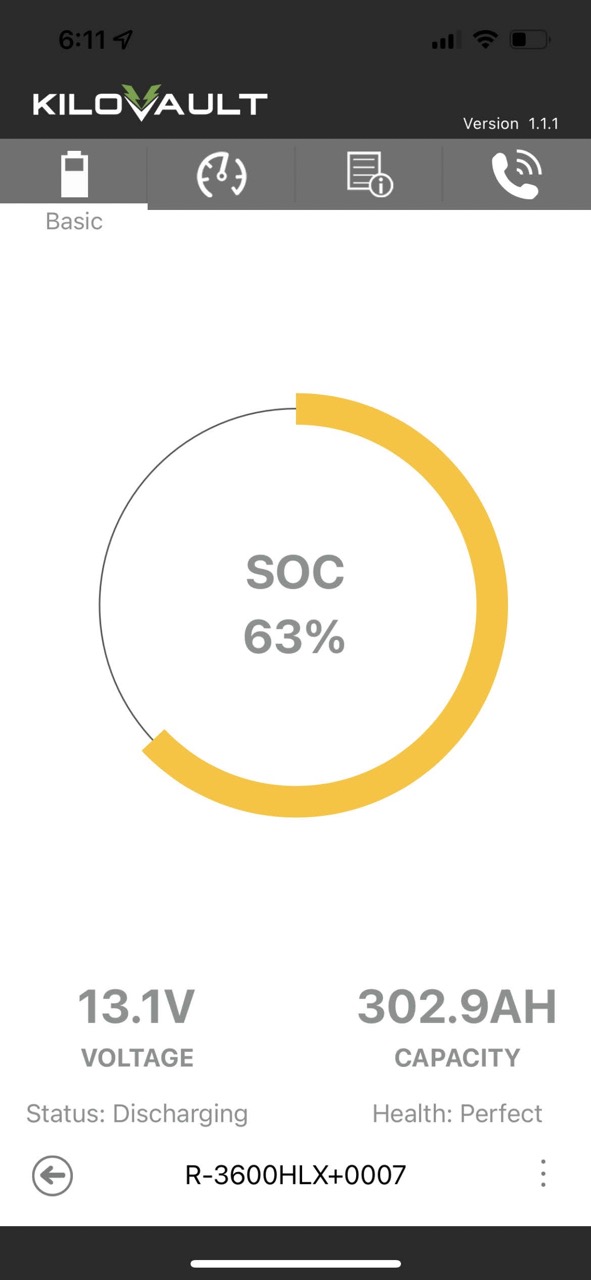 KiloVault has an app available in both the Apple and Google app stores. The app communicates with the batteries via Bluetooth and gives you access to basic information about the batteries. Unlike the rest of the battery, I felt the app comes up a little short. The app makes a few summary pieces of data available, like the voltage, state-of-charge, current, and cycle count. But Victron has spoiled me with the wealth of information even their battery monitor provides. I'd like more information, especially more historic information like total amp hours delivered. Ideally, I'd also love more operational specs like cell-level detail.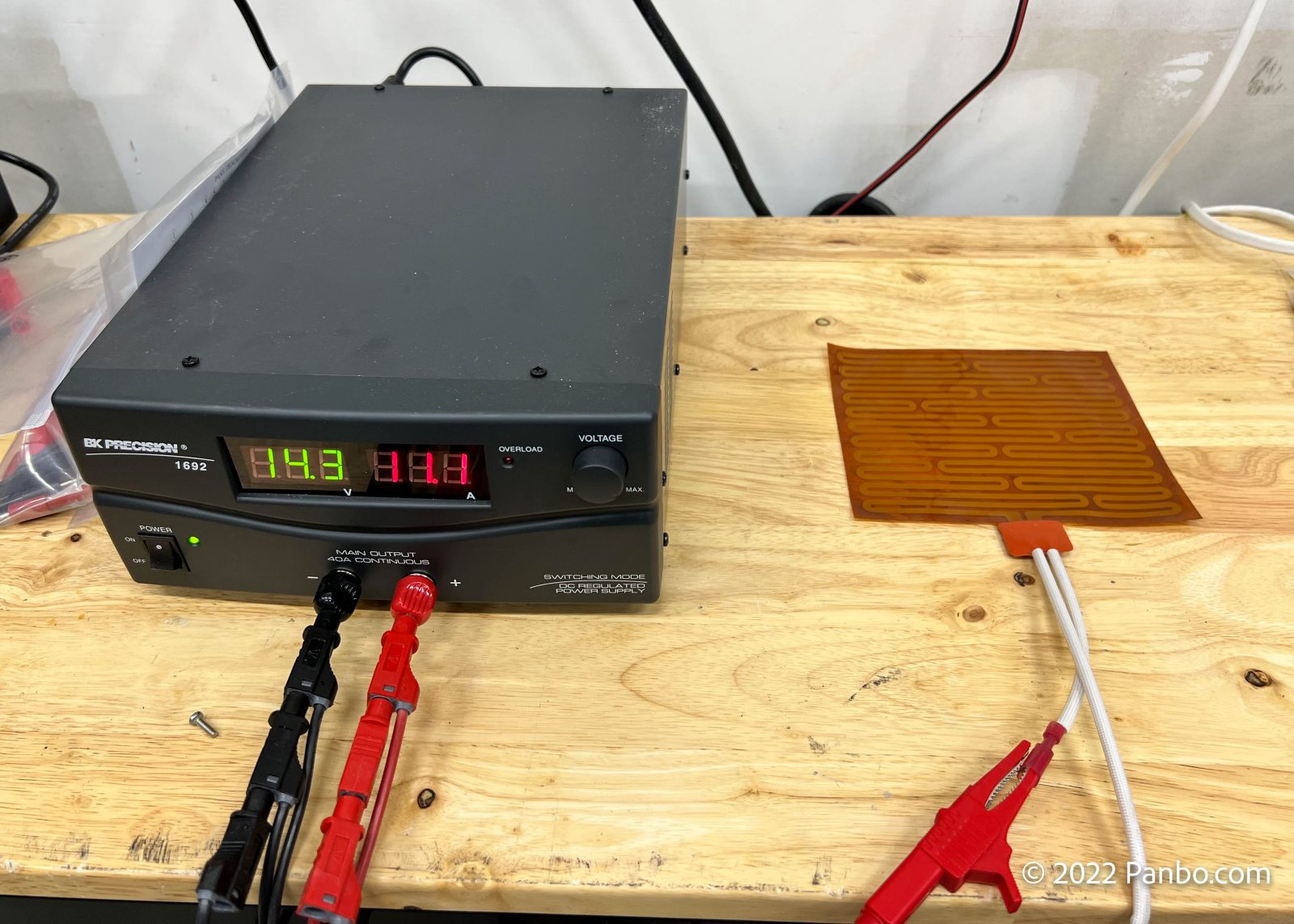 I was curious how much power the heating elements draw. The 100 amp hour battery I tore down has two heating elements. Based on what I saw from my testing it looks like these are roughly 10 amp heaters. At 10 amps of draw, the heating elements very quickly heated up to around 400 degrees. As you can see, I had the heater on a wooden work surface so I decided not to see how hot the element might get. But, what I did learn is that with both heating elements on, there's a total of 20-amps of potential draw. But, based on how hot they get, I suspect that in practice they are run for short bursts.
A quick note on heating. During a recent conversation with Rod Collins from marinehowto.com, Rod explained the potential for trouble with battery balance when using battery heat on parallel-connected batteries without inter-battery communication. If one battery turns on its heat longer than others, it will charge less. That's going to result in the batteries in the string being out of balance.
Without communication between the batteries, there's no way for the batteries to balance. The challenge of balancing the batteries is worse on series-connected, but in this mode when a battery is heating it will also go into low-temperature protection mode which shuts down its output to just a few volts. This will trigger the low-voltage cutoff of an inverter but might yield odd results on other connected loads. That's where KiloVault's bridge comes into play, but it isn't released yet. So, if you're going to series connect the batteries in an environment where heat may be used, you're best to wait.
Testing next steps
As I mentioned at the top, I'm going to be installing the two HLX+ 3600 batteries in my RV. That will give me a good opportunity to put them through their paces and get good, real-world testing done. I've already figured out that these batteries are a good bit larger than the four existing GC2 batteries. So, they won't fit and I'll have to find a new location for them. Based on what I've seen so far, I fully expect I'll be back soon with very positive practical results.