DIY LiFePO4, build completed and testing underway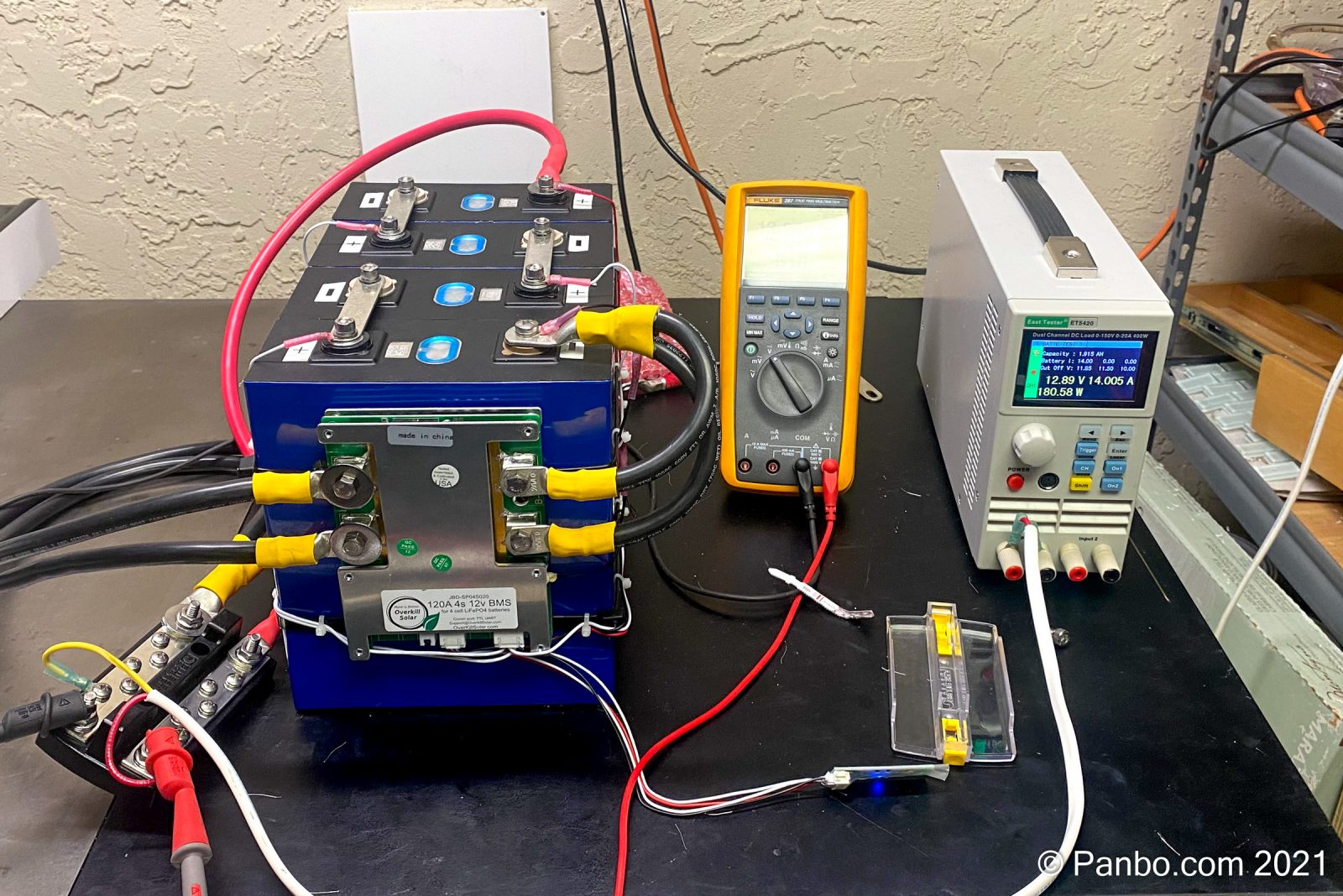 My first installment of this series introduced my build of a 280 amp hour LiFePO4 battery using cells purchased from China and a 120-amp battery management system (BMS) from a reputable U.S. supplier — though the BMS is still made in China. I left off in the very early stages of the build while I was giving the cells an initial charge to get them ready to join into a 12-volt battery. Although the process took longer than expected, it's done and I've made a 12-volt battery. But what about the big question of capacity and performance of this homemade battery? I've got some early answers and I think they represent a pretty compelling case for DIY, if you've got the skills, the interest, and the willingness to do it safely.
A word of warning
Every instruction manual, guide, or other source of information on LiFePO4 batteries includes a starkly worded warning about the potential for trouble if you're not careful, don't follow directions, or otherwise cause trouble. I think I would be remiss if I didn't echo those warnings in my own piece. There's a tremendous amount of energy stored in these batteries. If you don't understand what's happening here, it's probably work best left for others. 12-volt batteries don't seem that scary until you drop a wrench across the terminals. You can weld with these batteries and if you're not careful you can cause a massive short circuit, burns, fire, explosions, and more. Please be careful and work within your understanding, skills, and comfort.
Finishing the build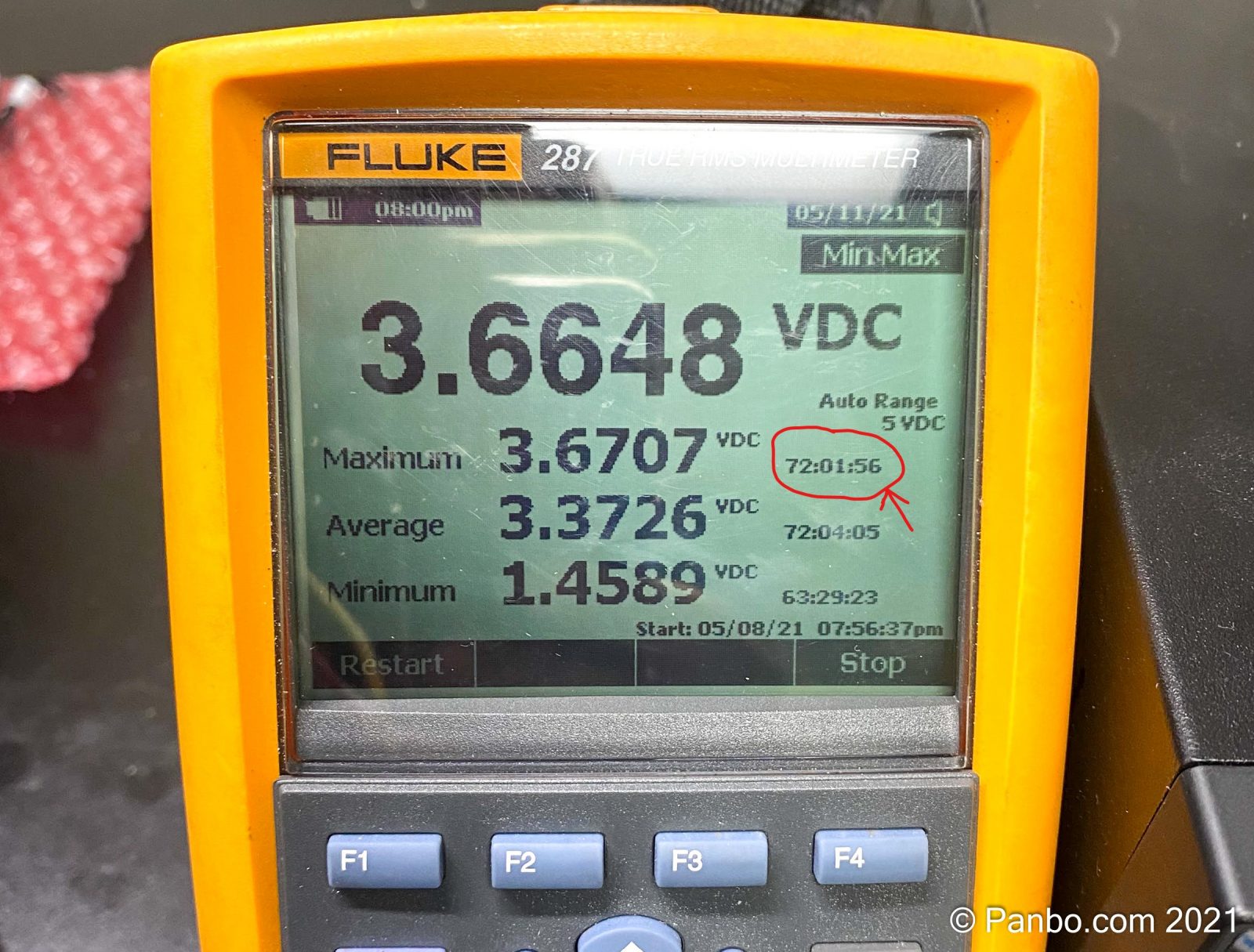 When I left you last, I was top-balancing the cells. This procedure brings all four cells to the same state of charge and gets them ready to be joined together as a 12-volt battery. Top-balancing connects all the cells in parallel which effectively creates a 1,120 amp hour (4 x 280 amp hour) 3.2 volt battery. For shipping, cells typically arrive charged below 50-percent state-of-charge (SOC) so, minimally you need to charge 560 amp hours of energy into them. With a 10-amp lab power supply set for 3.65 volts, I knew this was going to take a while. It wasn't until the batteries had been charging for over 24 hours and only moved a few ten-thousandths of a volt that I did the math and realized it was likely to take two to three days. As you can see in the photo above, it took almost exactly 72 hours or three days to make it to my target charge.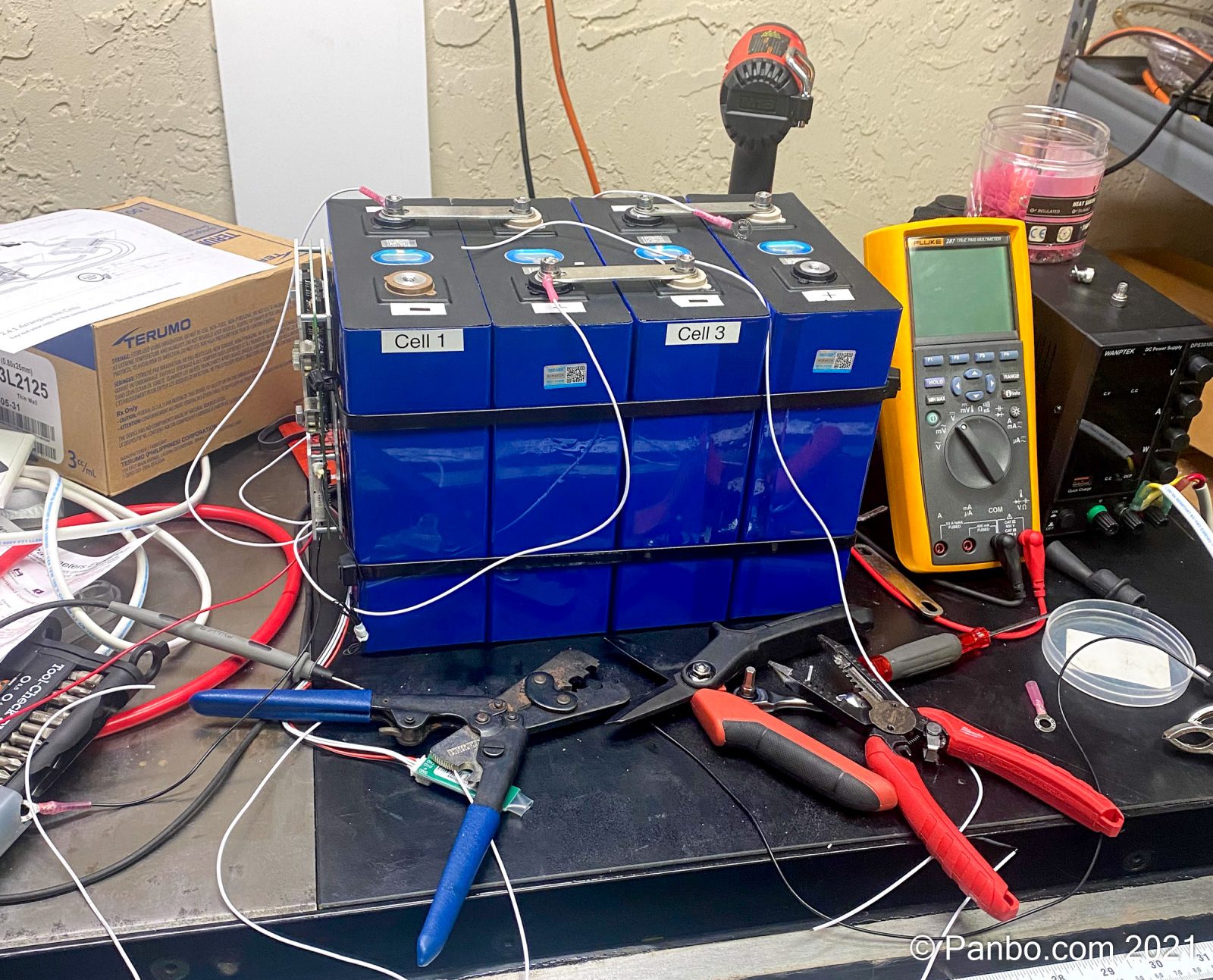 Next, I joined my freshly balanced cells into a four-cell serial configuration to make a 12-volt battery. I first joined the cells with the tin-plated copper bus bars on the cell posts and then used large zip-ties to strap around the batteries. The zip ties also give me an anchor point for the BMS, mounted to one end of the battery, and for the balance wires. As you may be able to see in the pictures, the cells aren't perfectly regular, so there are bigger gaps between the cells than I would have liked.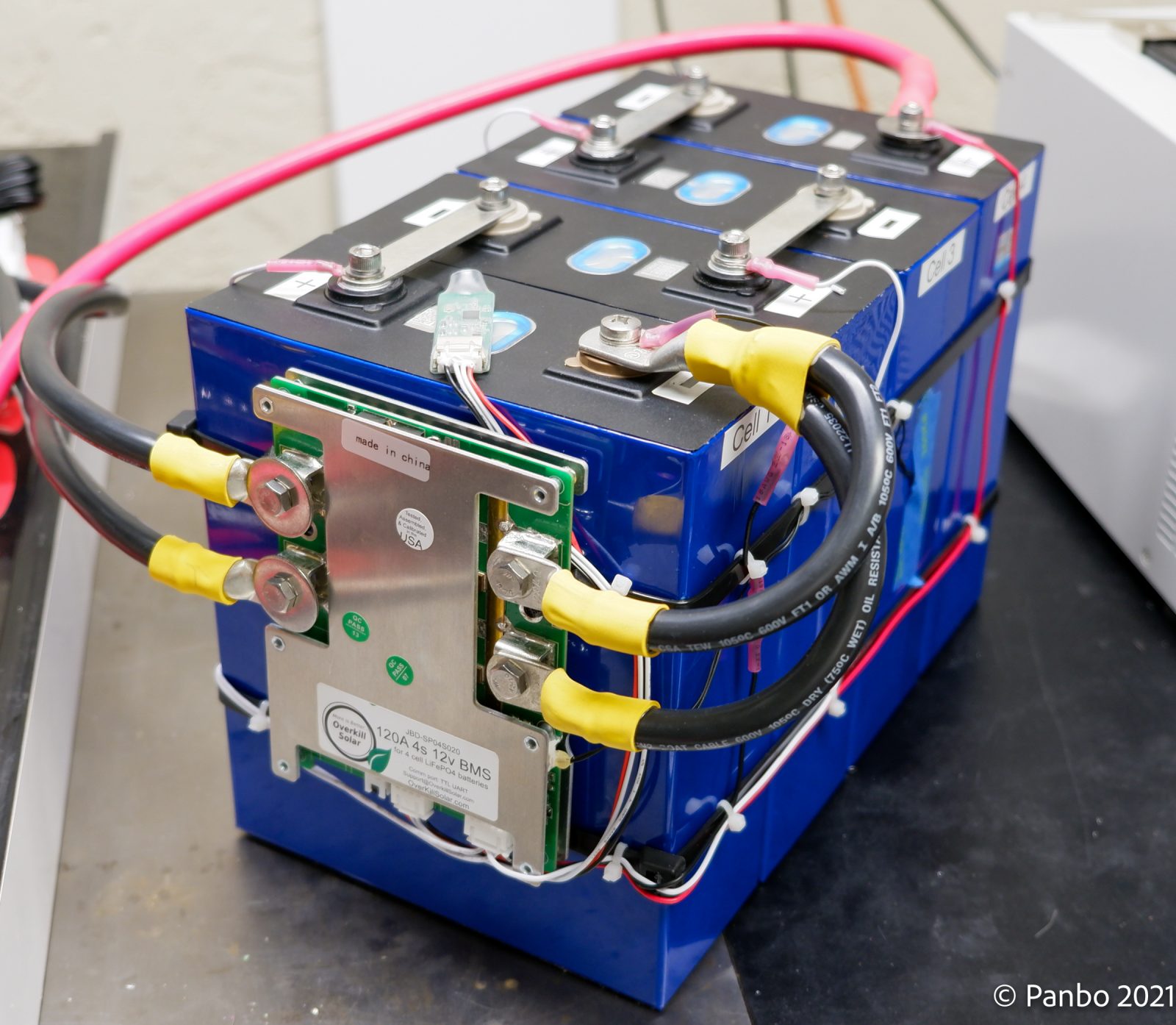 The final assembly of the battery consisted of connecting the BMS' balancing leads to each cell and making cables to run from the negative post of the battery to the BMS and then from the BMS' output posts to a bus-bar.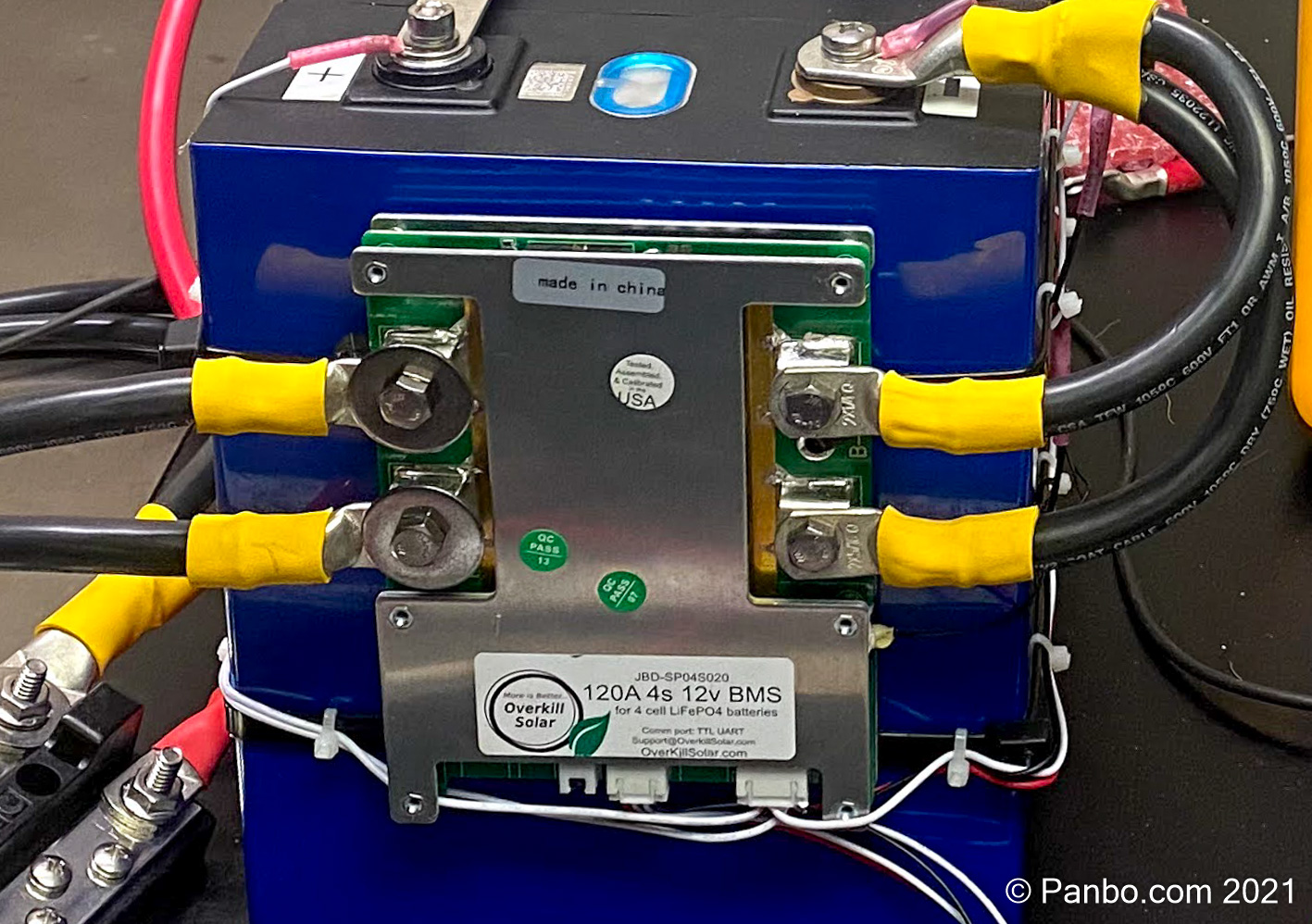 Overkill Solar's 120-amp BMS can be ordered with M6 screw terminals or 8-gauge leads connected to the BMS; I got mine with M6 terminals. At best, 8-gauge wires run in free air can carry 65 amps at 75 degrees Celsius or below. With two wires in each running from the battery negative to the BMS and then two from the BMS to the load, this seemed a little close for comfort so I upsized. I only had 2-gauge wire on hand, so that's what I used, but with a 170 amp-per-wire rating, it's clearly overkill.
BMS configuration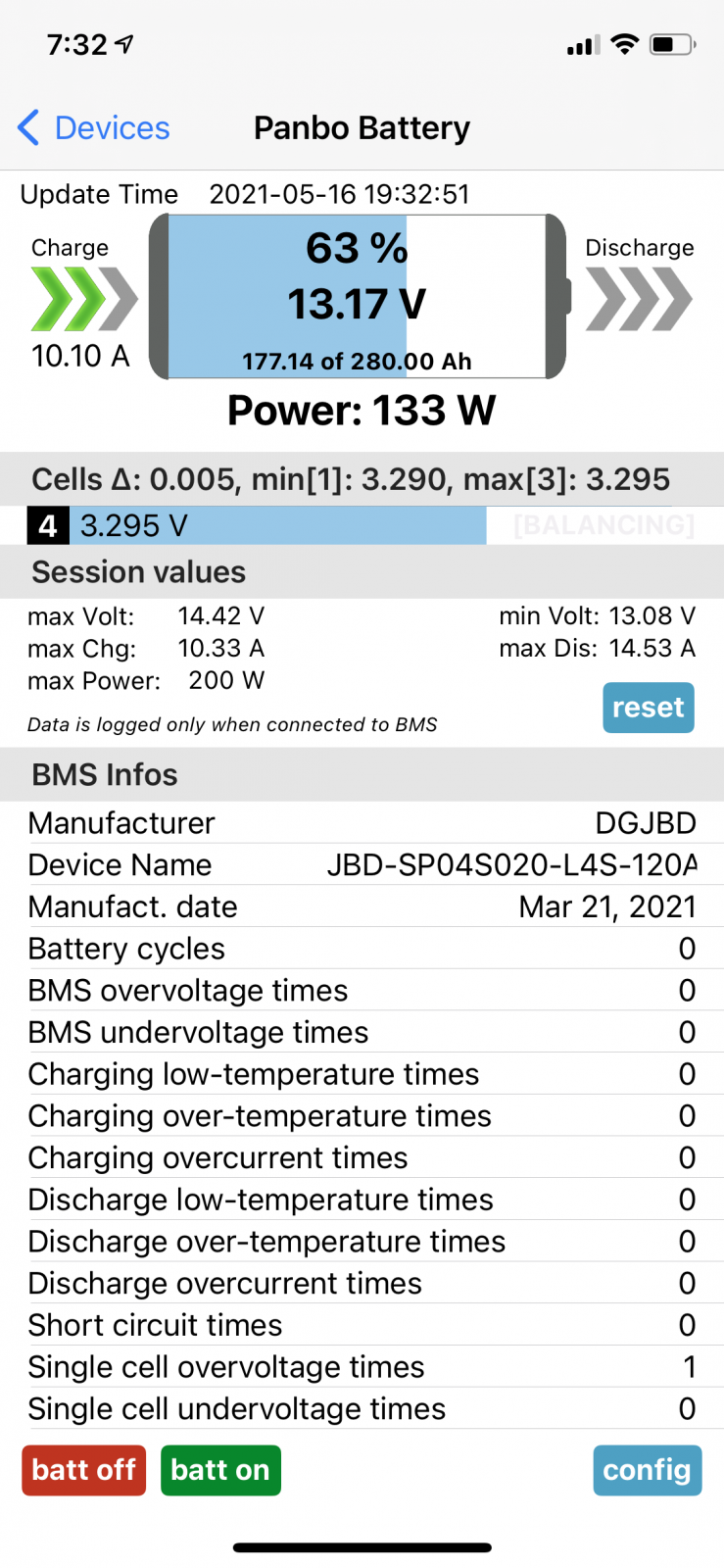 The BMS includes a Bluetooth transceiver for reading the status of and configuring the BMS. On iOS the XiaxiangBMS App presents a pretty nice visual representation of what's happening in the battery and, with a $7 upgrade to the pro version, allows you to read the configuration from the BMS, change any values you'd like, and write them back. Considering the power and configurability of the BMS, I found it quite easy to work with. Plus Overkill Solar provides a great document that shows both the basic wiring of the BMS and their recommended values. It served as a cheat-sheet for me to get started with basic values. I tweaked a few of them based on my batteries' capacity.
I was also able to test the BMS by setting some values intentionally low. For example, I set the discharge overcurrent threshold to 10 amps and then easily triggered it. I confirmed that after ten seconds over threshold, the BMS shut down discharge current and waited the 32 seconds it was programmed to wait before reactivating it.
Testing the battery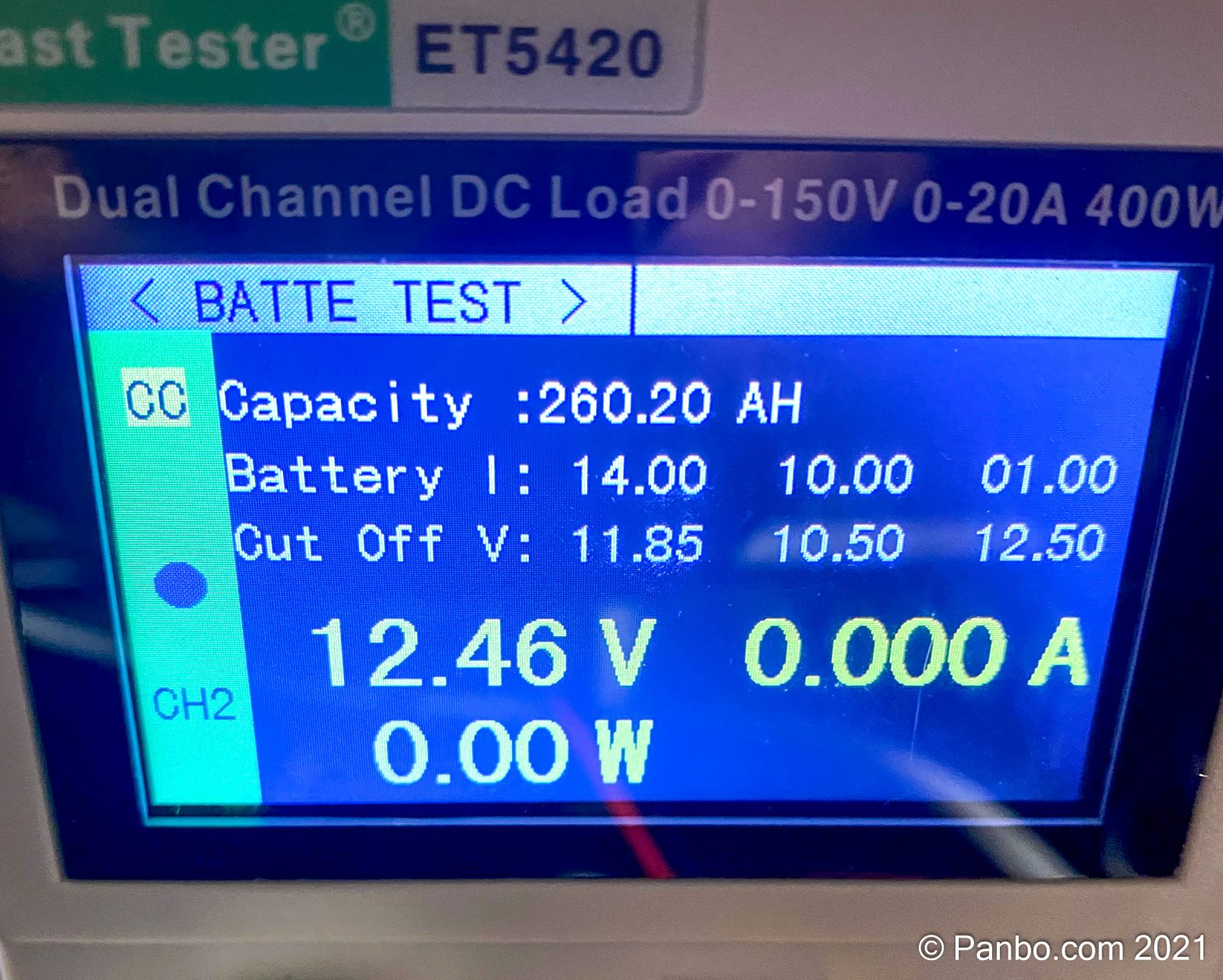 With the assembly of the battery complete I was anxious to answer the big question about my battery: Can a $600 battery, assembled on a workbench by an amateur, actually deliver 280 amp hours? I answered this question using an East Tester ET5420, an inexpensive (relatively speaking) electronic load. This device can place a consistent load on a battery and count how many amp hours the battery delivers. As you can see in the photograph above, the answer appears to be that yes, my battery can deliver nearly 280 amp hours of energy.
The picture above only shows 260.2 Ah, but this is easily explained. I chose to set the battery tester to stop its test when it reached a measured voltage of 11.85 volts from the battery. Because the tester is measuring battery voltage using the same wire that's also drawing 14 amps from the batteries, there's some voltage drop. In my testing I noticed about 0.3 volts, so the battery was probably at about 12.15 volts when the test was stopped. I'm in the middle of running another test with the cut-off voltage set lower, but I feel this test gave ample evidence the battery is capable of delivering 280 Ah. I'll perform a further rundown test but I need a chunk of time when I can keep an eye on the test.
Comparing the results
| | | | |
| --- | --- | --- | --- |
| | Maservolt Mli | Battle Born | DIY |
| Nominal Voltage | 13.2 V | 13.2 V | 13.2 V |
| Battery capcity | 400 Ah | 270 Ah | 280 Ah |
| Cycle Life | 3500 cycles @ 80% DoD | 3000-5000 cycles | 4000 cycles @ 80% DoD |
| Max continuous discharge | 500 A | 300 A | 130 A (BMS Limited, cells support 280 A) |
| Peak discharge current | 1800 A (10 seconds) | 500 A (30 seconds) | ??? (over current shutoff after 10s) |
| Continuous charge current | 200 A | ??? | 130 A (BMS Limited, cells support 140 A) |
Having recently worked with both Mastervolt system integrated LiFePO4 batteries and BattleBorn drop-ins, I was impressed at how similarly this battery performed. I saw the same voltage stability, even under heavy loads, that I saw with the other batteries, the same charge acceptance characteristics and generally didn't feel like I was giving up performance compared to the more expensive batteries.
I do feel that, at least compared to the Mastervolt MLi batteries (and probably Victron's as well), I am giving up the ability of the batteries to communicate with other components in the DC system. That communication, which I covered in my in-depth review of the MLi batteries, means the batteries can communicate with charge sources and loads to request they stop charging or warn of an impending shutdown. There are other ways around this potential problem, like a Sterling Alternator Protection Device, but none as elegant as a single communications bus for all the DC equipment.
When compared to the Battleborn or other drop-in batteries, I think the ability to monitor and configure the behavior of the battery is a real upgrade. With the vast majority of drop-in batteries there's simply no communication out of the battery. So, you're on your own to figure out why a shutdown occurred or monitor the health of the battery.
Now let's talk about cost for a minute. My four 280 Ah cells were $471.42 and the BMS was $132.00 for a total cost of $603.42. I also used quite a few crimp terminals, battery cable, and lugs but those were all from supplies I had on hand so I'll estimate the cost of those supplies at $30. Lastly, I used quite a few tools I already own like terminal crimpers, battery lug crimpers, bench power supplies, battery tester, and multi-meter. I've previously discussed the many variables in comparing the cost of LiFePO4 batteries and flooded lead-acid (FLA). Those comparisons were done using a Battle Born 100 Ah battery that cost $900 or $9/ Ah. But my 280 Ah battery cost roughly $633 or $2.26 per amp hour. In my analysis, LiFePO4's economics only really got favorable when compared over the expected life of both batteries. But, at less than one-third the cost of the Battle Born, my DIY becomes cost-competitive much sooner.
Final thoughts
Should we all dump all name brand batteries and just make our own? I don't think so. I don't think we should undervalue the expertise of manufacturers who engineer, build, and support these batteries. They ensure they are safe for all users and protect you from the many potential pitfalls of building your own. But, if you're on a budget, have the skills, and can manage the safety issues I think they're a heck of an option. I'll also tell you I've had a lot of fun researching, learning about, and ultimately building my battery. I'm seriously considering upgrading my RV to LiFePO4 with two of these batteries. If I do, I'll want to figure out a nice and well protected enclosure for the battery, but that might be as simple as a group 31 battery box.