Li Time LiFePO4, no frills, serious value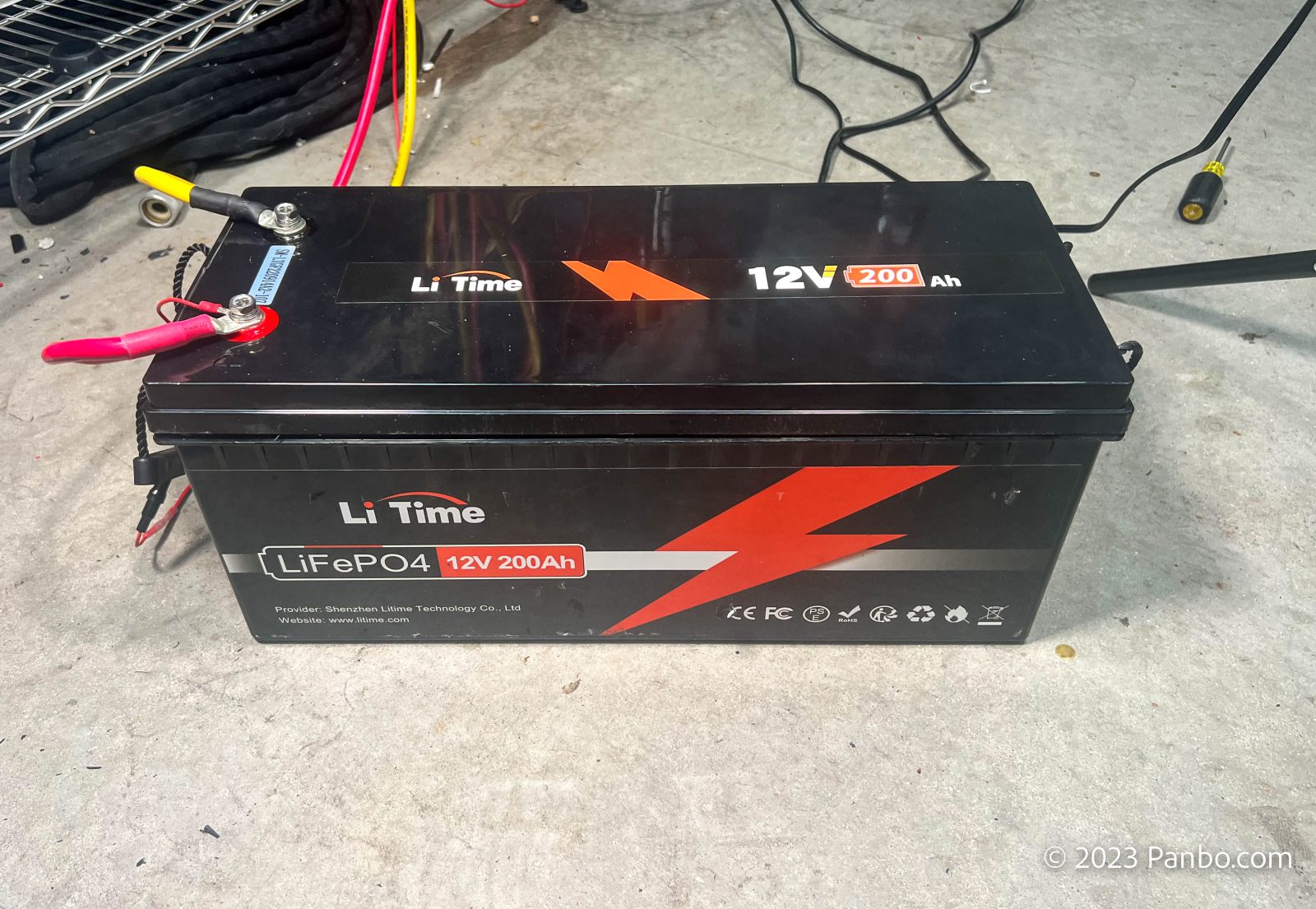 My recent reviews of LiFePO4 batteries have focused on fully featured batteries with heating, Bluetooth, and CANBus communications, and even supercapacitors for engine starting. This time, I'm focusing on a battery that delivers raw value and no frills. Li Time batteries are all about delivering maximum energy storage for the smallest price. Although their batteries may lack the features of fancier batteries, they deliver the most amp hours for the fewest dollars. But how do they perform? Let's find out.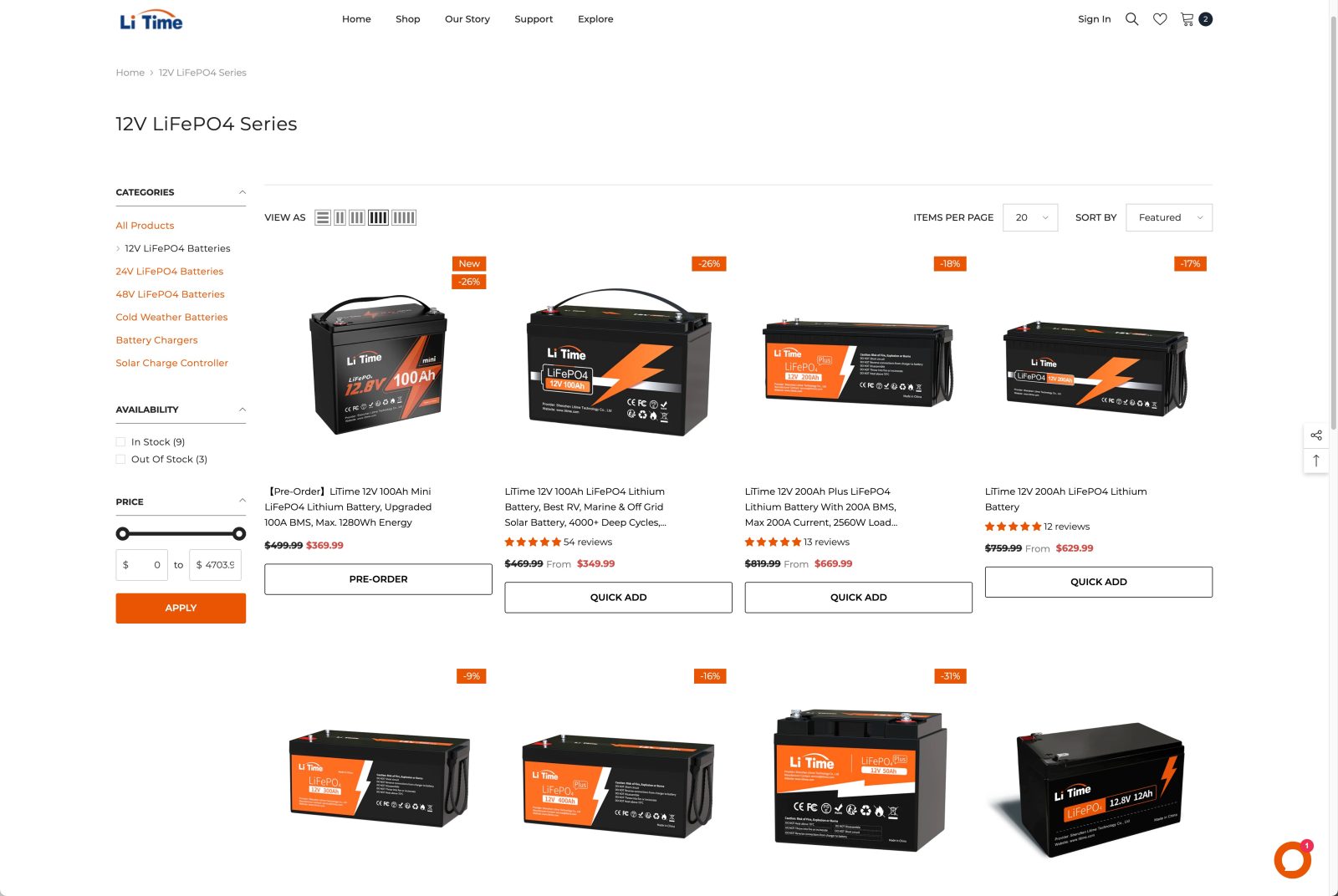 I'm testing a 200 amp hour, 12-volt battery that currently retails for $629.00. My test battery has a 100 amp BMS, so it can deliver 100 amps of current continuously and up to 200 amps for 5 seconds. Li Time has several different configurations in varying sizes. In the 200 amp hour size, they also offer a battery with a heater and low-temperature protection and a battery with a 200 amp BMS and low-temperature protection, but no heater.
Also, if these batteries look familiar but something seems off about the name, Li Time recently rebranded from Ampere Time. I liked Ampere Time, but I suspect Li Time gets the point across a little more directly.
I've just wrapped up a review of Epoch's elegant, well-built, and fully-featured battery, so this is a change of pace. But, I'm pleased and relieved to find a value-focused battery that is still able to deliver on LiFePO4's promise safely. Although Li Time offers a range of batteries, some with Bluetooth external communications, heating, and more, the 200 amp-hour, 12-volt battery I've been reviewing is their most affordable battery without advanced features.
LiFePO4's benefits at a lead-acid price point
I've written plenty about LiFePO4's affordability. I dedicated an entire article to the math behind comparing LFP to lead acid to help understand — and let's be honest, justify — the expense of lithium chemistries. My KiloVault HLX+ review included a table detailing the cost per watt-hour of several LFP batteries at the time. That article showed KiloVault's HLX+ 3600 as the clear leader at $0.56 per kilowatt hour. At the time, I thought that was a bargain and I still don't think it sounds too bad. But the Li Time battery's math comes out at under half the cost or less than $0.25 per kilowatt hour. That's a massive difference! So, I've updated that table above.
Although these batteries lack some advanced features, they deliver on the core goodness of LiFePO4. That includes benefits like a flat voltage curve and massive charge acceptance. That flat voltage curve means that even under heavy loads or as the batteries get low on charge, they continue to deliver steady and stable voltage. That steady voltage results in happier electronics, less dimming of lights under load, and a generally happier DC system.
LFP's charge acceptance means the batteries can be charged faster than equivalent capacity lead-acid batteries. That's especially true as the batteries pass 80-percent state of charge (SOC). But that massive charge acceptance also contributes to the need to revisit your DC system when you move to LiFePO4. Without attention to protecting your alternators, the batteries' ability to accept huge charge current can lead to the untimely, heat-soaked death of your alternator.
Using the battery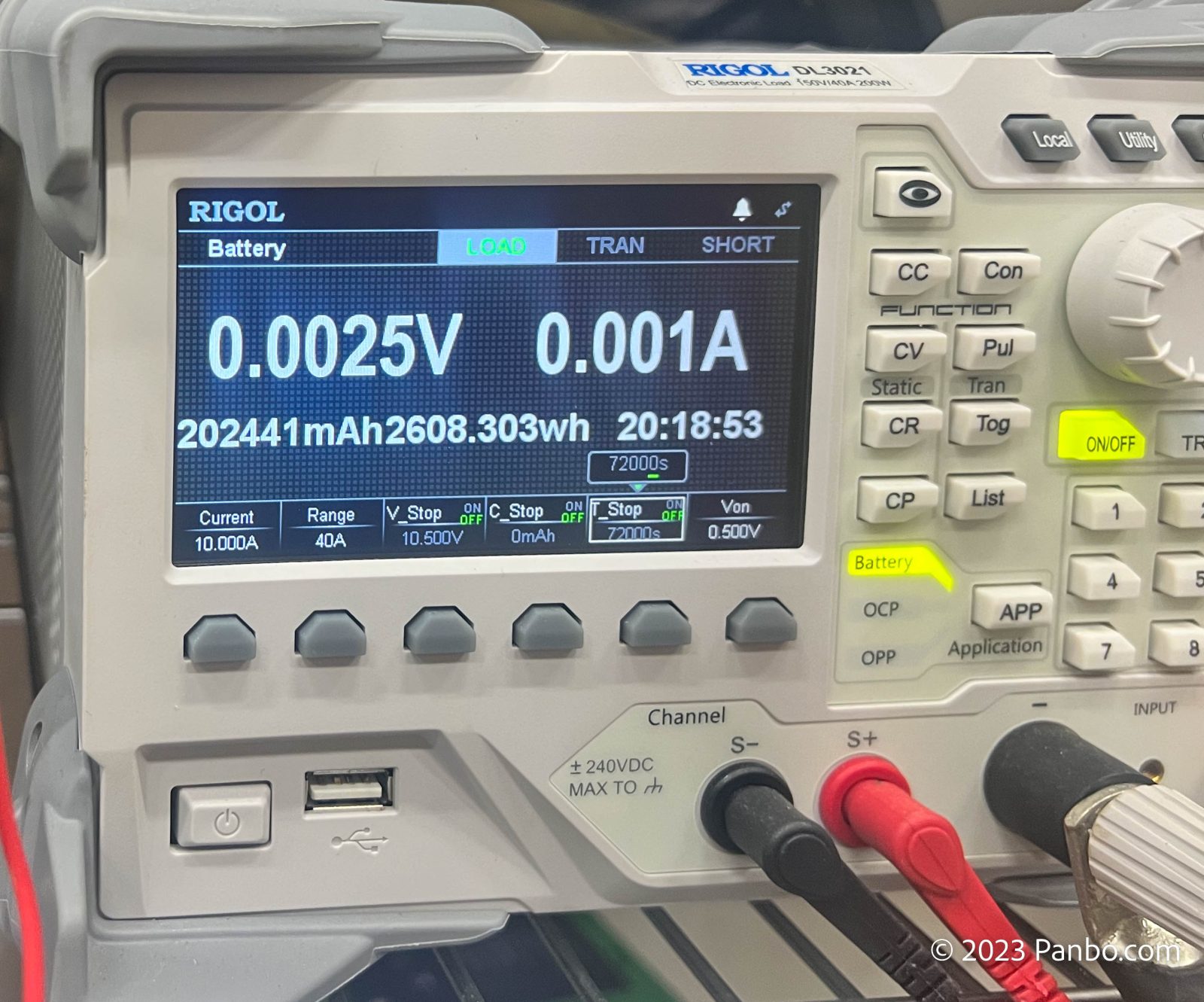 Batteries should fade into the background and simply work. Fortunately, that's what my test battery did under testing. It provided power when needed. Like most LiFePO4 batteries I've tested, it delivered a few amp hours above its rated capacity. It also held steady voltage throughout the rundown test until the very end, when the discharge knee was reached and voltage fell rapidly.
The chart above shows the results of that run-down test performed with 10-amps of load. This test lasted just over 20 hours and produced a capacity of 202.4 amp-hours. You've probably heard me say before it's common for brand-new lead-acid batteries not to yield their rated capacity. This battery, like most of the LFP batteries I've tested, outperforms its rated capacity. I perform a run-down test when I first receive the battery as well when I'm done abusing it with my various tests. Although I've only run the battery through about 10 cycles, I did abuse it with very high discharges, and it still produces the same capacity it did right out of the box.
Temperature protection
I tested for both high and low-temperature cutoff functionality. Based on a visual inspection of the temperature sensor, I suspected there wouldn't be any low-temperature protection. Indeed, I cooled the temperature probe off to a temperature well below zero degrees Fahrenheit and didn't trigger a disconnect event while charging. While discharging the battery, I heated the temperature sensor to around 250 degrees Fahrenheit. The BMS quickly disconnected the load until the sensor came down below 200 degrees. I then went back and checked the specs again and now see that no claims of low-temperature shutdowns are made for this battery.
Battery teardown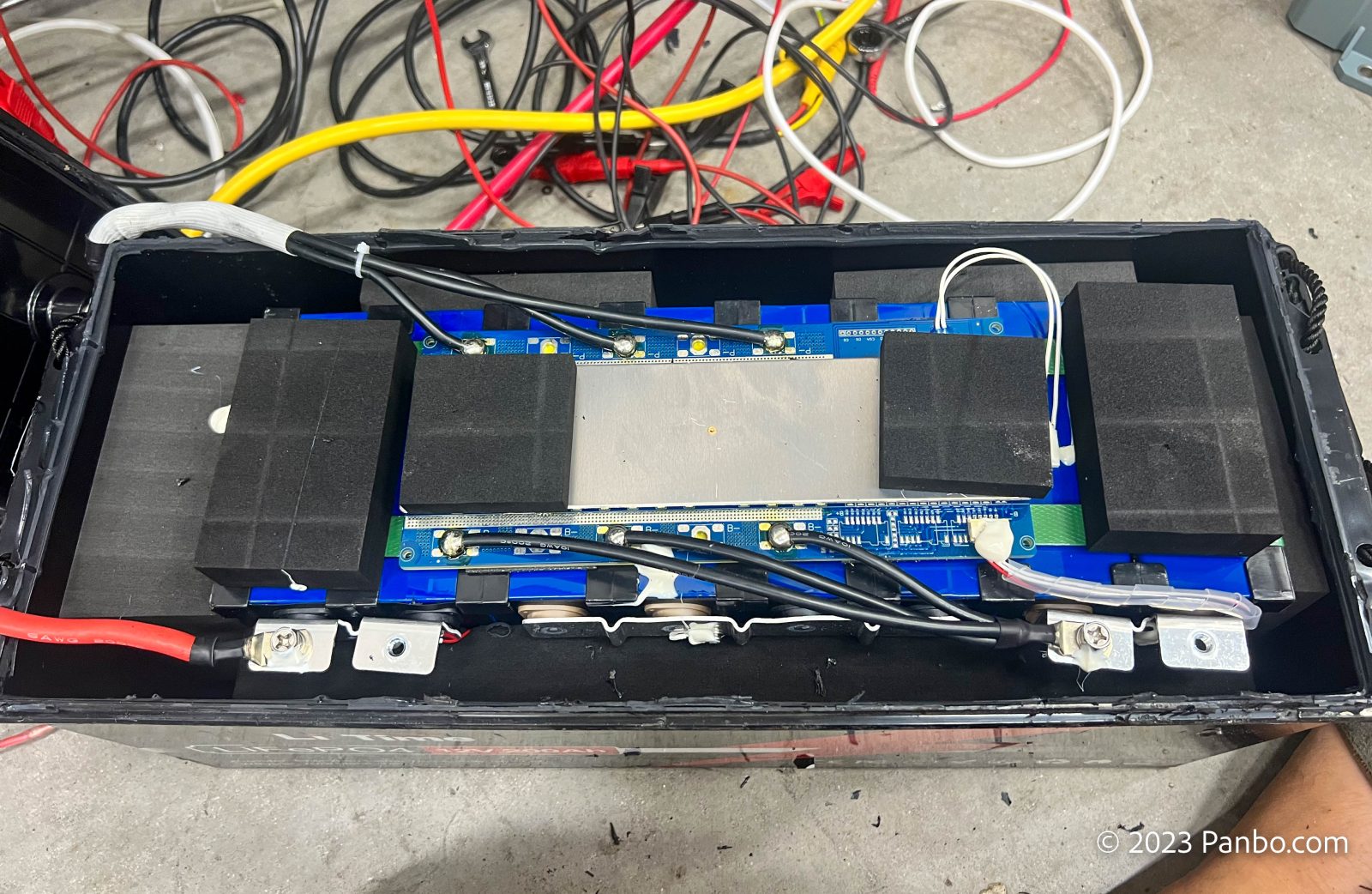 Physically, opening this battery was on the tougher end of the scale. The battery comes in a plastic case that is glued together. I used putty knives, screwdrivers, and pry bars to make my way into the case. I'd attribute the more difficult-to-access case to price, but the Lithium Pros battery I reviewed is among the most expensive and had the most difficult case to open.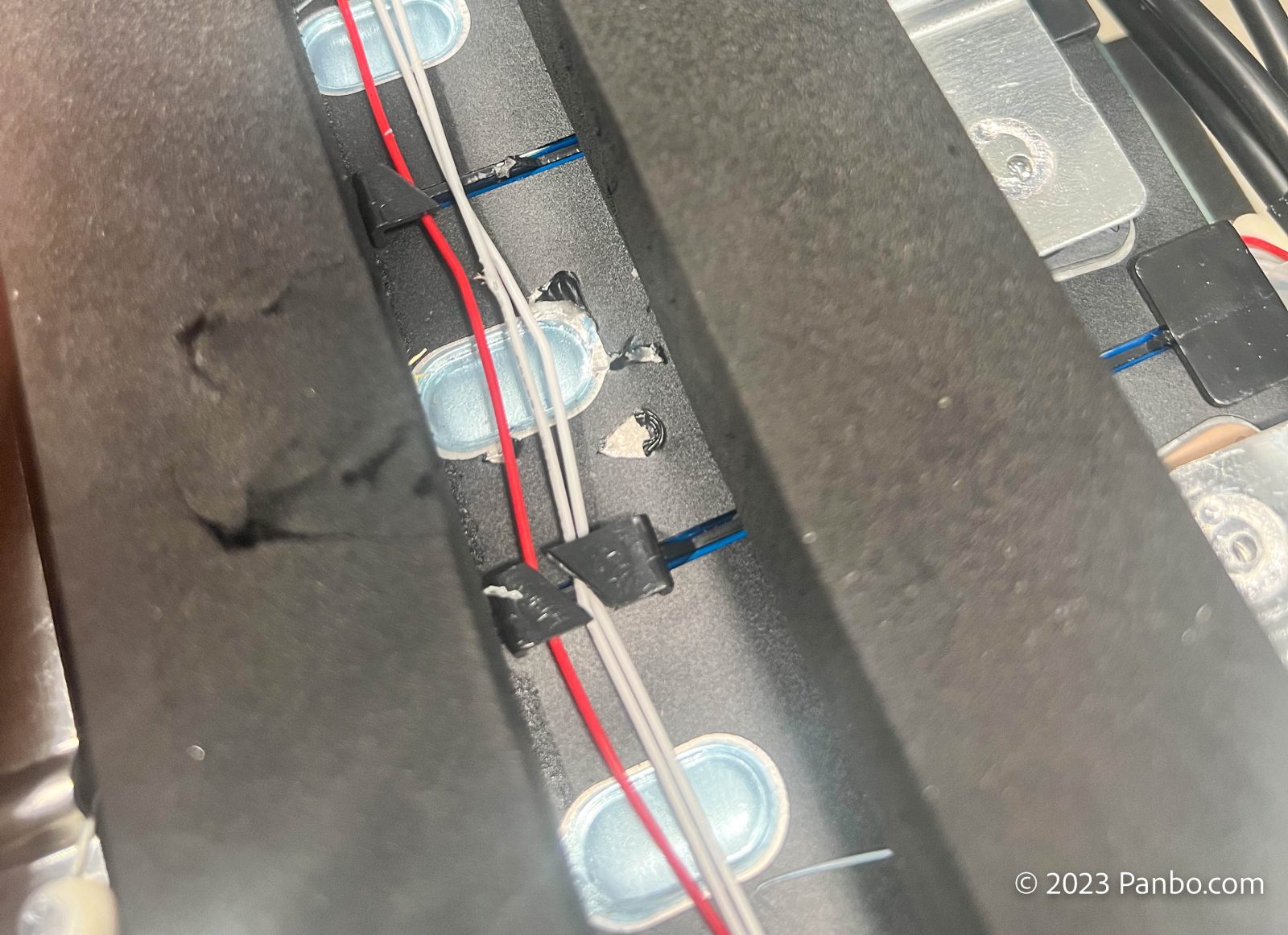 Once I got the case open, the next challenge was getting the battery out. Li Time uses high-density foam to hold the pack and BMS in place. Let me tell you that foam does a good job of holding everything in place. Such a good job, in fact, that I had to pry hard against the foam to get it out. I got lucky and didn't end up damaging the battery prying it out, though I did scratch one area.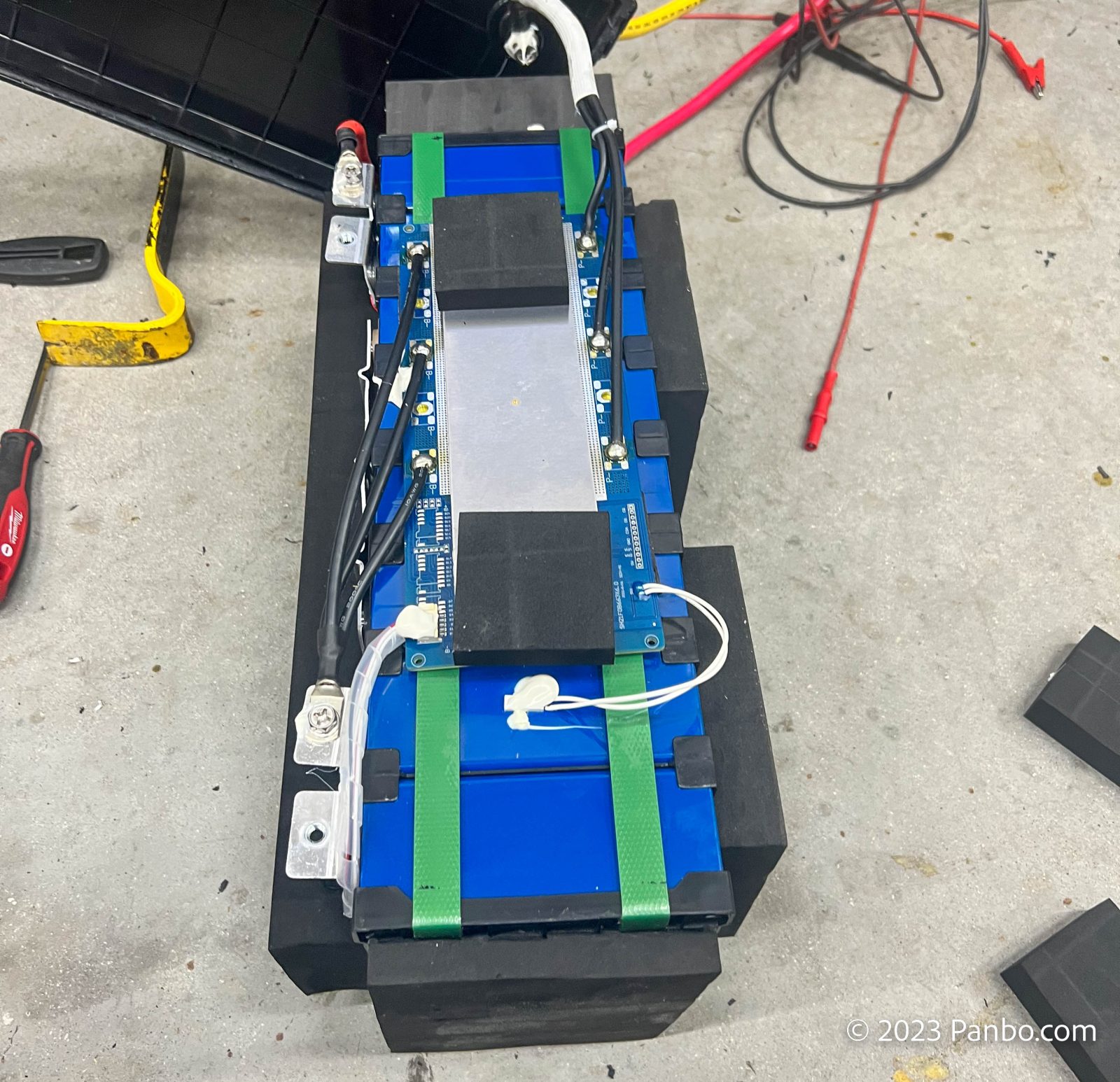 Overall, the construction of the battery is pretty good. I'm not a big fan of the extensive use of foam rather than positive anchor points in the case, but I suspect it's a lot more cost-effective. I do worry that the foam may serve to hold heat close to the BMS. There are plastic end pieces and nylon strapping. I'm not sure these are strong enough to hold cell compression.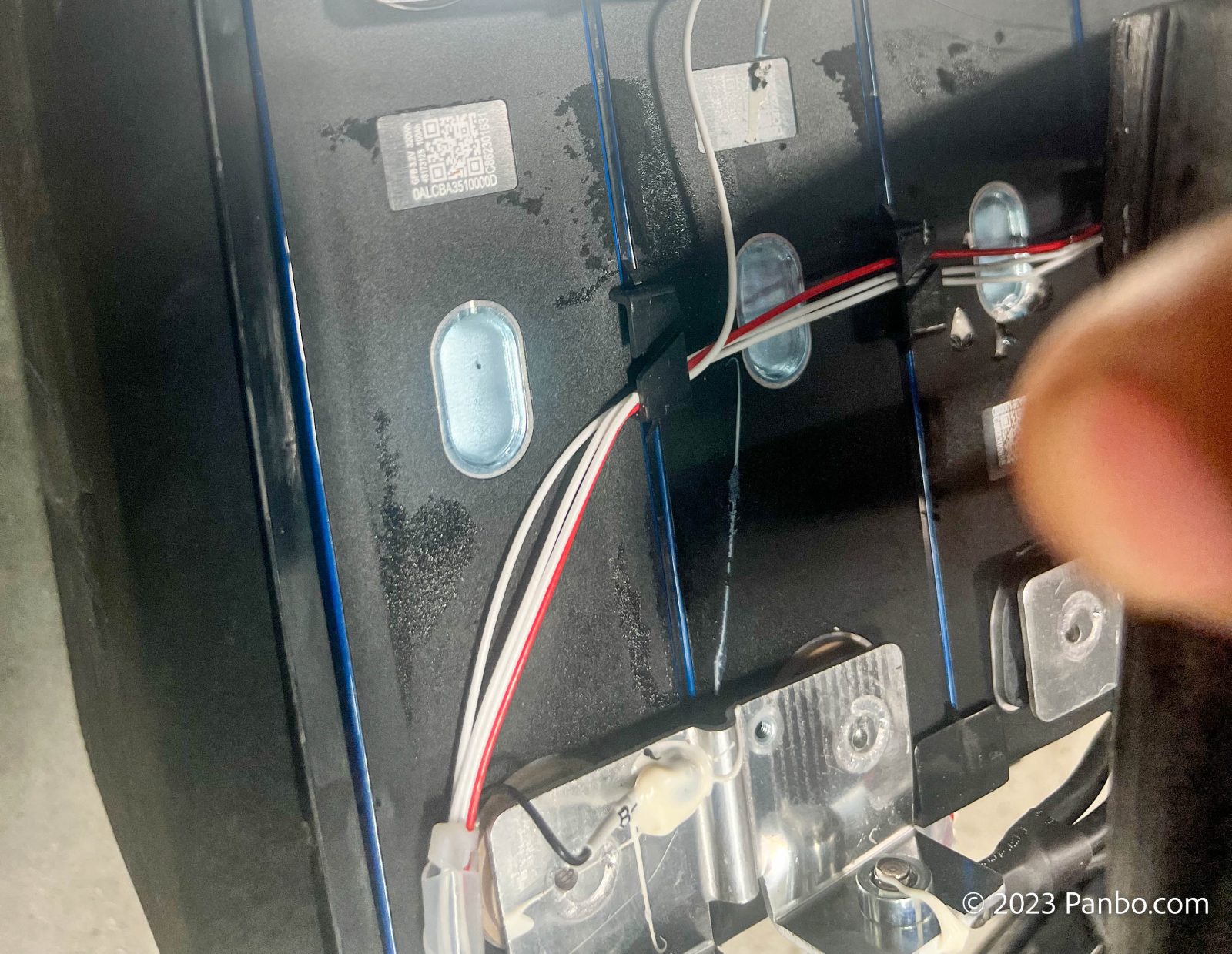 The 200 amp-hour battery is constructed of 8 100 amp-hour cells in a 4-series, 2-parallel configuration. Bus bars are laser welded to the cells' posts. 200-degree Celsius 6 AWG wire is used from the positive bus bar to the positive post. A total of three 10 AWG wires are used to connect the battery pack negative to the BMS. On the bus bar side, the connection is made via a screw terminal. The wires are then soldered to pads on the BMS. I understand that's likely the most cost-effective but I've also seen those soldered joints be a failure point.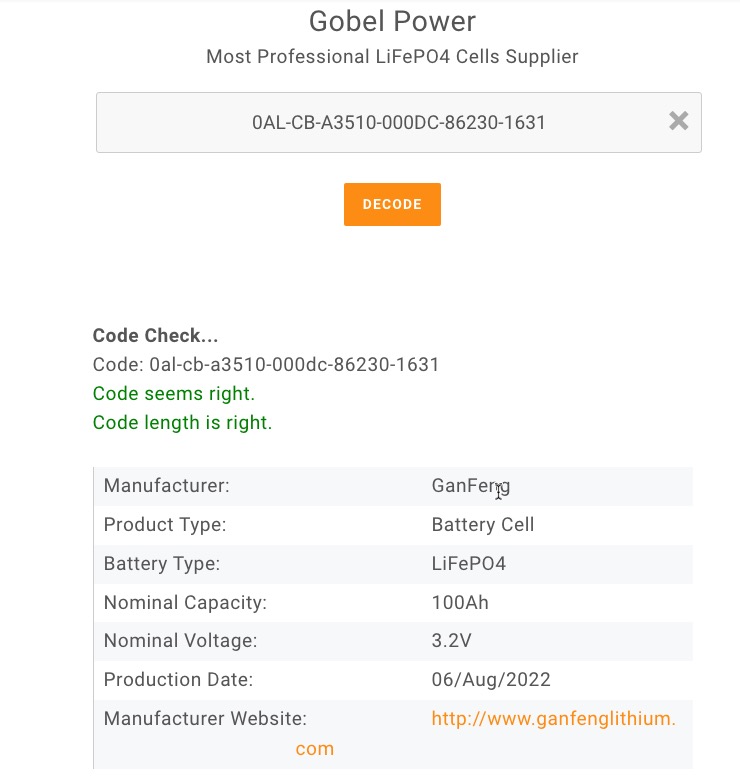 I was pleased to see unobscured QR codes and even more pleased to decode them and find recently built cells. I received my battery in January. So factoring in transit time by ship, it seems these cells didn't sit around very long between manufacture and assembly.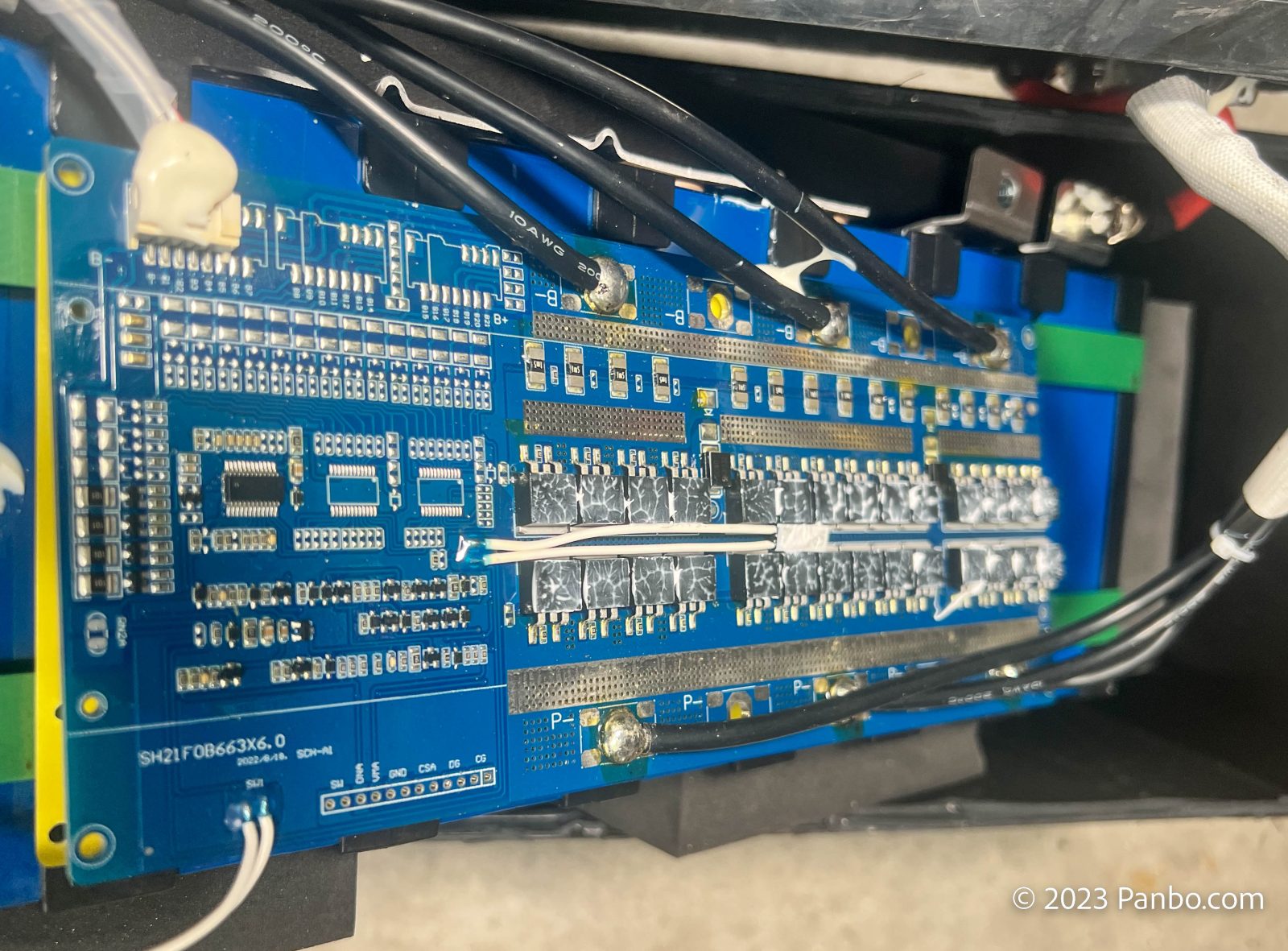 I have to admit; I was expecting less from the BMS. Although no-frills, what I found when I pulled the heat sink off the BMS was a decently sized unit. The BMS has a total of 28 FETs, though I wasn't able to read specifics on them. Upon initial disassembly, I only found one temperature sensor on top of a cell in the pack. But, once I pulled off the heat sink, I found a second sensor nestled in between the FETs. This sensor seems to cause a disconnect around 260 degrees Fahrenheit.
Thermal results
To see how the BMS, and the rest of the battery, stands up to large loads, I applied steady loads of 75, 95, and 175 amps. Note, the battery is rated to 100 amps of continuous load and 200 amps of load for up to 5 seconds. I subjected it to a load well over 100 amps for much more than 5 seconds.
75 amp test
The first test was with a 75 amp load. The ambient temperature in my shop is around 75 degrees Fahrenheit. The hottest of the FETs reached 132 F. I didn't find any other components gained more than a couple of degrees.
95 amp test
The second test brought the load up to 95 amps. The battery is now putting out just below full-rated capacity. The temperature climbed fairly quickly to 155-156 degrees Fahrenheit and stabilized. I let the load run for quite a while and saw no further temperature fluctuation.
During this test, I noticed a significant separation in the temperatures of the positive and negative terminals on the pack's bus bars. As you can see in the images above, the negative terminal, under a 95amp discharge is reaching over 220 degrees. I have been further inside of the battery than Li Time ever intended and I may have caused an issue in this connection. But, the glue LiTime puts on the terminal was still intact when these images were taken.
As I reviewed the images, I noticed just how hot the temperatures had reached. Temperatures that high have the potential to cause real issues. At this point, I'd already taken the connections apart to remove the BMS. I'd also put the battery back together but hadn't paid careful attention to these connections. So, I grabbed a 10mm (insulated) spanner and snugged up both connections. Now, I put a load of over 150 amps through the battery and was pleased to see the temperatures you see above. Nothing over 90 degrees at the terminal. The wire is hotter than the terminal. I strongly suspect it was my own manipulation of the battery outside of the case that caused the issue.
175 amp test
My final test was just to understand how well the battery stands up to loads way past its rating. I found out that at 175 amps of load, it takes about three minutes for the FETs to get hot enough for that temperature sensor to shut things down. That seems like an entirely acceptable performance to me. I also did a little more experimenting and found the battery would run on a sustained basis at 150 amps. Admittedly, that's with the top off the case, which might help with cooling. But that's a full 50 percent beyond ratings and seems pretty good to me.
Concluding thoughts
I think it's important to use the same yardstick to measure and compare a battery that costs $0.25 per kilowatt hour to one that costs double or triple that. Objectively, this battery does what the manufacturer claims and does it with a no fuss and no drama. It also does it with fewer features, not as many safety measures, and possibly a little less "elegance" (to pick on my own title from my last battery review). But I think the big question is, do these batteries have a place in the marketplace? Undoubtedly, I think they do.
I've actually just spec'ed Li Time batteries for a project I'm working on. That project calls for huge energy storage, but, peak loads will be relatively small. These batteries are very well suited to that kind of work. In fact, the budget of the project simply wouldn't have worked if not for an affordable LiFePO4 battery. And that's just what these are, decent performance at an affordable price.