Ode to hydronic boat heating, and Sure Marine Service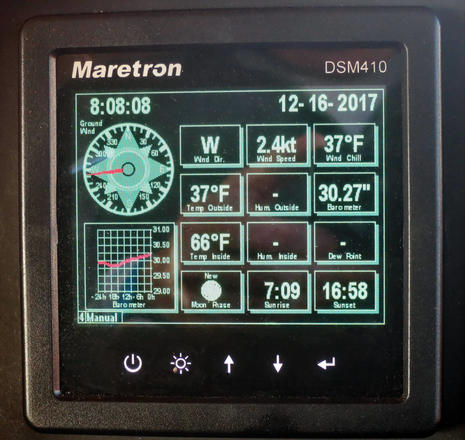 It seems appropiate to kick off 2018 with a discussion of heating technology, specifically the diesel-fired hydronic system I installed on Gizmo last year. It was a significant purchase and a major install, but the 66 degree pilothouse temperature seen above certainly made my early December ICW trip a lot more pleasant. I'll explain why I chose hydronic, detail how the system went together, and profusely praise Sure Marine Service, a marine heating equipment distributor par excellence…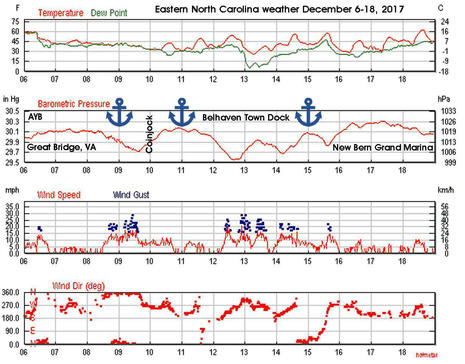 This Weather Underground history graphic is annotated with Gizmo's locations starting when I rejoined the boat on December 6th at Atlantic Yacht Basin. The air temperature was falling into the 30's and while many southbound cruisers were heavily bundled and looking glum, I relished the chance to finally try my new boiler in earnest, and soon the boat was a warm, snug shelter. Further proof of concept came a few nights later comfortably weathering a dank and howling Norther in a remote anchorage (I later added to ActiveCaptain), and by the time I left Gizmo at the New Bern Grand Marina, I was quite confident about the system's heating abilities. (And a boat visit later this month may be quite a followup test given that snow is still visible on the Dock C live cam as I write!)
(Aside: You may notice that this was not an ambitious trip in terms of miles, even solo. While I knew that the days would be short and sometimes harsh, I'm also learning to appreciate a "go slow" cruising style. If you drill into Gizmo's inReach MapShare tracking you'll see that I only logged 190 nautical miles during this leg, and achieved a similar snail's pace from Annapolis down to AYB in October. It means lots of time for boat projects, Panbo work, and sightseeing on the folding ebike I was "researching" a while back, but it also creates more opportunities to notice living aboard discomfort.)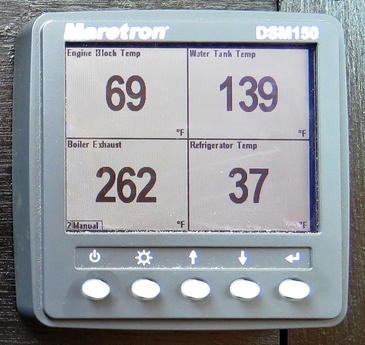 When I researched heating options in late 2016, the goal was a quiet system light enough on battery power that I could use it while moored or anchored, and the Webasto TSL17 I purchased from Sure Marine Service does the trick. Installed in Gizmo's sound-proofed engine room, it often takes a glance at the Boiler Exhaust temperature above to know if it's running.
Wiring an EGT Probe to the boat's existing Maretron TMP100 got me that useful readout, and also note the pleasingly high temperature being measured at the output of the hot water tank that used to be heated with engine coolant or shore power. A major benefit of the hydronic system is ample shower and wash water without running the engine or being tethered to shore power.
However, a marine hydronic heating system is not just a boat-size boiler (my little one is also marketed as the Webasto Thermo Top C and apparently used in over a million trucks). Not even close. As suggested in the Sure Marine diagram above, there are many components to even a fairly basic system. For instance, the boiler needs external air for combustion and also an external high temperature exhaust port, with both runs limited in length and total bends. And this diagram — which happens to be quite close to the component system I installed — doesn't even include the fuel, electric and control subsystems.
Given Gizmo's vast electronics array — see the Smörgåsboat series for examples — you might think that I have a high tolerance for complexity, but actually I value simple boat systems as a welcome contrast to the work I enjoy. In fact, I might have installed a basic diesel heater or even a tiny wood stove if the boat had an acceptable place to mount either, and I also considered a fairly simple propane-driven forced air heater or fixing the reverse cycle CruiseAir AC unit still installed under the boat's forward berth (though that wouldn't satisfy my quiet and marina-independent criteria, especially without a generator).
You'll find good overviews of boat heating systems in this 2012 Steve D'Antonio Passagemaker article, in this recent SV Cambria blog entry, and — especially if you're headed to truly high latitudes — at Attainable Adventure Cruising. I also benefited from serious liveaboard and fellow Mainer, Matt Garand, who installed a large Sure-sourced hydronic system and well documented the selection, the preparation, the install, and the performance.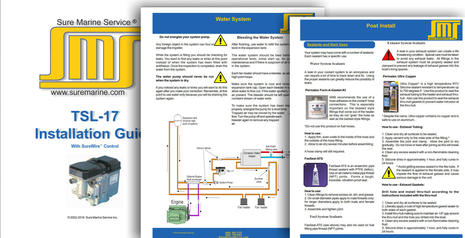 While a modest hydronic heating system made sense for Gizmo and how I use the boat, I was quite reluctant about the cost and complexity until I realized how thoroughly Sure Marine surrounds the various heaters they sell with accessories, information and support. In fact, I purposely put their name in this entry's title instead of Webasto's because I think that Sure has much more to do with the total system success.
For instance, I believe it was the very specific and detailed step-by-step manual I collaged above that finally persuaded me that I could install this system myself. Note how the Sure manual writers even explain how and why to use the various sealants they recommend, which they can also supply along with every other piece needed, right down to high quality, double-band hose clamps.
You can get a good sense of what a system like mine entails, and the retail costs, in this TSL17 kit PDF, though I suspect that most orders end up custom like mine, fairly easy to do using a combination of the online shopping cart and phone consultation with the knowledgeable sales desk in Seattle. And you'll learn below that several important components are not just distributed, but also designed and manufactured by Sure Marine.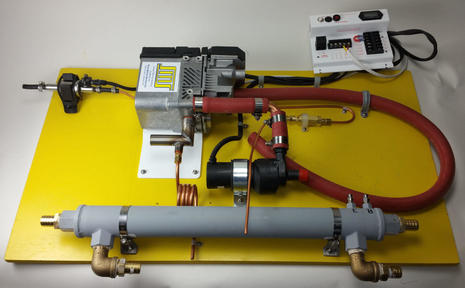 Here's the boiler panel I was thankfully able to assemble in my shop before mounting it on a bulkhead in Gizmo's somewhat cramped engine area, and it's worth clicking to full size to see core system details. Every part was supplied by Sure, but that 22mm stainless exhaust elbow with condensation drain is also Sure made, and so is the white Surewire Water control board that organizes all the electrical connections and much more.
For instance, if you look closely you'll see that the little fuel pump and filter are not yet piped to the boiler. That's because the Surewire let me easily prime the fuel system into a waste container before the final hookup, hopefully also clearing any contaminants that may have gotten into the diesel pickup plumbing. The other components seen above are the "coolant" circulation pump and the optional heat exchanger, that means I can use the engine instead of the boiler to heat domestic water and the boat when underway.
Before further install details, let me note two misconceptions Sure Marine tech support had to talk me through during the system design process. The big one was my desire to run the 60/40 mix of hot water and low-silicate antifreeze right through Gizmo's 450hp Volvo Penta engine, much like the engine coolant used to run through the water heater and a noisy "bus heater" installed in the lowest step to the galley. It would be like having a giant radiator under the main cabin, I thought, maybe even like the radiant floor heat I so enjoy in my home!
My Sure contact was polite but firm: running boiler output through an unlubricated engine and significantly extending its normal cooling system run were both really bad ideas. I'd also hoped to use the fuel feed left in place from the old generator install until I learned that the included Webasto pump is very particular about its plumbing.
On the other hand, Sure did supply a fuel pickup with a nifty weldless bushing design that also doesn't require access to back of the hole for a nut. But, yes, I did find myself drilling a 1-inch hole in the top of Gizmo's port fuel tank and I was questioning my DIY decision. Moreover, in classic DIY fashion, the heating system I first pictured in use last winter when the boat sometimes sat in Camden ice did not actually get fired up until one hot day in July. In short, you may want to consider a marine professional (who may also appreciate the services of Sure Marine).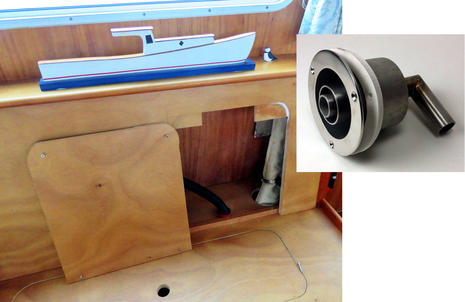 Sorry that I don't have a photo of the installed boiler panel, but picture it fastened to the fore-and-aft bulkhead that separates the port fuel tank from the engine space. That puts it under the port settee and hence a fairly short upward run for the intake and exhaust tubing visible above where they exit Gizmo's cabin side.
The exhaust tubing — only 22 mm in diameter, and one reason I chose the little TSL17 — is inside a high-temp insulation sock, but this install was still so close to the recommended stand-off tolerances that instead of a stock 22mm exhaust thru hull, Sure made me that 90-degree triple wall beauty. The center tube does get quite hot, but I rarely walk that side of the deck anyway and I've detected no dangerous heat levels in the wood or fiberglass near the system.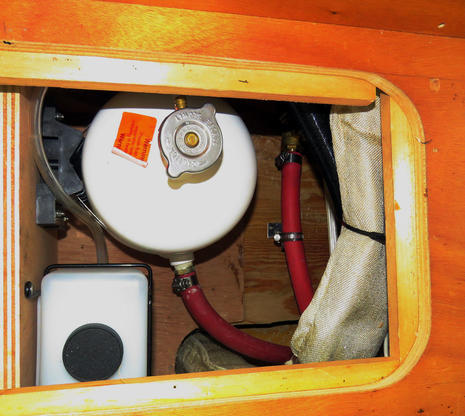 Now you're looking at the same tubing inside the settee along with the expansion tank, its overflow container, and a bit of the actual hydronic hosing. Also visible is the large oval hole I cut through 3/4-inch cabin sole, two layers of 1-inch Soundown insulation, and the 1/2-inch engine room ceiling.
Measuring for that hole was harder than you might think, but a Steven Roberts magnet trick helped me out (magnets like these can find each other through all that material, but try hard not to let them make direct contact ;-). Also, the 3/4-inch plywood I used in this project is inexpensive Sande from Home Depot; I'm sure it doesn't quality match the marine ply used elsewhere in the boat, but it's almost as light and an unfinished test piece did survive 48 hours submerged in water without showing any breakdown.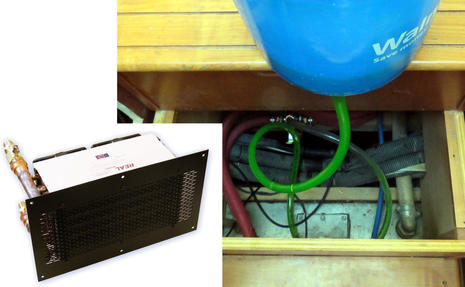 I took the main photo above late last winter when I finally flushed and filled the completed hydronic system. The boat's water system was drained by then — um, because it didn't have regular heat yet — and the marina water was long shut down, so I modified that bucket to gravity feed the Sure-supplied drain valve that's plumbed into the lowest point in the system, just aft of the old bus heater spot under the galley steps.
The Sure-made REAL Heat 6400B — just one of a large family — is similar to what it replaced, but thanks largely to computer-type fans, it uses about 10% the amperage, and may well be that much quieter, too. It also pushes warm air just where it's most effective, starting at floor level toward the head, galley, and sleeping cabin, then rising up into the main cabin. (I installed a second, smaller fan heater in the engine room — mainly to protect systems in extreme conditions like winter in Maine — and it would be fairly easy to redirect that unit or install another.)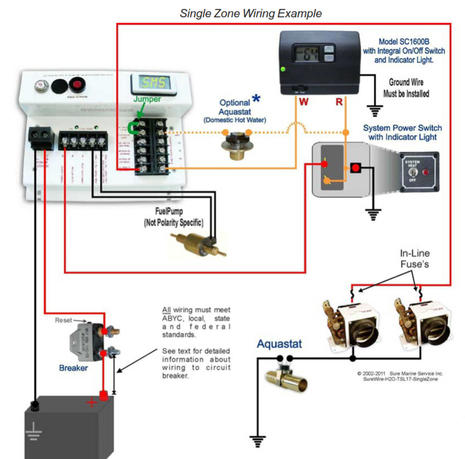 But I didn't get to try the heating until I wired the controls, and that goal got elusive once spring broke. The task for Gizmo's system is almost completely described in the Sure manual diagram above — there are also Off/High/Low switches for the two fan heaters — along with further illustration of Surewire talents. I did install the optional aquastat on the domestic hot water tank so it can be automatically managed even with the thermastat heat off, as well as the fan heater aquastat which prevents them from blowing cool air.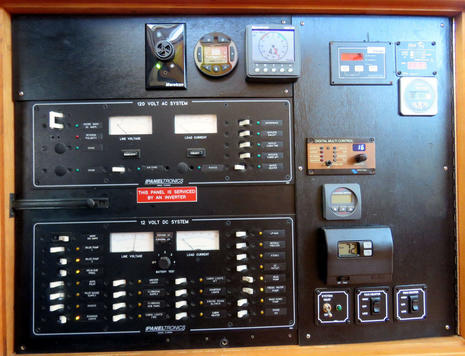 More than six months for the total install? In DIY defense, I did prioritize carefulness over speed — no leaks so far — and I also improved numerous unrelated hose and cable runs that were in reach as I spent hours in various obscure boat nooks. Still I managed a small control error.
Instead of the main System Heat switch seen in the cluster of heating controls now lower right on Gizmo's breaker panel, I should have ordered the System Heat / Engine Heat Switch that I could use to run the circulation pump and fan controls without the boiler once the diesel has warmed up. (Preheating the engine coolant is possible, but that requires another pump and a different switch, and Gizmo's system can get similar results with the engine room fan heater anyway.)
I did figure out a (wire nut!) workaround to activate Engine Heat on the Surewire until I install the proper switch, but let's get to the bigger picture. Because this breaker panel is located next to the galley steps, my new cool weather morning routine begins with goosing up that thermostat before making coffee, getting dressed and so forth. I like seeing the boiler come alive on the Maretron display, and I love feeling the first results on my tootsies.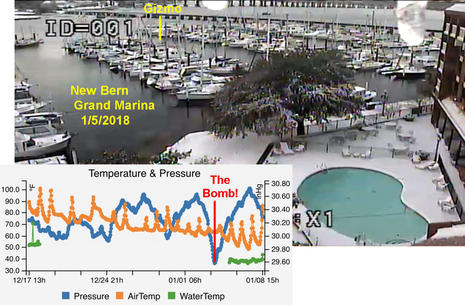 If I'd stayed on the boat in New Bern, I would have had a surprisingly good opportunity to test how much cold the fairly small 17,000 BTU Wesbasto boiler can combat. The deep cold snaps that bookended the historic Bomb Cyclone shut down this normally temperate little city and reportedly caused a lot of anxiety for boat owners.
I was certainly using the various boat monitoring products I'm testing to follow the situation, but was already so confident about the Sure system's safety that I left the heat on at the thermostat's minimum 45° when I left in mid December. I can't quite tell if it ever kicked in, but even if the marina had lost power — especially possible because so many reverse cycle systems have been working so hard on the docks — Gizmo would have had heating power for days, thanks to the Firefly battery bank, and days more, thanks to the fully automated EFOY Comfort fuel cell I look forward to detailing soon.
But the New Bern Grand Marina's power never did fail, nor the useful live cameras nor the WiFi, which is why the FloatHub I purchased via Kickstarter was able to continuously track barometric pressure and inside temperature. And note how the (green) Water Temp came back on last Friday (1/5) when the excellent new marina manager Jeremy McConnell kindly took the time to check out Gizmo and turn the NMEA 2000 network on.
One lesson learned: The normally mild water temperatures in highly protected and shallow areas like the Neuse and Trent rivers can plunge very quickly, as in 36 with ice chunks on Saturday. And aren't the "shoulder seasons" getting less definite, even more reason for many of us to install good boat heating?
Onboard testing will resume when I return to Gizmo later this month, and I can take better system photos if there's interest. One project on my list is fixing some issues with the boat's wonderful but 17-year-old Force 10 propane cooking stove, and wasn't I tickled to realize that Sure Marine Service may well offer more support expertise and easier parts ordering than the manufacturer.
PS: Bye bye Polaris!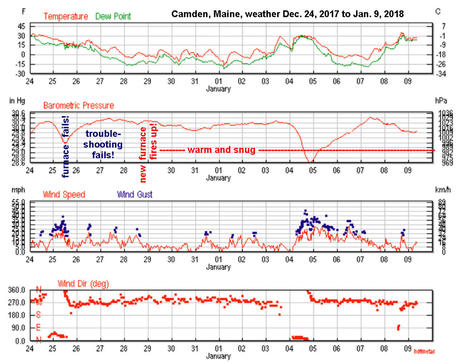 I have more reason than a new boat system to think about heating technology, perhaps a good postscript. On Christmas evening at my house we realized the hot water was going, and that meant our beloved radiant floor heating would soon follow. I put a new igniter in the Polaris high-efficiency propane heater to no avail, and then we fired up the basement/shop woodstove as well as the propane "fireplace" that replaced the living room woodstove last year (yay for that decision).
A heating professional and friend who knew my system well kindly devoted the next day to troubleshooting with yours truly assisting. I even bought an old Polaris for parts from another friend who'd finally given up on what all three of us knew to be a troubled design since we got involved with it in the 90's. In fact it was my second Polaris, because it worked very well when it worked.
After night two of no central heat or hot water, and outside air temperatures below zero, we were at the troubleshooting stage of rebuilding the entire burner without confidence that it would fix the problem. Credit to American Water Heaters for providing patient telephone support, but we got different advice from different techs and none of it was in the documentation.
Still, I was ready to buy yet another Polaris because it would install easily — and, hey, maybe the latest version with touchscreen is more reliable — but my man Norman came up with an excellent and immediately available alternative — the HTP UFT-140 humming away below — and then gathered a gang of three who installed it in one long day.
Apparently, I was the last guy who might need spare Polaris parts in my area, and so it was mighty fine to see the once cutting-edge tech headed to the recycling center. In retrospect I wish I'd made the switch sooner. It's also interesting that I was served so well by a solo contractor who doesn't even have a business card, while the key to my boat heating success may be the biggest in the business. It's not about size, it's about quality. Oh, and heating your shelter well is important.