Fusion Marine Stereo, test install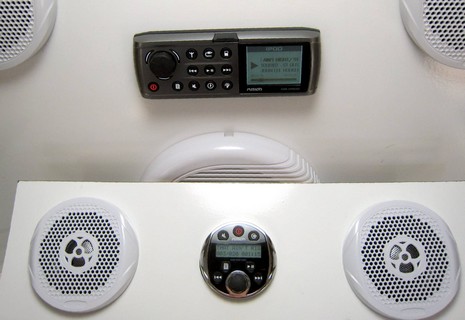 I've had fun down in the shop/lab the past couple of days doing a dummy install of a fairly sophisticated Fusion Marine Stereo system, and in the process learned a lot about all the ways you can rig this gear. Impressive! The shot above, bigger here, suggest one possible layout: the MS-IP500 head unit, dual 7" two-way speakers, and the 10" sub-woofer on the big panel in back could put a lot of audio into a sizeable main salon, while the little panel with wired remote and 4" two-ways might be fine for a cozy stateroom.
But to really get a feel for the variables, check out the back side of these panels, shown below. However, please don't proceed if you're offended by funky wiring (though good enough for testing). And to get totally in the mood you might fire up the same mellow John Lee Hooker mix that was playing in this scene (though wrongly titled in my MP3 collection, and thus on the iPod Touch that's inside the head unit).
So for a discussion of details pull up the bigger (and uglier) image. I'll start with the cable gaggle sprouting from the head unit and one of my few Fusion complaints. Which is those spindly speaker wires going to the 7" two-ways; the value of heavier gauges may be somewhat mythical, but if not, stepping these up involves splicing (as the back of the head is nicely sealed up). Note the Zone 2 speaker wires sitting lower right in the big panel. I could (and did earlier) run these to the 4" two-ways, but in this shot I'm using Fusion's little MS-AM702 25 watt zone amp to power the "stateroom" on Zone 3. Zones 1 and 2 can be powered by the head unit (or amped) while zones 3 and 4 need amps. The subwoofer also requires a separate amp, like this very tweakable Fusion FM-402 (though there are many possibilities from the car audio world).
Other cables of note: at top is a coax connection to the lab's Glomex Polaris directional AM/FM antenna and an auxiliary line in so, among other things, I can compare the audio quality coming from the iPod's headset jack versus the internal dock. Coiled bottom left is the DIN cable (actually a CANbus) that connects head unit to remote. Fusion has extension and splitters and you can have up to four remotes (which are not necessarily associated with zones but can be set to control a single zone's volume). And that unconnected blue wire at bottom could go to the head unit to control the little amp's on/off but wasn't really needed as it can alternately turn itself on and off based on speaker line signal.
You're probably getting the system flexibility picture, but wait till you hear the audio. Things got even uglier when I applied some bubble wrap to the speaker backs to simulate some enclosure, but the system sounds very good. I should say "systems" as I've tried several combinations of this gear. I'm hoping to let you hear some test clips in a future entry, which will also detail some of Fusion's mostly clever control ideas.