Fusion XS series speakers: Quality sound & cost-effective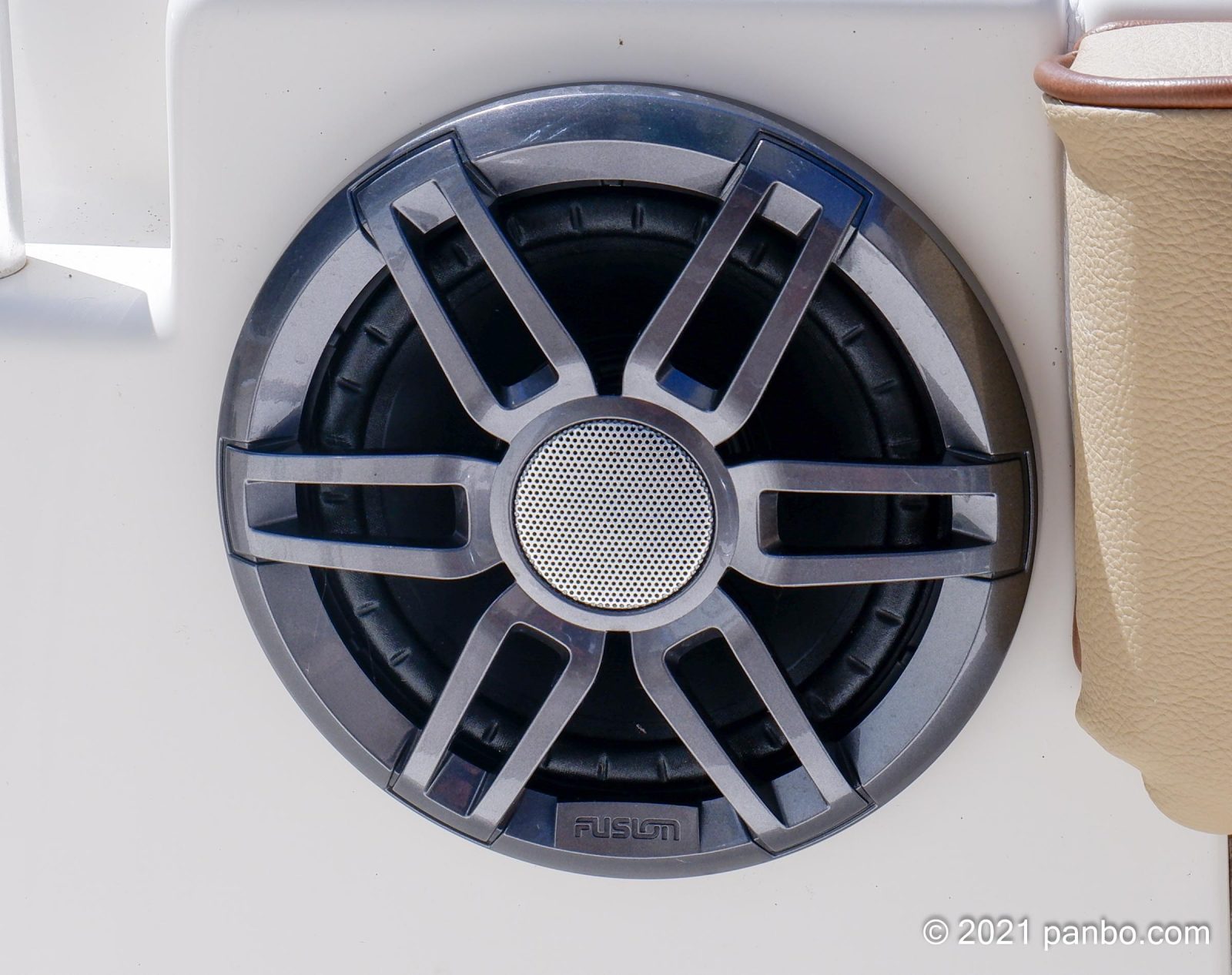 Fusion offers two lines of speakers: The XS series are the value models and Signature is the mark for their high performance, more expensive line. I've recently outfitted my 22-foot center console with a full XS suite, subwoofer included. Open, relatively high speed boats like mine create a challenging environment for speakers. The noise from an open boat on plane often reveals a speaker's weaknesses. Although they're probably helped by a powerful amplifier, I'm pleased by the performance of these value-oriented speakers.
I've had Fusion's Signature speakers on Have Another Day for some time; liked their sound when I installed them; and continue to be very happy with them. But when I moved down the Fusion line to XS, I wasn't sure what I'd get, especially given Panboat's acoustic challenges.
There was a time in my life when I considered myself an audiophile. Well, I did spend a disproportionate portion of my income chasing the elusive perfect sound. But as I've gotten older — and possibly a little hearing impaired — I've decided that the ultimate sound isn't always worth the ultimate price it commands, though old habits do die hard. Plus, I've come to appreciate the tradeoff of convenience versus sound quality, especially as I've embraced digital sound formats and sources. From my testing, I think the XS line does a nice job delivering really good sound quality while also providing serious value.
The system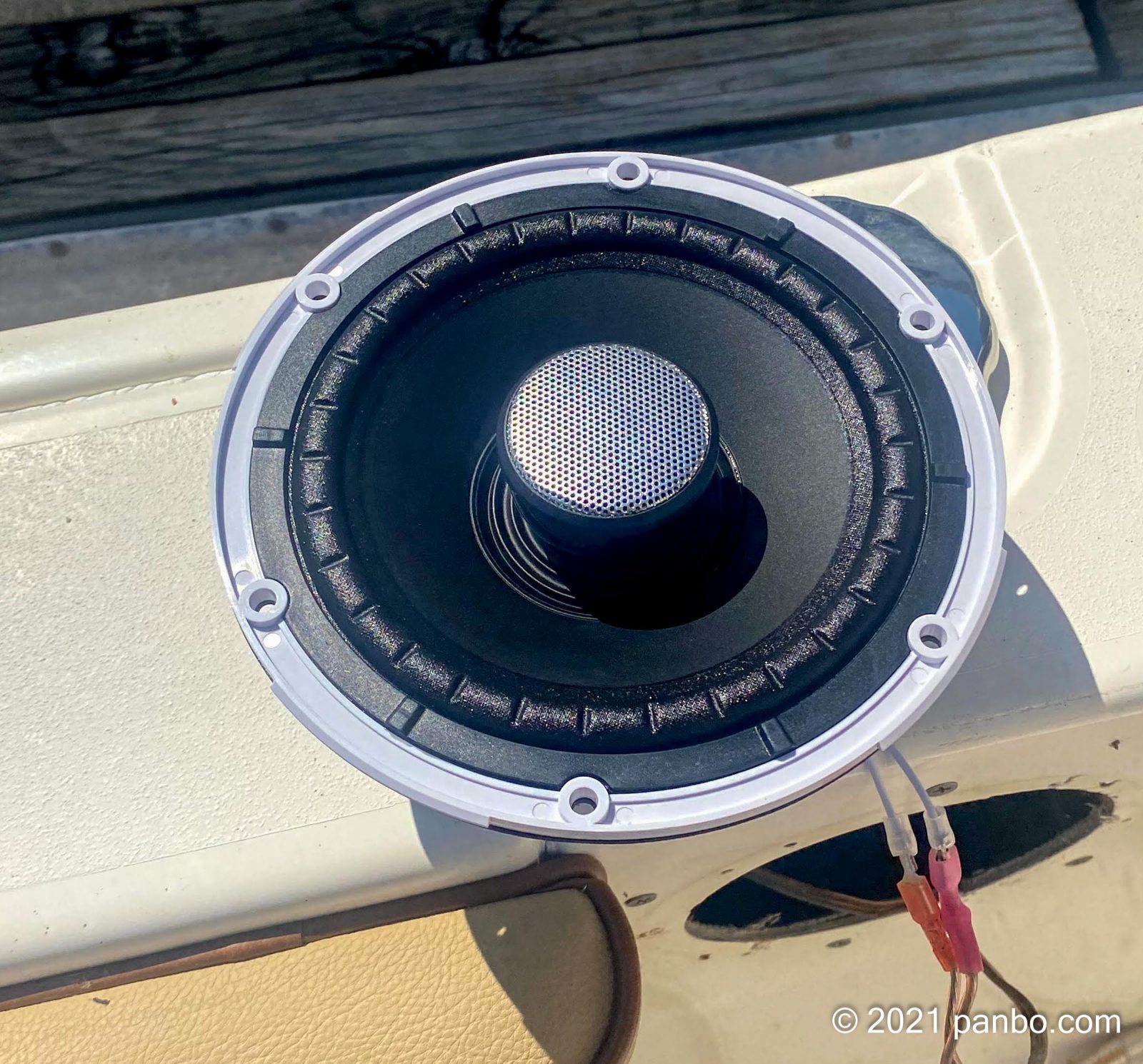 I installed two 7.7-inch XS-F77SPGW speakers ($199 per pair) in Panbo(at)'s bow, two 6.5-inch XS-F65SPGW speakers ($170 per pair) at the helm, and a 10-inch XS-S10SPGW subwoofer ($190 each). Each of these speakers is available with or without RGB LED lighting. My test speakers don't have LED lighting but the models with LED lighting are about $30 more per pair.
The speakers and subwoofer are all powered by a Signature Series SG-DA51600 5-channel amplifier ($600) that provides four channels of 80-watts RMS and a fifth channel for the subwoofer at 250-watts RMS. The amplifier is from Fusion's higher-end Signature line because there isn't a five-channel amp in their mainstream "Marine Amplifier" lineup. It's all fed by a Fusion Apollo RA-670 head unit.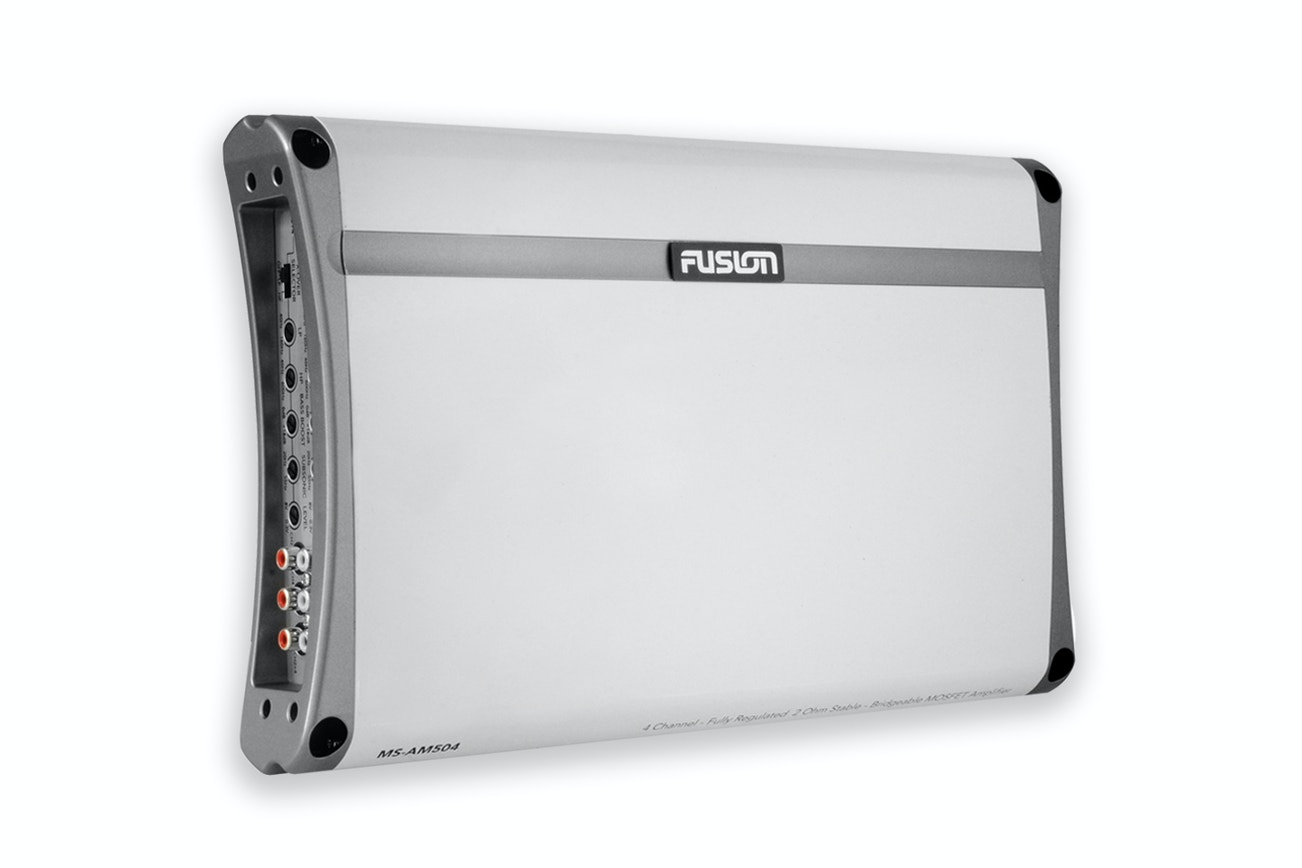 Instead of the 5-channel Signature amp, I could have used the MS-AM504 4-channel amp ($320) for the speakers and a two-channel MS-AM402 amplifier bridged ($220) to power my subwoofer. But, with only a $60 savings, less power (65-watts per channel instead of 80-watts per channel from the Signature amp), the savings just didn't seem worth it. In fact, by the time I'd run additional power distribution and cabling I'm not sure there would have been any savings. But, it does feel a little odd to use an amplifier that carries a higher list price than the five speakers combined. I think there's an opportunity for Fusion to introduce a 5-channel amp into their mainstream product line.
Audio performance
You may recall that I reviewed Clarion's CMSP speakers at the end of last year, also on Panbo(at). My conclusion from that review was that though the speakers performed decently at lower volumes, they struggled when the boat got moving and the volumes increased. I felt the speakers sounded harsh when trying to play loudly enough to be heard over the noise of a boat moving at 20-plus knots. I'm pleased to say that the Fusion XS speakers are, at least to my ears, much more pleasant at higher volumes. It's not until the volumes get really elevated that I can detect any harshness to the sound, and even then it's minimal.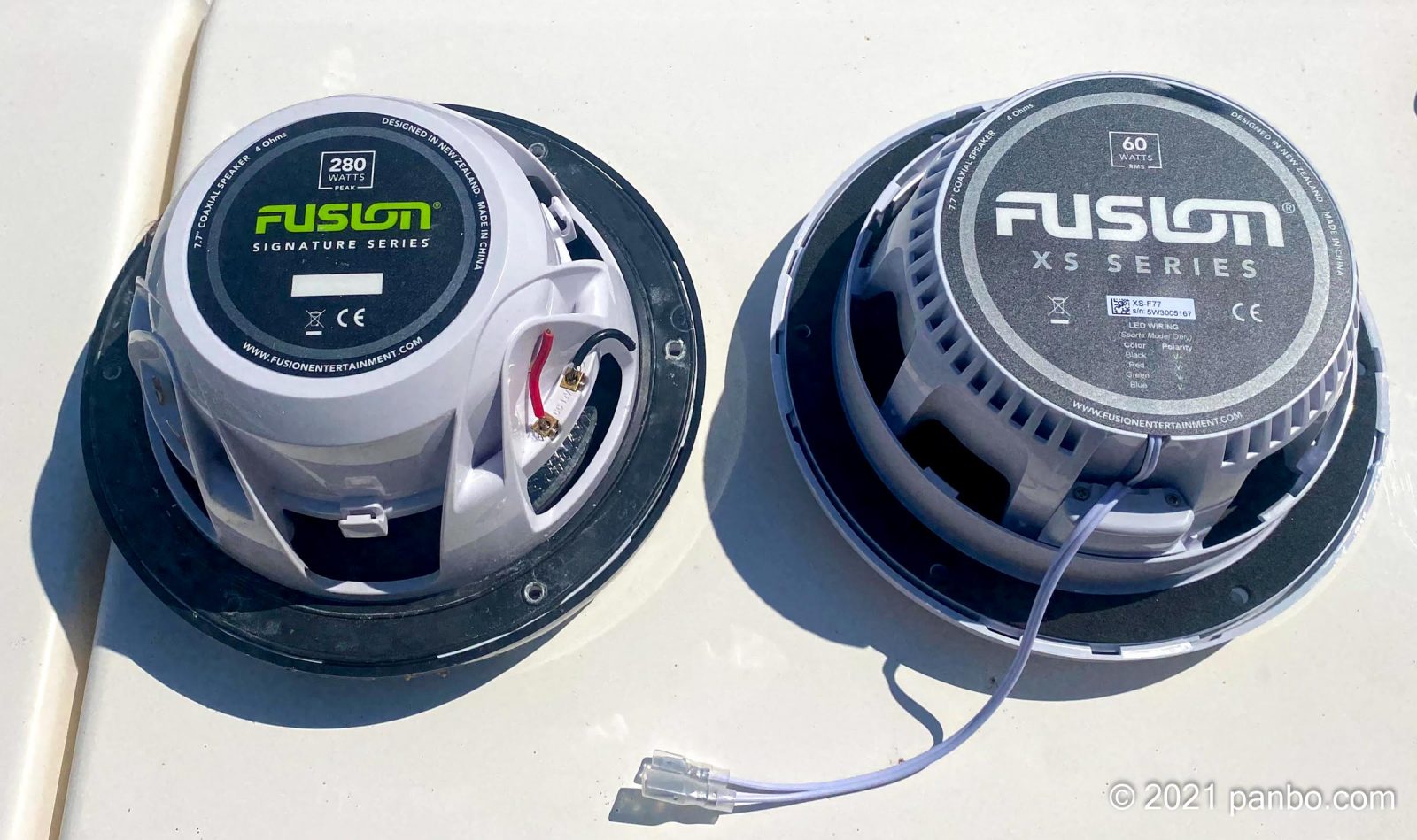 My testing was based, in part, on a comparison of what's normally installed in the boat. I have a bit of a hodge-podge of equipment that's what I had on hand when I added a stereo to the boat. At the bow, I had a pair of Fusion Signature Series 2 7.7-inch speakers, at the helm, a pair of JL M650 6.5-inch speakers, and lastly a JL M10IB5 10-inch subwoofer. All of these components, though many are older, are from higher-priced product lines than the XS series.
Overall, I felt the XS speakers performed admirably against the higher-priced competition. But there are some areas I could hear a difference. I felt the overall sound of the XS speakers is a little thinner and I attribute that to less mid-range performance and less strength in the low notes. I suspect that's closely related to the smaller magnets of the XS speakers. There is a slight pronouncement to sibilant sounds that I didn't notice with the other speaker package in the boat but I would emphasize this is quite slight.
I think one of the best things I can report about the XS speakers, especially for a line of speakers designed for maximum value, is that I often forgot they were there. They produce pleasant music and performed well at all volumes. They weren't remarkable, they didn't wow with their performance, but I don't think that's the goal for these speakers.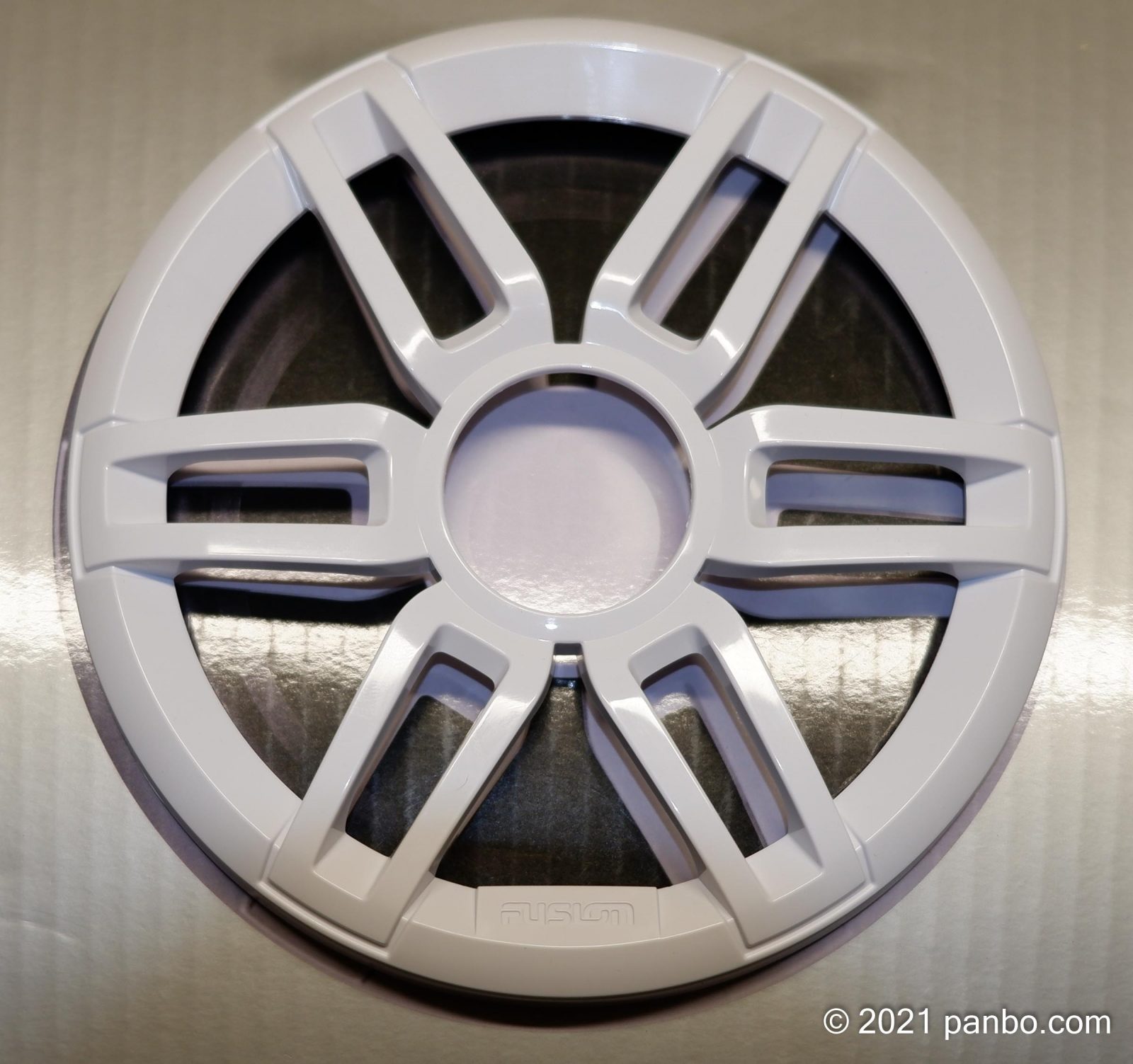 The speakers feel pretty well constructed and durable. Although they've only been installed on Panbo(at) for about a month, they've received regular dousing in both salt and fresh water and shown no ill effects. The only quibble I have with the speakers is the plastic trim piece — which Fusion includes in both white and gray — looks a little drab and is easily scratched (there's a scratch on the speaker at the top of this story). A two-tone color scheme, even if it were only the Fusion logo, would spruce things up a bit. I do like that the trim ring goes on, via a quarter-turn lock after the speaker is installed. So, the trim ring fully hides the screws used to secure the speaker.
DSP tuning
To best match speakers, amplifiers, and head units, Fusion introduced digital signature processing (DSP) with their Apollo head-units. DSP compensates digitally for the specific characteristics of your amp, speakers, and listening environment to get the most out of the speakers. Although Fusion head units have generic speaker profiles, they've profiled their own speakers and can deliver DSP tuning matched to each model of their speakers.
Describing the effects of DSP in writing is a difficult proposition. On the boat, there's a noticeable difference before and after applying the DSP profile for my equipment. The sound just seems better matched to the speakers when the correct profile is applied. Plus, DSP provides speaker protecting benefits with volume-equalization and feed-forward limiting functions of DSP.
Final thoughts
My overall impression of the Fusion XS speakers was quite positive. For $560 you can buy four speakers — and less if you went with four 6.5-inch speakers — and a subwoofer that perform well in nearly all situations. The sound quality isn't perfect, but boats are pretty hostile environments for really high sound quality, and they won't be the loudest speakers at the local sand-bar (thank goodness). But, they will deliver good value for your money and produce pleasant music that can make your day on the water more pleasant.