Fusion Apollo and Signature Series, a boatload of audio goodness
A day on the water is better with good tunes, and the rise of streaming has changed how we get music on board a lot.  For the last decade, Fusion has lead the way with stereos that use the latest technology to deliver audio on boats.  I've just finished a complete install of the company's current gear aboard Have Another Day and as you will read, Fusion continues to leverage the latest tech and deliver great sound.
Fusion has been busy developing products like the all-new Apollo stereos, improved Signature Series speakers, new remotes and even new RCA interconnects. The combination of their head units, amplifiers, speakers, and DSP tuning have made for great sound quality with easy configuration aboard Have Another Day.
The System
Fusion recently unveiled the Apollo MS-RA670 as the middle sibling in their Apollo head unit line.  They now have the 1-zone SRX-400 ($350 list), 3-zone MS-RA670 ($450 list), and 4-zone MS-RA770 ($650 list) offering a stereo appropriate for just about any need.
Have Another Day previously had a Fusion UD-650 mounted on the flybridge with an NRX remote control in the cockpit. This time around I installed separate Apollo RA-770 head units in each location, and thus we can listen to different audio in each area or use Fusion's PartyBus mode to have the same music in both.
Our flybridge is a large area and can be a tough spot to fill with good sound underway with the enclosure wide open.  So, with Fusion's help we selected two 6.5″ SG-CL65SPW Signature Series speakers for the helm area, two 7.7″ SG-CL77SPW Signature Series speakers for the middle portion, and 8.8″ SG-FL88SPWs Signature Series speakers for the aft-most portion of the flybridge.  There's also a 10″ SG-SL101SPW subwoofer paired with the middle set of speakers and each pair of speakers is a separately controlled zone on the 770.  Powering it all is a SG-DA82000 8-channel amp.
Our cockpit is smaller so it's set up with fewer speakers — two 8.8″ Signature Series, two 7.7″, and a  10″ subwoofer — powered by a six-channel SG-DA61500 Signature amplifier. I also spread four MS-ARX70 ANT wireless remotes around the boat for quick adjustments to the two stereos.
Installation
Installing stereos frequently means enlarging holes for different sized speakers and that often means cutting fiberglass, which isn't my favorite part of any install. But fortunately I got to reuse existing cutouts for six of the ten speakers and both subwoofers.  However, one set was deeper than the ones I was replacing so I ended up having to make a spacer ring out of Starboard to avoid hitting the side of the hull with the back of the speaker (And while Starboard is a mess to cut, a palm router and a piece of bar stock makes for easy and even fairly round circles.)
The MS-RA770 is a little bit smaller than the UD-650 I replaced and the holes don't lineup.  Fortunately, Fusion makes a spacer kit to allow the previous cutout to be used.
The RA770 has both 2.4ghz WiFi and Ethernet connectivity options.  The WiFi can act as an access point (and DHCP server) or connect to an existing network, and I initially tried connecting the RA770s to Have Another Day's network. But on my RF congested boat an acceptable 2.4ghz WiFi connection wasn't possible, so I connected the radios to the network via Ethernet cables instead.  I really wish Fusion included 5ghz WiFi in the radios as I've not had these connectivity problems with the higher frequency band.
Using Apollo
DSP
With all the speakers installed and everything wired up, the moment of truth had arrived.  I turned everything on and began playing music.  I was instantly quite happy though I did notice a little too much bass here or some tinny sound there.  But I'd read Ben E.'s entry about the 2018 Apollo launch event and knew there was some DSP (Digital Sound Processing) magic possible.  So with my phone linked to each head unit I fired up FusionLink app and navigated to the DSP settings.
The DSP settings on the Apollo head units collect information about the environment in which the stereo is installed (cabin, covered, helm, open air, etc), the speakers connected, the amp connected, the presence of a subwoofer and several additional configuration possibilities.  Once that information is provided the app shows you the settings you should be using — if you're using a Fusion amp — and then gives you a button to send your DSP settings.
There's a noticeable difference in sound quality once DSP settings have been configured and sent to the stereo.  The occasional sound issues I mentioned above were all corrected and replaced with balanced, rich sound.  Prior to discovering boating as a way to spend all my money, I used to consider myself something of an audiophile.  In those days I would have turned my nose up at anything using DSP to tune sound.  But in reality boats are pretty lousy listening environments with odd angles, hard surfaces, open spaces and lots of noise; so DSP can be very helpful in improving the sound quality.
Streaming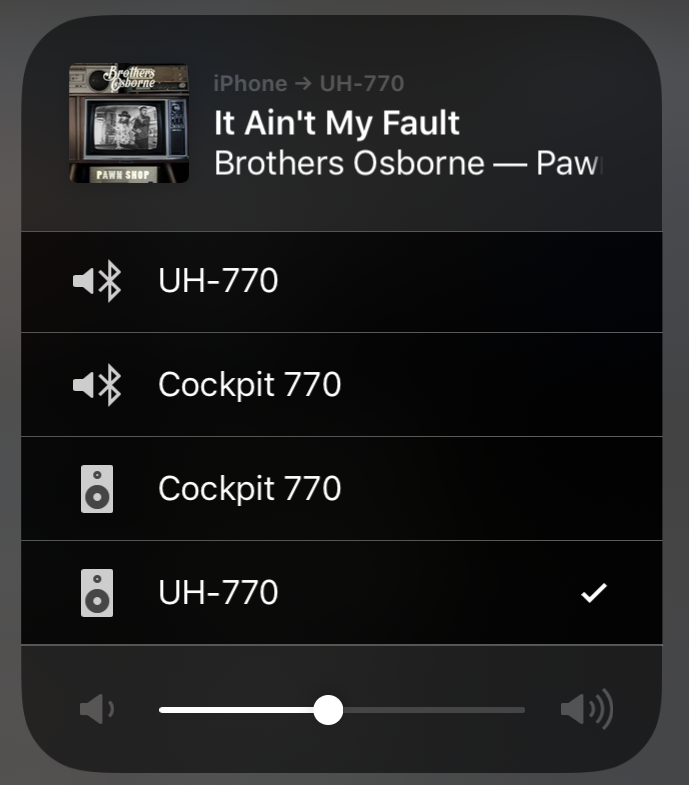 Bluetooth has worked reliably for streaming on both iOS and Android devices, but it has a range of about 15-30 feet from the stereo.  So I frequently find the audio stuttering if I leave my phone in my pocket and walk around the boat.  Airplay on an iOS device works over WiFi, which means that the connection range between the phone and stereo is limited only by the WiFi network range, and that's usually a good bit further than the 15-30 feet afforded by Bluetooth.  I've found WiFi streaming on Android devices to be more difficult and it require an additional app to work.  But I have noticed that the audio quality is a little better over WiFi on both iOS and Android .
PartyBus
PartyBus multi-zone audio is one of the most exciting features of Apollo.  With PartyBus you can listen to the same audio on multiple Fusion head units connected to the same network.  I can connect my phone to the flybridge stereo, start streaming via Bluetooth and then link my cockpit stereo via PartyBus and listen to the same music, perfectly synchronized, in the cockpit as well.  I can then go one step further and join my dinghy's SRX400 stereo to the big boat's wireless network so we can listen to the same music in the dinghy as long as it is within WiFi range.  This may not be practical for us, but I can imagine using PartyBus at an anchorage or sandbar with lots of boats joining via WiFi and all listening to the same music.
Remote Controls Galore
With four ARX-70 remote controls (detailed review here) spread around the boat, quick changes to music or volume are right at hand.  In addition, the Fusion head units can be more deeply controlled from an MS-NRX300 wired remote (connected via NMEA-2000), from the Fusion-Link app running on phones or tablets, and from nearly all MFDs manufactured in the last five or more years. That's all illustrated above, and these Fusion stereos can also be controlled by many Garmin watches!
I've been wearing a Garmin Quatix 5 Marine Watch for a couple of months now and am really enjoying how I can turn the volume up or down, pause the music, skip tracks and even change inputs right from my wrist.  Like the ARX remotes, the Quatix is using the ANT radio built into the watch to communicate with Fusion head units.  Also like the ARXs, the radio link between the watch and head unit has proved to be quick and reliable.  Unlike Bluetooth, which can be flakey at times, I've seen no issues requiring repairing of the connection or anything similar.
Putting it all together
Fusion's DSP functionality for all of their speakers and amplifiers might be enough reason to purchase an all Fusion stereo system.  During my testing I've seen the benefits of choosing a single brand of equipment from the head unit to the amplifiers to the speakers.  The amplifiers are heavily constructed with generous heat-sinks, easy-to-connect speaker and power terminals, and a lovely mirror polished stainless cover.  The speakers sound great and appear very well made, with sizable magnets, durable composite cone material, and LED cone lighting.  Fusion's interconnects utilize directional shielding to minimize noise, so you must pay attention to the arrows on the shield of the cables that indicate the correct direction from head unit to amplifier.
Opportunities for improvement
Overall I'm loving the Apollo and Signature Series system, but that doesn't mean there aren't some things I think could be improved.  The two areas of greatest concern for me have been network connectivity and noise filtering.   I mentioned earlier that I wished Fusion included 5ghz WiFi in the radio since I frequently find 2.4ghz WiFi to be unusable on the boat.  The lack of 5ghz WiFi has restricted me to only using the wired connections on all head units.  While that's an initial install hassle it does also result in more robust and reliable connections once the cable is run.
I've also spent some time chasing some issues with noise introduced into the system.  Despite reinstalling my flybridge stereo in exactly the same place as the UD-650 I removed (and also reusing the same common busbar for the amp and head unit), I encountered quite a few issues with noise between the amp and head unit.  That was vastly improved when a power filter was installed prior to the head unit but that wasn't needed with the previous setup.  I'm not sure if that's a factor of noise filtering in the head unit, in the amps, or something entirely peculiar to my installation.  I've learned that Have Another Day is a high noise environment in all respects as a result of the sheer quantity of stuff running aboard.
Final Thoughts
Because of the size of the system I installed on Have Another Day and because I added another head unit in a new location this install took me a total of 3-4 days to complete.  But, this project breaks down nicely into smaller pieces, which is how I did it.  One day I swapped a couple of pairs of speakers, the next I swapped amps, then I worked on the head units.  Most of the work was quite easy and I was able to reuse almost all of my existing wiring.  I had to run new 4 gauge wires from my house batteries to the new location for the cockpit stereo amp.   If you have to run new large power cabling back to your batteries and you're not familiar with 12v marine wiring practices, I would strongly consider bringing in a pro for that work.
Fusion and their product line have grown quickly since their arrival in the marine marketplace a little over a decade ago with an iPod (remember those) integrated head unit.   The installation on Have Another Day and Fusion's impressive list of manufacturers installing their equipment demonstrate the depth of their line and their ability to compete effectively in the marine audio market.