Fusion MS-RA200, little stereo w/ big features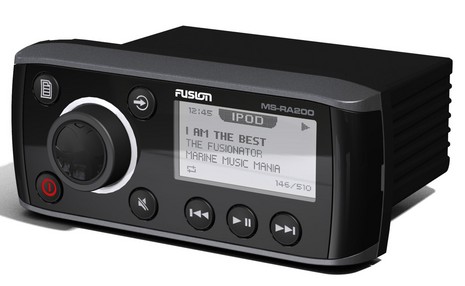 What's it going to take before more boaters realize how thoroughly Fusion is reinventing marine stereo? The new RA-200 introduced in Miami is not only an attractively smaller and less expensive ($170 retail) unit, but it includes neat new features that aren't even in the higher-end series yet. These guys can't help themselves!…
For instance, the RA-200's receiver has a VHF band as well as FM and
AM, and Fusion built in controls so you scan favorite channels. That's
a nice feature right there, given how superior the audio quality will be
compared to a regular low-wattage small-speakered VHF radio. But
Fusion is already working on an added feature whereby you'll be able to listen to a non-receiver source like an iPod, or Sirius Radio, but have it fade out if selected VHF channels break squelch (much like all the Fusions can fade themselves out if a docked iPhone rings).
The RA-200 is also the first Fusion with a USB port. That means that you can listen to a memory stick full of MP3 audio files or that you access/control (and charge) an iPod or iPhone using its standard USB cable (instead of using Fusion's $50 waterproof dock). But it also means that this set will eventually work with a very interesting second-generation iPod dock that Fusion is developing…a $100 iPod/iPhone dock with not only an auxiliary USB port but also video outputs so you can watch TV shows, vidcasts, movies, etc. on your boat's big monitor with sound and program control by Fusion. That could be a big deal for some of us who like to watch a little something aboard but aren't willing to spring for a real satellite TV system, especially now that Apple is trying to force down the pricing.
Might all this be a little confusing for stereo shoppers? I'd have to say yes, but also that Fusion is brave for going this route. They could have waited for the next generation high-end series to introduce these features, but instead they're just adding them in as they roll out new models. But, then again, even an early generation Fusion is pretty far ahead of the competition, I suspect. There is one area, though, where the company is slow, and that's getting the goods up on their web site. There is a teaser about the RA-200, and also a press release here, but darned if I can find what the thing's dimensions are. I can note that it doesn't have the power efficient Class D amplification of its big brothers, and is only two zone — both ways to bring the price down — but also that I saw how the reduced-button interface needed to make it smaller still seems quite easy to manage. I can also add, size-wise, that the RA-200 fits in that empty hole I saw below when Fusion visited in December. It also seems that sweet RA-200 package deals are already available. I'll add links to more specs when possible.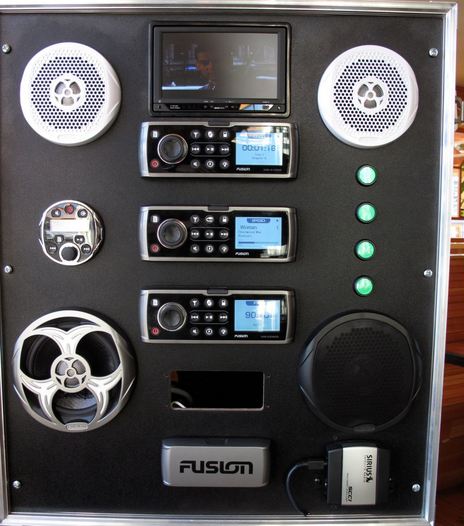 <