Garmin VHF 300 AIS, xHD Radar & more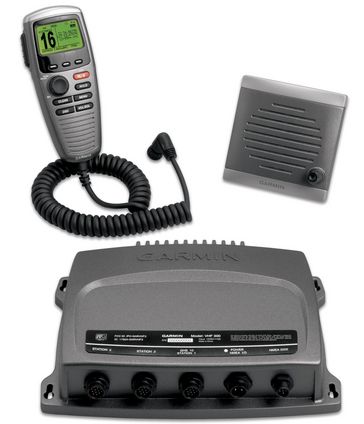 Garmin announced a slew of new products yesterday, the most innovative of which is probably the black box VHF 300 AIS. I think that this is not only the first combination VHF radio and AIS receiver (aside from the mod Icom UK apparently came up with), but also the first AIS receiver with NMEA 2000 output. While there are a couple of issues with N2K AIS target messages right now, I'm confidant they'll be fixed soon, and this will become the way to go. For instance, a Garmin plotter should
easily be able to "direct dial" AIS targets, buddies included, using
N2K. But that's not all to like about this radio…
Garmin smartly borrowed the "rewind" audio memory feature first seen on fixed and portable Cobra radios, which is very useful for boaters like me who monitor VHF at low volumn (and may also be slightly short on listening skills, or so I'm told ;-). The VHF 300 AIS can also track three non-AIS-equipped vessels, using automated DSC polling presumably, and Garmin came up with a way to record a short audio message that will play if
you don't pick up a private DSC call, which may handy if we ever get in the habit of using DSC to call each other. Which may happen when there are enough radio and multifunction display (or PC) combinations that make MMSI numbers more useful and easier to handle (as Garmin is obviously trying to do).
On the other hand, this system
lists for $1,000 before you add 2nd and 3rd GHS 10 handsets, and I suspect that a lot of boats in that budget range will want a full Class B AIS transponder. But Garmin has also introduced the plain VHF 300, which has all the same features minus the AIS receivers. I imagine that a Garmin MFD connected to this radio and anyone's Class B transponder is going to work pretty well (and I hope to soon experiment with the VHF 200 which is just shipping). I would hope that eventually Garmin's N2K VHF radios, as well as everyone else's (hello Icom and Standard Horizon?) would play nicely with any device that can use MMSI numbers to iniate calls, collect DSC calls, or whatever. But I doubt, for instance, that the Simrad AI50 I'm testing will be able to place a call on the Garmin VHF 200, again, I think, because NMEA has been slow to create the
needed standardized commands.
Garmin also announced those four new radar arrays we got tipped off on a while back. They range from the GMR 604 xHD to the 1206 xHD, and I understand now that the xHD name is meant to distinquish their higher sampling rate from the HD technology available in their 18- and 24-inch domes. Finally, the company also refreshed their whole complicated line of 4- and 5-inch plotters and plotter/sounders. The changes are probably best understood from the press release, but what stood out for me was the addittion of NMEA 2000, which catches Garmin up with Lowrance's smaller HDS units and Raymarine's new A Series. I don't know how well Garmin's new 3D charting — introduced to networked MFD's with software release 5.0, and seen below — will work on small screens, but I've been using it on a 5212 recently, and am really getting fond of it.