Gizmo deal for real, thanks to the A team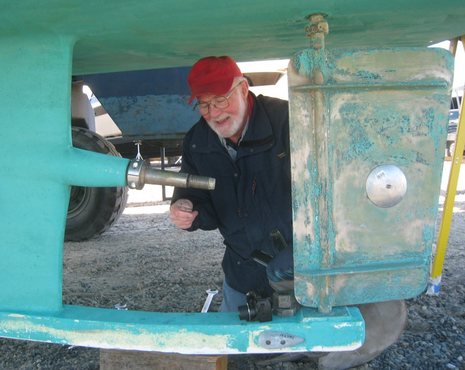 It was a bit anticlimatic, but I'm told that on Friday the funds moved, bills of sale were signed, and — good golly, miss molly — the Duffy Atlantic 37 formerly known as Rain Dog III is mine! It was a learning process, for sure. I may know a fair bit about boats (Lord knows I should), but hardly beans about the intricacies of buying a real yacht. I'm very grateful for the help of two professionals who also happen to be friends: surveyor Steve Bunnell (above) and broker Dave Perry. If I ever need a yacht-buying A team again, I'm calling these guys.

I also benefited from the deep knowledge of DePaul Diesel founder Denny Klodner, who surveyed the boat's Volvo Penta. Not that there were problems; the two day survey and sea trial process we all went through a few weeks ago went well. The pros couldn't find much wrong, the boat looked as good in the water as I'd hoped, and she handles as well as she looks! I tamped down my enthusiasm during the final negotiations — didn't want to jinx the deal (though the owner and his broker were gentlemen throughout) — but it's bubbling up now. I've got magazine and other chores early this week, but Friday morning I hope to be en route to Connecticut in a rental car with a sleeping bag, tools, and a box of electronics in the trunk.