Joe's 1969 Allied 42 yawl, fully problem solved & awaiting owner #3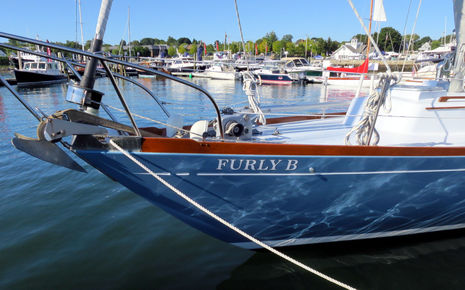 Full disclosure: a major motivation for this entry is to help sell my old friend Joe McCarty's boat by describing how well he rebuilt it, particularly in terms of reliable systems. The Furly B is being brokered by Robinhood Marine, where Joe was general manager for 20 years, and I had a good look at her just before the Maine Boats, Homes & Harbors Show opened last Friday. The visit confirmed what I pretty much already knew; Joe bought an excellent old boat and he made her better than new. Actually, the background story for a new owner is far better than that…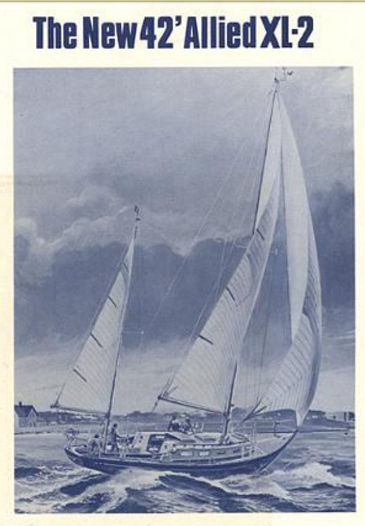 Furly B was not the first Allied 42 that Joe owned, and he was not my only sailing buddy who thought of the 60's as a golden age of racer/cruisers. Boats built to the CCA rule tended to have long ends, moderate drafts and easily manageable rigs; they also tend to look good and sail well, even out in blue water. And since the hulls were typically overbuilt of solid fiberglass, many still survive and are often good rebuild candidates. The result can be a classic beauty that's not at all fussy to use or take care of, like Furly B.
The Allied 42 XL-2 has a particularly sterling pedigree, as you can read in this 2009 Rob Jordan review, where you can also download the must-read original brochure seen above. (Take care, though; seeing how much new sailboat $68,800 could get you even in 1975 may make you weep.) Sparkman & Stephens still proudly profiles the 42 design and it's characterized on the Allied Owners Group site as "disputably the best interior and exterior finish and the best sailing ability of any Allied model" (which included much loved models like the Luders 33 and Seawind 35). I borrowed Joe's first Allied 42, Rhapsody, for a few days back in the mid 90's and can attest to his excellent taste.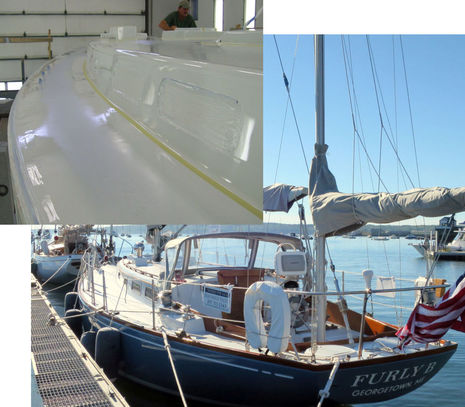 What Joe hoped for the second time around was a 42 yawl that had never been rebuilt so that he could do it all his own way. And he lucked out in 2005 when just such an Allied was sold by the estate of the original 1969 owner. Perhaps not coincidentally, that's also when Joe retired from boatyard management responsibilities and went back to hands-on rigging, mechanical, and electrical work during Robinhood's busy spring and fall seasons. Thus began a nearly five year semi-retirement project that included the restoration or replacement of all hardware, engine, sails, systems, etc. — as suggested in the inset above — and it's hard to imagine a better man for the job.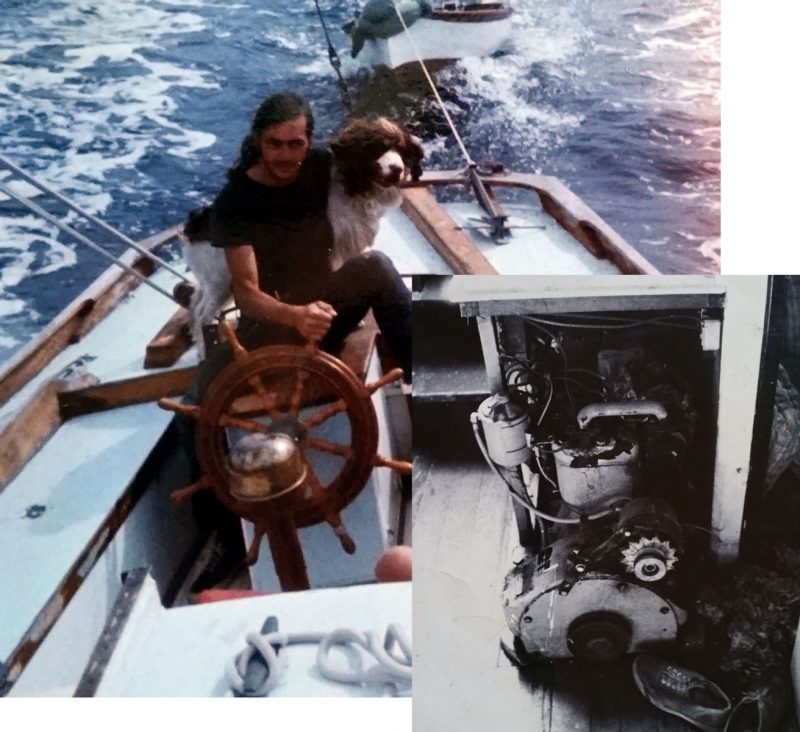 In fact, I know exactly how Joe began his career as an all-around boat guy with a special facility for systems. It was June 1971 when he and I went directly from college graduation to Camden, Maine, as the new owners of the good sloop Alice. The 40-foot boat had nearly sunk that winter so before we "sailed off around the world" we had to replace the completely seized Red Wing engine (above) with one that worked, though we had no practical experience whatsoever and were living aboard at a mooring with our three partners plus a cat and a dog!
It was primarily Joe who figured out how to install the Mercedes OM 636 diesel that would help Alice make three round trips to the Caribbean during our seven years as boat partners and that was still running fine when the next owner finally sold her in about 2001. So the August '71 Joe seen in the other photo above deserved to feel great pride during one of our first trips out of the harbor. And incidentally, sharing the helm is the original Furly Brown, the first of many memorable Springer spaniels whom Joe trained and doted upon.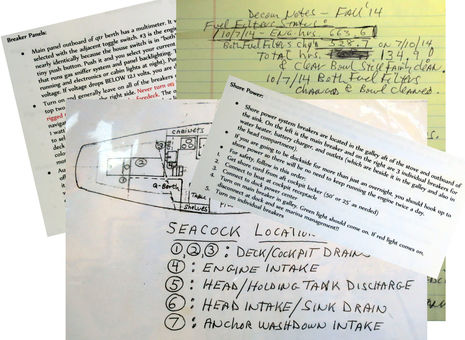 You've probably already gathered that Joe McCarty is no longer alive. While I'm grateful for the terrific Gizmo passage we had last fall — Joe's electronics skepticism made Panbo — and two visits to his Florida home as the damn cancer took him down, I will grieve this man for a very long time. But visiting the Furly B was not maudlin, and a new owner needn't worry about ghosts. For Joe, rebuilding the Allied 42 was an intellectual and physical project with the end result being a low-hassle bareboat charter business that he could operate during his summer months in Maine. He did enjoy an occasional sail around Robinhood's tricky waters, but I understand that he only spent one night aboard and that was charter business.
So the most personal thing about the Furly B is the easily changed name and maybe some of the notes Joe kept about recent maintenance projects. He'd also written a detailed manual that will be a big help to anyone taking charge of the boat, and I'm pretty sure that "Thanks, Joe!" will be uttered many times as system niceties are discovered.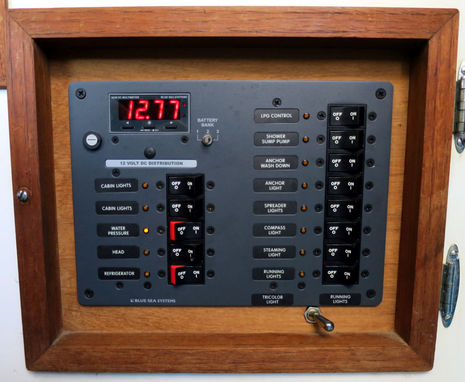 For instance, I learned that the 42's entirely new electrical system is neatly organized into several function group breaker panels. This quality Blue Seas model might be called the main panel and includes a built-in multimeter that can display voltage or current draw for each of the two house batteries and the engine start battery. The major household functions and all lighting circuits are controlled here. Note how the yawl has both standard and offshore masthead running lights and is set up right so that you can only turn on one or the other.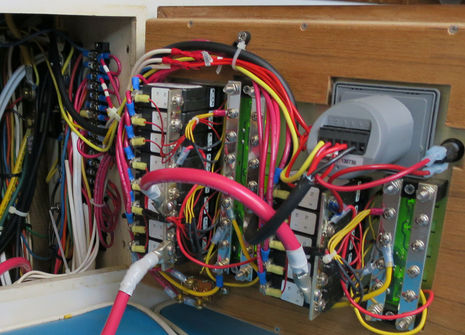 All the wiring I saw seemed correctly sized, color coded, and secured. This "main" panel is particularly accessible, but I wasn't surprised to find reasonable access to every system I checked out. That's what you get when the renovation designer and future maintenance guy already spent most of his working life fixing boat systems or supervising others in the same pursuit.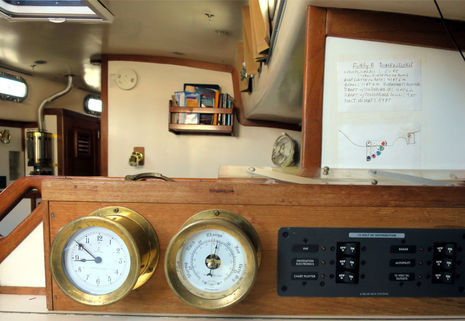 Here's a view looking forward over the nav table with its nav specific breaker panel and a crib sheet showing vessel dimensions and the color coding on the centerboard control line. (The manual has suggestions about where to set the board for different points of sail and sail configurations.) Note the Lewmar Roller Shade/Screen added under the hatch at the top of the photo, and the forward hatch has one too. I adore the same super convenient shade/screen system that came with Gizmo, but wish the installer hadn't used loose felt weather stripping to fill the gap between the flat frame and curved cabin top. So I noticed that Joe carefully cut teak fillers.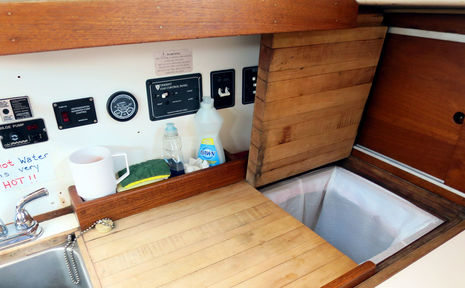 The aft end of the galley is a practical location for a few more circuit breakers and monitoring devices, especially given the minimal cable raceways built into a 1969 sailboat. But Allied gets credit for the nifty butcher block counter with built-in trash hatch. I believe that the aluminum door slide hardware seen on the right is also original and speaks to Allied's practical-but-not-fancy aesthetic. I don't know what prompted the "Hot Water is very HOT!" signage but I do know that Joe strategized to prevent common bareboat chartering mishaps.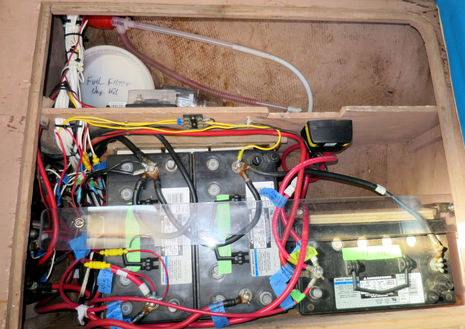 For instance, the Allied 42 is set up so that it's nearly impossible to run down the start battery accidentally. And Joe was proud about how well his high amperage alternator, Balmar smart regulator and right-sized AGM house bank system meets the design goal of supporting refrigeration and other cruising loads with only two 45 minute charging sessions per day. Note the "fuel filter chng kit" at the back of the battery locker; there are several other helpful maintenance aids stowed around the boat and apparently a Robinhood locker with original bits and pieces that didn't make the renovation cut.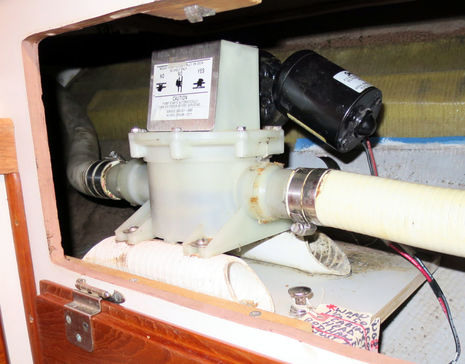 I laughed, though perhaps bitterly, at some wag's theory about "cruising being the time you spend between fixing pumps" and I'm actually jealous of Furly B's SeaLand T series waste discharge pump. I've painfully fixed Gizmo's Jabsco macerating pump twice already in five years, and it's broken again. Joe helped me troubleshoot that system the first time, but in the process let me know that a bellows-type pump like this one is a much better way to go (though in Gizmo's case it means upsizing a seacock and tank output hose). Note the excellent accessibility, switch and instructions right at the point of action Joe-style, and how he used scrap hose to quiet the pump and possibly prolong its life. Nice!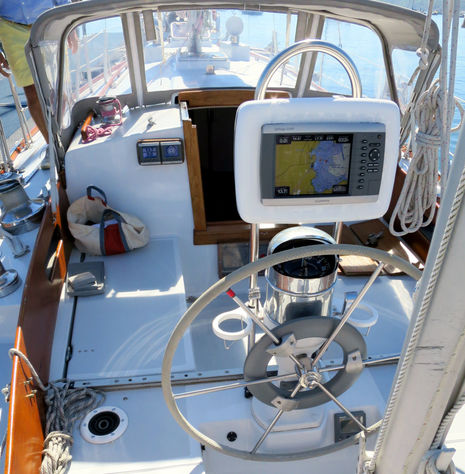 I sought Joe's counsel about various problems and projects on every boat I've ever owned, so it was nice when he sought mine regarding Furly B's electronics. He was not a "latest and greatest" type — in fact, he enjoyed teasing people like me by calling smartphones, the Internet and much else "The Google" — but he had come to appreciate the value of plotter and radar right at the helm. So what you see here is a Garmin 4208 — no touchscreen for Joey — and a pair of GMI 10 instrument displays. The Garmin wind and depth sensors are NMEA 2000 and on the same network is a Garmin VHF200 at the nav station with a wired cockpit remote (the current listing is wrong on that, though otherwise thorough). Meanwhile the Raymarine autopilot remains purposely standalone. Everything seems to be working fine, including the waterproof inline Ethernet connector I helped source so that it's easy to remove the mizzen with the Garmin xHD radome.
So how do you value a boat when a guy like Joe thought through every system and installed it as if he was going to maintain it under charter use for a long time? Someone is going to get a wonderfully reliable boat here, I think. And incidentally, the Robinhood broker they're going to deal with, Dave Perry, is a totally upstanding pro, which is why I had him represent me when I purchased Gizmo.
Besides for the sales pitch I guess I've also memorialized Joe a bit, so I'll finish with a collage that includes some mutually embarassing images from the 70's. And for all those help calls (and for the future owners of Furly B) I say "Thanks, Joe!"