RMC Island 40, off the grid house boating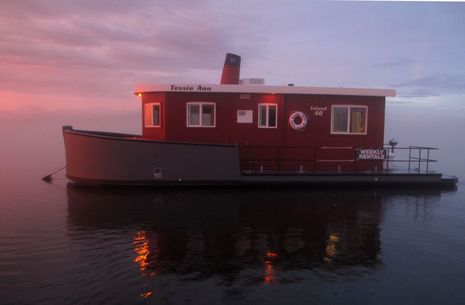 That somewhat odd looking "waterborne structure" is Robinhood Marine Center's first Island 40, designed to give renters who may only have small boat skills a wicked nice Maine cruising harbor experience, as in swinging on a mooring with seals, osprey, lobster men, and cruisers for neighbors, with good exploration possibilities in all directions (and with a pleasant "destination" marina nearby). And it's a hoot! I'm sitting at the Tessie Ann's spacious aft dinette right now, enjoying a cool sea breeze and the use of a well thought out battery/inverter/solar panel system…
Seeing how the Island 40 is set up for a week at a time on a mooring (between renter turn arounds, when she's towed in to the floats) is interesting for a cruiser like me with power issues, but a renter doesn't need to understand much about the systems. In fact, the operating manual says to leave them all on, even the ProSine inverter below, which draws virtually no 12v unless it senses a load. (That was a slight problem for my netbook power block, which kept cycling the ProSine on and off until we added another small load.) The propane-powered heating, cooking, and refrigeration systems, normally seen on RVs, are unfortunately not suitable for a real boat, because they work well and fairly efficiently (I think).
At any rate, Andrea and I spent a complimentary weekend on the
Tessie Ann
because I expressed so much enthusiasm about the concept when it was unveiled at Maine Boatbuilder's Show in March (and because I'm going to write about it in
Maine Boats, Homes & Harbors
). Despite some wet weather, my enthusiasm remains. I believe that a big portion of boat enjoyment is just being in places like this, and the Island 40 is a heck of lot more comfortable than many boats. I'll add some more info and photos when I get home, but take note that this first season,
you can rent this for as few as three nights
, very reasonably too. Highly recommended!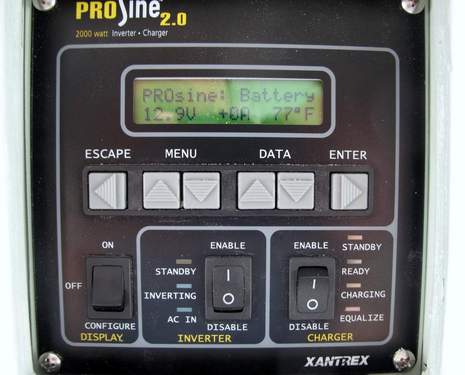 PS The
Tessie Ann
comes with the use of the fine 15′ outboard and rowing skiff seen below, but it would be great to bring along your own kayaks and/or a larger outboard. Both sides of the Island 40 are set up for tying off small craft, in fact, and
Riggs Cove
is central to all sorts of shallow and deep water cruising, striper fishing too. While you don't have to be an experienced cruiser to enjoy this vessel, many will appreciate how trouble free and comfortable it is, and also the gentleman responsible for this unusual concept…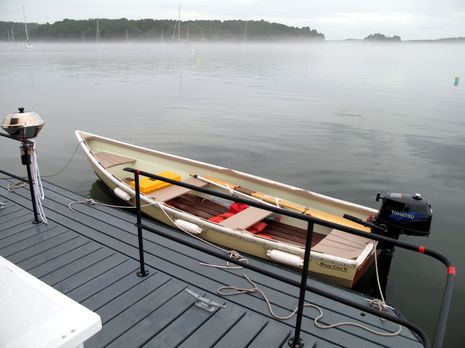 That would be Andy Vavolotis, who founded and ran Cape Dory Yachts for some 28 years and 2,800 sail boats, and has now owned Robinhood Marine Center even longer. And he's never stopped building things, as can be seen in RMC's fun and historic out buildings, and the wild array of multihulls hanging from the ceiling of one large storage shed. The skiff and the Tessie Ann, named after Andy's mom, are the latest, but certainly not the last.