Gizmo's big work & play display, advice please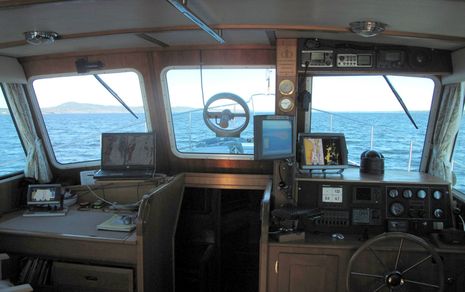 I'm a little spoiled. The home office where I do most of my online research, writing, and photo editing work is equipped with a pair of fairly spacious Dell monitors — 24- and 20-inches — where I can spread out the various PC programs I use, not to mention a full-sized wireless keyboard and a really good chair. For over a year now I've been trying to figure out how to best replicate those work station ergonomics on board Gizmo. I'm imagining a single 25- to 30-inch LED backlit screen which could also be used to test navigation programs and perhaps watch TV or a movie on occasion, but the problem is where to put it without destroying the lovely aesthetics of the salon. Well, I think I've come up with a fairly brilliant scheme in that regard, but I'd really appreciate some help with the hardware decisions…

First let me note that the photo above (which you can click bigger) illustrates a testing day and does not represent the screen acreage I care to have in the same space that's also our living and dining room. In fact, I'm thinking of replacing that salty Clear View Screen with a regular wiper to get even more uncluttered view lines. (It even has a built-in defroster, so high latitude cruisers might want to make an offer!). I spent a lot of time researching wall and ceiling monitor mounts with the idea that I could fold and bungee a big screen against the overhead when not in use, though nothing seemed like it would work well.

But now I have a better idea anyway, I think. See that lovely cherry chart table with the large, strong and well-hinged lid opening over a chart locker about 5 inches deep? I believe I can mount an LED monitor or TV as big as 32″ on the underside of that lid, plus make the face of the locker removable revealing a pull out keyboard and mouse shelf. Thus the whole PC rig would be completely invisible when not in use, but just by securing the lid at 90 degrees, I'd have a very modern electronic chart table. Is "brilliant" an overstatement, or am I nuts?

Whatever screen I get has to support the VESA wall mount standard so I can use a bracket like this Cheetah, and I need to be mindful about needed connectors that exit directly out of the back. But should I get a monitor or a TV? Having a built-in tuner might be fun and I've seen a 32-inch Sony HD TV display VGA computer input well, and I think HDMI can do better. Then there's the AC or DC question. I understand that some displays can even run right off 12 volts and others can be converted with a DC-to-DC voltage transformer, but there's not much point if I can't also find an small, efficient 12v PC that's got guts enough to run, say, MaxSea TimeZero. Plus I already have a pretty good inverter, with a better one possibly in the cards.
At this point I'm liking the ASUS VE278Q monitor because it's earned good Amazon reviews and has a backside design that should work with my install scheme. But there's also the Vizio M261VP, which not only has an HDTV tuner but also built-in WiFi and apps so that it could stream Netflix all by itself, at least theoretically. It still claims a max of 400 nits brightness and 40 Watts of average power consumption, and its reasonable price makes me wince about past monitor purchases. These are good times for buying consumer grade screens, but what should I do? Any advice on a small but powerful PC to go the screen would also be welcome. Thanks!