Humminbird Extends Range of Best-In-Class Imaging With New MEGA Imaging+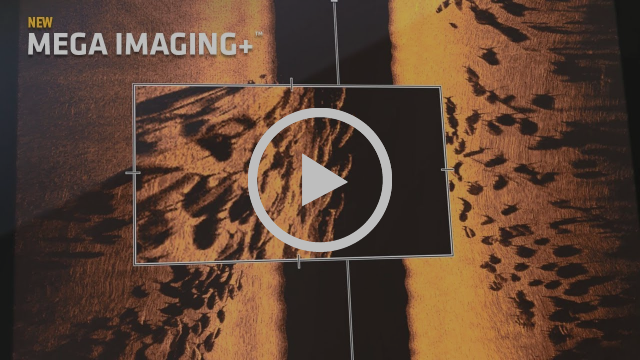 RACINE, Wis., Nov. 12, 2018 – Humminbird® was the first to take sonar into the Megahertz range with the launch of MEGA Imaging® in 2016. Now, Humminbird announces MEGA Imaging+™ which allows anglers to see beneath the water's surface even further, providing the most accurate representation of structure that's ever been seen.
MEGA Imaging+ gives anglers the ability to see out 200 feet to each side, and 200 feet below the boat crisply and clearly. The extended Side and Down Imaging® ranges provide greater accuracy in identifying fish and fish-holding structure and make scouting time shorter so anglers can spend more time fishing the most productive water. MEGA Imaging+ unlocks more fish and structure with 20 percent more detail than standard MEGA Imaging sonar.
"Our product development team's dedication to providing anglers with the clearest, sharpest imaging returns continues to produce industry leading technology," said Joe Brown, senior director brand management, Johnson Outdoors Marine Electronics. "The evolution of our MEGA Imaging technology provides extended coverage for anglers, so they can locate more fish at greater distances from the boat."
The new imaging technology is available on select third generation HELIX 8, 9, 10 and 12 units, and second generation SOLIX 10, 12 and 15 units.
In addition to MEGA Imaging+ for the sharpest, most detailed screen images in fishing, the units also utilize Dual Spectrum CHIRP, resulting in greater clarity, improved target separation and reduced noise for more accurate identification of fish and structure.
The combination of MEGA Imaging+ and Dual Spectrum CHIRP delivers the finest details beneath the water's surface, and is the most accurate representation of structure that's ever been seen.
For more information call Humminbird at 800-633-1468 or visit http://www.humminbird.com/.