Icom M412, best DSC channel switching control?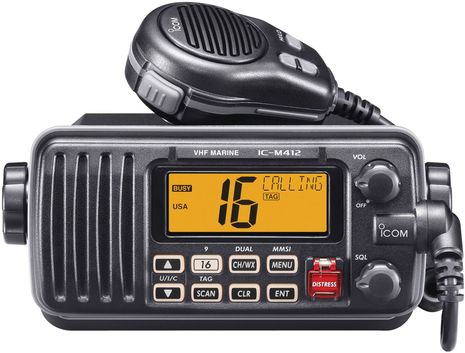 The Icom pitch for its new IC-M412 is straight forward — "Compact, Easy to Use and a Great Value" — and probably quite true. You could argue that Standard Horizon's new GX1600 is even more compact, and its GX1150 even a greater value, but the bigger picture is that the two big VHF manufacturers now have small Class D DSC radios at pretty reasonable prices (though — darn it — neither has yet adopted NMEA 2000 interfacing). But there are at least two subtleties to the Icom M412 worth noting…

For one thing, the M412 will purportedly play nicely with Icom's MA-500TR Class B AIS transponder, which means it will be easy to integrate them (using NMEA 0183) and to make a direct DSC VHF call to a selected AIS target. (Incidentally, I don't know why the MA-500TR, which was announced a year ago, is still waiting FCC approvals, but I'll guess that it will be available soon.)
You have to dig into the M412 manual (downloadable on that product page) to understand how it deals with the issue of your radio automatically switching to channel 16 upon receipt of a DSC distress call. Issue? Well, please recall our discussion when the USCG put out an alert on this matter last May. Note also the strong desire to turn off auto switching expressed by commenters to that recent Standard Horizon entry. As I commented myself there, I like Standard's approach — which doesn't let you turn off auto switching altogether, but does give you 10 seconds to either pause or quit an auto switch if you're doing something critical with your radio. But it looks Icom expands on this idea, letting you set the switch/no switch decision period all the way from 10 to 600 seconds if you want. You can also turn off auto switching on the M412 altogether, but I'm hoping most operators won't given that they can set a long period during which they can accept or cancel a channel switch. After all, in most circumstances wouldn't you want to hear what someone in distress has to say on 16?