inReach SE, will the screen do it?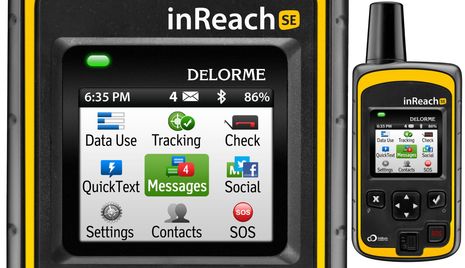 I was so focused on finally heading north that I forgot the April 1 announcement of DeLorme's new inReach SE, even though one standard step in getting Gizmo underway these days is firing up the original inReach for tracking, messaging, and much more (as discussed here last fall). But my forgetfulness does not indicate a lack of appreciation for the new model (which I've already handled briefly in prototype form). To the contrary, I think the SE (Screen Edition) will likely make a lot of boaters as enthusiastic about the whole inReach concept as I've already become…
Just putting the color screen on the inReach makes it a lot easier for people to understand all that the system can do. It also makes the handheld a lot more versatile. A user will now be able to have a two-way text conversation with a search and rescue center without needing a smart phone or tablet attached via Bluetooth, which might not be possible in the circumstances. Similarly it will now be possible to type a custom email, Tweet or Facebook entry — with your position and a link to your mapped position — while, say, sitting on the rail of a racing sailboat (the SE is IP67 waterproof). Plus you won't need to remember various flashing LED signals to know if you have an incoming message or that tracking is enabled…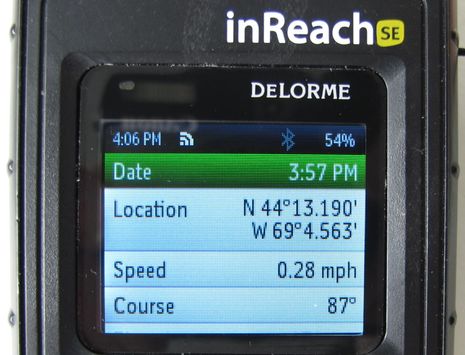 I found the screen quite readable in daylight but can't really report on how well the onscreen keyboard works because the rocker button was very much a prototype. It looks clever, though, with a virtual keypad and predictive. Besides, the SE does have Bluetooth and can work fine with the Earthmate iPad app that I've found excellent for (at least my kind of) boat use. But it's only via the app that inReach works for alternate navigation. Some hiker/biker types like Rich Owings of GPS Tracklog are disappointed that the SE's screen can't show maps, tracks, and routes but apparently DeLorme is saving that level of "all-in-one" for another day. In fact, I think that only way you can see what the SE's GPS is up to is to dig into its saved track points as show above…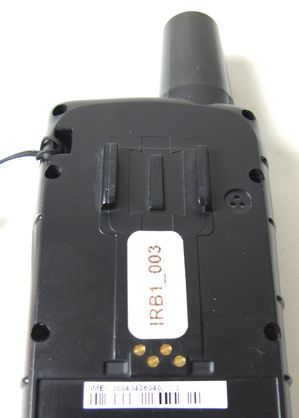 Hikers probably aren't excited the SE's lithium polymer battery and built-in mount bracket either, but they're great for boaters. The battery claims a 100-hour life with 10-minute tracking enabled and is charged via a micro USB port (that's purportedly waterproof). Thus the Auxiliary Power Adapter I'm using with the original inReach won't be necessary and RAM will no doubt come up with a simpler SE version of their current inReach mount systems (I'm using sticky-back Velcro ;-). Note that the total cost of the power adapter and original inReach is more than the SE's suggested $300 retail.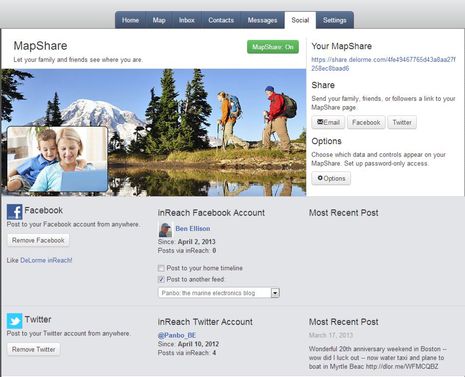 Meanwhile, DeLorme has vastly improved the Explore web site where inReach owners can manage their account, see all their tracking and messages, and set up Twitter and Facebook satellite feeds if desired (as shown above). When I was back in Maine I also got a chance to see an impressive "enterprise" account that included multiple inReaches and that can be enabled with one minute tracking and other enhancements. Also improved is the inReach Share Map which you can set up so that friends and family can follow your tracking including some forms of messaging like Reference Points. Below is an EarthMate iPad screen of where I was yesterday morning but now I'm in Beaufort and headed soon to an Oriental creek to sit out a gale. Check out Gizmo's inReach Share Map to see how that goes.