Learn About Internet and TV for Boats & Yachts at KVH Educational Seminars 5/14 and 5/20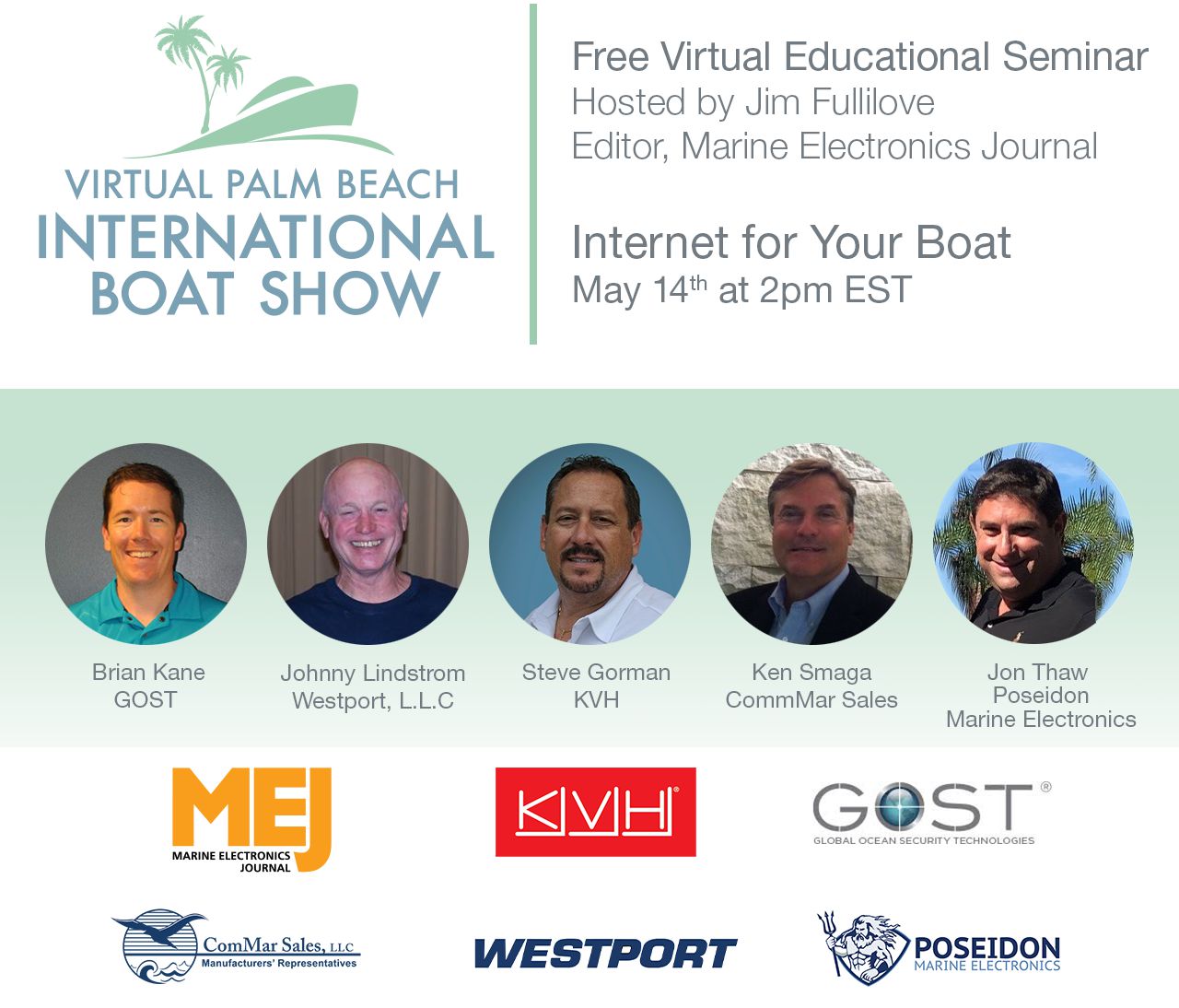 As part of the Virtual Palm Beach International Boat Show, marine electronics leader KVH is presenting two free virtual educational seminars on the topics of bringing Internet and satellite TV to the boat. "Even though boaters can't go to the Palm Beach show in person this year, the virtual webinars are a great way to get information from the top experts in marine electronics to help make their time on the water even more enjoyable with connectivity and entertainment onboard," says Jim George, KVH's senior director of global leisure sales.
The panelists for each seminar include marine electronics installers and manufacturers, technicians, and boat manufacturers, representing a wealth of expertise for answering the types of questions most often discussed during boat show season. Jim Fullilove, editor of Marine Electronics Journal, will be the moderator for the two seminars.
May 14, 2 pm: "Internet for Your Boat." Click to Register. Panelists for this discussion about connectivity solutions are: Brian Kane, Chief Technology Officer and Co-founder, GOST, and Vice Chairperson, NMEA Board of Directors; Johnny Lindstrom, Electronics System Designer, Westport, L.L.C., and Chairman, NMEA Board of Directors, IMEA Board Chairman; Jon Thaw, Co-Founder, Poseidon Marine Electronics; Ken Smaga, Regional Vice President, ComMar Sales; and Steve Gorman, Senior Field Service Engineer, KVH.
May 20, 2 pm: "Television Onboard Your Boat." Click to Register. Panelists for this discussion about bringing satellite television on the boat are: Justin Abernethy, Vice President of Operations, Ocean Alexander; Chuck Cashman, Chief Revenue Officer, MarineMax; Marc Curreri, Founder and President, Marine Professionals Inc.; and Ken Lokey, Senior Customer Experience Advisor, KVH.
For more information about KVH marine solutions for boats and yachts, please visit the KVH website. For news updates, follow KVH on LinkedIn, YouTube, Twitter, and Facebook.