LowranceNet 2, look what's in the basement!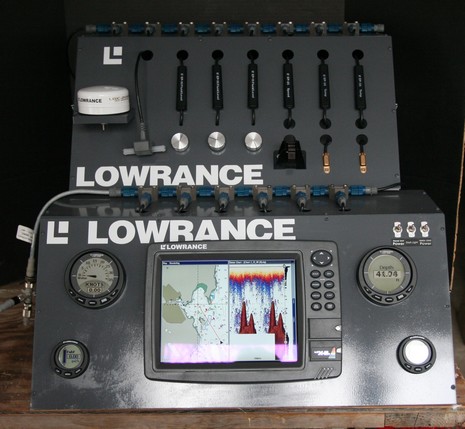 Check this out (big size
)! It's the most elaborate test setup a manufacturer ever loaned me, and I learned a lot from it. What you're looking at is a LowranceNet (aka NMEA 2000) network suitable for, say, a spiffy T-top fishing boat. On top are the sensors: GPS, fuel flow, 3 tank levels, water speed, and 2 water temps. On the bottom are 4 digital gauges capable of showing most any data on the network, plus the LCX 111c HD (hard drive!) fishfinder/plotter, which can also display gauge type data. It all works together quite nicely, and in Miami I got a ride on an actual T-top equipped with all this gear plus a pair of NMEA-2000–talking Evinrude Etec outboards. I saw smooth data integration across the network, with flexible and redundant displays. Oh, there's a kink or two, which I'll write about later, but today I want to address my earlier concerns about LowranceNet. If you recall, most of the gear above is NMEA certified but the backbone plugs and cabling are not. Back in Oct. I understood there'd be some resolution to this issue, but so far…nothing. However, I've been told by a Lowrance engineer that this cable, though much smaller and less expensive, meets the same specs for shielding, etc. as the certified stuff I tried last summer. Some of which I'm still holding on to (thank you, Raymarine and Maretron). That's why I was able to try a simple patch cable (above at left) to connect a regular NMEA 2000 device to the LowranceNet backbone. I was even able to marry the Lowrance backbone to the certified backbone with various Maretron units and an E120 hanging off it. Everything powered up and was relatively happy. I do hope Lowrance can get its cable fully legit, but if it works fine—and it seems to—does it really matter?