Maretron N2K tank level calibration, nice!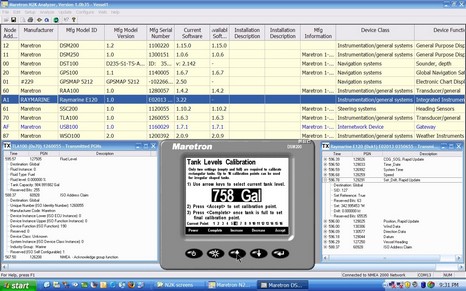 I recently added tank level and rudder angle info to the lab's NMEA 2000 network. In both cases this involved wiring a Maretron Adapter to a standard analog sensor. N2K skeptics will no doubt gleefully point out that the two sensors—a VDO for the rudder, and a Teleflex for the tank—together cost about half the $195 list price for either the Rudder and Tank Adapter! But consider what I got in terms of a bigger boat system.

Just connecting each adapter's two wires put the tank and rudder information on the Raymarine E (below), on the two Maretron displays in the network (of course), and, get this, via N2KView onto my home megayacht Ethernet/WiFi network where I can monitor it anywhere (more on N2KView coming). Even the Garmin 5212 can use the fuel level info as a gauge, though it can't seem to show it as percentage or in total gallons, and it doesn't display rudder angle at all (but supposedly that's all coming).
Perhaps even better is the easy yet sophisticated calibration possible, particularly with the tank adapter. Of course you do need a Maretron display or its USB Gateway and the N2KAnalyzer/DSM simulator software discussed recently. Check out the full screen shot, which shows me in the act of custom calibrating a (pretend) odd-shaped tank by recording up to 16 data points as I "fill" it. I've also opened a window on the "Fluid Level" PGN the Adaptor is sending. You can see Tank Capacity, Level (0 before I began the calibration routine), Type, and Instance. "Instance" is how you deal with multiple tanks and, though neither the E nor the 5212 give you much control over this stuff, both did presume Instance 0 info meant Fuel tank1 and Instance 1 Fuel Tank 2.
Also note the window on the lower right of the screen shot, which is showing the PGNs that the Raymarine E is sending into the network. I was pleasantly surprised the other day to see that—though it's getting all the underlying data off the N2K network—it's still adding back Set and Drift calculations because they aren't already there. Never mind for now that nothing else on the network will display the Set and Drift, they could! Perhaps I've gone a little too deep into N2K minutia here, but those of you still with me might like to know that NMEA recently put up a PDF list of standard PGNs. Enjoy!