MarineTraffic.com, appreciating the nuances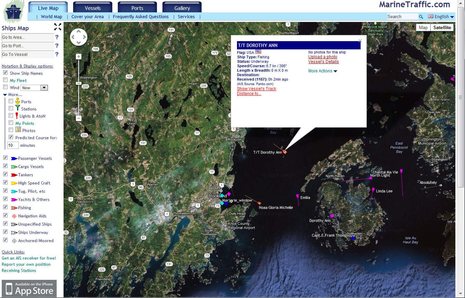 "Panbo is great, but Ben is so nuts about AIS!" That's some feedback from an electronics installer that a friend passed along and I can only plead guilty. In fact, it's getting worse. Sure, I'd like to think that I recognized the safety value of AIS early and that all my reporting on the birth and proliferation of Class B transponder has been worthwhile. And you'll hear about more testing of the new AIS SARTs and MoB devices soon. But recently I've also been getting deep into the fun side of the technology — dare we call it social media? — and I want to share some things I've learned about MarineTraffic.com…
People who like boats are generally wowed the moment they zoom into MarineTraffic's global tracking map, which includes nearly 50,000 AIS equipped vessels on average, particularly if an area they know is covered by a volunteer listening station. But besides all the real time tracking, MT is a massive database of boat info that can be accessed and added to in all sorts of ways. A simple feature is tracking, which you can get to by first clicking on a target. That's how I got from the screen at top when I was curious about T/T Dorothy Ann. (Note on that vessel info screen how the "AIS Source" is Panbo.com; in your waters that could easily be the name of your marina or towing operation or whatever, as discussed here).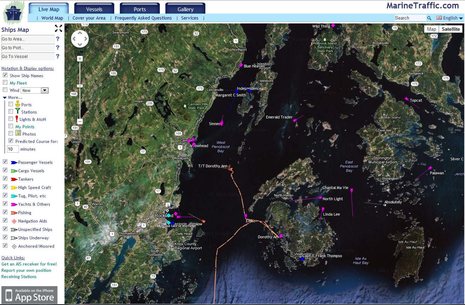 Note on this screen that my favored viewing setup is "Show Ship Names" with a 10 minute Predicted Course line, but I sometimes change those at different levels of zoom and traffic density. I rarely use the vessel type filters, but they're useful if, say, you're trying to find the dozen pleasure boats among the thousands of AIS targets around Hong Kong. At any rate, the track of the tender/to told me a little story about how it and its mother ship had just arrived in the Bay. And while MT has no photos of the T/T (nor its size, though I'd guess it's big center console tricked out for fishing since someone chose "Fishing" as its vessel type), there are a couple photos of Dorothy Ann…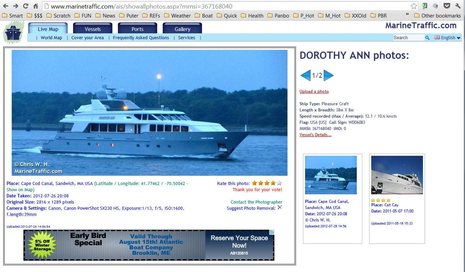 I imagine that this is one of MarineTraffic's most popular features. AIS has nothing to do with photos, of course, but a boat's unique MMSI makes them easy to database. And MT generously encourages high resolution uploads and it also protects the photographer's rights even while letting viewers rate their work and suggest deletions. To continue with the little story — though at risk of sounding like a yacht-spotting snob — I now know that this big yacht is not one I'd go far to ogle. But MT has already tipped me to some boats that I really would like to see in the flesh and it's going to help me find them thanks to a feature called My Vessel…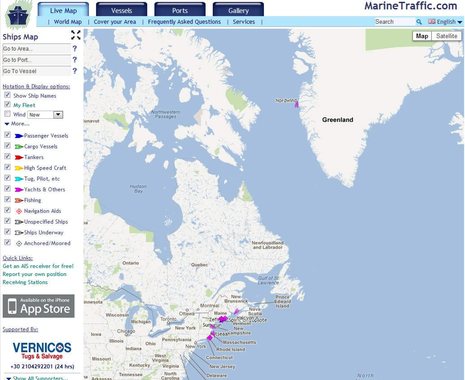 You need to register on MT to use My Fleet and many other services, but it's free and painless. Then when you are looking at the Vessel Details of a boat you want to keep long term track of — like Wind Horse, which I greeted with email (thanks to MT) as the Dashews made Rockland last night — you just click on "Add to My Fleet". The benefits are many. If you just check "My Fleet" on tool bar above left, MT leaves realtime tracking mode and zooms in or out to show the last known position of all the boats you're interested in. This is useful just in terms of navigating around MT maps, but more important is seeing a boat that's cruised beyond the range of listening stations. Some information about its whereabouts is usually better than none, and My Fleet is easier than using the Vessels/Search All function, though you'll find recent tracks there too.
Also, once a boat is in your fleet you can enable all sorts of notifications for it. I was tickled to get an MT email Monday night letting me know that the classic yawl Nordwind I wrote about recently was departing Nuuk, Greenland, which I watched on MT's iPad app. You can see that track yourself from Nordwind's Itineraries page (at least for a while) and note also that she was last tracked this morning up near Disko Island. (On a per capita basis, Greenland has many more AIS receiving stations that most places but nonetheless Nordwind may not show up on MT for a long time if she really can make it into and through the Northwest Passage.)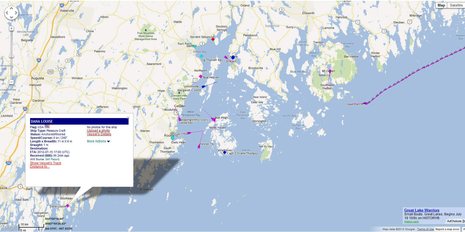 As fun as MarineTraffic can be, it used to be that it only showed vessels that have AIS installed and are within reception distance of a volunteer shore station like mine (which varies a lot with both with equipment and weather). But that situation has changed dramatically with the advent of cellular-based "pseudo AIS" apps like MT's own mAIS and Boat Beacon, which I enthused about in May. I'm even more enthused about them now. Besides myself, I've gotten several people to try mAIS (it's the free one) and it's worked very well for them. On the screen above you'll see Panbo reader Brian Strong transmitting the position of his PDQ power cat from Boothbay, for instance (note the AIS Source is "Self Report"). And while I don't know the crew of CloudDancer — the sailboat going upwest from Downeast — but it's self reporting too and has been for weeks of what's looked like a great Maine cruise. Plus my brother-in-law tracked his Grand Banks Brilliant all the way from Cape Cod to here and beyond using both mAIS and a regular Class B, which MT integrated the two sources seamlessly. (Boat Beacon also works fine, doing what mAIS does plus providing its own AIS tracking screens; and the Android version just arrived.)
AIS transmitting via cellular really works, costs virtually nothing, and is a great way to let your friends and family follow your cruising, among other thing. Once understood I think the concept will grow rapidly and will also boost interest in tracking sites like MarineTraffic. For instance, when I "watched" some of the Castine Classic Yacht Race yesterday on MT I was only seeing the boats with real AIS — though they happened to be a trio of amazing Fifes like the just- relaunched Adventuress. But how many of the other boats had at least one Apple or Android phone on board? Yes, it's very likely that the entire fleet could have been transmitting their positions and also tracking eachother as the day went on. I don't think this has been done yet in a race or group cruise, but I don't see why not.
So we're going to encourage everyone to try mAIS and AIS tracking during the Penobscot Bay Rendezvous which kicks off in two weeks. You may recall that I'm helping to organize the PBR's powerboat events and will also be participating, so I'll have good chance to report on this experiment. (YES, there's still room for more PBR participants, and it's cool here too: come on up!)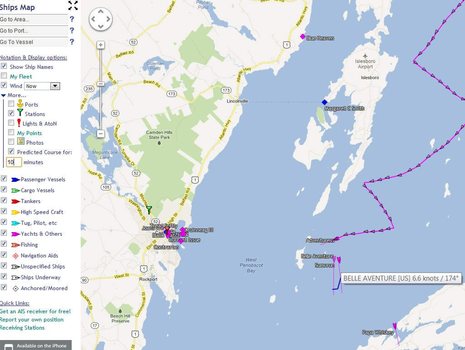 PS 8/6: As Dan points out in the comments there are also uses for MarineTraffic that aren't in the "fun with AIS" department. I witnessed one yesterday. Well, witnessed in the sense that I was out there in thick fog and could see the 200 meter bulk carrier Nord Peak crawling up the Bay's shipping lane at 6 knots on AIS and radar. I could also hear the Pilot on board regularly issuing security calls on VHF 16. But apparently a boat crossing the shipping channel east bound decided he had the right of way or didn't know the Nord Peak was there. At any rate, I've never heard a Penobscot Bay Pilot speak so sharply to another vessel and apparently he felt it necessary to put ship "all aback". No collision took place but it was close, and half the situation is documented on MT's Nord Peak track record, as partially shown below. The shipping channel does not have a bump in it like that and ships like this never go so slow if they can help it.