Mas-Technologies M200, analog Yanmars to NMEA 2000??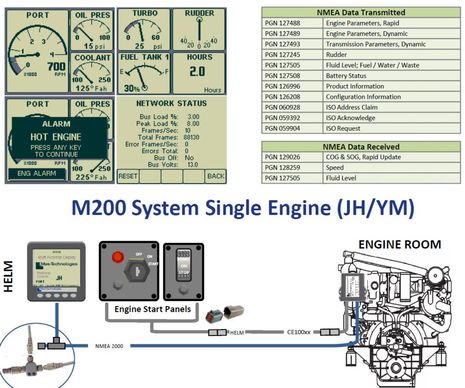 Thanks to Panbo reader Jeffrey Schwartz I just learned about the Mas-Technologies M200 system, which looks like it can neatly translate analog sensor data from Yanmar model JH, YM and LP diesel engines into NMEA 2000 PGNs that can be read by many displays, including its own. The system — which starts $1,469 — can also read four analog tank sensors and a rudder indicator, dual engines are supported, and Mas-Tech also offers start panels and even a wired shift-and-throttle remote. But something seems odd…
As best I can tell this system has been around since 2009 but I'd never heard of it and there's hardly any references to it on the Internet. And it's not that Mas-Technologies is a small company, given that it's part of the Mastry Engine Center, which bills itself as "the team to turn to when faced with challenging marine diesel powertrain applications and installations"… with "a network of over 140 authorized dealers." But you'll have a hard time finding anything about the Mas-Tech M200 on that main site (except in the What's New section). What gives?…
People who do somehow stumble on that M200 page will find PDFs of product brochures and a pretty thorough manual, and that analog-to-NMEA 2000 box above, which comes with mounting plates, certainly looks serious. I'd imagine that a lot of Yanmar owners would be interested in this product, and when I was dreaming of buying a twin engine power cat I was hoping I could find a remote control pretty much like the one below for docking and anchoring. And I gather that Jeffrey Schwartz is happy with the M200 he's installed on his Beneteau OC 400 with display on a Lowrance HDS7. Hopefully, Jeffrey will his thoughts about why this system isn't used much and almost seems dead in terms of marketing.
One negative that is fairly obvious is that the M200 is not NMEA 2000 certified. I guessed that from the literature's coyness about the Standard and confirmed it with NMEA certification database. While I can name lots of NMEA 2000 products that aren't certified but seem to work fine, let's save that conversation for next week. Today I'd like to know if anyone except Jeffrey has experience with the Mas-Technologies M200 system or knows why Mastry Engine Center is so quiet about it.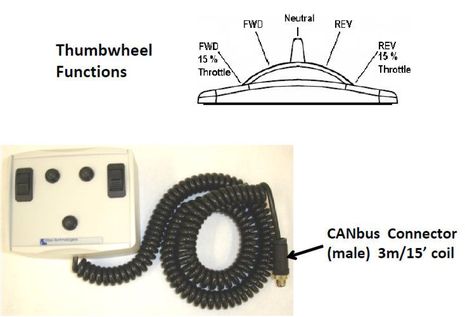 PS, 5/23: Here's a photo of Jeffrey Schwartz's HDS7 showing all sorts of Yanmar engine data translated into NMEA 2000 by his M200 system (see comment below).