Navman 8120, is the "C120 killer" dead?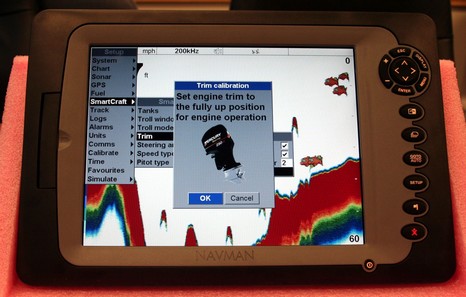 I don't know why I haven't mentioned the Navman 8120 before, because I surely was impressed when I had a chance to fool with it last December. But now it's particularly noteworthy as the company supposedly has a "For Sale" sign on the door (s). Navman has good online dope on this single station multifunction display that was reportedly dubbed the "C120 Killer" during development, and for now I'll just note that it really does challenge Raymarine on features and value. What I want to point out today is how very neatly it interfaces with SmartCraft, i.e. Mercury and Cummins engines built by Brunswick. Check out bigger versions of the screen above, and below. Navman told me they don't like comparing that "Troll control" to cruise control, but have you ever seen anything like that on a plotter/fishfinder/radar? Cool stuff.
Now some questions. If you were buying electronics next week, or advising someone about it (as I know many of you do), would you go for a company that is in transition, even if its product looks terrific? That's why Brunswick's announcement seems strange, even dumb. But, what if we learn next week or next month that Navman and Northstar will soon belong to a large and respectable marine electronics company that has never offered navigation gear before? That might seem smart indeed. Have a great weekend.