NavNet 3D, the buzz continues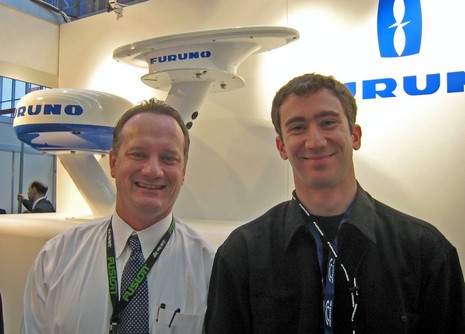 Above are Furuno Product Manager Eric Kunz and MaxSea developer Iker Pryszo at METS, where they had good reason to grin; Furuno's booth was as jumping in Holland as it was in Florida. I can't recall a marine electronics product that's ever generated such a buzz. This comment from Milt Baker—"I thought NavNet 3D was the big hit of the Lauderdale show and I believe it will have a huge influence on the course taken by the marine electronics industry in the years ahead."—is representative of many I've heard. And NN3D admirers include the best informed and most critical group I know…the product managers at Furuno's competitors.

But the latter do rightfully point out that 3D isn't shipping yet, and once installed with lots of network sensors may not be as blindingly fast as it seems now. We shall see. In the meantime, I came across a video that does a good job of showing what NN3D "Time Zero" means, available below thanks to Power Cruising magazine. There's also some good test footage on Furuno's new radar, and that SC30 Sat Compass over Kunz's head, filed under "FurunoLab" at YouTube, plus the tutorials at NavNet.com and of course Panbo's non video coverage. There's a lot to learn about NN3D, and tomorrow there'll be even more, in a sense, as MaxSea introduces its own PC version of this technology at the Paris Boat Show. I'm not in France, but I'll be here with some details.