Milt Baker, Bermuda bound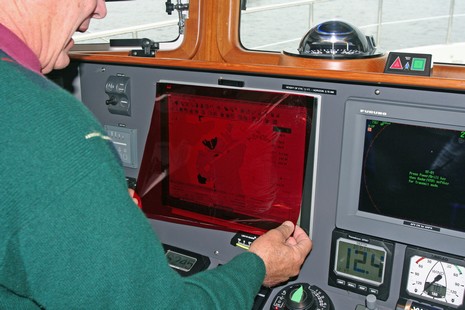 I'm working on a Voyaging profile of Milt Baker's Bluewater helm, which makes it particularly propitious that he and Judy are this minute sheparding a fleet of nine Nordhavns convoying to Bermuda from Ft. Lauderdale. Three, including Bluewater, will continue on to the Med, hence the rally name Med Bound 2007. There are supposed to be daily updates accessible from this Web page, but the fleet's Yahoo group seems more current right now. But I'm also getting Milt's email noon reports, which yesterday included some rhapsodic words on AIS. Six of the nine boats have Class A transponders (Bluewater a Furuno FA150), which is making it easy for Milt to monitor the convoy, and passing ships to understand what's going on.
Milt, by the way, is using OCENS Mail with an Iridium phone to e-mail from offshore (but note that Globalstar announced today that it just got four replacement birds up, which should improve its service situation). Note too that while Milt generally uses high end gear—with backups for the backups!—he's also the guy who questions the need for big radar scanners. Which brings me to the picture above. That's Milt showing me how he deals with a drawback of using conventional, if inexpensive, monitors on a bridge. The 15" View-Sonic LCDs can't dim down enough for night running, but Milt took care of that with some sticky back hook-and-loop and red gel. Now, what I just noticed in these photos, and can't find on the Net (or ask Milt about right now), is that odd doodad next to the compass. I have a feeling that it's some sort of nav aid reminder—and no doubt useful if Milt's got one—but how exactly does a Marker Mate work?