Bluewater, belt and suspenders, another belt and…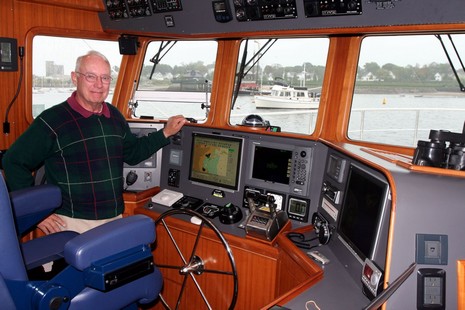 Above, and bigger here, is a proud Milt Baker at the helm of his Nordhavn 47 Bluewater, a just-one-year-old vessel that he and his spouse Judy have already cruised over 7,000 miles. The couple were already very experienced when they founded Bluewater Books & Charts in the mid 80's (coincidentally their last Bluewater was a Grand Banks 42, like the one outside the window in Rockland, Maine, on the drizzly day I visited). Now, in retirement, they are really out there doing it; this vessel is meant to take them to Europe next spring. Milt gave me a good systems tour but fortunately I don't have to repeat much of it as he's put a complete electronics list, even PDFs of the layout (that he designed in AutoCAD), at their BluewaterNav Web site.
Now I like "belt and suspenders" as a folksy expression for redundancy, but it doesn't do justice to Bluewater. Let's see: Two complete autopilots, every component; two 10.4" Furuno NavNet MFDs, networked but each with its own radar scanner, plus a 7" in the master stateroom; and a laptop running Nobeltec Admiral to twin 15" monitors, with three backup Admiral-loaded laptops on board! There's more redundancy, and more Bluewater gear to write about, but can we agree that it's very unlikely this boat will drop its navigational pants?