NOAA erases the Magenta Line, will crowdsourcing step up?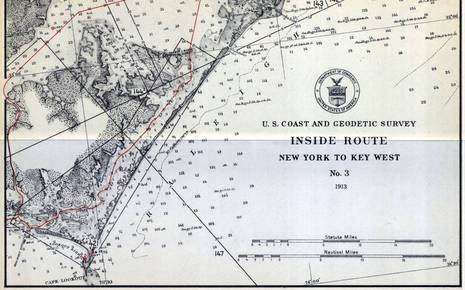 When Peter Swanson called to say he'd just become PassageMaker's new editor-in-chief (which he'll be great at, I think), the conversation soon turned to our strong mutual interests in cruising, electronics and charts. That's how I finally learned that NOAA has started to remove the magenta chart lines that guide many users of the Intracoastal Waterway (ICW) and that they may never be replaced. Peter wrote about the issue in August, and NOAA recently put up a notably well-crafted Federal Register article that seeks more comments from the public. That's where I learned that the brightly colored "recommended route lines" began on a 1913 chart series called the Inside Route Pilot — fascinating sample above, full size here — and that the lines haven't been comprehensively updated since the 1930's, when taxpayers spent a lot of money expanding the ICW (and creating jobs)…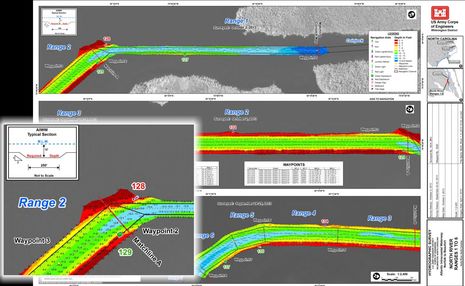 While I had no personal plans to use the ICW Magenta Line this season and I already know from experience that it does not always mark the best route, I'll still miss it if it's not on my charts when I head south again next fall (hopefully). So should NOAA remove it because it's old and inaccurate, or spend a lot of money improving it, or is there another choice? The BoatUS site is loaded with relevant material and I was particularly struck by Bill Parletore's recent Magenta musings in which he learned that responsibility for the Line somehow got lost between NOAA and U.S. Army Corp of Engineers (USACE), which now manages the Waterway. Then I found Tom Neale's recent BoatUS entry which led me to interesting data like the above USACE survey of North Carolina's North River.
   While it's heartening that much of the ICW — or AIWW in Corp speak — has been surveyed in such detail, isn't it odd that there's no reference whatsoever to the relevant NOAA charts?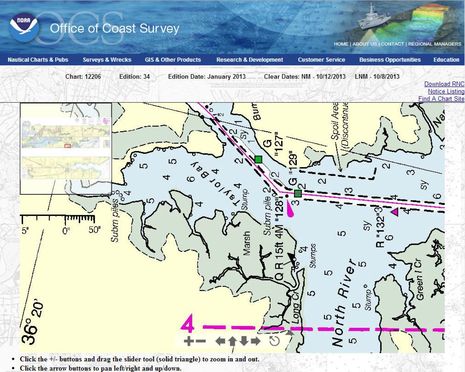 Well, above is the current Chart 12206 in NOAA's online viewer and a detail I notice is how the Majenta Line favors G "129" and then runs well past Q R "128" while the USACE survey doesn't at all suggest those nuances. The scales are obviously very different, but couldn't there be some efficient way to get timely use of the Corp's excellent data into our electronic navigation tools?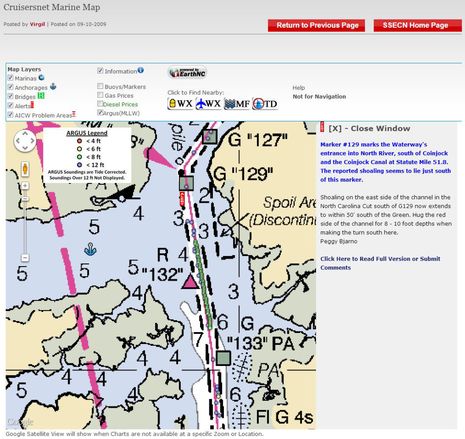 Of course, there are several crowdsourcing projects at work on this problem, like the Survis Argus depth data seen overlaid on the Cruisersnet online chart above (where there's another Magenta Line conversation happening). I guess I understand why NOAA won't accept Argus as "valid" data — which was Survice's original hope (Panbo discussion here) — but again, wouldn't it be nice if the soundings info was available in other ways?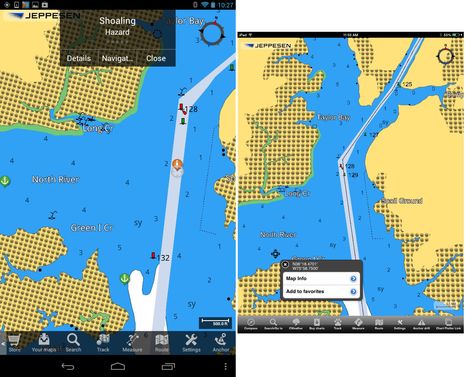 Like the Cruisersnet Alert seen above, there's an ActiveCaptain Hazard marker for the area just south of R 128 turn. Its details and the 13 related comments (as recent as late August) are available in many charting apps, including the Android version of Jeppesen Plan2Nav. Note the Plan2Nav C-Map doesn't show the Magenta Line, but I suspect that's just a temporary glitch as it shows up fine (though in black) on the iOS version (note also the real life screen resolution difference between a Nexus 7 and an iPad mini, though the mini screen is larger). Note also how both Cruisersnet and AC have good information on anchoring well into the North River, a lovely spot I enjoyed in April.
   But I chose this North River example in a pretty random fashion — it was one of the first Corp surveys I downloaded — and thus, it seems even more interesting that the "shoaling" problem may really be more of a charting problem. The ACE survey suggests that there would be no real issue here (for vessels drawing less than 8 feet) if the dredged channel and nav aids were charted more accurately.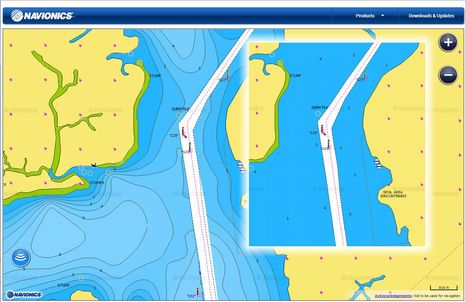 I also checked out this area via the online Navionics Webapp (which won't let me link to a specific place, but is wicked fast). The main screen shows the chartmaker's newish SonarCharts, which purportedly include the various bathymetric data sets that used to be called Fish N' Chip, along with the boater-submitted soundings that were first called UGC 3D when we first discussed them in 2012. As best I can tell there's not much user data in SonarCharts yet, but I know that Navionics is working hard on the issues of data compatibility and easy uploading. Wouldn't it be neat if you could flip from the regular Navionics chart view (that's inset above and faithful to the NOAA equivalent) to a SonarChart that showed what recent depth sounders had seen inside and outside the "dredged" channels?
   I'm also hopeful that one day we'll have chartplotters so powerful that while calmly cruising the North River we can open a window on, say, NOAA Historical Chart 1229, which shows that our 1913 forebearers had at least a little more information than the Inside Route chart that begins this entry. (Partial app solution discussed here.) But I'm not yet sure what I say to NOAA about the Magenta Line. While I definitely agree with the many cruisers who find the Line to be a useful general indication of where the ICW runs, especially when it crosses large water bodies or intersects with other channels, I'm not sure I want many tax dollars spent when we users are getting better ways to collect and share data. I hope you'll share your thoughts here and with NOAA.