OceanLED LIETs, simply extraordinary?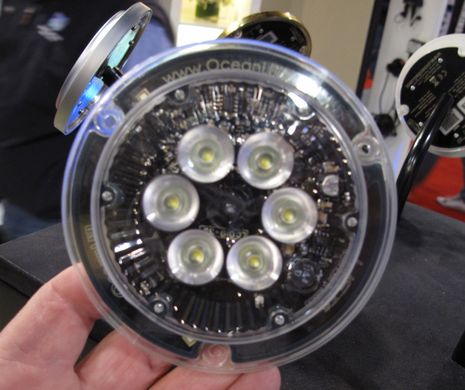 In Miami I got a good introduction to OceanLED's new line of LIET LED down lighting fixtures, and was thoroughly intrigued. LIET (old English for "light" and pronounced the same way) seems to represent a significant technological leap. That LIET6 core above, for instance, is less than five inches in diameter and a half inch thick, but produces what's claimed to be the equivalent of a 50w Halogen bulb while only using 5.3 watts of power. It even has built-in diagnostics and dimming. And while blindingly bright, it doesn't get hot to finger touch even though it lacks a discernible heat sink. How did they do it?

For one thing, OceanLED has invested some 2.5 million pounds in R&D. For another, company founder Nigel Savage resides in my memory as one of the most passionate innovator entrepreneurs I've ever met, though that only happened once many years ago. I guess I shouldn't be surprised that OceanLED not only seems to have achieved extraordinary power efficiency with LIET (65 lumens per watt!), but apparently also paid extraordinary attention to light quality and the ability to customize it to the particular boat area it might illuminate. There is an almost daunting variety of color temperature, lens, filter, baffle, and bezel options available. You can learn a lot about all this, and light science, on the LIET web pages, but don't be too put off by the company's big yacht orientation.
OceanLED takes an unabashedly high-end approach, but I think that LIET6s at $199 retail, or the new LIET3s (35w halogen equivalent) at $149, may make sense for some middle-end cruisers. In fact, I'm finally working on a spreadsheet of options for replacing Gizmo's horridly inefficient dome and task lights, as mentioned last summer when I saw how well Imtra is replicating 20w halogens. I intend to test several of these options, and will have more on that project soon, but I certainly hope that I can get LIET's claimed brightness, efficiency, and full spectrum quality to a couple of key areas like the galley and dining table.