Macris MIU15 underwater LED, OceanLED Xtreme news, and Rigid Dually spot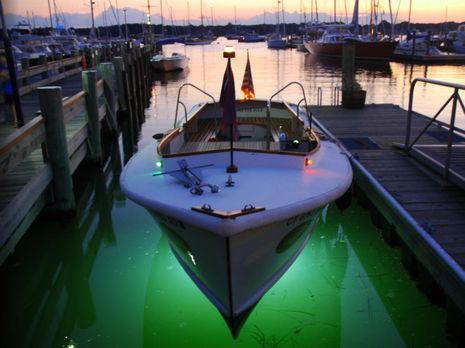 I like the look of underwater lights, but I imagine that the pair on this Dyer 29 launch is also quite useful to the operator and all the passengers stepping on and off in the dark. What's unusual here is surface-mounted LED light fixtures so thin that installing them around midships made sense. The manufacturer, Macris Industries, also seems to offer a lot of lumens per dollar of fixture cost…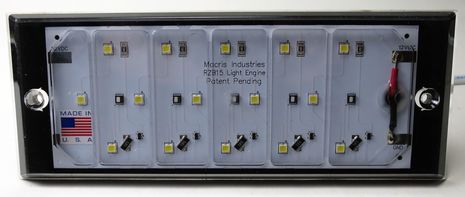 I hadn't heard of Macris Industries either, until they sent an MIU15 for testing, but it seems they've been making interesting underwater LED lights in Mystic, Connecticut, for over a year now. The unusual design is, um, rather transparent: a fully potted polymer sandwich only 0.3-inch thick holds a circuit board with lots of surface-mounted LEDs, but no reflectors or optics whatsoever. The claimed result with the $250 MIU15 fixture above is 1,650+ of widely dispersed bright white LED lumens requiring about 1.75 amps of 12v power.

The MIU15 is 7.75 x 3 inches while the $600 MIU30s that Dodson's Boat Yard installed on their launches are 13.75 inches long; eventually there will be an MIU60 model available that's over two feet long and 6,000 lumens strong. One concept illustrated on some Macris installs is to wrap the stern of the vessel in a "wall of light." All three MIU fixtures in various colors will be on display at the Miami Boat Show next week, and also coming are an AL series of utility lights that will have the same ultra-thin panel design, but with frosted lens and reduced lumen output (to handle air cooling instead of water cooling).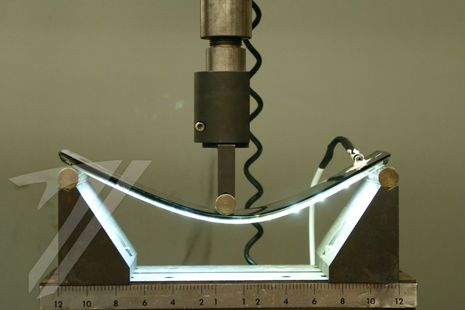 I was pleased to see that Macris claims it's using top notch 80,000 hour LEDs, offers a two-year warranty, and has put their fixtures through some serious testing. Besides the bending and compression routines shown at that link, you can enjoy a shotgun test. And since I had a couple of vaguely comparable LED lights in stock, I did a quick test myself to get a better sense of what the MIU15 can do.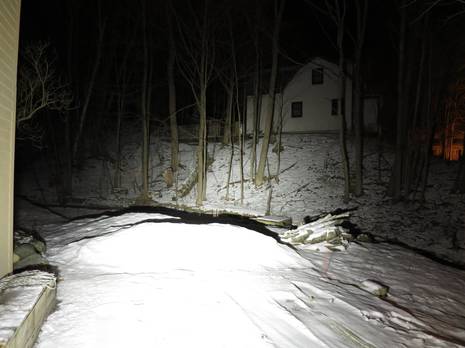 What you're seeing above is the driveway and (fortunately vacant) neighbor's house outside my basement lab as illuminated by the same white Ocean LED Amphibian 6 I tested as a masthead light in 2009. It only draws .5 amp and claimed about 400 lumens before it was discontinued, but it still seems fairly powerful, as do the pair of warm white A6s mounted on Gizmo's transom. (As usual, you can click on these photos to see much higher resolution versions.)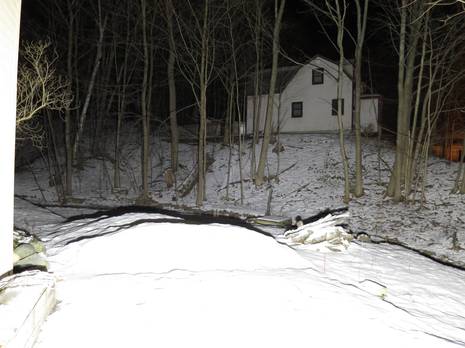 But, wow, the Macris MUI15 is so much brighter, even though the light is spread wider. I haven't fiddled with the photos at all and had the tripod-mounted camera on automatic, but it took the Macris image at a 20% faster speed so the light difference is even greater than shown. And mind you, the Macris is less expensive than the A6 was in its day.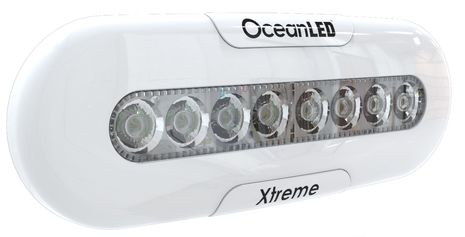 Macris may be a young, hungry company so far mostly selling direct to boaters, but this is also an ongoing story of more LED light and features for your dollar. In fact, OceanLED has a new Amphibian Xtreme series that claims to be "up to 3.5x brighter than any previous Amphibian equivalent."  In the case of the new A8 Xtreme above, that means 1,400 "fixture lumens" for a measly 0.9 amps of 12v (and a street price around $330). And there's also a new Amphibian Pro Xtreme series, with the same-size A8 Pro model offering 2,100 lumens and an option that enables color switching and strobing with just the two wire power switch or a wireless FOB (also with variable prices). Lumens are a confusing measurement and don't always line up with reality, but it sure seems like you get a whole lot more OceanLED Amphibian than you used to (a concept I may get to test this spring).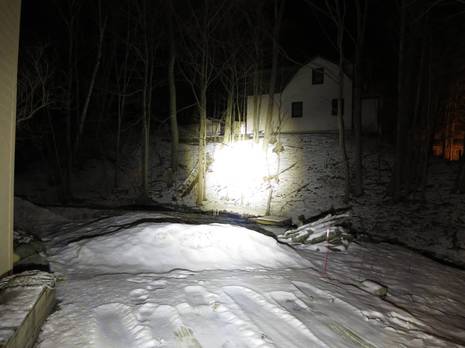 While I was at it, I also powered up a Rigid Industries Marine D Series Dually LED spotlight. When I wrote about Rigid's entry into the boating market in 2012, they seemed to arrive with excellent optics and compelling lumens-per-dollar designs, not to mention the best torture test video I know of.  The photo above shows the original Dually's 1,300 "raw lumens" highly focused in a way not natural to LEDs (see Macris design) and the currently selling Dually hybrid spot claims 1,568 lumens at the same reasonable 1.1 amps and $120 retail.
   I had a Rigid D2 with even more lumens projected in a "diffuse hybrid flood" manner from Gizmo's bow pulpit last season, and it was quite useful for spotting lobster buoys and other hazards at night (and anchor handling). I still haven't tried the Dually as a semi-portable spot, but I think that a 1-inch RAM ball stud will do the trick, and I expect good results. Meanwhile, Rigid has expanded its marine offerings even to underwater models. But these are only three good marine LED stories, and I haven't even mentioned interior lighting (where I've also found that dedicated LED fixtures far outperform bulb replacements). There are lots of other LED products out there for boats; please share your experiences.