Panbo, NMEA 2000 outlaw!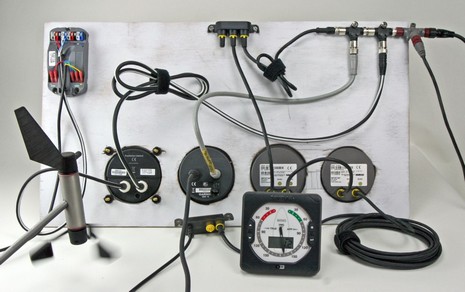 The Panbo lab is a good place to push things in ways a smart installer never would; in other words, do not try this—bigger picture—on your boat! What I did here was to purposely break about every NMEA 2000 "recommendation" I could.

Not only is every brand of N2K cable represented somewhere in this system, but even the backbone is mixed. The out-of-photo half of the network—four different displays and a bunch of (sometimes stressed) sensors—is backboning in from the upper right via a Garmin cable which goes through a Lowrance (red) tee and then two Airmar (LTW) tees, then to a SimNet patch cable, then into a SimNet tee, where it finally dead ends with a SimNet terminator. Meanwhile teeing off upper right is a white striped SeaTalkNG patch cable going to a Raymarine ST70 which is daisy chained to a STng Wind Pod and hence to an old ST analog winducer. And the only "certified" (gray, Maretron) cable in sight is going to the back of the Garmin GMI 10 (which also has a power and unused NMEA 0183 cable plugged into it). And the SimNet tee is going to a daisy-chained series of IS20 instruments (that recently arrived in the lab), and finally to an AT10 NMEA 2000/0183 converter (that I haven't actually hooked to anything yet). Whewwww!
Now, if you carefully peruse the SeaTalkNG and SimNet manuals you'll find that daisy chaining is not recommended if the given proprietary network is connected to a standard NMEA 2000 backbone and other manufacturer's gear. Which is just the sort of "law" I was trying to break. And…voila…there's the 1.2 knots of wind speed I finger-flicked into the old SeaTalk wind cups showing up on the IS20 wind dial. It also showed up on the GMI and also the Lowrance, Garmin, and Maretron displays out of the picture, not to mention the ST70 (where it could be calibrated) and the E120. In fact, almost all the standard N2K data coursing around the network showed up on every screen that's been taught to understand it. Conclusions? The cables look more different than they really are (as noted earlier), and the Standard works better than some conservative manuals would have you believe. BUT there are good reasons not to take mix-and-match this far on your own boat, which I'll discuss tomorrow.