Panbo's test fleet grows again with another fast outboard powered boat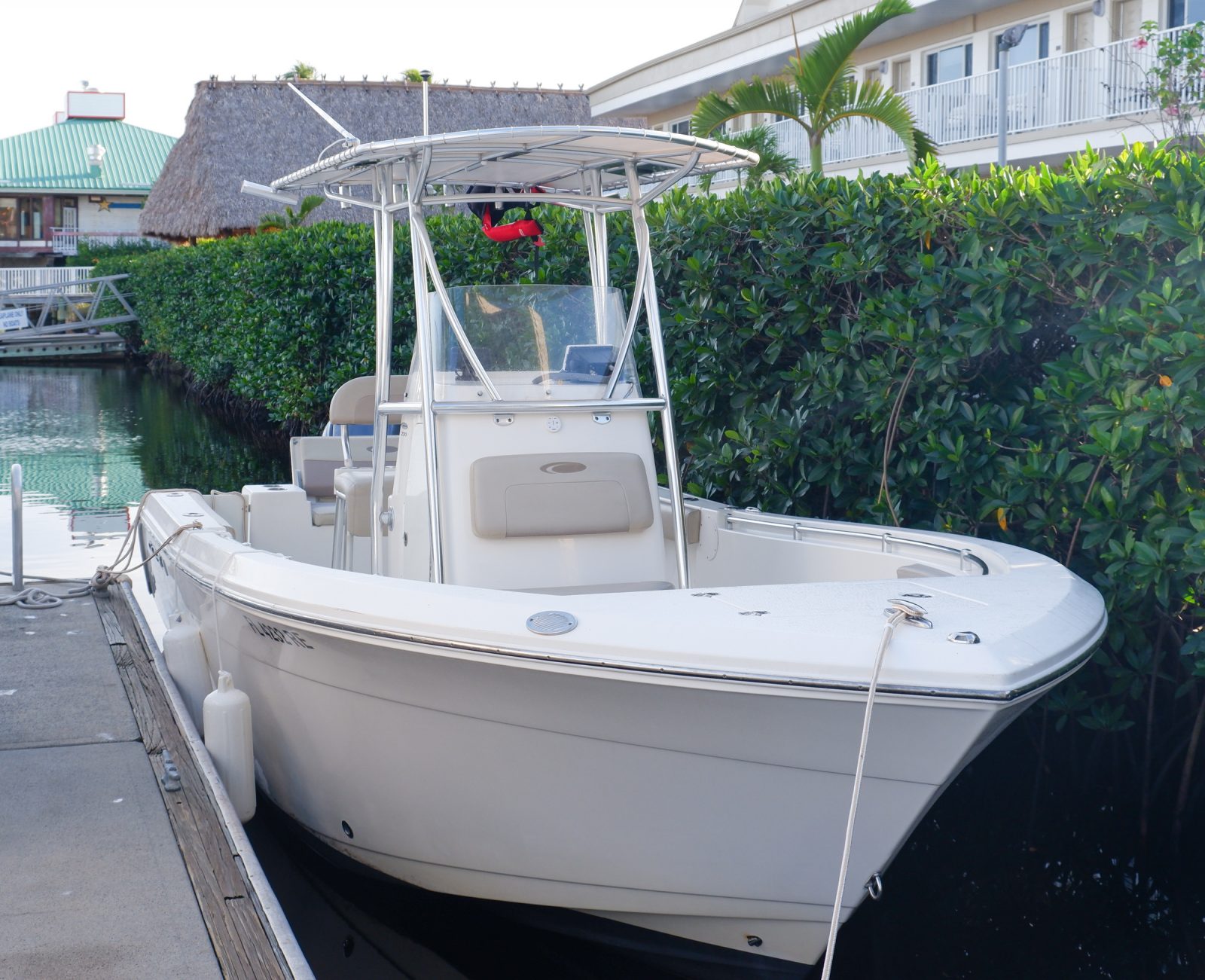 I'm pleased to announce that, like Ben Ellison, I've added a smaller, faster, simpler boat to my test fleet. Last week I took delivery of a new-to-me 2016 22-foot Cobia 220CC center console powered by a Yamaha 150 engine. When Ben Ellison posted about his new boat last fall he teased that I was also in the market for a similar boat and though it took a while to find the right one, I've done it and I'm thrilled.
I'm like a kid with a new toy, disappointed when the days activities don't include the opportunity to play with my new toy. But, there's serious work to be done. The boat we bought was used by Freedom Boat Club for several years as a member of their fleet. Freedom installs a very modest electronics package consisting of a basic West Marine VHF radio and a Lowrance Hook 4 fish finder.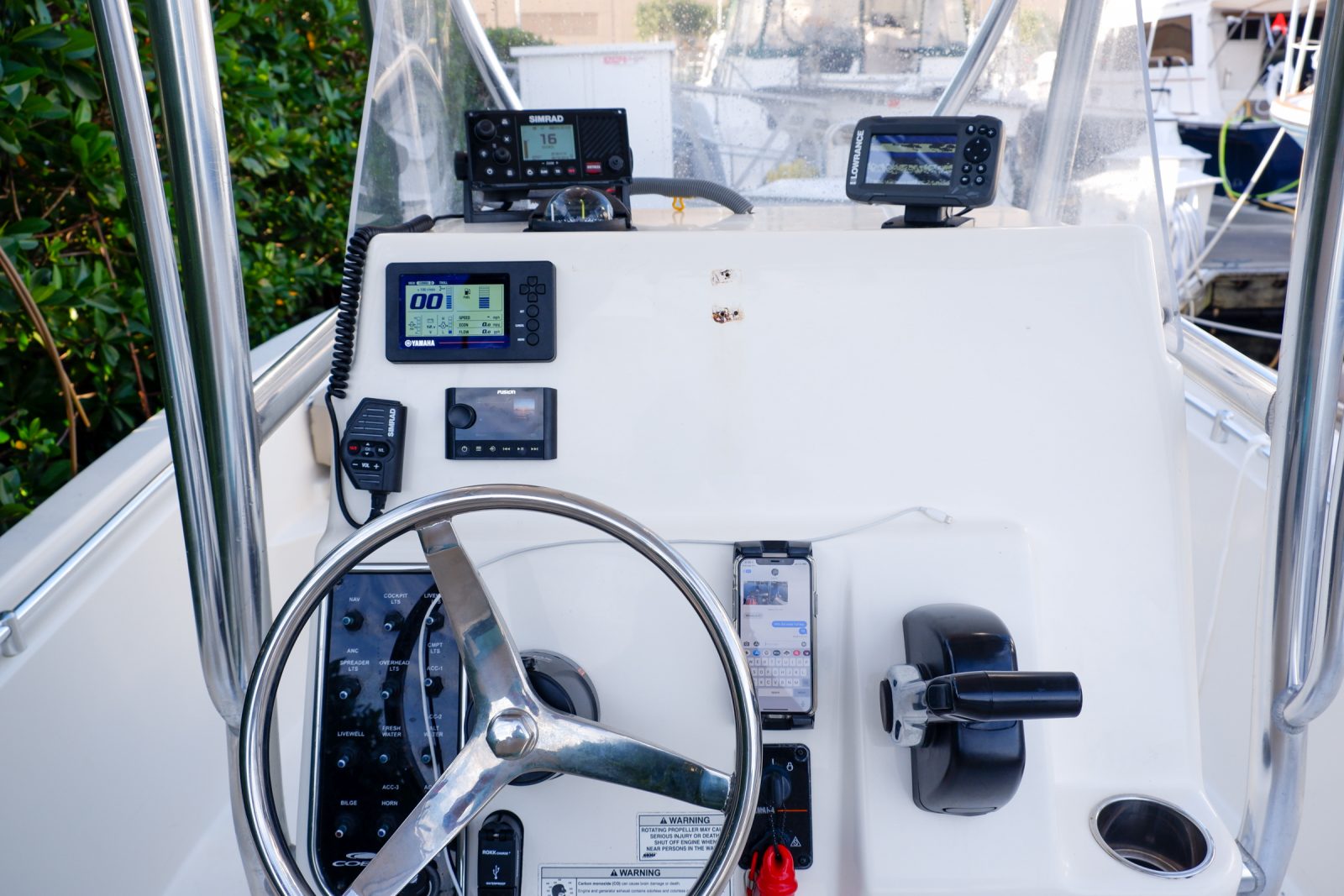 I've been thinking of the boat's console as a blank canvas waiting for the plethora of gear I'm overdue to test. So far I've been able to install a Simrad RS40-b (PR here)VHF radio and AIS transceiver, a Fusion Apollo SRX400 stereo, and both a Scanstrut Rokk Active wireless charger/cradle and a Rokk Charge+ waterproof two port USB charger.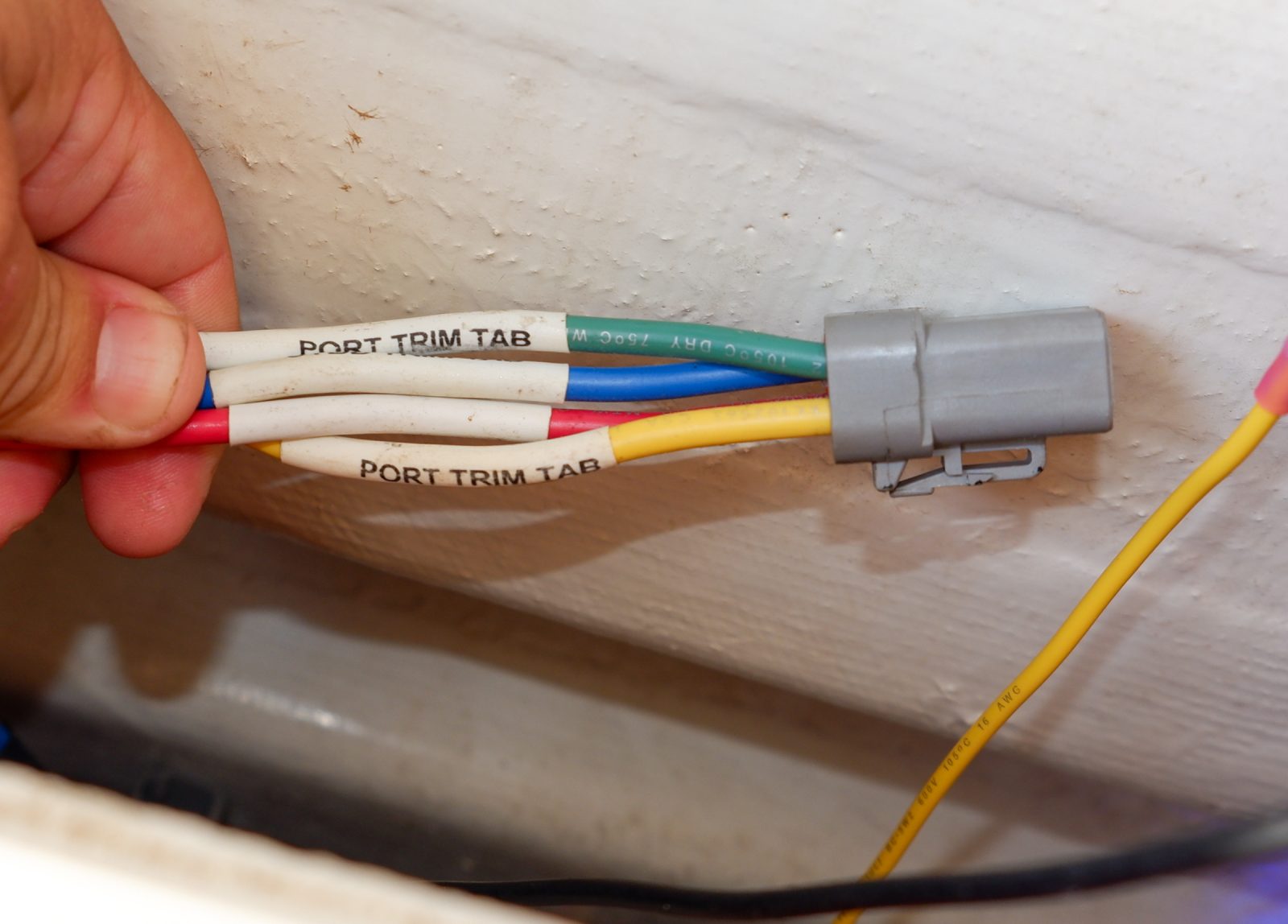 These early installs have lead to several pleasant surprises about Cobia's construction quality. All the wire runs are nicely labeled with junctions all made using Deutsch connectors. Plus, the boat is pre-wired for many optional features even if the option wasn't on this particular boat. So, adding the stereo was very easy thanks to the power and speaker wires pre-strung through the boat.
The 2016 Yamaha 150 comes with Yamaha's quite nice 6YC color engine gauge display and my early research suggests getting the engine and its data on the NMEA 2000 network will be quite simple –though maybe not as simple as Ben E's E-Tec with a Device Net connector right on the harness. The boat currently doesn't have trim tabs and my early running indicates it would benefit from a set. I'm pretty intrigued by interceptor style tabs like Imtra's Zip Wake so there's more research to be done there as well.
The waters of the west coast of Florida are pretty shallow which makes our 57-foot boat with a 5-foot draft, and props the lowest part of the boat, a poor choice for exploring. I'm very excited about the places we can go with a 22-foot boat with an 18-inch draft. Plus, the ability to quickly get out will mean more on-the-water testing.
Since making our purchase the most frequently asked question has been about the name. My father suggested, and I'm liking his suggestion a lot, that we call it Panbo(at) or some take on Panboat. I'm working on some thoughts for a name design but if any more creative readers have suggestions, I'm all ears!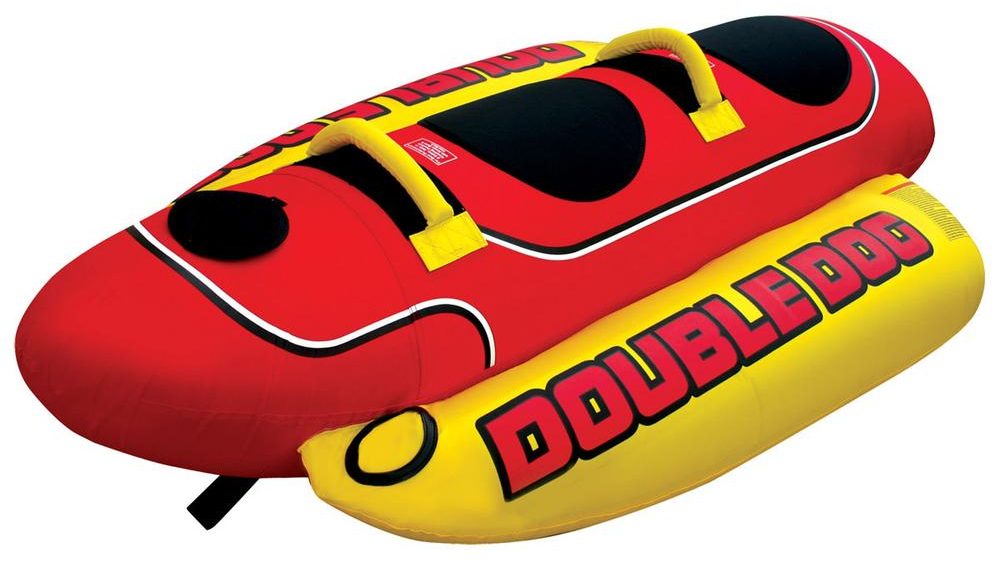 I've still got a few pieces of equipment to install but I'm awfully excited about the new opportunities this boat will enable. And my kids are excited we've got a boat that can pull the hot-dog we've carried for 10,000+ nautical miles of cruising. But, for the next few weeks if you're looking for me, there's a good chance you'll find me out on the water playing with my new toy having made some sort of justification about how I'm working.