POIs, what do you think?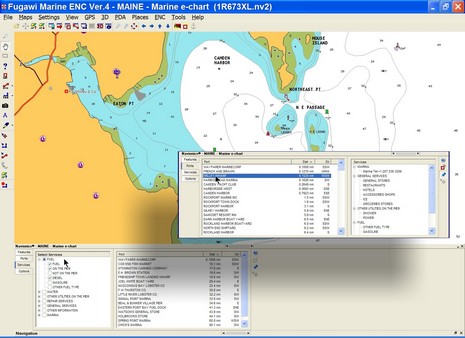 I'm working on a column about the "Points of Interest" we get on electronic charts these days. I think they have wonderful potential, but these days are often inaccurate, plus hard to use. Above, and full screen here
, is an example of an interface that seems to work pretty well, Fugawi ENC's new ability to work with Navionics Gold+ (Platinum too, but many features aren't supported yet). Note on the inset how you can easily search for harbors and marinas by distance from your present position, or (inset) narrow your search by multiple service criteria. Some other charting programs, and particularly plotters, are clumsy to search, lead you to empty data screens, etc. Plus, like every other electronic chart I've seen (all available, I believe), there are numerous errors/ommisions in the POI location and details presented here. Where, for instance, is info on the Camden Public Landing, possibly the POI of highest interest to visiting boats? So I have some questions for you all:
* Do you use electronic POIs when boating, or do you prefer printed guides, or both, or do you just ask around?
* Which electronic charts have you tried and what's good or bad about each's POI data and the particular interface used?
* What's the future of POIs. I see a lot happening on land—like automated (Bluetooth) POI calling, user generated POIs and georeference photos, sites dedicated to sharing such info, etc. Not to mention Google Earth, Microsoft Live Local, etc. How and when will these advancements come to boating?